Do you want to create a cozy and contemporary living room? Check out our 10 tips, find the right inspiration and start designing your own stylish retreat.
The living room is the perfect place to make a style statement.
It is the space where a moment of sharing with family or friends may turn into an exclusive visual and emotional experience.
In fact, when it comes to welcoming relatives and visitors into your home, the living room becomes your visiting card, a place where you can recognise yourself and be recognised, by creating a classy and refined furnishing atmosphere.
If you want to find out how to create a comfortable and cozy contemporary living room, you will have to follow some rules regarding style, function, decoration and furniture arrangement.
We just have to get on with the reading!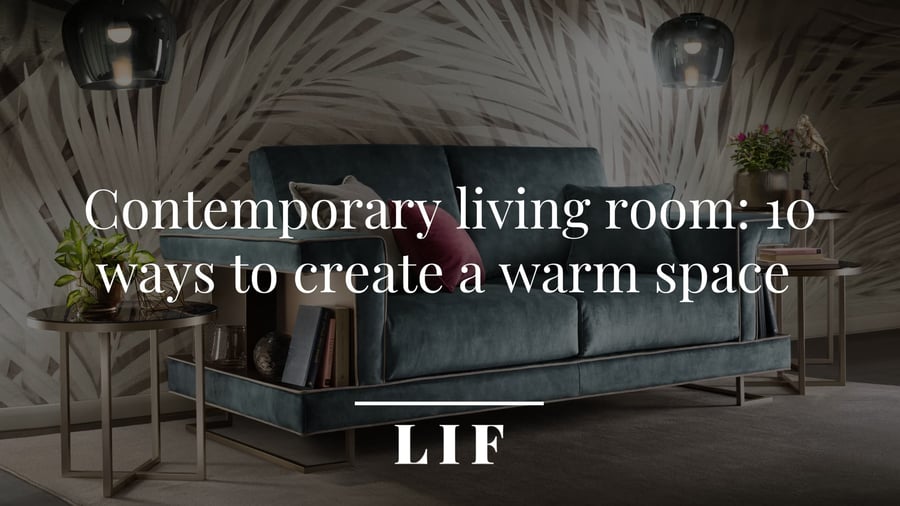 10 tips to make your contemporary living room look warm and comfortable
What is a contemporary living room? And how can we intervene to make it warm and comfortable for our guests, without affecting its contemporary nature?
Major upheavals are not always necessary to change the atmosphere of a room. In the case of contemporary living room furniture, it is mainly about warming up the room, especially when the style, colors, and materials of the furniture are geared toward essential design and a clean, no-frills vision.
Ideally, you should choose furniture in a classic-contemporary style, aiming for the so-called "functional luxury" by mixing classic characteristics (decoration, precious details, elegance, understated colors) and contemporary style (functionality, compact and square lines, bold color touches).
Alternatively, you could vary the mood of a pure contemporary living room by working on the details, to warm up and personalize the room.
In a well-kept and relaxed atmosphere, in fact, are the details that make the difference.
Here we offer some useful suggestions to furnishing your living room tastefully and make it luxurious and comfortable.
Below are the 10 guidelines: let's take a closer look.
1. Opting for parquet, tile and carpets
Floors are among the structural elements of a room that most affect its definition of style and mood.
A living room with wooden floors, with many veins and color nuances, will look very different from one that sports a glossy, seamless resin floor. However, the floor is not the only element that changes the face of a room. Carpets also play their part.
To give the contemporary living room a sense of lightness and total cleanliness, you could choose tiles, preferably white or ivory in colour, and add a modern rug with solid colors or simple graphic patterns (e.g., lines and geometric shapes).
If, on the other hand, you want to make the living area warmer and more familiar, you should go for:
Parquet;
Rustic-effect terracotta floors;
Decorative rugs to be placed wherever you wish.
To make the right decision that meets your aesthetic and comfort needs, it is necessary to know which types of carpets and rugs are suitable for the different varieties of contemporary style. Valuable carpets covering for a contemporary interior are tufted carpets, made from a fabric base to which natural or artificial textile fibres are then knotted.
Also modern Chinese rugs could be a good option to warm up contemporary living room furniture. Knotted using an asymmetrical technique, they have floral decorations and inlays that give three-dimensionality to the entire piece.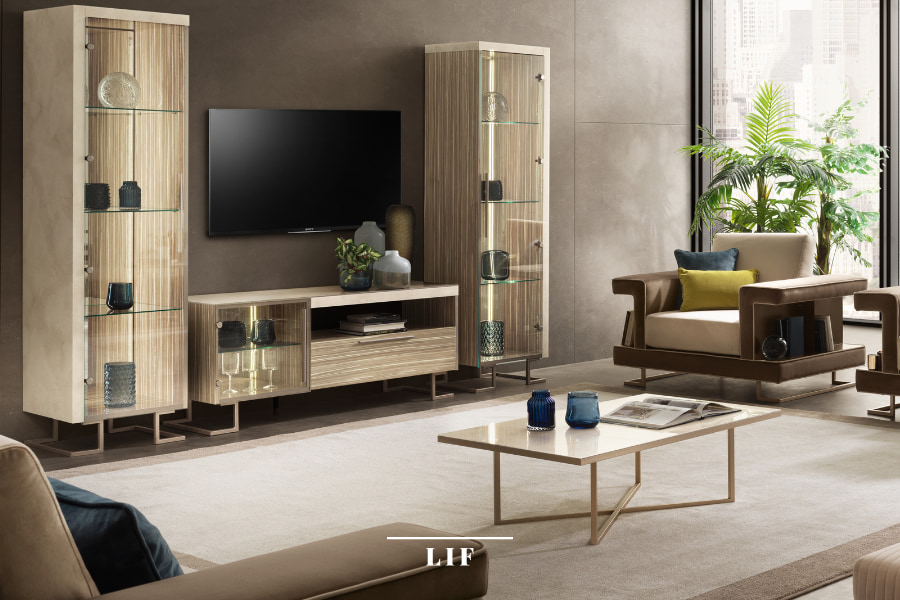 2. Setting up a creative but balanced colour palette
In contemporary design, the range of color possibilities is wider than in the classic style. They range from understated, reassuring shades (the same as in the classical world: beige, ivory, muted grays) to more vibrant, energetic hues.
In a contemporary living room, the choice of colors also becomes a tool for incorporating current trends, as well as an expression for marking out the individuality of those living in that space.
There is also more freedom to combine basic, dark and/or bright colors, to experiment with novel combinations, or to introduce one or two elements (the sofa is often among them) in a bold color, from purple to peacock blue, from dark green to carmine red. The latter, for instance, can be the key color to make a contemporary living room furniture minimalist warmer and more seductive.
Black and white - symbolic colors of contemporary style - can be enhanced by patterns and motifs that highlight their combination, such as stripes, polka dots and geometric shapes -Warm-based colors, such as yellow ochre, brick red, and gold, can be added to create a more welcoming backdrop.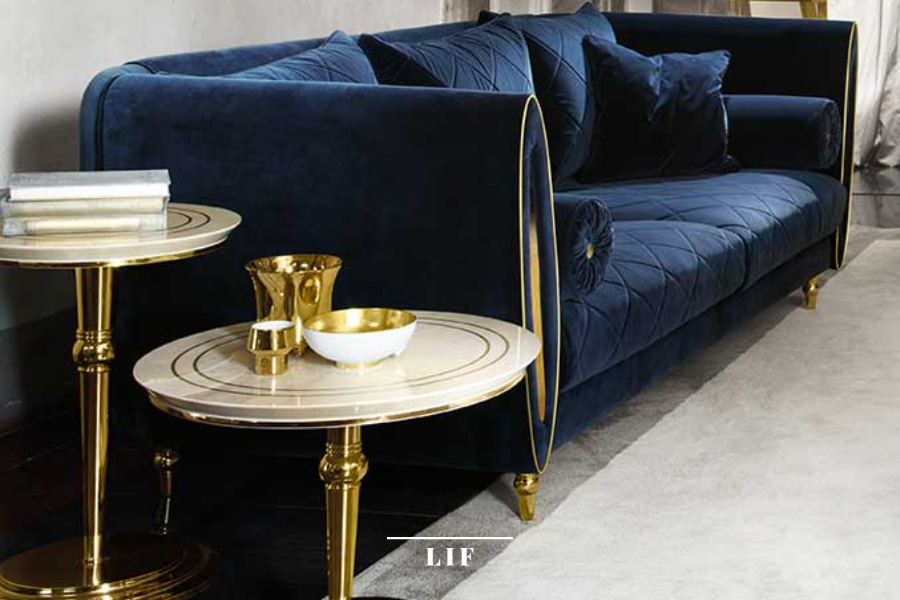 3. Minimal design for lamps and warm light for bulbs
Colors are key to "warming up" a contemporary living room, and so are the lighting fixtures (lamps, wall sconces, floor lamps, chandeliers, spotlights) through which we can set up the scenery and modulate the atmosphere: soft light, semi-darkness, daylighting, etc.
If during the day it is sunlight that spontaneously illuminates the living room, at night artificial lighting comes into play, which, in any interior design project, plays a central role in terms of style and functionality.
In order to ensure maximum visibility and comfort without compromising on aesthetics, opt for lighting solutions that have a high technical performance, such as:
Pendant fixtures;
Recessed lamps;
Wall lights;
Floor lamps.
Made from materials in total accordance with the dictates of the contemporary genre: glass, metal, crystal or copper.
These cold, typically modern materials should be contrasted with warm, enveloping lights, so as to keep contemporary living room furniture balanced between warmth and a modern mood.
4. Arranging a well-defined layout with balanced spaces
The most important elements in contemporary interior design are the lines and the balancing of spaces.
Vertical and horizontal lines, strong and elegant, can be found in the architectural details, in high ceilings, in wide and bare window profiles of every ornamental element, in geometric shapes of pieces of art and in sculpture.
In a living room with a contemporary taste, the naked space between the walls, on the floor and between the furniture has a meaning.
It gives the setting a fresher and cleaner look, and also makes each decoration or furnishing accessory stand out as a single piece.
5. How to create a contemporary living room choosing the right furniture and seating
Contemporary furniture in your living room should be an expression of a glamorous and sophisticated style statement. We therefore suggest that you select furniture and seating with clean, essential forms, but enhanced by fine materials and precious details.
Let yourself be guided by your aesthetic sense: evaluate which of the furniture proposals can best match your aesthetic preferences and reflect your lifestyle.
For example, you could choose contemporary living room tables with a geometric cut, at times softened by soft lines and curved flares, all embellished by shiny gold metal inserts, such as the Diamante collection coffee tables.
Or opt for a line of furniture with more sophisticated, decisive profiles, made bolder and more sought-after by a contrast of textures played out in the lozenge quilting and the gold finish of the metal inserts.
Tip: Last but not least - to create an extraordinary contemporary furnishing scenario - choose sofas, armchairs, chaises longues and ottomans upholstered in quality fabrics with different textures, preferring the shades of the colour scheme suitable for a contemporary living room style.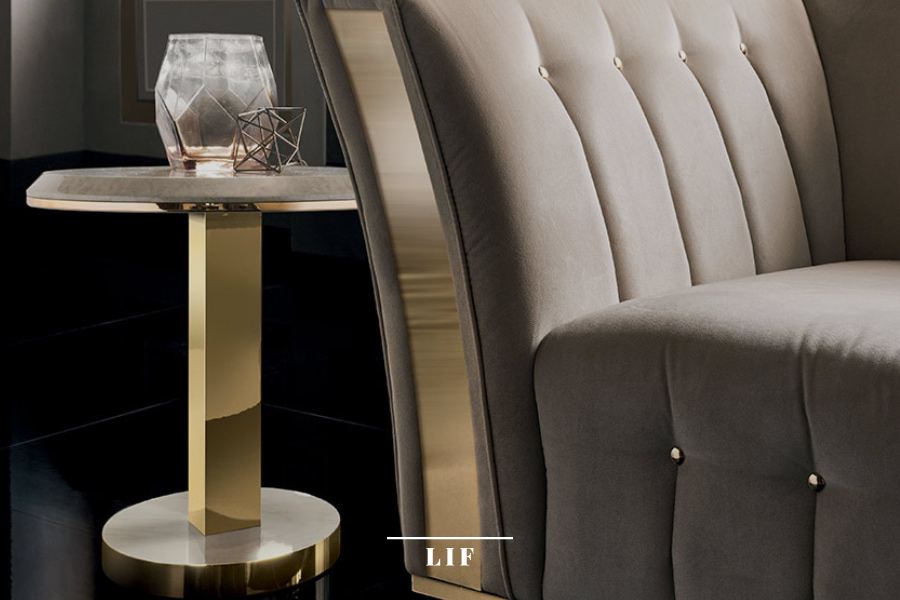 6. Upholstering sofas and armchairs with precious fabrics
In order to create a cosy and sophisticated atmosphere, you can upholster sofas and armchairs with precious fabrics to match the concept. Ultra softness, rich consistencies and different textures will lend a new image to your seating.
Here are the most suitable fabrics to create a unique and luxurious atmosphere in your contemporary living room:
Satin: satin is perfect for classic-contemporary style living rooms because of the former, the classic style, it embodies the innate elegance, and of the latter it takes up the minimalist concept. Indeed, satin is a fabric with a uniform weave, extremely shiny to the eye and smooth to the touch;
Velvet: a soft caress on the palm of the hand, iridescent reflections and intense colours. This is the sensation that velvet gives, one of the fabrics that most represents the essence of contemporary design;
Linen: linen is a natural, fine and versatile fabric that can furnish with elegance and restraint. In addition, its slightly wrinkled appearance adds that touch of texture needed to make the environment more lively, more welcoming.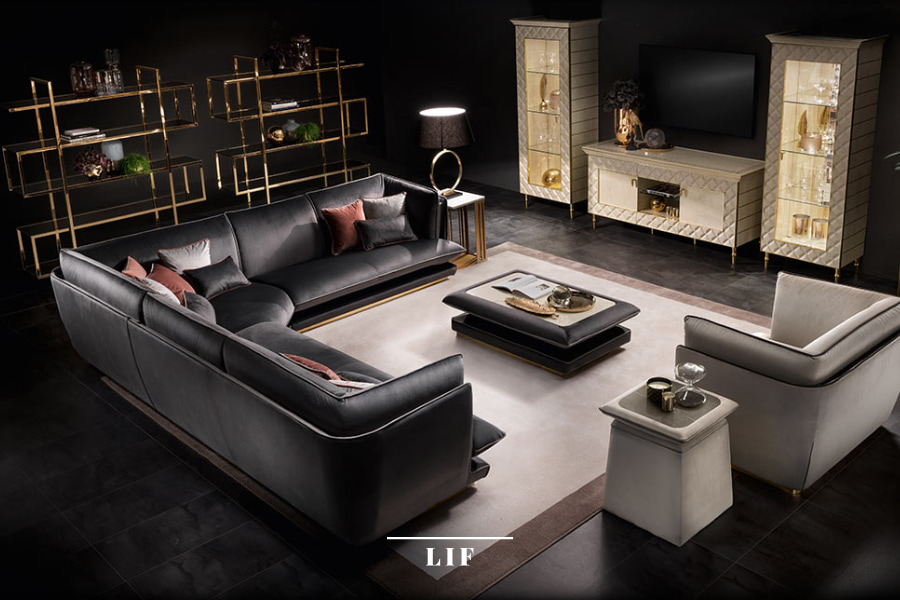 7. Adding accent cushions to diversify the living room atmosphere
Complete the furnishing composition of sofas and armchairs by adding accent cushions.
As with any other element of a contemporary living room, be sure to make choices for pillows in line with the style and atmosphere you intend to create, starting with their color and graphic pattern.
Creating contrasts can help dilute the minimalism typical of the modern style, making the room livelier and more dynamic. Therefore, if the sofa is light, choose cushions in darker tones, combining them harmoniously with each other. Conversely, if the sofa is already colorful, opt for simple, solid-colored cushions in neutral shades.
One way to add visual interest and create a sense of depth is to choose pillows with different sizes and shapes. For example, larger square pillows with smaller rectangular pillows.
Lastly, play with the fabrics: you can match the pattern of the sofa fabrics or choose different materials - for example, velvet sofa and silk cushion-to create a nice contrast of textures.
8. Completing empty spaces with handmade poufs or ottomans
To fill in the empty spaces in your contemporary living room and at the same time make the whole room more cosy, place handmade poufs or ottomans wherever you like.
Versatility makes ottomans perfect elements for contemporary interior design, as they can be easily moved and relocated as required, providing extra seating, storage space or just a touch of style.
Prefer comfortable seats that also lend an elegant visual appeal, therefore upholstered in satin, velvet or silk finished with capitonné or quilted fabric, with cords, tassels and gold or silver embroidery.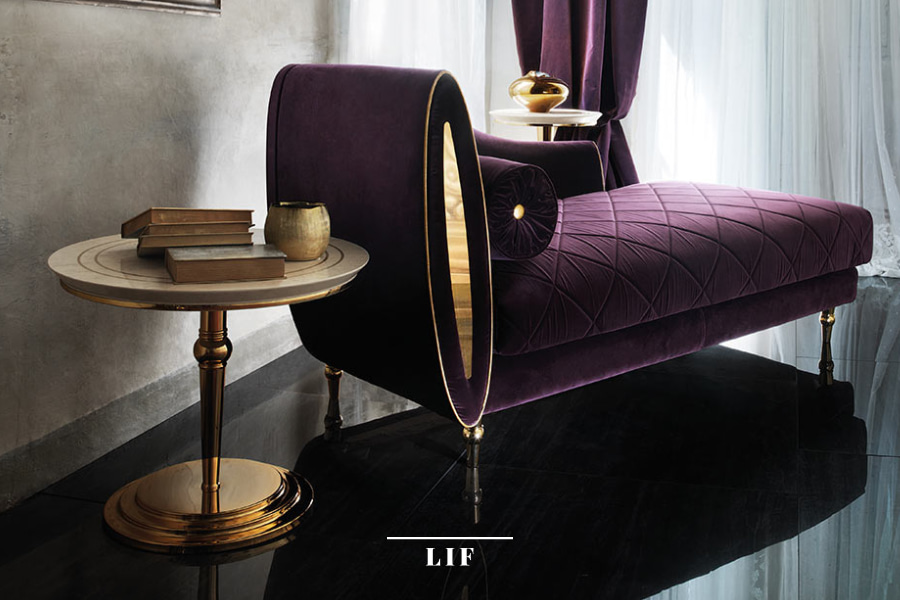 9. Decorating windows with elegant curtains
To make the whole room aesthetically appealing, attention must also be paid to the windows.
So why not decorate them with elegant, decorative curtains?
Choose elaborate and fine fabrics for their production, such as: linen, cotton, brocade, damask velvet etc.
Curtains complete the look of the living room as they enhance the overall image.
In addition, they have the power to modulate natural light, a key element in interior design.
That's why when choosing a curtain you should also consider the degree of brightness of the room. If it is dark, choose light curtains in light fabrics, while if the contemporary living room enjoys good natural light, you can also opt for more opaque or dark curtains.
10. Introducing decorations and artistic elements
How to decorate a contemporary room? In addition to the advice we've already given you in terms of colors, furniture, accessories and decor, there are other details you can work on to infuse a minimal-modern style living room with a touch of warmth.
For example, you could place contemporary-style sculptures or framed abstract artworks at eye level, perhaps on a column.
As far as wall decoration is concerned, we advise you to choose frames with a modern design, preferring models in shades of black (glossy and matt), natural wood or metal: in every solution they will be perfect for containing paintings and pictures.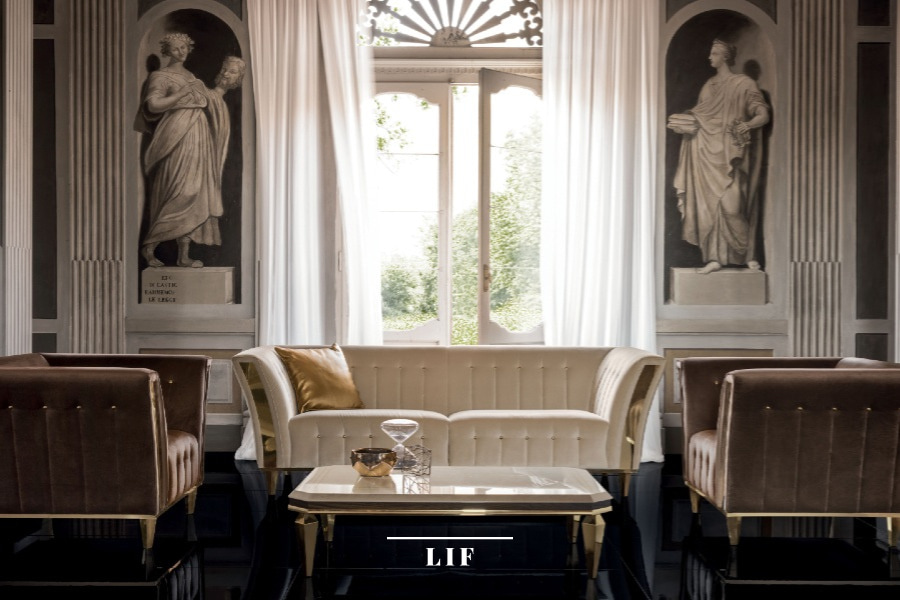 Make your contemporary living room design look appealing and relaxing
In this article, we have given you a few pointers on how to create a contemporary living room beautiful to look at and live in, as well as comfortable and functional.
By choosing the best collections of contemporary living room furniture and paying attention to every detail, you can make this room a warm and welcoming space.
In a contemporary living room, it is important to be able to dose stylistic elements while remaining balanced between modern appeal, trends and elements that are able to convey warmth, a sense of welcome, relaxation and familiarity.
And with that in mind, the decorating tips we have provided can be a great place to start.
Now it's up to you! We invite you to visit our website and discover Adora's contemporary collections: a world of beauty and design, Made in Italy quality, contemporary appeal, elegance and luxurious touches.
Get inspired and turn our tips into reality!