There is sometimes a tendency to associate contemporary style with rooms furnished in a cold and bare manner, with few decorative elements and far too minimal furniture.
Actually, in interior design, each furnishing trend has its own 'rules' and characteristics, but these never include creating bare, aseptic or unwelcoming environments. That would be nonsense, wouldn't it?
Therefore, if you happen to experience a feeling of coldness and inhospitality when entering a contemporary-style living room, you should know that it is due to the person who furnished it, who evidently did not do a good job, regardless of the style. That's all.
To draw a parallel, it would be like thinking that a living room is excessively 'pompous' because of the baroque style in it. Again, the problem is not with Baroque style but with those in charge of the interior design project, who failed to create a harmonious and balanced environment, albeit one that is immediately recognisable in the basic characteristics of the style.
In essence, when furnishing a room, it is important to capture the essence of the style - whether contemporary, country, shabby or classic - and make it your own with taste, class and personality.
If you do not know where to start, our guide can be a valuable help. We will show you how to furnish a contemporary living area that keeps its peculiarities - simplicity, linear forms, bold colour contrasts - intact, and succeeds in infusing the home with a unique charm, based on the skilful mix of a warm and cosy atmosphere and the minimalist and sophisticated appeal of a modern style.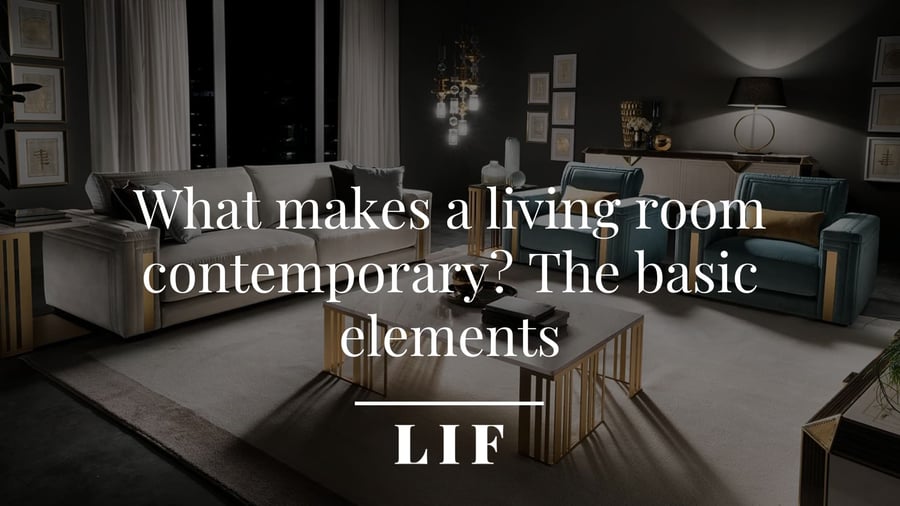 What does it mean to furnish a contemporary living room?
Crossing the threshold of a living room furnished in a contemporary style, you will have an immediate feeling of lightness, order and visual cleanliness. No excess, except a touch of colour that imparts character to a corner of the room, a wall or a piece of designer furniture that dominates the scene.
It will be the linearity of the forms that will win you over, the geometric arrangement of the space, a bold colour contrast or perhaps it will be the brightness coming through the large windows.
But more than anything else, what will make you fall in love with a contemporary style living room will be its ability to combine elegance with functionality, design with comfort.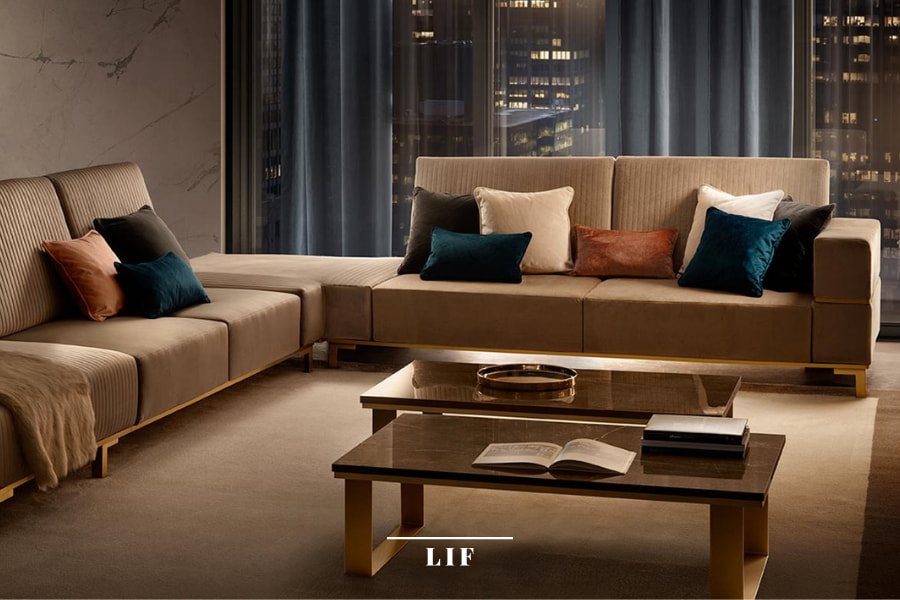 Why choose an Adora contemporary living room
Classical style is, by definition, 'a classic'. It sounds like a play on words, but it conveys the meaning: in the collective imagination, anything (a piece of furniture, a piece of clothing, a musical tune, a stylistic trend) becomes 'a classic' when it works, when it proves to be worth a pattern, an example, a reference model.
So, even contemporary furniture, when it manages to be usable, simple to use, multifunctional and, at the same time, it infuses a timeless elegance, becomes a 'classic'. Classics, yet ready to be transformed.
Contemporary spaces are versatile, flexible, capable of adapting to changes in society and responding to the real needs of those who live in them.
It is a style that knows how to renew itself even when it holds firm to tradition. This is the case of Adora, Arredoclassic's contemporary brand.
Adora's contemporary style is shaped by current events, but without being a slave to them.
This means that Adora contemporary collections know how to synthesise the trends of the moment with those that will never go out of fashion.
You couldn't ask for a better living room.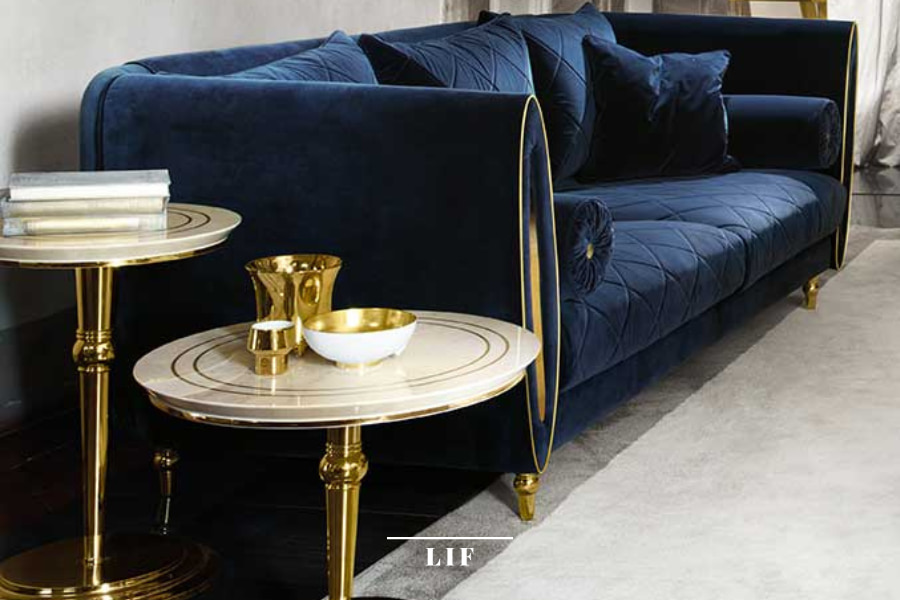 6 tips to furnish a contemporary living room
A successful interior design project - and by 'successful' we mean a project that succeeds in conveying a harmonious, balanced and more or less faithful overview of the style - is always the result of a complex orchestration.
It is never just one aspect that dominates over the other: the key to success is cohesion between the various elements.
This is why it is always a good idea to start with the 'physical' conformation of the room, by observing its characteristics, its uniqueness, and then putting them in relation to one another: square footage, shape of the room, space available for furnishing (excluding, therefore, the walls occupied by fixtures and any radiators), the presence of encumbrances or irregularities, the positioning of sockets, the study of natural lighting (where it comes from, when and with what intensity).
The choice of a colour palette, for example, cannot be completely 'anarchic' or based only on taste or the trend of the moment. It must also take into account the degree of brightness and the size of the living room.
In a small and/or dark living room, we cannot use shades that are too dark, because we would end up creating a dark and unlivable environment. Instead, we should choose light and bright nuances, which help to widen the perspective and broaden the vision, as in the Poesia living room by Adora, in which the ethereal tones of the furniture and the sheen of the surfaces dominate.
This example helps us to understand how important it is to pay attention to all the factors involved, even putting personal taste aside, if it means prioritising the success of the project.
Let us now take a look at some practical tips for creating a refined, designer and, ça va sans dire, contemporary living room.
1. Basic, dark or bright colour palette
The contemporary interior colour pattern has a kaleidoscopic variety, offering a great freedom of selection between basic, dark or bright colours.
From light white or pink nuances, to brighter purple or dark green hues. The choice is yours!
If you want to add a touch of daring colour to your living room palette, opt for a bold pairing: match a wallpaper with a vibrant pattern with a basic, dark or bright wall colour.
As we've seen earlier, the important thing is to choose colours not only according to your preferences, but also according to the 'nature' of the room, so as to make the most of its characteristics.
Neutral colours, both 'cold neutrals', such as the various shades of grey, and warmer, earthy colours, such as beige tones, work very well in contemporary environments.
These nuances are mainly used for walls, as an alternative to white, but are not infrequently chosen for furniture, either as a colour to match wood finishes or as a contrasting element with lighter shades such as ivory, cream or white itself.
In the Ambra living, all elements are characterised by the fascinating contrast created by the elm finish of the furniture structure and the satin bronze of the handles and feet. The atmosphere is both refined and cosy at the same time.
Also typical of the contemporary style is the presence of eye-catching colour contrasts.
You can decide to use white, combining it with a colour with a strong personality, such as black (black and white is considered the contemporary combination par excellence), purple or blue.
Or you can decide to juxtapose two bright tones, playing with the complementary colour scheme. The chaise longue from Adora's Sipario collection, for example, uses the purple-golden-yellow combination to create a bold and sophisticated visual impact.
Our advice is to start with a neutral base, to which you can add two or three colours, either in the same shade or in contrast, depending on the atmosphere you wish to create.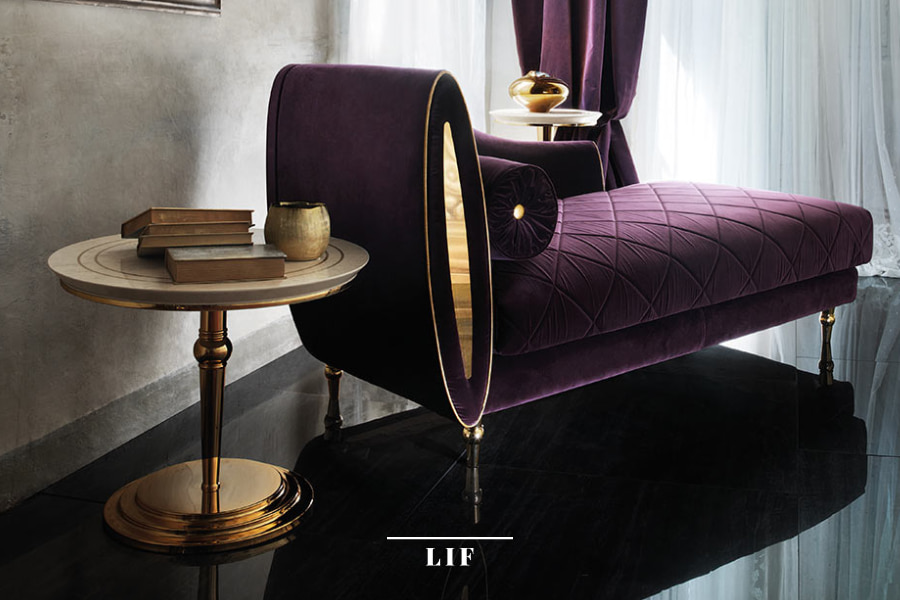 2. Bold lines and balanced spaces
The most evident elements in a contemporary interior are its lines and balanced spaces.
Bold and classy vertical and horizontal lines can be found in architectural details, high ceilings, wide window profiles without any decoration, and artworks and sculptures with geometrical shapes.
In a contemporary living room, the empty space on the walls, floor and between the furnishing elements has its appeal. It makes the room cooler and cleaner, and makes every single furnishing detail or piece stand out.
In addition, empty spaces, also called 'zero-stimulus spaces', help to relax the brain. The feeling one gets when observing a space devoid of visual stimuli is similar to observing the sky: it is a real liberation.
According to the principles of Feng Shui, empty space also creates a kind of energy flow that connects one space to another, allowing the mind to wander freely, without having to concentrate on anything, thus nurturing creativity.
Therefore, leave just the right amount of space between one piece of furniture and another and avoid filling every corner of the room.
Pay attention to the proportions of the furnishing pieces in relation to the size of the living room balancing positive (full) and negative (empty) spaces.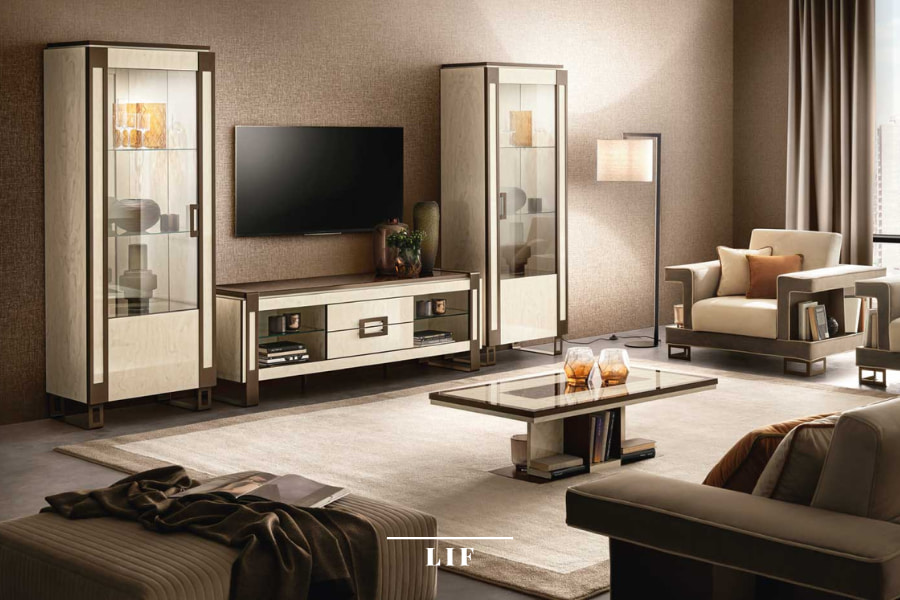 3. Contemporary furniture and seating
In your living room, furniture should be the expression of a true glamourous and contemporary style statement. Therefore, you should opt for furniture and seating with essential and clean shapes.
Let yourself be guided by your aesthetic taste: choose the furniture that best suits your preferences and lifestyle.
You can opt for a geometric collection, mellowed out by soft lines and curved recesses, and embellished by precious golden finish polished metal inserts. Or you can opt for a bolder and more sophisticated furniture collection, made even more fancy by a contrast of textures on the diamond-shaped upholstering and on the golden finish metal inserts.
Lastly, to create an amazing interior, choose sofas, armchairs, chaise longue and footstools upholstered with high-quality fabrics with different textures, favouring a colour pattern in line with a contemporary interior.
Don't forget to add square accent pillows with unique fabrics and patterns and bold colours, based on your taste. This way, not only will you design the visual aspects of the entire ensemble down to the last detail, you will also add a greater sense of comfort to your living room, by matching fine textures.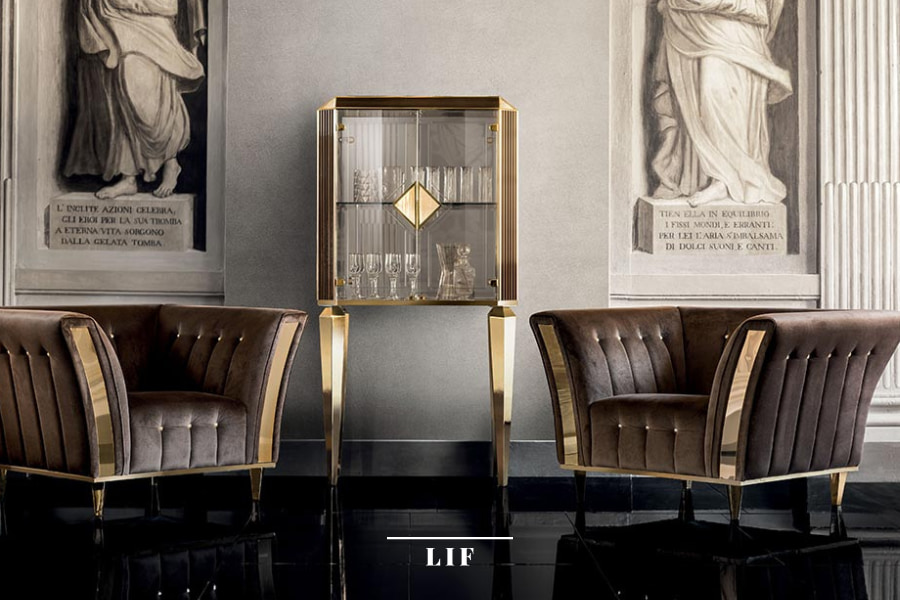 4. Wooden, tiled or carpeted floors
A contemporary living room floor must transmit a sense of lightness and total cleanliness. To choose the best solution for your interior, you can decide between:
Wooden flooring
Tiles, ideally white or ivory

Carpeted flooring

, or, if this option is not the right choice for you, you could leave your floors bare and add a couple of decorative rugs in the right places
Parquet is one of the most suitable floor coverings for contemporary style, both for its stylistic versatility and for the 'dual role' it embodies: on the one hand it infuses warmth, on the other it is a symbol of luxury, especially if the wood is of particular value.
If you prefer to cover the living room floor with a carpet, you could opt for hand-knotted wool or silk carpets with a cotton base, which are made using the same technique as Persian carpets.
When choosing a carpet, it is also important to understand what shape best suits the living room and sofa arrangement.
The rectangular shape is one of the most popular, because its regularity helps to create a harmonious composition, but in contemporary style it is also possible to dare with more unusual shapes or to overlap two carpets of different shapes, colours and textures, as long as one does not slip into a chaotic patchwork effect.
It tends to be preferable to choose a single rug of regular shape and generous size to achieve a minimal, sophisticated atmosphere, making sure that it frames the sofas under which it is placed, as we see in the Essenza living room.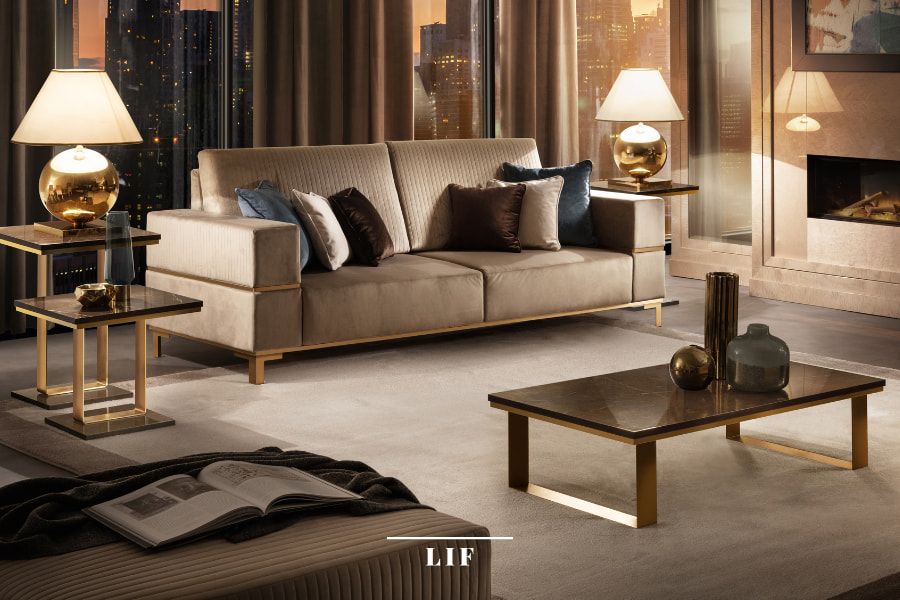 5. Clean and minimal designer lighting
In any interior design project, lighting is essential, both from a stylistic and functional standpoint.
To enhance a contemporary design, the lighting system should be as varied as possible.
You could hang a large chandelier in the centre of the room, choose the style, colour and material that best matches the rest of the furniture, and then complete it with a series of spotlights to illuminate certain areas of the living room or to create a soft light.
Very useful for this purpose are wall lights, preferably with adjustable intensity, and floor lamps, to be placed, for instance, next to a reading armchair.
In order to ensure the highest level of visibility and comfort, without compromising the style, opt for lighting solutions with high technical performance, such as:
Chandeliers
Hanging lamps
Recessed lamps
Wall lamps
Floor lamps
Made with materials in line with the contemporary style canons: glass, metal, crystal or copper.
6. Decorations and art elements
You can place contemporary sculptures and abstract artworks at eye level, maybe on a column.
Concerning wall decoration, we suggest you opt for modern (matte or polished) black natural wood or metal frames: they will be perfect for your paintings and prints, in any solution.
One of the must-haves of contemporary style are art objects made of resin, a versatile material that perfectly reflects the mood of a modern living room.
Other perfect materials to complement the style are iron, steel and glass: a work of art made of one of these materials will stand out in your contemporary living room
Adora contemporary living room: elegance and attention to detail
Beware of interpreting the minimalism and formal cleanliness of contemporary style as an absence of warmth.
As we have seen, many different elements contribute to determining the atmosphere of a room: not just the design, the finishes and materials of the furniture, but also the choice of colours, the lighting, the way the space is occupied, the attention to detail.
In contemporary style, in particular, the aesthetic harmony and elegance of the composition, in the complexity of all its elements, must also coexist with the search for functionality and practicality of use.
It is not easy to reach such a compromise without losing something one way or the other.
Yet, Adora's collections do it.
By combining beauty and comfort, Adora perfectly embodies duality and contemporary 'functional luxury'.
The brand relies on the great quality of Made in Italy craftsmanship, as well as research and innovation in manufacturing techniques.
All you have to do is choose the collection you prefer and start designing your contemporary living room.
Looking for inspiration to furnish your home in perfect contemporary style?