What makes made in Italy classic furnishing famous and appreciated all over the world is its timeless charm and inner elegance in every variation.
The cornerstones of classic Italian style are attention to detail, refined finishes, quality materials and an elegant design that expresses luxury and a love of beauty.
The Arredoclassic collections were designed matching the aesthetic criteria of classic style, but each has different characteristics.
The company decided to offer different and unique lines both to meet the preferences and needs of the most demanding clients and to boast the prestige of the countless nuances of this style.
In this article, we will talk about how to furnish a bedroom in a classic style and, in particular, we are going to review more closely some of the brand's collections designed to furnish this environment.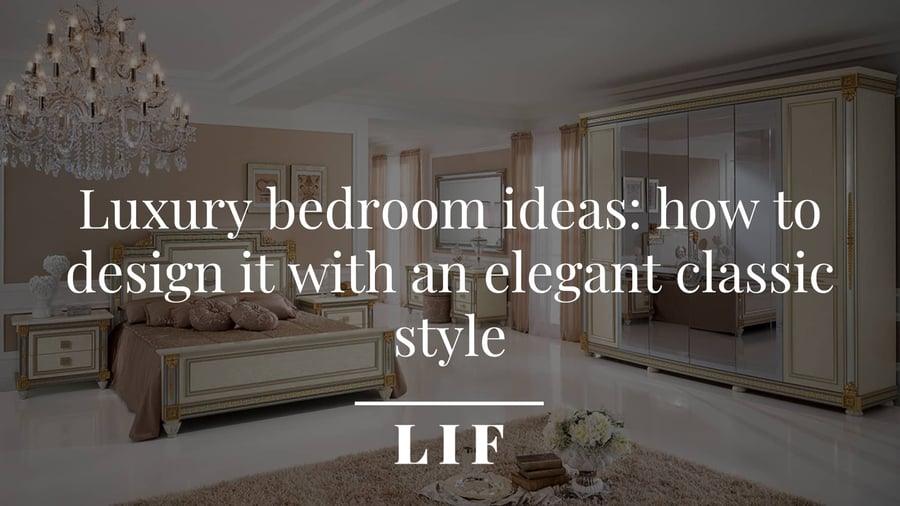 What it means to create a classic bedroom
If the living room is the space for conviviality, the bathroom is the wellness room and the kitchen is the working area, the bedroom is the realm of our intimate dimension. This is where we take refuge at the end of the day to regenerate, rest or relax with our partner.
Therefore, furnishing the bedroom, follows slightly different rules than the other rooms in the house.
Style is important, of course, as is respecting proportions when arranging the furniture, selecting the colours in the palette, and the overall style choices that determine an elegant and harmonious overall vision.
In the bedroom, however, it is also very much about creating the right atmosphere and the personal touch we can instil.
For the bedroom to make us feel comfortable, it needs to resemble us, to reflect our personality and that of our partner.
Therefore, in furnishing this room in classical style, consider four aspects in particular:
The importance of customisation
Creating a warm, intimate and cosy atmosphere
Comfort
Complying with your needs
The room should be convenient and comfortable, tailored to your way of being and living spaces.
In contrast to other rooms, the bedroom is not a 'showcase room', nor is it a transition room. It is a private and personal space. You should therefore take your real needs into account in your furniture design.
If it is tidiness you need, design a large, comfortable walk-in wardrobe (if space permits); if you want to fit a desk, try making a study corner, or make room for light by occupying an entire wall with an all-glass sliding door, if that is your priority.
Only after you have established your primary needs and created the mood that best suits your personality, you can focus on the style, choosing the furniture, colours, materials and shapes you like best.
In this, Arredoclassic can be of great help. With its wide range of collections, we can embrace all the nuances of every single declination of the classic style.
Let us see what must-have furnishings, typical decorations and colours are best to create a bedroom in perfect classical luxury style.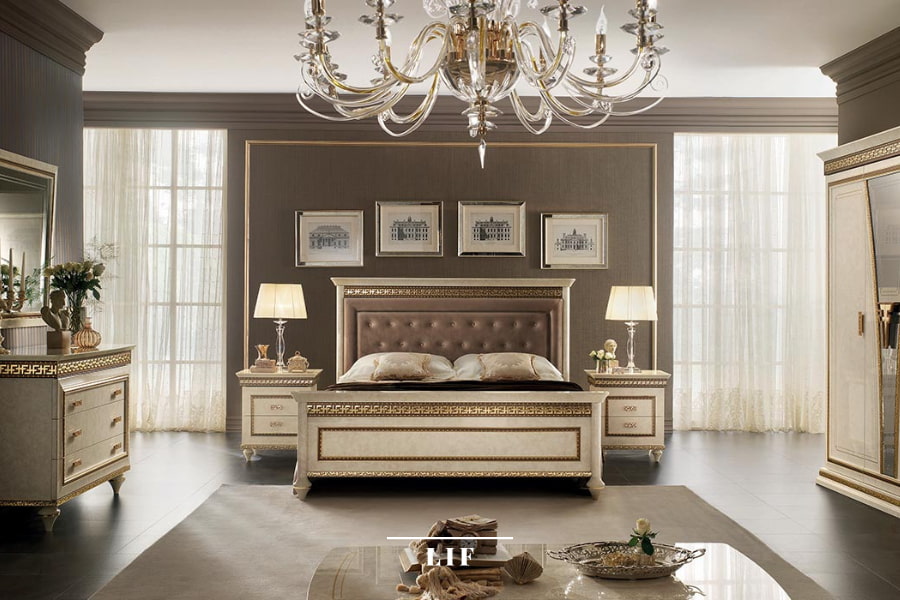 Characteristic elements of a classic bedroom
Classical furniture cannot be ascribed to a single style; it is rather, a combination of different stylistic currents influenced by the historical period in which they originated.

Baroque and neoclassical

, for example, both belong to the classical sphere, but they differ greatly from each other. The former is famous for its rounded forms, rich decorations and lavish details, while Neoclassicism is closer to the straight, monumental forms of Greek and Roman architecture.

This is also evident in

Arredoclassic collections

that, while remaining within the aesthetic canons of classic taste, have different characteristics in terms of design, lines, shapes, colours and materials.

However, there are certain

furnishing elements and decorations

that represent a sort of symbol of this furnishing style, irrespective of the sub-decoration chosen.

Including such elements in your classic bedroom can be a great starting point to create the elegant and luxurious atmosphere typical of this style.

Let's see them.

Bed with a high headboard: the high headboard, both when enriched with quilted upholstery and when enhanced by elegant decorations and gilded finishes, is a solution that can create princely atmospheres in the bedroom

; see, for example,

the Fantasia bed

, which stands out for its central frieze depicting the double 'F', the collection's leitmotif, and its sophisticated geometric decorations on the sides, and t

he

Dolce Vita bed

, in which the upholstered headboard is set within a luxurious frame with bronze and silver details used together with walnut root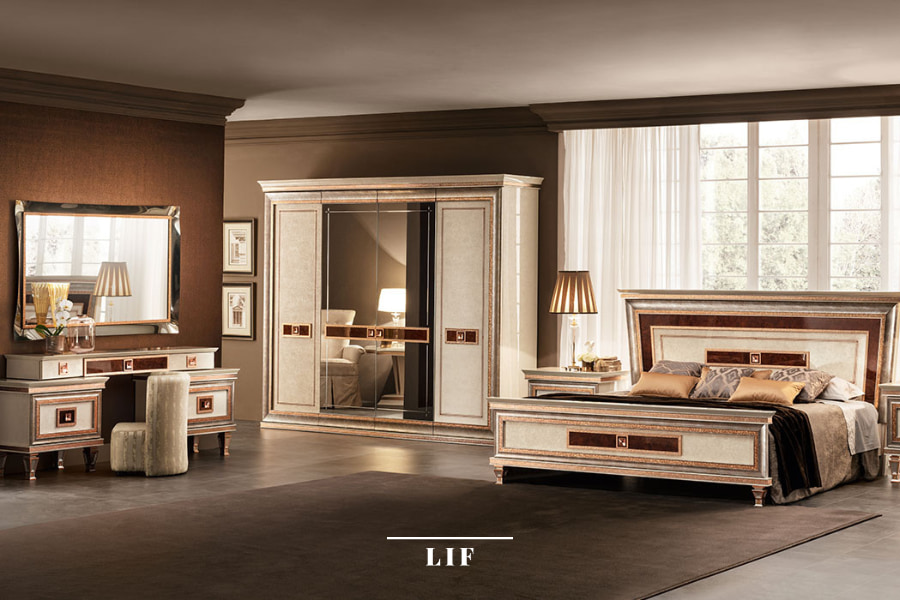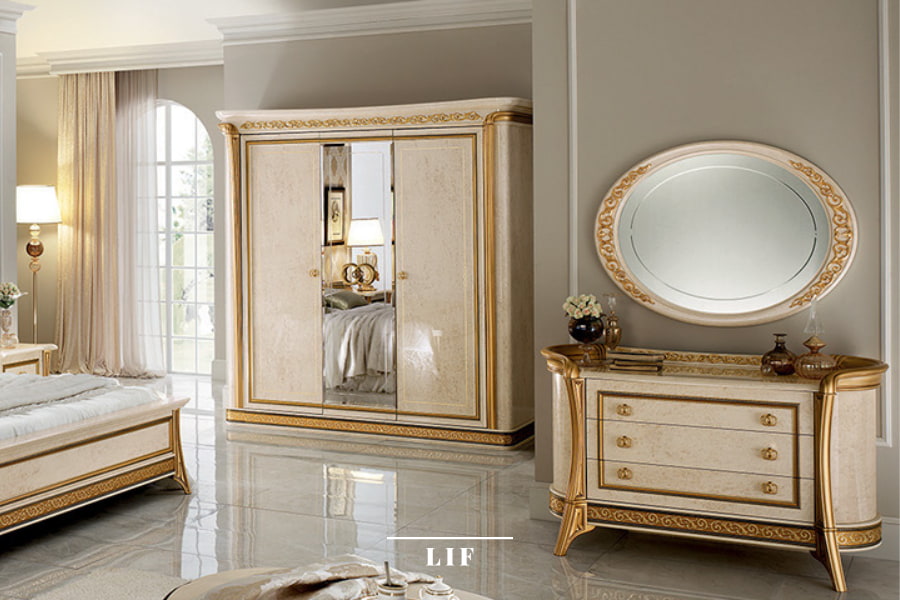 Precious fabrics : never forget the importance of fabrics in the bedroom, both those of the bed linen and those of the furnishing accessories; in classic style, the most suitable fabrics for curtains, cushions and upholstery of sofa and chaise longues

are damask, velvet and brocade

, and also simple yet elegant fabrics such as linen, silk and satin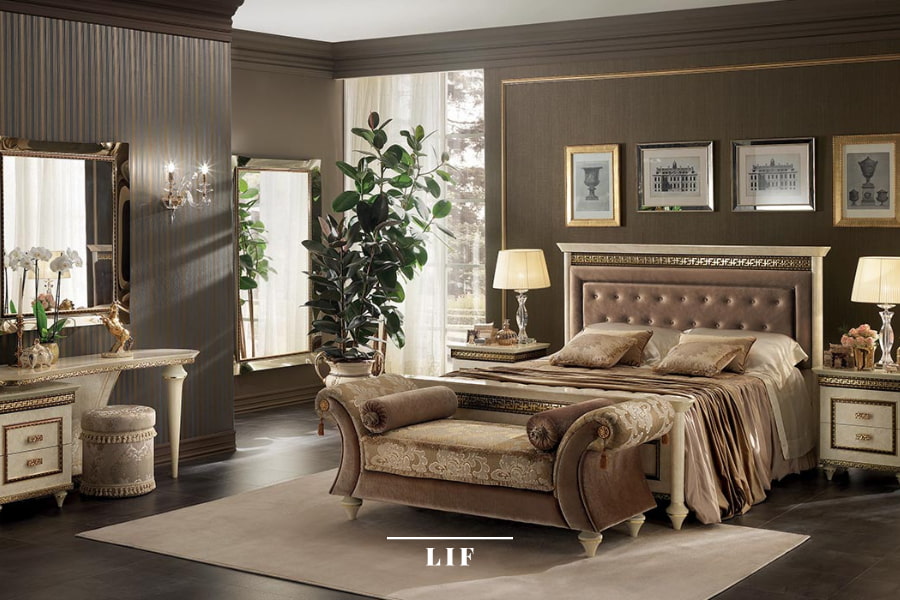 Wall panelling: in recent times, wall panelling has made a comeback as a stylistic element to add a touch of class to rooms furnished in a contemporary style, and yet in the classic style it has always been a must-have decoration. In the bedroom, you can opt for either half-height panelling with a top cornice, or for full-height versions, which give more homogeneity to the space


Lighting

: a furnishing element (excluding the bed) that is often a candidate for the starring role in a classic bedroom is

the chandelier

, especially when it is large, refined and luxurious, with crystal arms and drops. Wall lamps and table lamps with flora details and bronze, gold, brass or copper finish decorations also fit well into

the lighting system of a classic room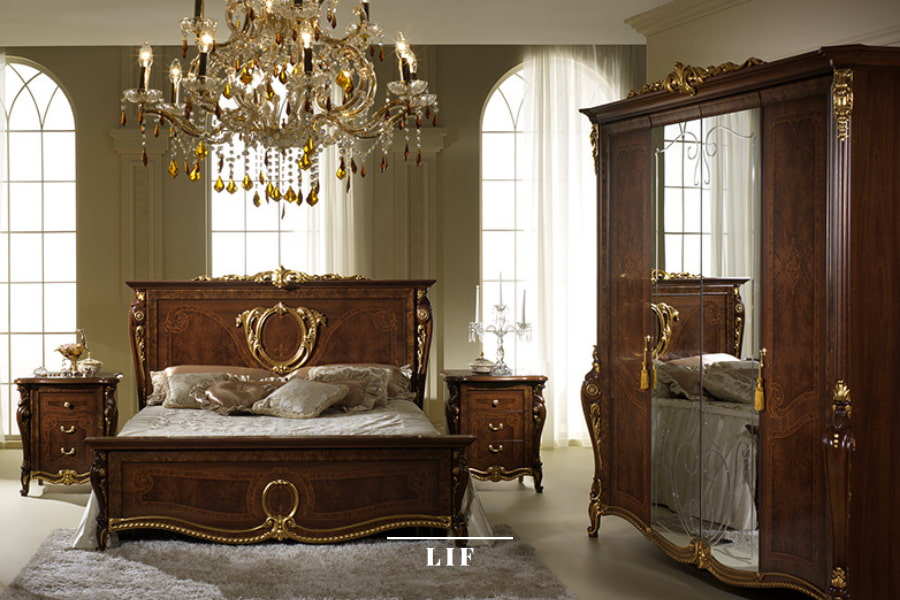 Classic bedroom colours
As we have seen, the bedroom is a place of peace and intimacy where aesthetics are important, but must never come at the expense of comfort and well-being. The bedroom should be furnished with this need for comfort in mind, which is preparatory to sleep, rest and relaxation.
In the living areas, used for gathering with family or friends, there is more freedom of expression in the use of colours and combinations. There, we could dare bold colour touches by tinting a wall in a bright, unusual colour, or by adding designer furniture in an eye-catching colour.
In the master bedroom, on the other hand, you should be more cautious and choose neutral and delicate basic colours, not too bright and shiny.
Remember that the choice of colours positively or negatively affects the quality of sleep and the ability to fall asleep.
The most restful shades are cold, dull ones, such as blue and greyscale nuances, but neutral-warm earth tones, such as various shades of beige, are also fine.
Regardless of temperature (warm/cold colour) and shade, dark tones (brown, dark blue, dark grey) and energising colours such as red, yellow, orange should be avoided in the bedroom.
These tips apply to the colour palette of any bedroom, regardless of style.
For classic styles, the most successful combinations are white-beige and white-dove grey, but tone-on-tone (e.g. ivory-beige-brown) and pastel shades (sugar paper, lavender, teal) combined with white also work very well.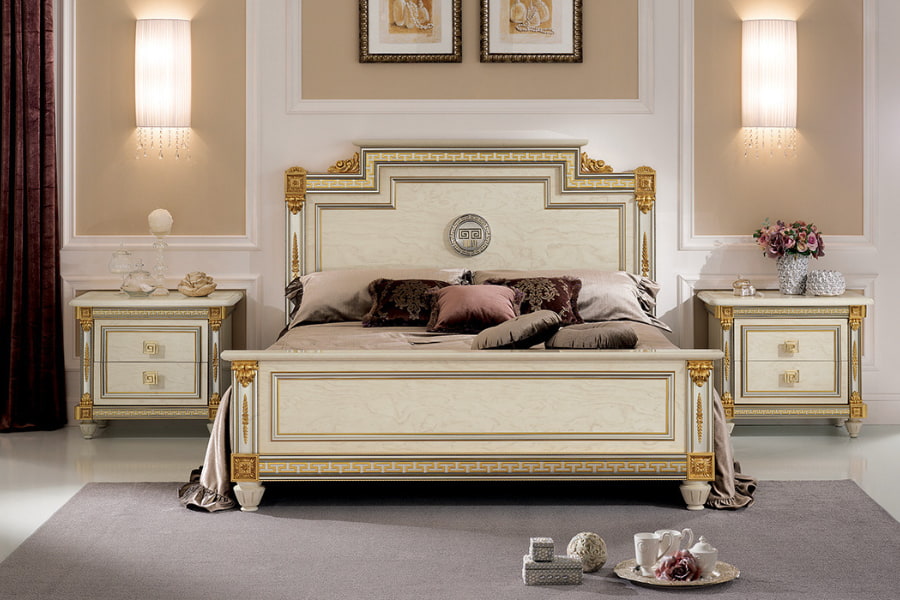 Classic bedroom: what style should you choose?
Each stylistic expression belonging to the large classical interiors family - from the opulence of the Renaissance style to the formal rigour of the Neoclassicism, or the elegant luminosity of Art Deco - summarises a number of typical elements.
The Renaissance strand, for example, favours inlaid furniture, lion's paw feet, hanging handles, dark woods and an abundance of luxurious decorative friezes. In contrast, the neoclassical style envisages a simpler and cleaner design, with rational, square forms and the inclusion of architectural elements reminiscent of Greek and Roman temples.
It is up to you to choose the form of expression that you feel is most akin to your personality and best meets your needs.
In this regard, keep in mind that furnishing a bedroom in a classic style means creating an environment that is comfortable, cosy, functional to one's needs and with a few personal touches that make the room as close as possible to one's own character.
Now we just need to learn more about Arredoclassic's proposals.
1. Renaissance style: opulent and austere
Modigliani is a Renaissance style room designed specifically for those who wish to enjoy a luxury-filled yet elegant atmosphere.
A rich and opulent atmosphere, where every detail is perfectly organized and where there is certainly a sense of calm and peace. The collection is characterized in each of its elements by silk-screen contrasts between solid wood and walnut brier root.
Daring two-tone color combinations made even more opulent by the gold leaf embossed decorations rest at the foot of the chest of drawers, as cymatia on the headboard or as a frieze on top of the wardrobe.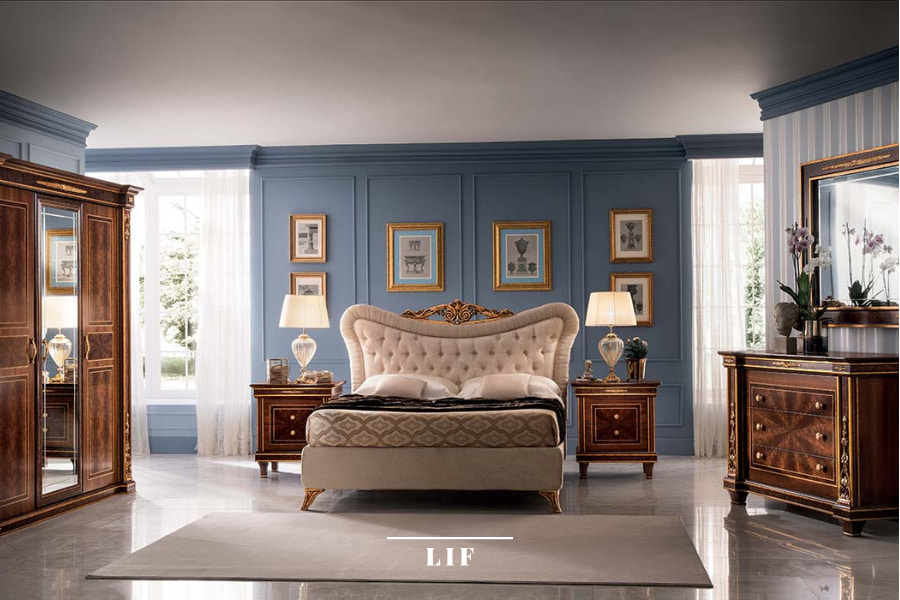 2. Art deco: between classic and modern
In the wake of the post-war revival, the art deco style seems to be an invitation to regain possession of life's pleasures and to indulge in a little luxury.
The Dolce Vita collection is a perfect example of this return to the luxury furniture concept, although in its clean lines and geometric shapes, it maintains a sophisticated formal balance and an atmosphere of understated elegance.
In Dolce Vita, Art decò is all-embracing and visible in the design and details of each piece of furniture. A place of relaxation where no detail is left to chance and where comfort is never missing.
The aesthetics of the furniture is based on contrasts between precious finishes and gradient colors that make each element unique yet connected to the others by a thin line of stylistic continuity. In this room, the balance between classic and modern sophistication will leave you breathless.
The rose gold and silver finish frames create a charming contrast with the walnut brier-root band and, together, become the leitmotif of the entire collection.
In the Dolce Vita bedroom, you will always feel pampered and surrounded by furniture that combines design and functionality.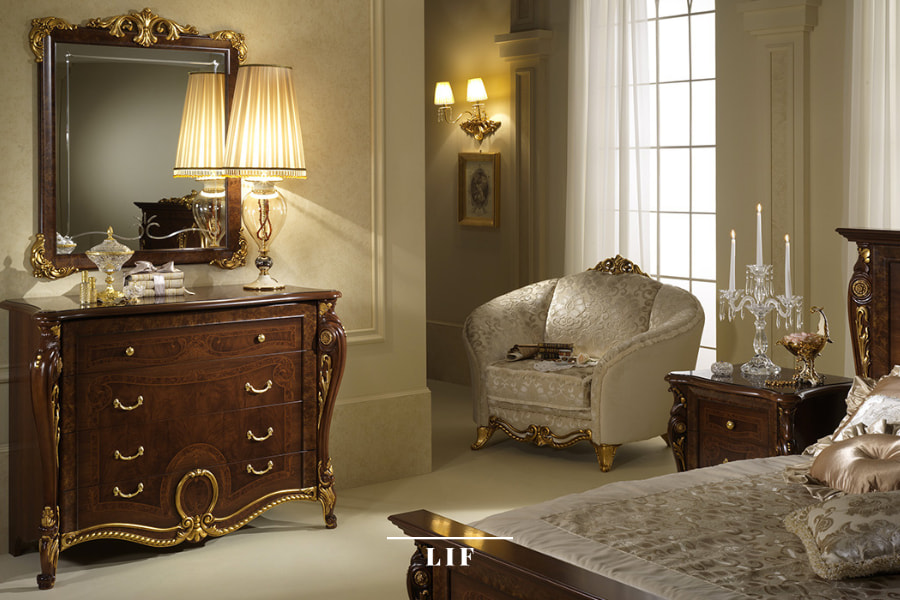 3. Neoclassical design: timeless beauty
Neoclassicism is a timeless style. Its secret lies in its ability to combine the canons of classical style with the most striking characteristics of modern style, and namely simplicity of line, visual balance and the ability to combine luxury and functionality, aesthetics and ease of use.
Neoclassicism also has a minimalist side, but not in the sense of contemporary furniture. Rather, it is about the need for large, bright spaces that are not overloaded with furniture and accessories.
A neo-classical style room will never give a sense of 'suffocation'; it will convey lightness and a sense of openness, also thanks to the light, shiny surfaces and the sober, bright and elegant colours.
In this sense, proportions, geometries and the creation of symmetrical and orderly layouts are also important in Neoclassicism, as in the Leonardo bedroom and in the Fantasia bedroom.
The Liberty collection also spreads a clear aesthetic message: a return to neoclassical design and refined sumptuousness. Between references to ancient Greek tradition and precious decorations that reflect the attention to detail of the made in Italy, the furnishings of this collection appear unquestionably elegant, full of pathos and versatile.
The furnishing elements for the Liberty bedroom follow the same aesthetic line, however, differing in details and unique design. Overall, the furniture pieces of this collection can dress with sober lines this room, offering intimacy and comfort.
Square and defined profiles, precious golden leaf decorations and silver frames.
Similar features for the Melodia collection bedroom, in which the contrast between the glossy ivory surfaces and the gilded frames creates a timeless beauty.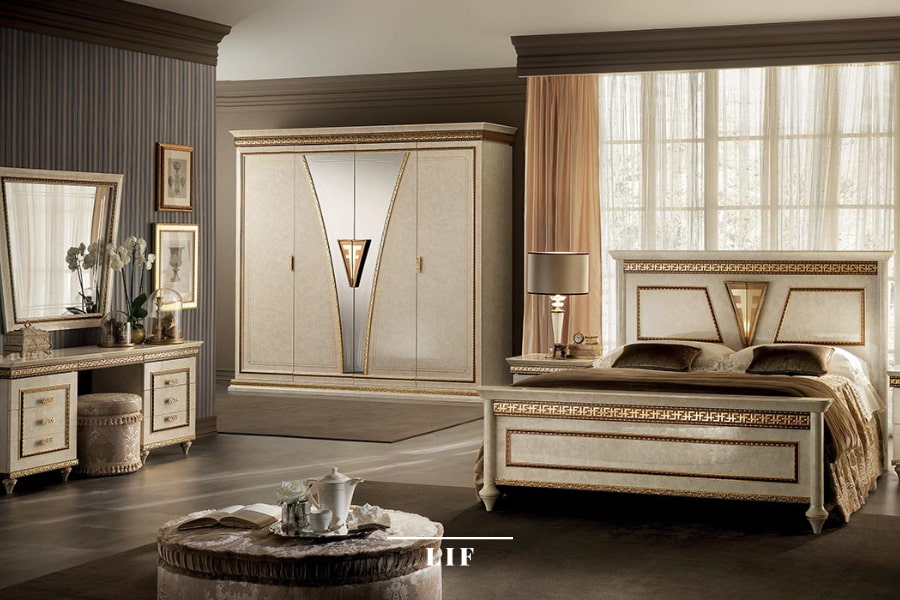 4. Baroque: abundance and charisma
The Baroque style is characterised by sinuous lines, luxurious decorations, precious fabrics (velvet and brocade) and extensive use of gold trim, as we can appreciate in the Donatello bedroom, where opulence and austerity coexist in full harmony.
On the other hand, the warm nuances of the walnut finish soften the gilded touches creating a perfect balance between richness and grace.
Donatello furnishings make the bedroom a beauty-filled room that does not give up comfort and functionality.
Among the golden reflections of the cymatia and friezes and the inimitable texture of the wood, bright polychrome games of light illuminate the room with intense nuances while maintaining a serious yet elegant mood.
Be inspired by Arredoclassic bedrooms
Each Arredoclassic collection is unique in its homage to the great Made in Italy tradition.
Every element in each collection is a real jewel of interior design: materials of the highest quality, shimmering finishes that lend an aura of luxury and elegance, colour contrasts, plays of light, shapes and volumes, and decorative details that serve to provide a distinct and recognisable stylistic imprint.
Find the collection that looks most like you and start imagining your new bedroom.
Arredoclassic's customer service is always on hand to advise you and provide ideas and inspiration.


Are you looking for an elegant and exclusive design for your interiors?