There's no doubt that classic Italian interiors design is renowned for its unmistakable elegance, but it's perhaps most famed for its ornate details – a vital component when tastefully decorating one's home.
Thanks to Arredoclassic, every room in the house can be elegantly and luxuriously kitted out with refined and intriguing furnishings.
Slick surfaces and soft edges adorned with elegant features are perfect for furnishing your:
living room
office
lounge
bedroom
That's right: classic interior design also works well in the bedroom. This intimate and private space deserves a touch of personality and sophistication, which is why classic Made in Italy furniture is often a perfect fit.
If you want to give your bedroom a fresh, stylish and elegant look, we recommend choosing accessories and furnishings with a few specific characteristics.
So just how do you go about creating a classic style? Read our simple decorating tips before you get stuck in...

Classic Made in Italy furniture: tips and tricks for the bedroom
If you're looking to spruce up your bedroom, we recommend following these valuable design tips:
Opt for muted colours
Choosing furniture with the right colour palette is vital. The range of colours suited to classic Made in Italy furniture is limited and tends to exclude bright colours and favour solid, warm and persuasive tones instead.
In bedrooms with a more classic feel, furniture tends to be adorned with ornate features with a golden or silver sheen. Classic furniture often suits the following tones:
These colours tend to seduce the senses, creating a comfortable and relaxing atmosphere.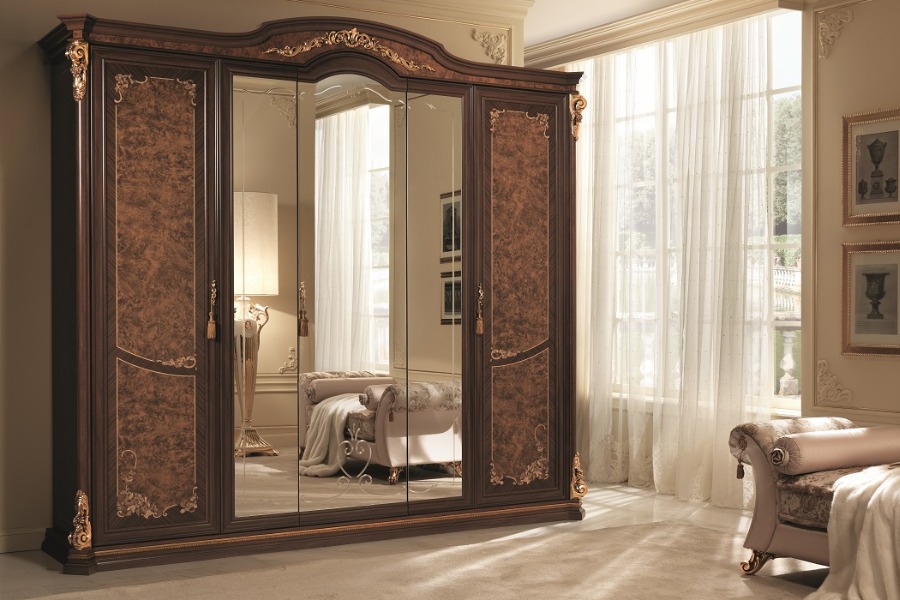 Put the bed in the centre of the room
Once you have found a suitable colour palette, you should start thinking about rearranging your furniture.
Every piece of furniture plays an important role in the bedroom, but the star of the show is most certainly the bed. One of the fundamental rules for designing a luxurious and elegant bedroom is to put the bed in a prominent position.
Make sure that your bed is easy to reach and in view. Think about placing it in the centre of the room to make it a genuine focal point in the space. By following this tip, you will notice a difference in terms of both functionality and aesthetics.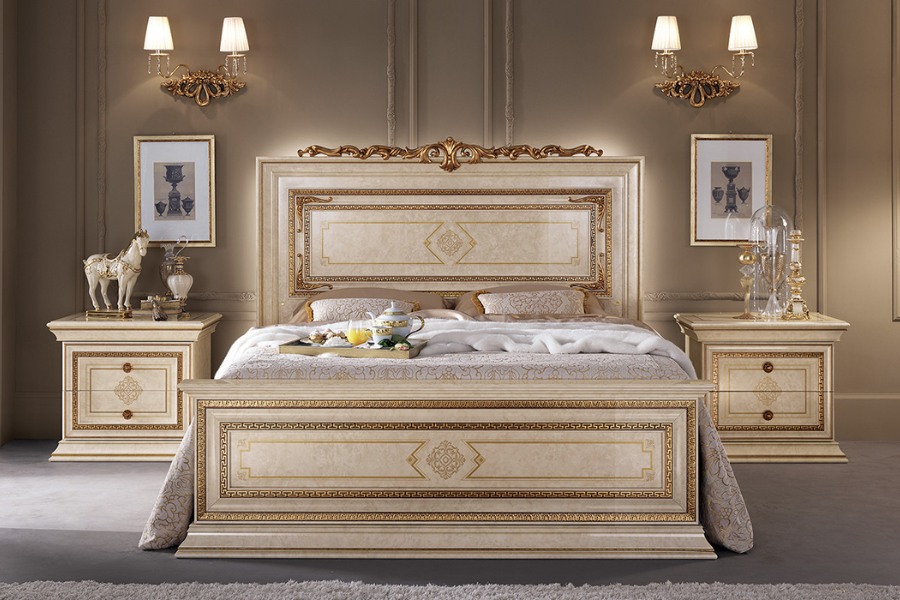 Match different textures, patterns and shapes
Bedrooms decorated in a more classic style tend to bring together a variety of textures, patterns and shapes, which have a surprisingly aesthetic impact once combined, despite their differing characteristics.
Smooth and ornate surfaces, softer shapes and sharp lines, all combined with fabrics and finishes with a soft yet intriguing feel – a variety of aesthetic elements will help to give turn your bedroom into an inviting space.
Opt for an upholstered bed made from quality fabrics, with embellished gilded friezes along the headboard.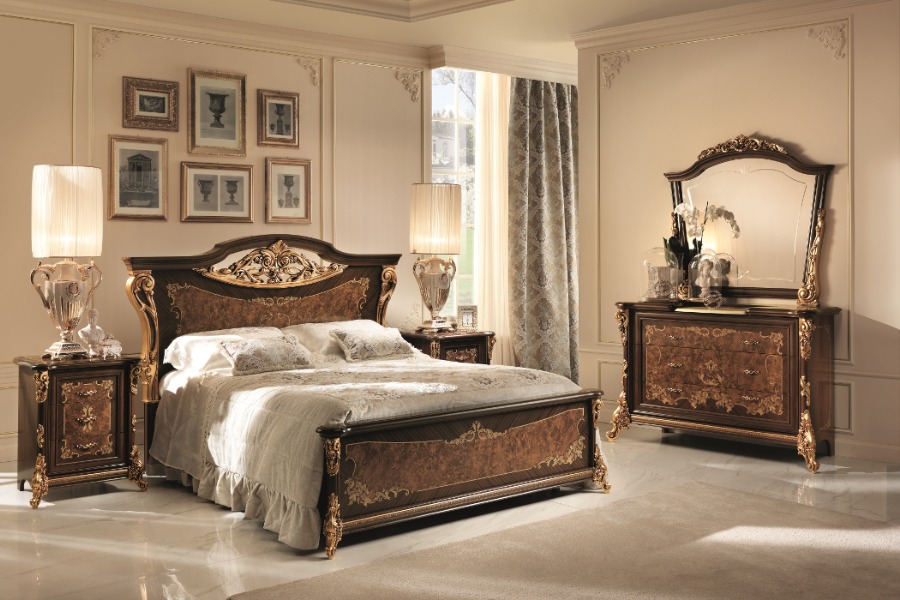 A perfectly balanced combination of original materials and visually-impacting gilded curves reflects a passion for elegant and classic design.
Why not skilfully juxtapose a few different motifs by opting for a large wardrobe with curvilinear golden cornices that match perfectly with a sharp gilded Greek border pattern.
Ornamental curves and gilded borders tend to catch the light, allowing your wardrobe to stand out, while blending perfectly with its ivory finish.


Put a carpet and/or rug on the floor
Soft carpeting or finely woven rugs will give your bedroom all the comfort it needs.
When it comes to choosing the best carpet or rug for the space, make sure you opt for the right colour and the highest quality material in order to tastefully decorate your room.
Finely crafted natural fibre wool and silk woven rugs featuring elaborate, picturesque designs and muted tones such as beige, white and champagne are perfect for kitting out your room with a touch of class.
If you do choose to put down carpet, select the type you like best. Bouclé carpet is soft and comfortable to the touch, while soft velvety velour is one of the finest materials. Opt for needle-punched carpet if you need something more flexible and resistant.
Always remember to choose a carpet or rug that matches the space.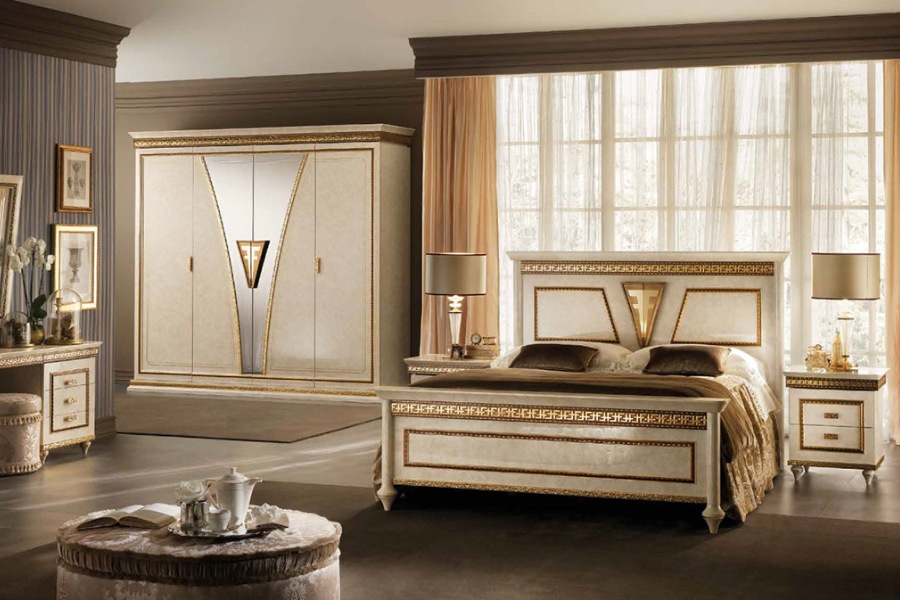 Choose a few comfortable, decorative accessories
In order to find the right balance between functional and decorative light, add a few lamps with fabric lampshades, for a touch of distinctive class.
Don't forget to hang mirrors and paintings with ornate frames that mimic the style of the bed's headboard.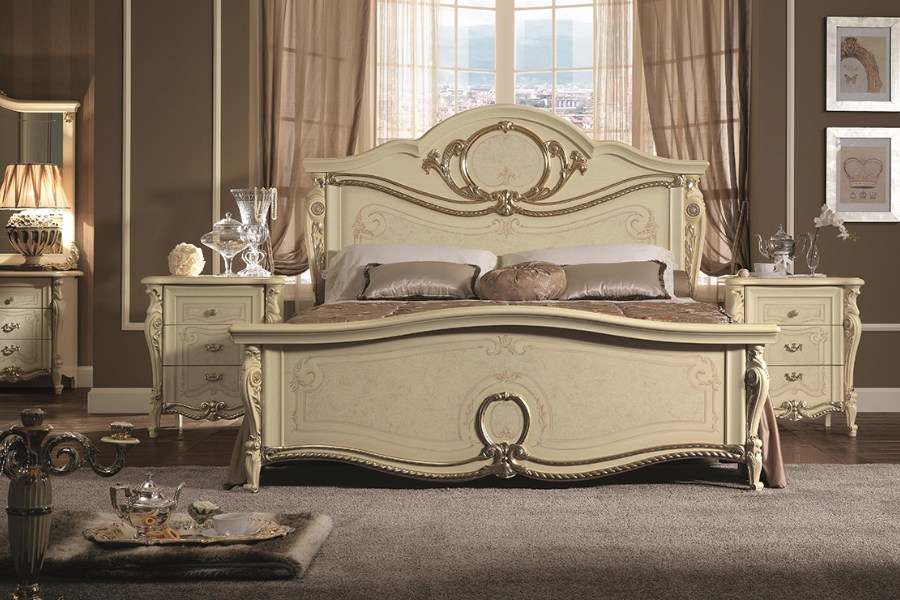 Add a touch of light to your bedroom
Light up your bedroom. Adorn the ceiling with decorative lamps that provide functional brightness and give the room an additional aesthetic boost.
You could also opt for a bejewelled chandelier with bright crystal pendants, or perhaps a statement chandelier with a more curved, contemporary look. The choice entirely depends on your taste and stylistic needs.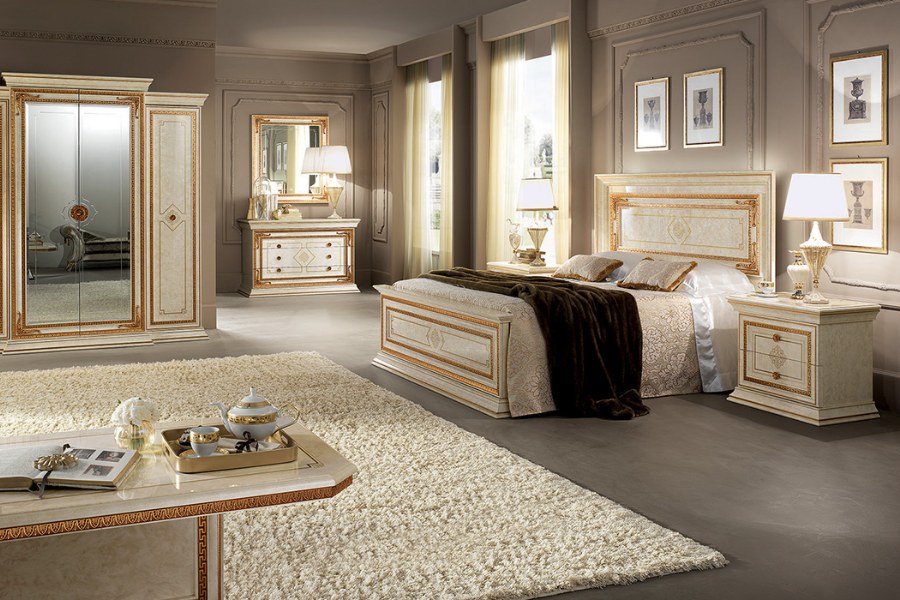 Classic Made in Italy furniture: for a touch of elegance in the bedroom
Classic Made in Italy furniture can bring added value to your space.
Classic shapes, neat lines and refined decor encompass a long-lasting tradition that is devoted to bringing out beauty in spaces and reflecting the aesthetics of timeless, eternal Italian style.
Let yourself be captivated by this elegant style when redecorating your bedroom.