There's no doubt that classic Italian interiors design is renowned for its unmistakable elegance, but it's perhaps most famed for its ornate details - a vital component when tastefully decorating one's home.
Thanks to Arredoclassic, every room in the house can be elegantly and luxuriously kitted out with refined and intriguing furnishings.
The classic style is a timeless style that never goes out of fashion. Furnishing one's rooms in the classic style means enjoying an elegant, rich and refined home that has nothing to envy from the noble houses of yesteryear.
Moreover, the classic style is perfect for the bedroom: an intimate and private room that can be enhanced by a refined touch that only classic Made in Italy furniture can offer.
But how to recreate the classic style in a bedroom? Let's find out together.

What it means to furnish a room in the classic style
Before learning how to furnish a bedroom, it is worth remembering that, in general, furnishing a room in the classic style means first of all choosing to use prestigious materials such as marble or fine wood.
When choosing colours, as well as opting for softer, more natural ones, we recommend choosing light-enhancing colours to make classic furniture stand out even more.
When we speak of fabrics for cushions, curtains or carpets, we are referring to elements that are fundamental in any classic style interior design. Precious fabrics such as damask or velvet will be used.
The design of the classic style is unmistakable with its refined lines with precious and detailed inlays, all enhanced by sofas and armchairs with comfortable and sculptural seating.
The advantages of choosing Made in Italy furniture
Loved and exported all over the world, Made in Italy furniture stand for exclusivity and quality.
Arredoclassic can boast 100% Made in Italy furniture having been certified by the Institute for the Protection of Italian Products. This certification is only awarded to companies that, after a series of checks and research, prove that their entire production cycle takes place exclusively in Italy.
Arredoclassic is a 100% Made in Italy brand that manufactures its collections in the Pesaro area. The company has been a reference point for decades standing out for its innovation and research in the field of interior design.
Choosing furniture made in Italy also means:
Opting for durable furniture: furniture made in Italy is not only profoundly versatile, but also durable over time thus allowing excellent value for money

Opting for furniture that combines innovation and craftsmanship: furniture with the Made in Italy label holds high the tradition of the Italian handcrafted heritage, handmade products that combine innovation through the use of advanced technologies on all phases of the production cycle

Opting for sustainable furnishings: Made in Italy has now more than ever paid special attention to eco-sustainability, seeking solutions, such as the purchase of certain raw materials, that can have the least possible impact on the environment.
Classic Made in Italy furniture: tips and advice for your bedroom
If you are looking for a classic furniture for your bedroom, we would like to offer you here a few tips that will transform the environment.
Sophisticated finishes, details that embellish the room, and strategic furniture placement will all enrich your bedroom, making it comfortable, yet elegant and full of luxury.
Always remember that a bedroom is a place that must be furnished with care as it is the space that welcomes you in the evening when, after a long day, we look forward to resting. And that is when everything around us can influence our sleep and mood.
Follow our advice and your classic-style bedroom will guarantee peaceful and pleasant sleep in an elegant environment.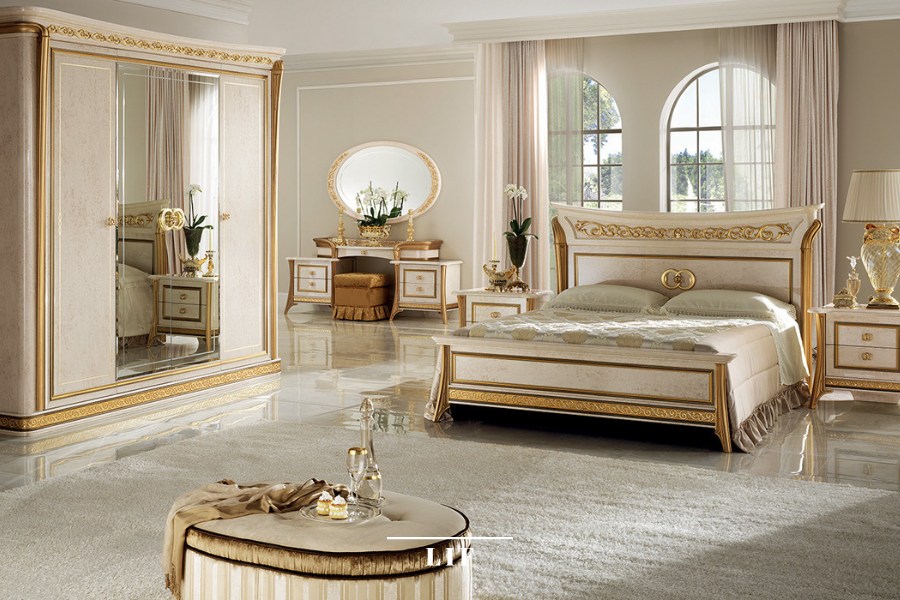 Opt for muted colours
You have certainly asked yourself many times: what is the best colour for my bedroom?
Choosing furniture with the right colour palette is vital. The range of colours suited to classic Made in Italy furniture is limited and tends to exclude bright colours and favour solid, warm and persuasive tones instead.
In bedrooms with a more classic feel, furniture tends to be adorned with ornate features with a golden or silver sheen. Classic furniture often suits the following tones:
These colours tend to seduce the senses, creating a comfortable and relaxing atmosphere.
Choosing this palette will also have the advantage of brightening up the room and making it look larger. But not only that. With white or beige it will be possible to combine all the various shades and hues.
Put the bed in the centre of the room
Once you have chosen the most suitable palette for your classic-style bedroom, it is time to think about the arrangement of furniture within the room.
Every piece of furniture plays a fundamental role in a room, but the bed is the key element around which all others should revolve. This is a concept to always keep in mind when designing a luxury bedroom.
The bed should be placed in a prominent position in the space, in an easily accessible and visible spot, such as at the centre of the room. This will turn it into the focal point of the space, as you can see in the Fantasia collection.
The bed in the centre of the room can also be a useful element for delimiting the space, thus creating two separate classic yet joined rooms.
In this case, opt for an upholstered bed made of quality fabrics, with golden friezes along the headboard.
Finally, it is always a good idea to keep in mind that there must be at least 60 cm of space between the bed and its surroundings to move around unhindered.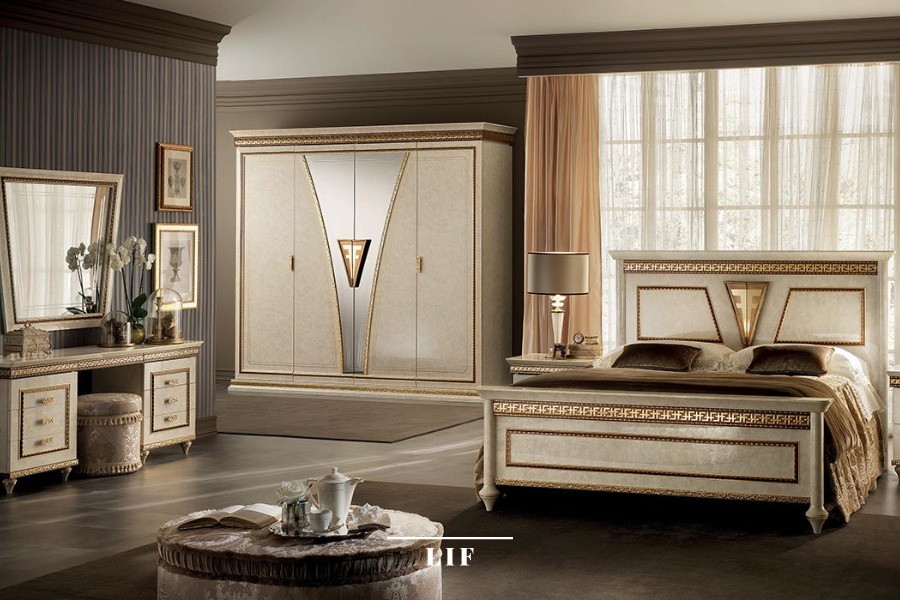 Match different textures, patterns and shapes
Bedrooms decorated in a more classic style tend to bring together a variety of textures, patterns and shapes, which have a surprisingly aesthetic impact once combined, despite their differing characteristics.
Smooth and ornate surfaces, softer shapes and sharp lines, all combined with fabrics and finishes with a soft yet intriguing feel – a variety of aesthetic elements will help to give turn your bedroom into an inviting space.
Opt for an upholstered bed made from quality fabrics, with embellished gilded friezes along the headboard.
A perfectly balanced combination of original materials and visually-impacting gilded curves reflects a passion for elegant and classic design.
Why not skilfully juxtapose a few different motifs by opting for a large wardrobe with curvilinear golden cornices that match perfectly with a sharp gilded Greek border pattern.
Ornamental curves and gilded borders tend to catch the light, allowing your wardrobe to stand out, while blending perfectly with its ivory finish.
Playing with different patterns and motifs can give an extra touch of elegance and originality to the room, breaking the rules yet remaining consistent with the rest of the classic style. If you do not know which texture to choose, you might consider using a dove grey or a more ochre yellow for an even more retro style.
For sheets and curtains, we advise you to use fabrics with a good finish such as those made of natural fibres, such as Egyptian cotton or rayon with beech cellulose.
Put a carpet and/or rug on the floor
Soft carpeting or finely woven rugs will give your bedroom all the comfort it needs.
When it comes to choosing the best carpet or rug for the space, make sure you opt for the right colour and the highest quality material in order to tastefully decorate your room.
Finely crafted natural fibre wool and silk woven rugs featuring elaborate, picturesque designs and muted tones such as beige, white and champagne are perfect for kitting out your room with a touch of class.
If you do choose to put down carpet, select the type you like best. Bouclé carpet is soft and comfortable to the touch, while soft velvety velour is one of the finest materials. Opt for needle-punched carpet if you need something more flexible and resistant.
Always remember to choose a carpet or rug that matches the space.
If you choose to buy a large carpet, it should cover 2/3 of the room. Our recommendation is to place it under the bed, because in addition to emphasising the bed, it allows having something soft to rest your bare feet on as soon as you wake up.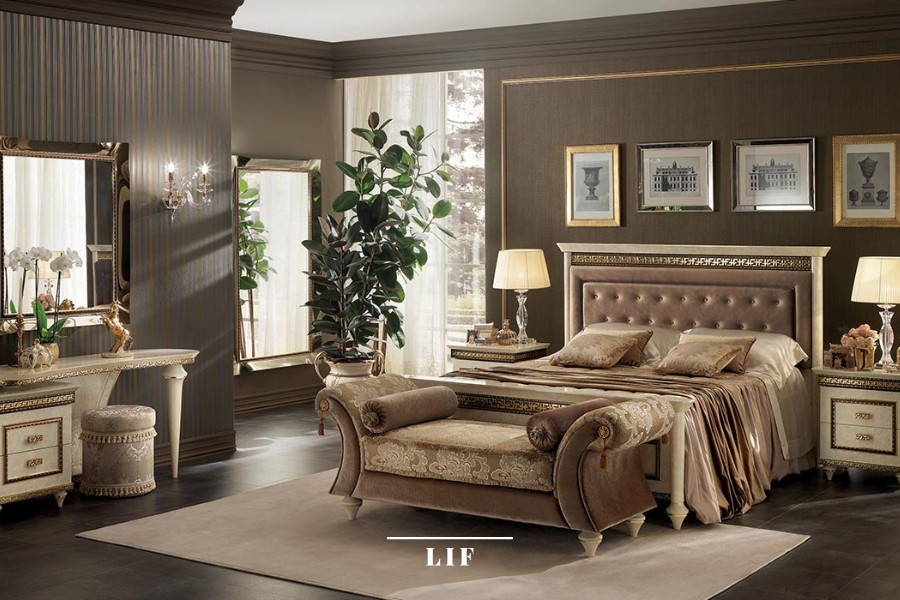 Choose a few comfortable, decorative accessories
For a classic-style bedroom to be complete and cosy, do not forget the accessories, such as mirrors and paintings with decorated frames that match the style of the headboard.
Let's start with the mirror, which should not only be considered as a way for looking at oneself, but also as a furnishing element, capable of giving the room spaciousness and brightness.
To choose the one that best suits your needs, you will have to take into account the size of your room and the type of design you have in it. You can opt for a mirror with a glass or wooden frame with a sophisticated design that can offer a more romantic touch to the room.
Paintings also play an important role in a bedroom. For a classic-style room, choose the type that best suits the furnishing but avoid dark tones to prevent a gloomy effect on the entire space.
We recommend landscapes or natural elements that convey tranquillity and relaxation.
Add a touch of light to your bedroom
It is essential that the bedroom is well lit. You can decorate it with decorative ceiling lamps that provide light and a touch of added elegance to the room.
Again, to choose the light best suited to your room it is a good idea to analyse the shape and size of the space available, which should be based according to the light it needs.
Colour plays another key role in the choice of lights: they should be placed according to the colour palette of the entire room. In addition, keep in mind that the lamps must illuminate and thus enhance the most important objects and furniture, such as the bed and the wardrobe.
The main point of light in a classic-style bedroom is the chandelier: you can opt for a bejewelled chandelier with luminous crystal pendants or perhaps a chandelier with a more curved, contemporary look.
If you don't like chandeliers, you can opt for low-intensity floor lamps as a solution, which, placed at opposite points, can illuminate the entire room.
An alternative to these two options could be wall lights, such as flower-shaped ones, which, by exploiting the reflection of light on the walls, can make the room warm and cosy.
The choice will depend solely on your taste and stylistic requirements.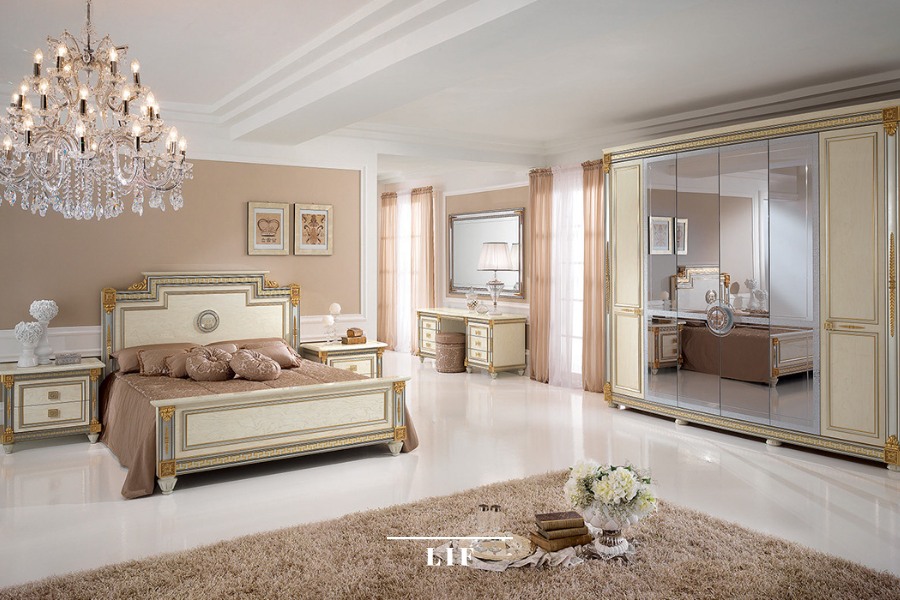 Classic Made in Italy furniture: for a touch of elegance in the bedroom
Choosing furniture with a classic Made in Italy style for your bedroom means choosing elegant and refined elements that can make the whole room cosy.
This is the most intimate and cosy place in the entire home, where refined design elements will ensure peace of mind and relaxation amidst gilding and fine fabrics.
Choosing to sleep in a classical-style bedroom means:
Enjoying furniture with quality finishes such as ceramic, bronze, marble and gold leaf
Living in an environment where colours, predominantly with muted shades, are chosen to emphasise the elegance of the materials
Enjoying an environment where all the furnishing elements are elegantly arranged in a symmetrical and harmonious manner
Classic shapes, clean lines and refined decorations embrace a long-standing tradition dedicated to enhancing the beauty of the spaces and reflecting the aesthetics of timeless Italian style.
For those who wish to furnish the interior of their luxury home with Italian furniture, Arredoclassic's customer service is available to answer any question.
To ensure respect for the customer's personal taste, we offer the possibility to customise products, for example by making upholstery and seating unique.
Are you looking for an elegant and exclusive design for your interiors?