The bedroom is the most intimate room in the house and when it comes to designing this space and renovating its concept, adding a personal touch that reflects your own taste is always a good idea.
But where should you start? Just browse through interior design magazines or visit industry websites. Specifically, you may find decorating inspiration in the Arredoclassic and Adora catalogues or on the LIF blog, for instance.
Design trends for luxury bedrooms are constantly evolving. If you like to keep up with the latest interior design trends, here are the news for 2022: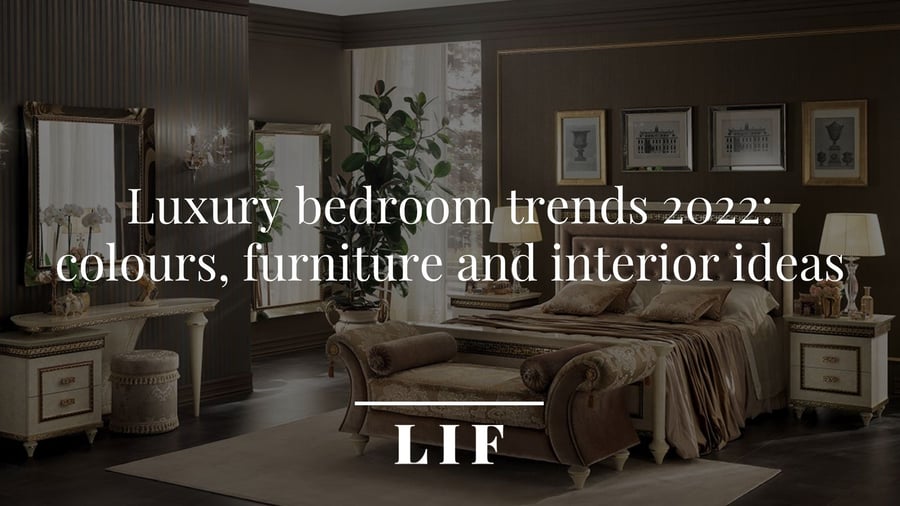 All you have to know about the luxury bedroom trends 2022
Once again this year, new classic and contemporary trends are invading the homes of those who love interior design and love to blend their taste with the latest furniture news.
Here is everything you need to know to stay up to date:


Bedroom furniture and its details: what do the latest trends say?
Bedroom furniture design embodies a perfect synergy between functionality, aesthetics and comfort.
Of the three, functionality is the most important, as bedroom furniture serves different purposes (such as storage, display and tidying space). But style and comfort are also essential for a good night's sleep.
2022 trends are all about creating a comfortable and pleasant environment.
Here are some ideas to consider when creating a luxury bedroom design.



Spacious and comfortable beds
Start with the star of the room: opt for a comfortable mattress with a firmness that best suits your postural needs.
In terms of size, the more spacious the bed (obviously) the freer you are to move around during sleep.
Make sure that the slats or bed base supplied are strong and stable. An extra treat could be a built-in shoe and laundry box and/or a LED strip behind the headboard to provide light instead of the classic bedside lamp.
Bold decorations and designer lighting
Add a bit of character to the room by incorporating accent cushions in contrasting colours with the linen that will stand out in the decor.
Don't forget the lighting: metal and glass wall lamps with a minimalist design for a contemporary feel, or table lamps with a linen shade, brass frame and tassels for a classic room.
As far as light intensity is concerned, it is advisable to opt for warm, soft lighting, whether it illuminates the whole room or just the bedside tables and vanity unit.
If you'd like to find out more about the best lighting for your bedroom this year, take a look at our newly updated guide "Bedroom lighting design guide".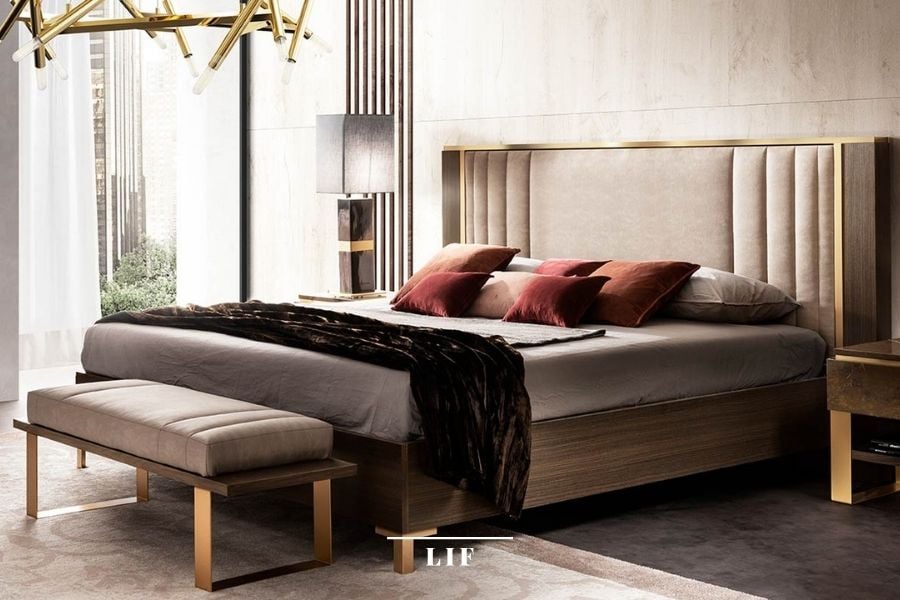 Plain curtains
For more privacy and to modulate the brightness in the room, add long solid-coloured curtains that are flush with the floor.
If you want the room to be bright, opt for sheer fabrics and soft colours. In this case, the fabric palette varies according to the furnishing style, but we will go over this aspect in the next paragraph.

What is the perfect colour palette for a luxury bedroom?
The bedroom is a true oasis of rest and, as you can imagine, the choice of colours for both walls and furniture plays a decisive role in creating the mood of this room.
Both stylistically and perceptually, it is important to find the right colour palette for your room.
If you want to a restyle your room in line with the dictates of contemporary style we recommend dynamic, cool and energetic colours: midnight blue, anthracite, vermillion, forest green or the brand new Very Peri or Pantone colour of 2022.
For a colour palette more in keeping with the classic concept, we recommend the neutral tones of grey, white and brown combined with pastel shades such as pink, light blue and dove grey.


Wallpapers and painting: their roles in luxury bedroom trends 2022
Designing your bedroom means that you have to pay attention to every detail, including wall decoration.
If your room is rather on the small size, compared to luxury master rooms, you could opt for wallpaper or paint to create the illusion of more space. Patterns and mirrors are perfect for this purpose.
Wallpaper is a simple and inexpensive way to revolutionise any room, as it can instantly add colour and depth.
Wallpaper designs have evolved from classic prints to more modern styles, to ensure that everyone can have a luxurious bedroom in line with their aesthetic taste.
On the one hand, we have linear and clean patterns, perfect for contemporary atmospheres, and on the other hand, more sophisticated prints, with acanthus leaves and twirls, in perfect classical spirit.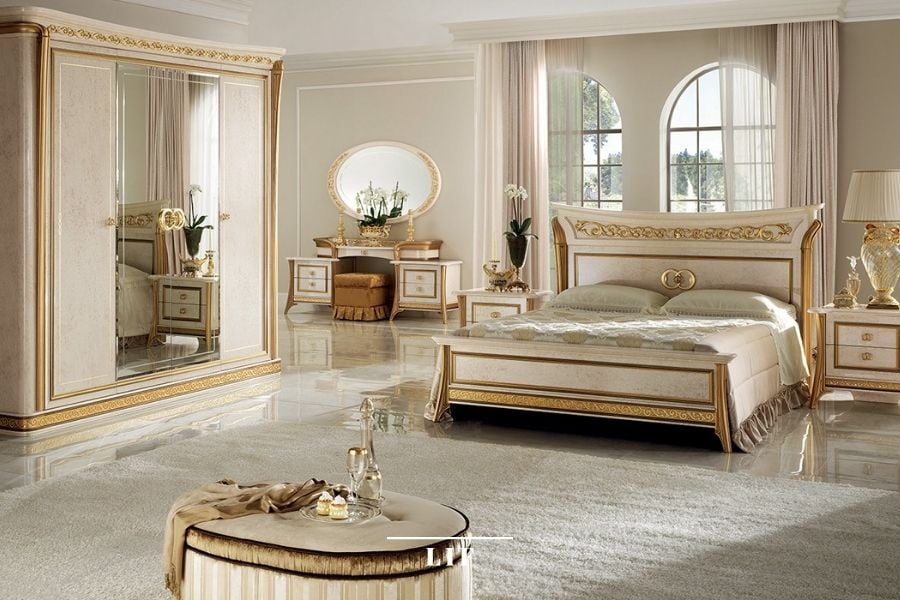 Luxury bedroom trends 2022: comfort and style come together once again
Fashion transforms and renews itself, giving us each time wonderful design ideas and inspirations to enrich our home and make it a unique place.
According to Luxury Bedroom Trends 2022, the furnishings and decorations in the ideal bedroom combine comfort and style.
By following this little guide on the latest interior design trends, you'll know how to give your room a new face, while keeping up with the latest trends.
Are you considering refurnishing
your bedroom?