Discover what makes Italian living room furniture perfect for the classic style. Create your own living room with our advice and find out the secrets for a cozy and luxurious space.
When it comes to spaces decorated in a classic style, it's all about channelling timeless spirit of Italian living room furniture into every detail of the style project.
It goes without saying that attention to detail is the key to making classic living rooms elegant and luxurious, without forgetting small ornamental and decorative touches that make each piece of furniture unique.
In this article, we reveal a few decorative tips to help turn your living room into a space that simply oozes elegance.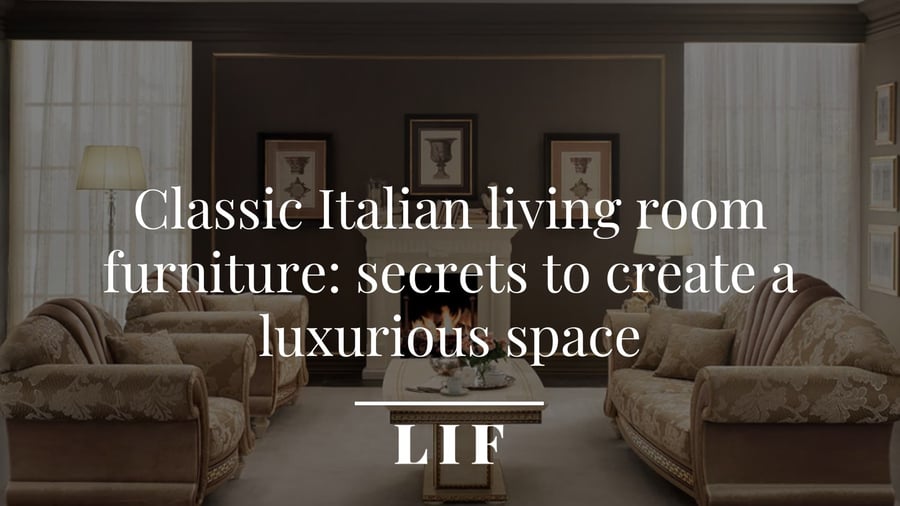 How to create a luxurious living room
The Italian living room furniture has the power to transform even the most anonymous of rooms into spaces so elegant and refined that they leave guests amazed.
However, when planning a luxury living room the biggest challenge is being able to keep the furniture design in balance:
Composition balance: everything that relates to proportions and ergonomic principles, correct combinations of shapes, sizes and volumes, and overall harmony of vision;
Chromatic balance: the use of a harmonious and consistent palette, "reasoned" (not random) color combinations;
Stylistic balance: the creation of the right atmosphere (and by "right" we mean consistent with the style and mood you intend to create).
For example, in creating a classic-style living room with Italian furniture, the risk could be to create a very refined but all too austere environment, at the expense of the sense of warmth and coziness that cannot be lacking in a living room.
In this case, to keep the aforementioned stylistic balance, the designer will have to be good at choosing Italian living room furniture that can adjust the atmosphere of the room so that it is not excessive in one direction or another.
Does it sound complicated? It is actually quite simple, as long as you approach the right interior design companies. Let's find out more!
Create a dreamy classic-style space with the best Italian living room furniture
For furniture to be truly functional in creating a luxury classic-style living room, it is necessary to identify the best design ideas for a classic-style living room and, consequently, the best Interior Design companies.
Arredoclassic is one of them because Made in Italy quality has become its hallmark. The Pesaro-based company is well-established nationally and internationally, offering collections featuring the many aspects of the classical world.
Arredoclassic living rooms are able to meet the most demanding and diverse requests ranging from the bright atmospheres of Art Deco to the opulence of the classical Renaissance style, passing through the timeless elegance of neoclassicism and the formal balance of the Empire style.
In order to ensure your space is carefully curated, you need to pay attention to every last detail.
In fact, it is essential to take every aspect into consideration and be well acquainted with the Italian decorating ideas and features of the various types of classic-design styles.
For example, a Renaissance-style living room, such as Donatello by Arredoclassic, focuses on decorative wealth, warmth, dark tones, gilded friezes, and sinuous lines for both sofas and furniture legs. All of this contributes to a sumptuous and opulent atmosphere.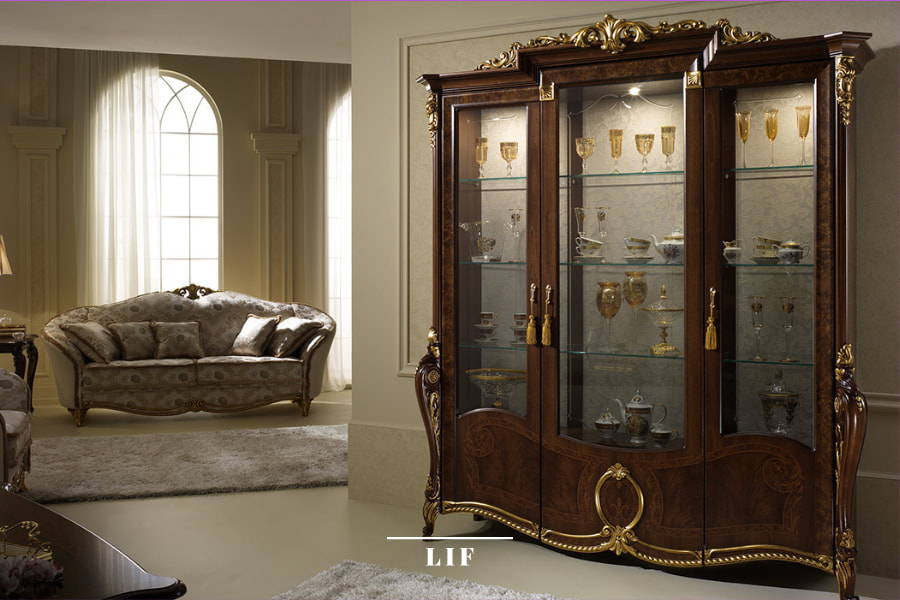 Quite different is the classic-style embodied by the Dolce Vita living room, dominated by light and bright finishes and clean and geometric shapes. There is a more contemporary mood here, while remaining true to elegant living room furniture.
Classic living room ideas: the 5 secrets for a cozy and elegant space
Below you will find the tricks to turn your living room into a warm, refined, and classy environment.
1. Choose similar but different colors by temperature
Opt for versatile shades such as beige and gray: discreet, elegant colors that can be easily matched with most shades, including white and black. Although both are neutral, they have different "temperature": grays are cool and beiges are warm.
This means that, combined in the same room, these colors are the perfect mix to create the cozy and sophisticated atmosphere that a space dedicated both to receiving guests and making the home stand out for its luxury and elegance.
A perfect example of the successful mix of cool neutrals and warm neutrals is the Liberty living room. Here the sofas in austere shades of gray harmoniously combine with the warm shades of the furniture pieces.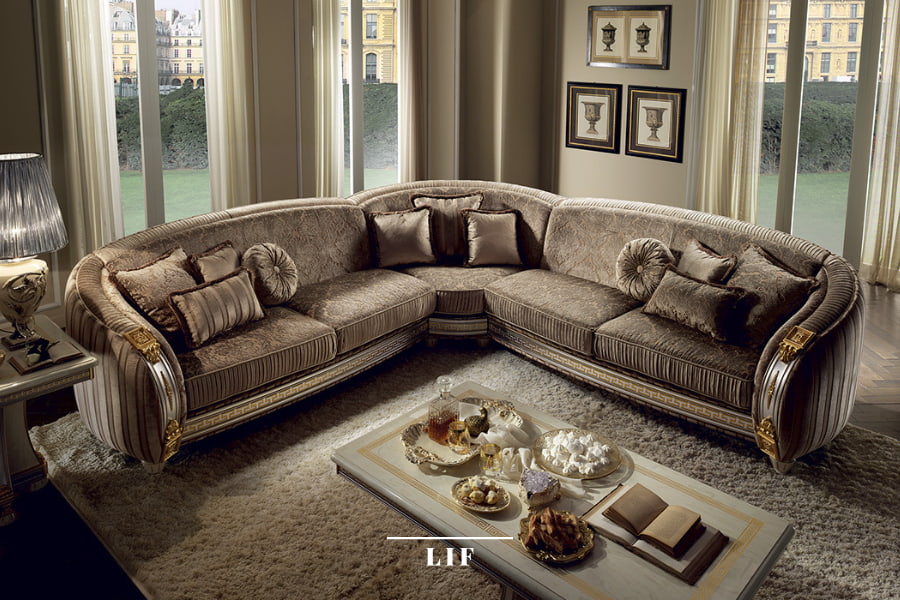 2. Opt for precious fabrics
The fabrics are perfect for creating the combination of warmth-elegance. In fact, on the one hand they "dress up" the house (and consequently warm it up), and on the other hand they add a touch of luxury and elegance, provided you choose precious materials.
For classic style sofas damask, brocade, as well as leather and velvet are perfect. The latter is also ideal for curtains, to which tassels or decorative trims can be added. For a less darkening effect, you can choose linen, satin or silk curtains without giving up on elegance.
3. Add a focal point
In each room there is one piece of furniture that stands out from the others. In the bedroom it is almost always the bed, in the dining room the table, and in the living room the sofa.
However, much depends on the layout of the room and other furnishings. A large corner sofa in the middle of the room will inevitably be the focal point of the living room, but you can create an opulent ambiance with Italian living room furniture even if the star piece of furniture is not the sofa but a piece of furniture that stands out because of its precious design, carved details, distinctive shapes, lines, colors, and size. Sometimes the focal point is a structural element, such as a decorative fireplace, and sometimes it is a large piece of art on the walls.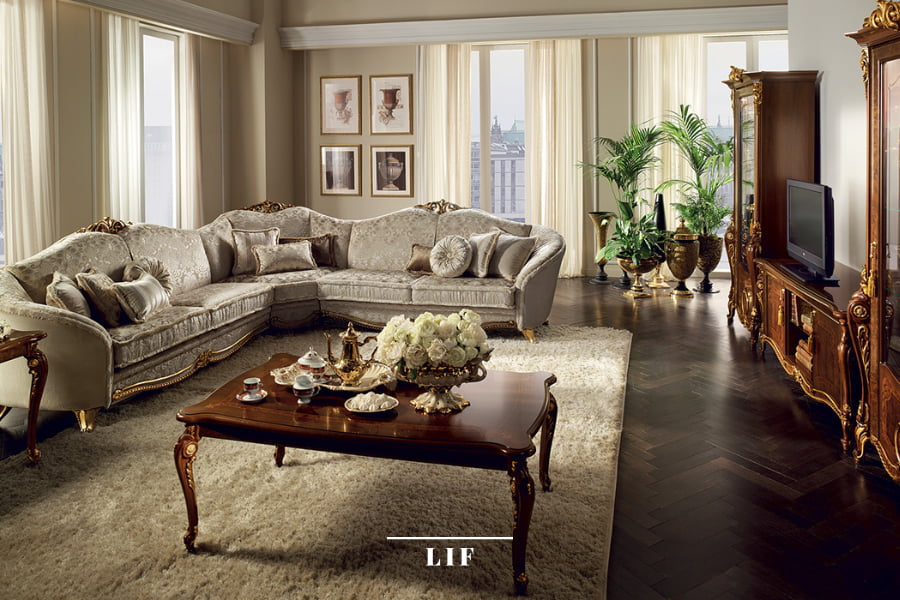 4. Furnishing by decorating: do not forget the accessories
In a luxury classic-style living room, gilded details cannot be missing. You can introduce them by playing with accessories - cushions, frames, lamps, vases, and ornaments - or dare more with jewelry-furniture, such as the showcases of the Fantasia collection, or with sofas featuring gilded elements integrated into the design, such as in the Melodia collection.
Decorations also apply to the walls. A good idea to keep the style balanced is to choose a wall and decorate it with an eye-catching paneling or wallpaper. This is valid also for paintings and artwork, as well as decorative mirrors, perfect for embellishing a wall, but also for expanding the space and reflecting light.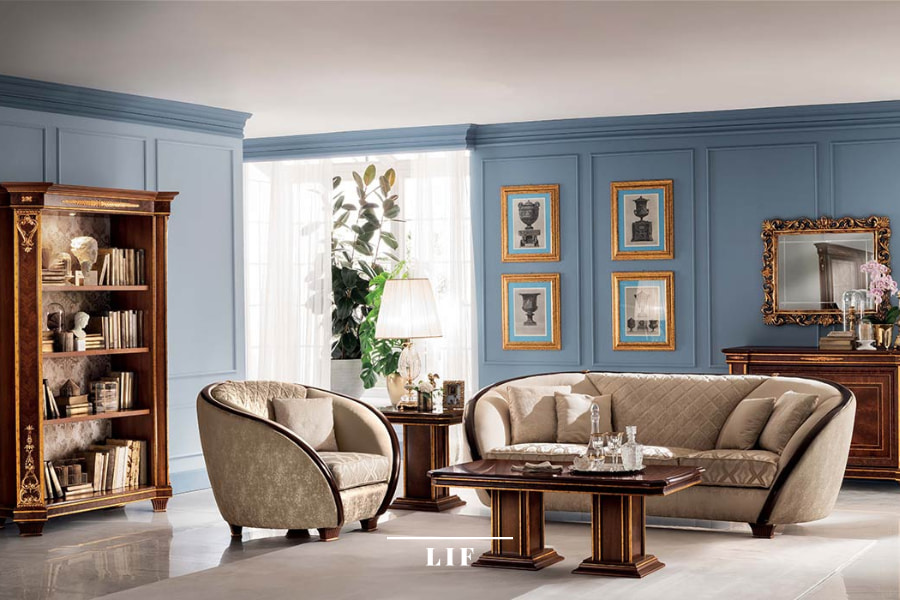 5. Add your personal touch
Any environment, to be considered truly successful stylistically, cannot disregard the personal touch of the person who lives in it.
There is no advice here except to avoid aseptic and impersonal environments.
The living room at home, even when it is opulent and elegant, should never be "perfect and contrived." It is not a hotel lobby or a design magazine photoshoot. It is a living and breathing living room!
Your personal touch can be a bookshelf full of books, photographs and travel mementos, a vase of fresh flowers on the table, houseplants arranged in strategic spots, and anything else that represents your personality.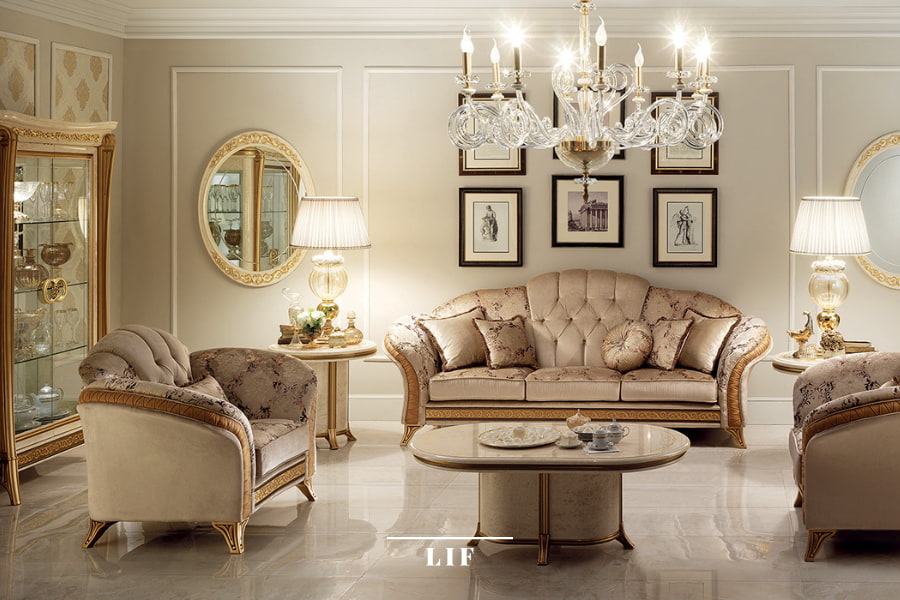 Classic Italian living room style: details make all the difference
In this in-depth look at Italian living room furniture, we saw how it is possible to furnish in the classic-style while maintaining a balance between luxury and coziness, elegance and a sense of warmth.
However, to do so it is important to know how to choose the right furniture. In this regard, we took a look at the classic living room ideas offered by Arredoclassic, a leading company in the industry, and the top five tips to use as inspiration to achieve an undeniably elegant end result.
Precious details of Arredoclassic collections will help you to accentuate the prestige and elegance of your living room, allowing you to enhance the space and turn it into a room with inimitable taste, in true classical style.


Get inspired by our living room tips.