In any variation, classical style expresses a careful search for perfection, attention to detail and a love of elegance. Every room in the house needs its own atmosphere, a distinctive aesthetic hallmark that will express your preferences when it comes to decorating and furnishings.
This article will take a look at the living room, analysing the different furnishing concepts devised to give a classy look to this specific area of the home. The ideal way to make a style statement.
If you want to create a refined furnishing layout, inspired by classic style, then first of all, you need to draw up a detailed list of classic furnishing styles for living rooms that can suit this area of your home.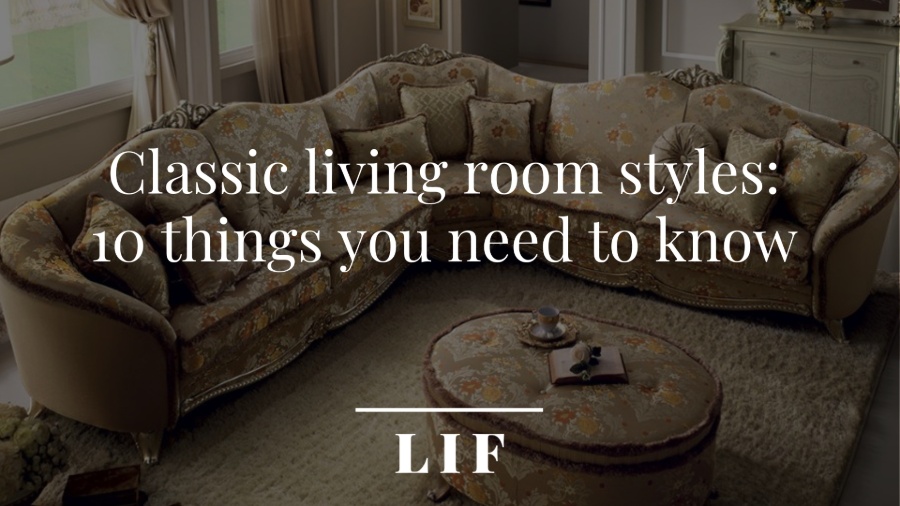 10 classic living room styles: decor ideas to create an elegant atmosphere
Over time, classic tastes have taken on a new style identity to respond to and increasing range of different demands.
That's why, to make a specific choice that will satisfy your sense of aesthetics, you should take a look at all of the classic furnishing styles for the living room.
Specifically, we will be looking at:


Let's take a look at the specific characteristics of each living room furnishing style.


1. Chippendale
Elaborate, rich, and elegant. These are the terms that best describe this style of furnishings that takes its name from a furniture maker from Worcester. Furniture in Chippendale style is the result of a perfect combination between gothic, rococo, with style influences from Chinese design.
The furnishings that best encompass the characteristics of this style are imposing wardrobes, chairs with a gothic inspiration, scallops, and inlaid tables, made in cherry, mahogany and walnut.

2. Neo-classical
Neo-classical style is a genuine reference to the ancient splendours of Rome and Greece. In fact, friezes with gilt decorations and columns with elaborate designs are a frequently recurring theme in neo-classical collections.
Gold and silver embroidery is also typical of this style, as is fine detailing, interspersed with the consistency of damask velvet and precious fabrics.
Ivory, beige and walnut are the tones of furniture in Neo-classical style: these furnishing elements are sometimes characterised by curved lines and other arched sections with gentler curves. Whatever the design, this style is perfect for adding an innate sense of class to your living room.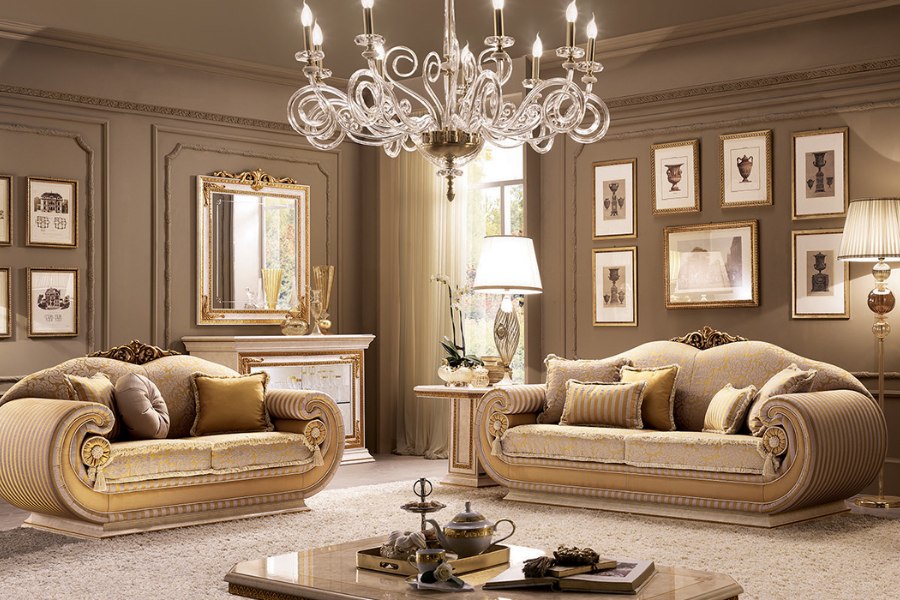 3. Regency
Regency style is an aesthetic theme with English origins. It developed between the late 1700s and the early 1800s. Regency style furniture implies the use of pieces with sculpted designs: tables with flat surfaces, chairs with slender legs, and clean lines made in mahogany and ebony with veneer in rosewood, a type of wood that offers finishes in surprising colours.


4. Baroque
Majestic, dramatic baroque style shows a total attention to detail. In fact, baroque furniture is recognisable for its wealth of detailing, gleaming gold friezes in gold leaf, and for the typical warm tones of mahogany and ebony.
Contrasting screen printing on occasional tables, elaborate coping along the backs of sofas, and ornamental, curved designs for the arms. Every feature has great visual appeal, making each piece a genuine furnishing jewel.
In spite of the elaborate decorations, baroque compositions have a gently symmetrical balance that harmoniously integrates each element.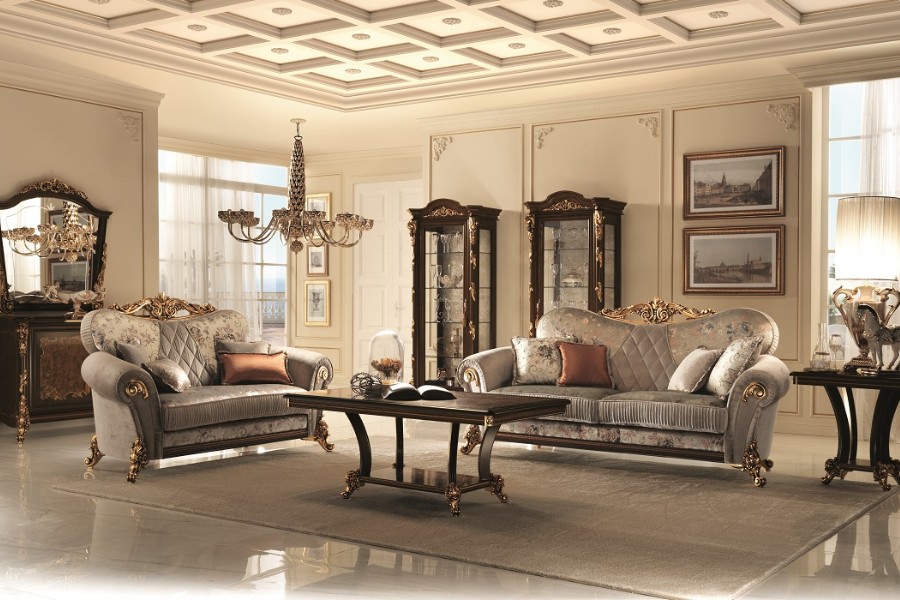 5. Empire
Empire style developed in the period of Napoleon and has become established as one of the most appreciated, popular styles in classical furnishing designs.
Typical of this particular design are tables that have a central foot with large, square profile, enhanced with columns and gold detailing; armchairs and sofas share the same design styles with wide seats and backs, and arms of the same height, for a balanced combination of exclusive lines and softness.
If you want to create a sumptuously furnished atmosphere, choose a furnishing line in Empire style with shades of walnut and elm veneer, created with materials that offer an excellent aesthetic results together with prime quality fabrics.

6. Biedermeier
Biedermeier style was established in the early 1800s and has a sober, essential aesthetic compared to other trends. Unlike Empire style, for example, this type of design has completely eliminated frills, to focus on a more linear, formal design.
The shared characteristics of furnishings in Biedermeier style are their curves, geometric shapes and frequent use of oak, red beech and walnut, types that are recognisable from their unmistakable textures.

7. Renaissance
The first furnishing items with a perfect Renaissance aesthetic were made in Italy in the 15th century. Furniture that complies with the canons of this style can be recognised for their strong architectural sense and notable dramatic presence.
In general, Renaissance style furnishing elements present decorative features that are carved into the surface of the wood (walnut or chestnut), such as columns, pediments, and cornices, but they also have precious decorative features. The glimmer of detailing in gold leaf and the deep tones of the walnut finishes are a perfect pairing and match the linear designs of each item with their imposing profiles.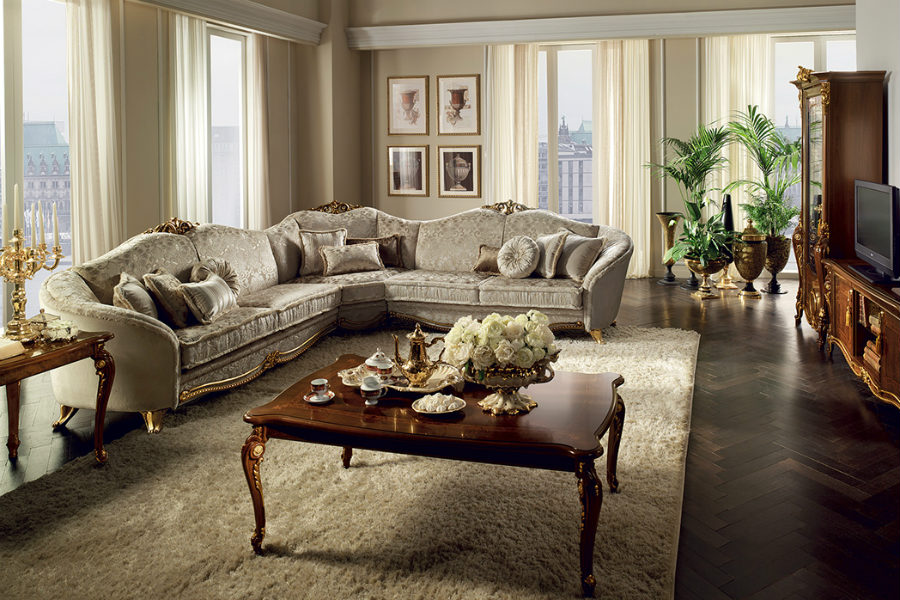 8. Liberty
Liberty style, also known as Art Nouveau, dates back to the beginning of the Belle Epoque and is one of the most popular, fashionable classical styles for living room furniture. The furniture pieces with their unmistakable curved design have a light, elegant profile, enhanced by floral decorations in bas relief.
Sofas covered in premium, gold- and silver-embroidered fabrics, occasional tables with detailed inlays are the very essence of Liberty style and permeate each complementary item, giving the atmosphere in the living room a strong sense of luxury and class.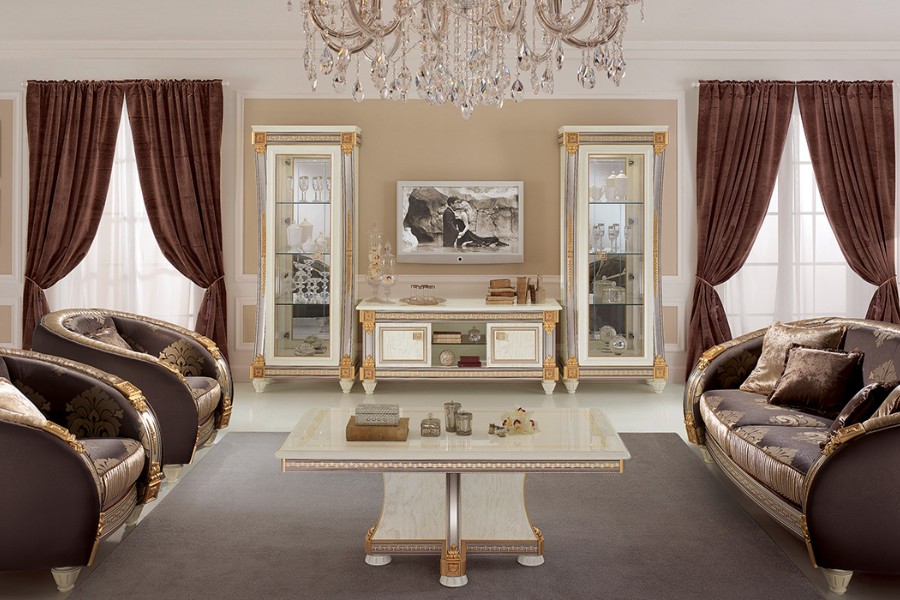 9. Art Deco
Art Deco furnishings are easily recognised by their unmistakable geometric shape which characterises their whole aesthetic. It is a design that brings together furnishing elements of a widely appreciated style genre, widely appreciated for its elegance and formal balance.
Furniture with an elm finish, enhanced by ornamental details, straight lines and curves come together on each piece, together with fine upholstery and fabrics, used to cover sofas, daybeds, and chairs of different types.

10. Colonial
Furniture in Colonial style developed between the 1500s and 1800s. These pieces are made in oak, pine, walnut and cherry and they have an aesthetically elegant, light profile. Gentle curves and linear sections merge seamlessly in a simple, balanced design.


Classic living room styles: how to furnish your space with unique taste
Now you know about the different features of classic living room styles, all you need to do is make your choice.
Select a style that represents you and create the perfect space, where aesthetics and conviviality come together to create a pleasing, welcoming climate in a well-cared-for environment with an elegant flavour.