In any classical style furnishing setting, every element plays an essential role in creating the perfect atmosphere. For example, in the living room, sofas are what set out the functional and aesthetic profile of the room.
That's why it is important to carefully select the seating you need to furnish this part of your living space.
This article includes some tips for recreating an elegant furnished setting, where you can discover the unmistakable class of our neoclassical sofas.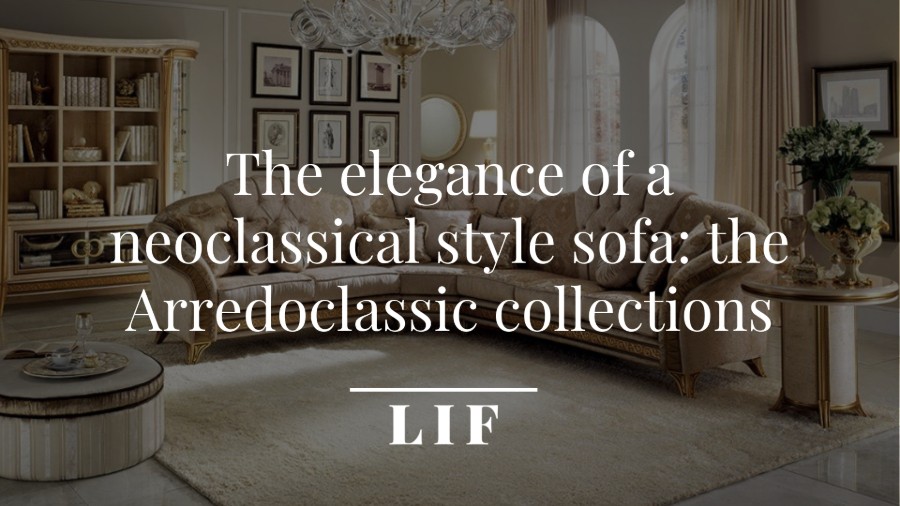 Be inspired by the elegance of neoclassical style sofas
One of the undeniable protagonists when it comes to living room furniture is most definitely the sofa.
If you are aiming to select seating to offer notable comfort and undeniable aesthetic results, why not let an elegant neoclassical sofa seduce you?
Take a look at the quality of the Arredoclassic Collection with its neoclassical designs, as well as furnishing ranges that include sofas of great class:



Let's see the features in each collection.

Fantasia
The Fantasia living room range is a genuine symbol of the beauty and elegance that are typical of neoclassical taste.
Each furnishing element features bold squared lines, especially in the occasional tables and glass cabinets; friezes and motifs, as well as important decorative details that can be seen with a certain continuity throughout the collection, as well as finishing armchairs and sofas.
The stand-out features of the Fantasia sofa are its soft shape and fan-like design with central padding that give the seat its bold aesthetic impact.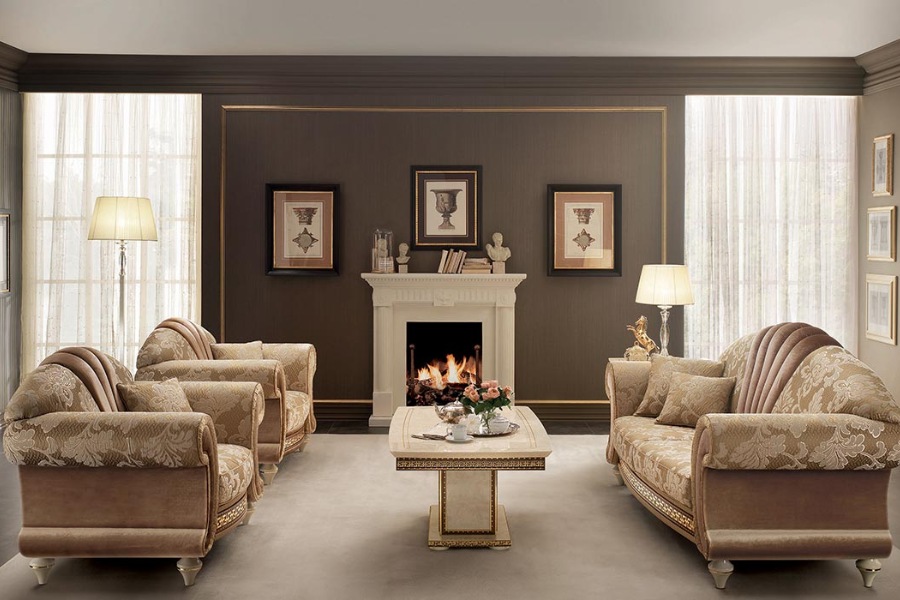 Melodia
Every furnishing element in the Melodia living room range is linked by a fine stylistic, formal balance, made bolder using gold accents. On coffee tables, glass cabinets, armchairs and sofas. Friezes and gold-coloured feet add accent notes to seating with a seductive appeal.
Melodia sofas are able to combine comfort with elegance, in a synthesis of design that can boost the aesthetic value of your furnishings. The sofas in this collection present a "variation on a theme" that, as well as design, also includes a choice of covers ranging from simple looks to studded inserts that will not limit your desire to amaze.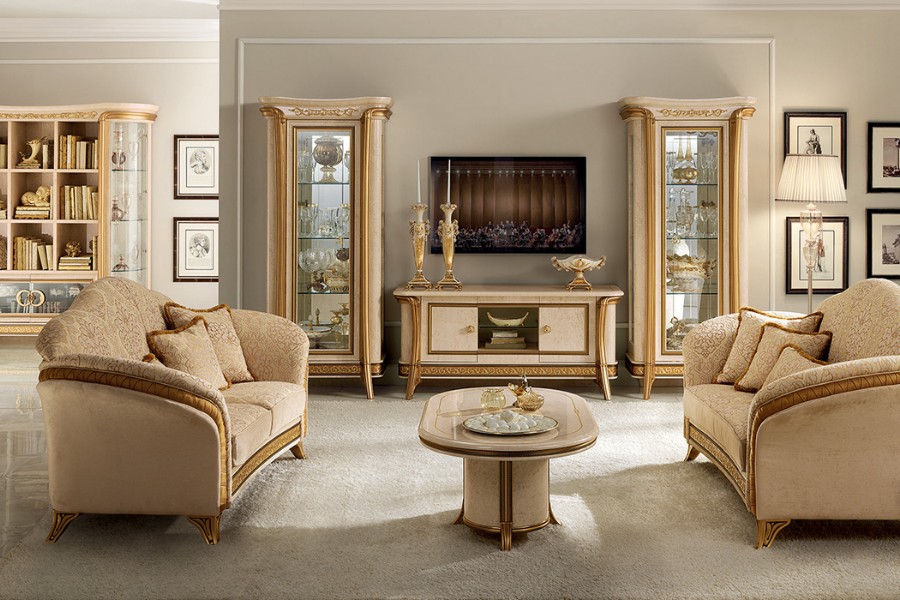 Leonardo
The furnishings in the Leonardo living room range are recognisable for their elegant volumes and for the fine details that characterise their refined shapes. The unmistakable nature of this prestigious collection is reflected in its sofas.
Extremely comfortable seats made in elegant fabrics, for excellent style with soft shapes and a prime-quality base that bring to mind the sinuous swirls of ancient capitals.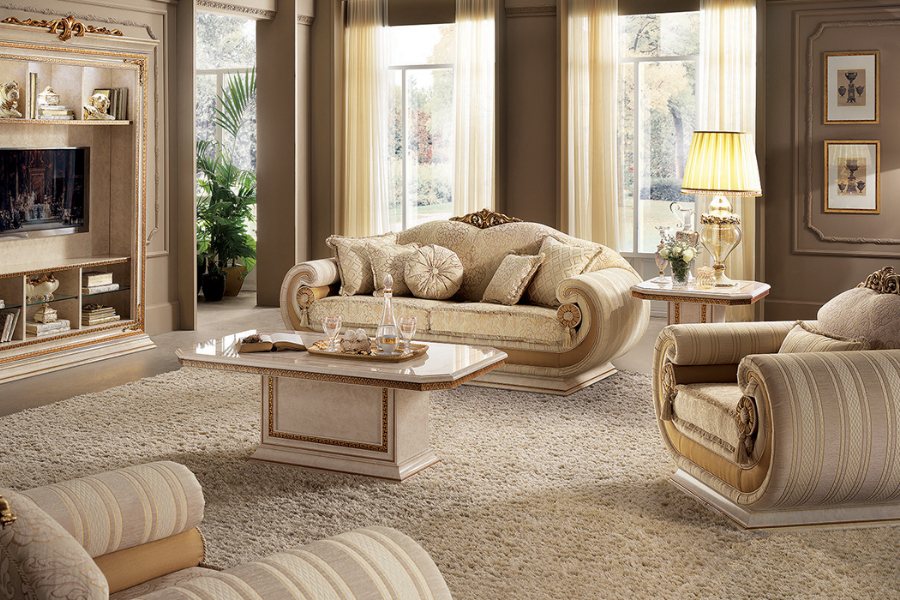 Liberty
Bright ivory and gold shades can enliven your living room with the Liberty Collection.
The Liberty sofa has neoclassical friezes, decorative motifs, detailing in gold and silver, and prestigious damask velvet fabrics, incorporating the sculptural presence of an element in perfect neoclassical style.
With their soft, rounded lines, the seating in the Liberty living range adds a touch of prestige to the collection.
Wide, welcoming seats for comfortable appeal that never misses out on bright details that, together with the gold motif on the base cornice, enhances the side arms.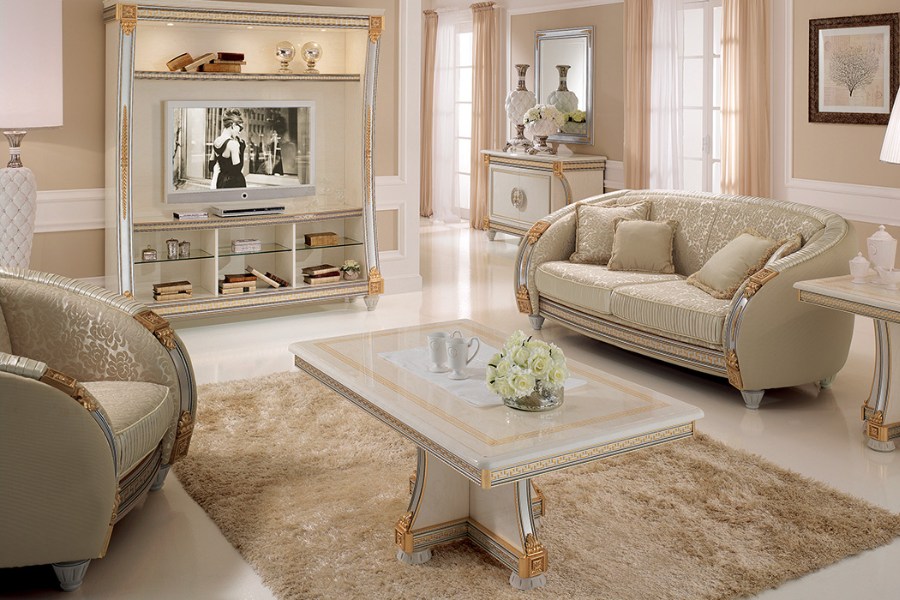 How to create the perfect neoclassical atmosphere in your living room
Neoclassical-style furniture can add new personality to your living room. An elegant image that is beautifully expressed in refined furnishing elements with prestigious detailing.
If you want to create your own neoclassical furnishing layout in detail, follow our 5 styling tips. This way you can create the perfect concept for your living room.
Specifically:



1. Set out your colour scheme to suit the context
If you want to furnish your living room in perfect neoclassical style, it is essential to set out a colour scheme in line with the furnishing context.
Neoclassical furnishing solutions can be recognised by their soft, sober colour palette of creams, ivories, off-whites and gold and silver: colours that permeate through every item in the room, from the furniture to the tiniest of details.

2. Choose a wall covering in line with your concept
If you want to convey a sense of style uniformity in your neoclassical-style living room, we recommend opting for wallpaper with a neoclassical flavour, in line with the concept devised to furnish your living area.
For a more opulent image, choose wall coverings with motifs or arabesques with a bold design, able to evoke designs of columns and capitals.
If you prefer a more sober effect, choose plain wallpaper, considering the above when it comes to choosing your colour scheme.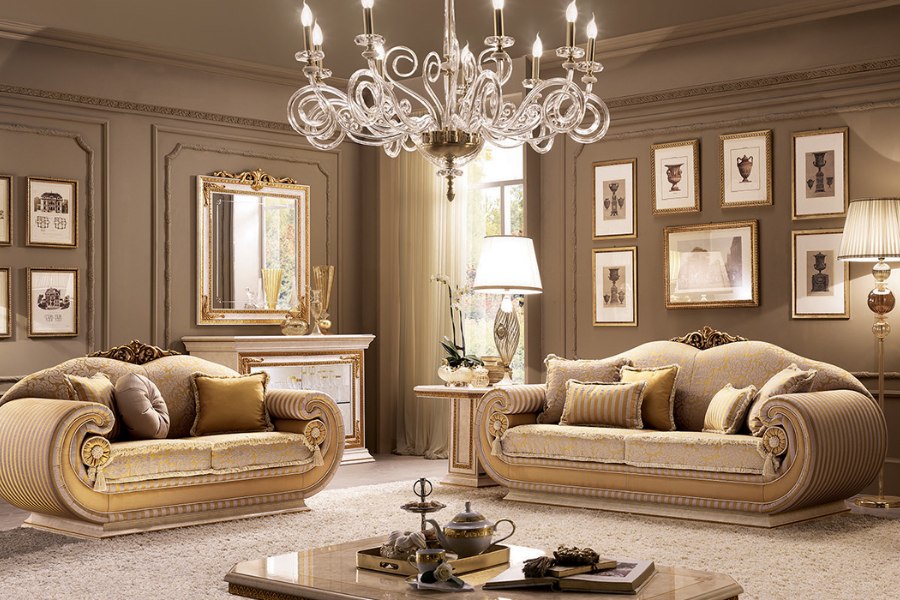 3. Opt for elegant lighting solutions
Decorative lighting has a central role to play in creating the perfect neoclassical atmosphere.
In this case, it is best to prefer lighting solutions with neoclassical designs and unmistakable elegant flavour.
To make a style statement, choose jewel lamps with pendants created in blown glass and crystal.
Otherwise, to light and decorate your room with a certain sombre touch, choose the elegant floor lamps to be positioned alongside armchairs and sofas, or select appliqué shades in cased or frosted blown glass with golden details.

4. Select your furnishings decorated with friezes, coping and golden columns
Details speak for themselves in neoclassical style. This is why you need to choose furnishings decorated with friezes, coping and golden columns.
Ornamental details with great decorative potential to enhance furniture pieces, boosting the overall image and effect.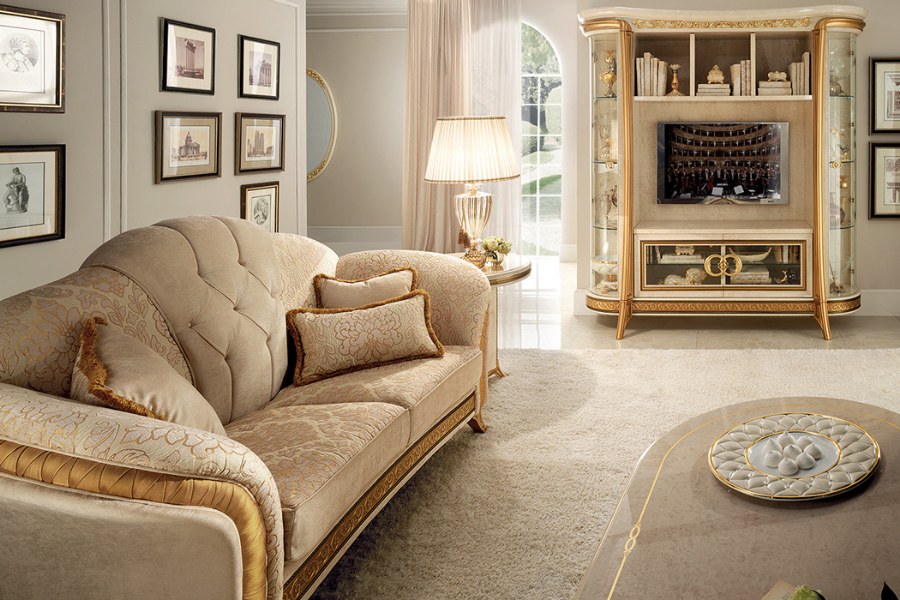 5. Complete your layout with sophisticated furnishing accessories and throw pillows.
To complete your living room layout, position elegant furnishing accessories on occasional tables and glass cabinets, such as:


Vases finished with gilt detailing and bas-relief designs


Brass candelabras with gold or silver lacquered finish


Silver services


Porcelain, and hand painted decorative plates to display on glass cabinet shelves


And of course, don't forget to show off your elegant neoclassical sofa to the full using decorative throw pillows in fine fabrics with precious detailing, such as:


Tassels


Cord trim


Double flounces


Buttons


Elaborate embroidery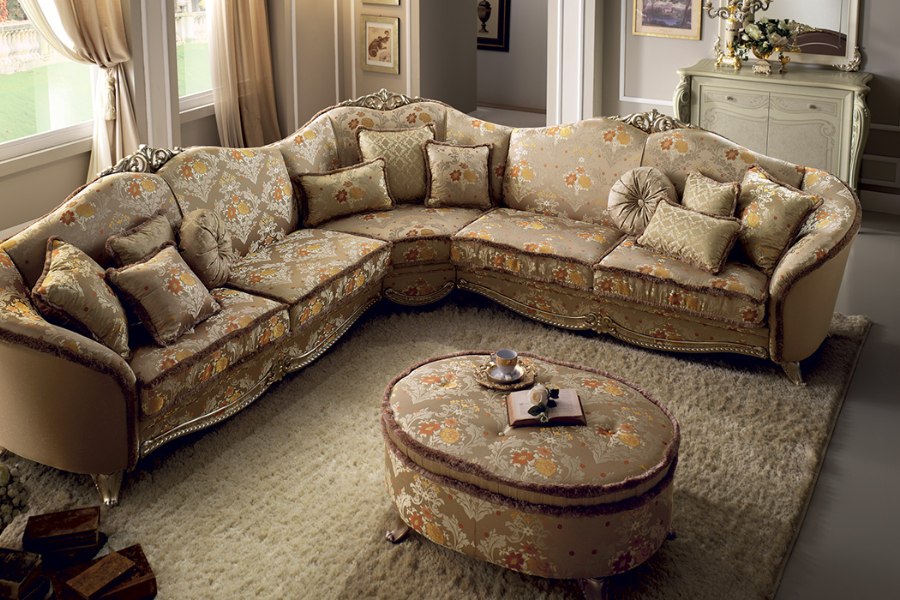 The elegance of neoclassical style sofa: a touch of unique taste for your living room
Creating a furnishing scenario with neoclassical charm means selecting furniture items with great class and elegance.
Opt for the timeless spirit of a sofa with a neoclassical feel to furnish your living room. Make an exclusive style statement and give a whole new image to your home.