The classic furniture style has timeless, elegant and refined decorative potential. Furniture designed to the canons of this aesthetic trend has the power to make any environment look majestic but still classy.
One the most appreciated variants of this style is the neoclassical: an austere, opulent and at the same time balanced taste in shapes and details.
In fact, what makes neoclassical style one of the most appreciated in the world is the perfect combination of its precious details, linear forms and defined geometries.
But in general, what are the characteristics that can make the interior of a house rich and sophisticated thus recreating a scenario in perfect neoclassical style?
In this article, we will illustrate the essential elements to furnish your home in the neoclassical style.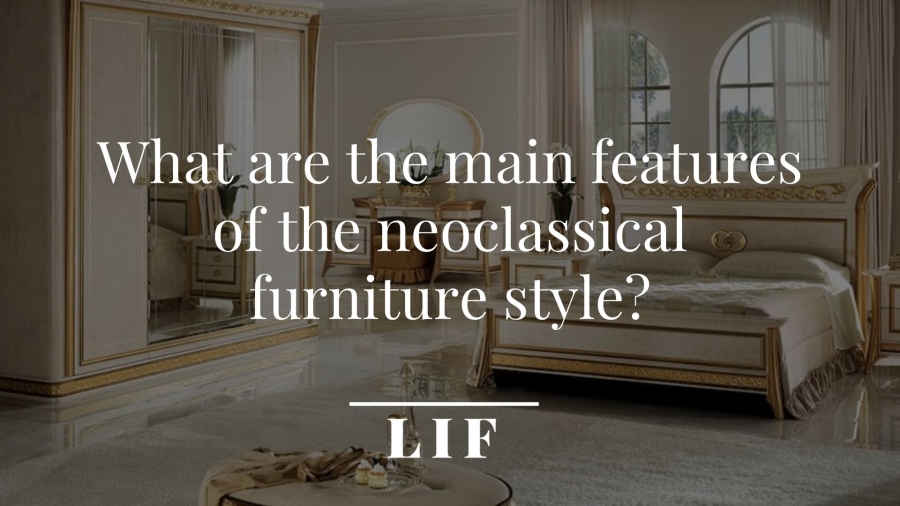 Neoclassical furniture style: 7 key elements to furnish your home
In every furnishing context it is necessary to lend a certain stylistic continuity, i.e. to have the same style of furniture in every room. In this sense, neoclassical furniture is ideal for both the sleeping and living areas.
This means that it won't be a problem to meet this requirement and furnish the various rooms while maintaining a certain aesthetic harmony. However, it is important to identify the main features of a neoclassical furniture composition.
Below, we will show you 7 key elements that will make your home an authentic abode filled with neoclassical style.
Let's find out together:
Let's take a closer look.


1. Understated, classic colour palettes
Every self-respecting interior design project begins with a decisive first step, that is setting the right colour palette for the furnishing context.
In this case, the neoclassicism style requires a range of colours tending towards shades of cream, ivory, cream and walnut, with some highlights provided by the gold leaf details and silver.
2. Hand-painted or wallpapered walls
How the walls are decorated is up to you and depends on your personal taste. Choose according to your preference: painting in pastel shades or wallpaper in a neoclassical style with prints, arabesques or Greek motifs.
These two solutions do not necessarily have to be chosen separately!
You can also create a nice color harmony by painting the upper part of the wall and applying wallpaper on the lower part.
3. Decorative lighting with sophisticated finishes
In addition to providing the room with practical brightness, decorative lighting is ideal for making the atmosphere of any interior more welcoming.
To decorate your home following the dictates of neoclassical style we recommend you use some classic design decorative lamps and combine the use of several different lamps, made from different materials.
Opt for important chandeliers with Swarovski glass pendants and / or wall lamps with glass or crystal stands. You could also select table lamps with a gilded wooden, copper, iron or brass stand.
4. Furniture with precious decorative details
The atmosphere of each place will take shape above all thanks to precious decorative details such as friezes, moulding and columns in Empire style. Peculiar traits that not only embellish the furniture but also enhance its stylistic potential.
Select furniture meticulously finished with precious decorations sideboards with golden fretting, maybe combined with a showcase with side columns.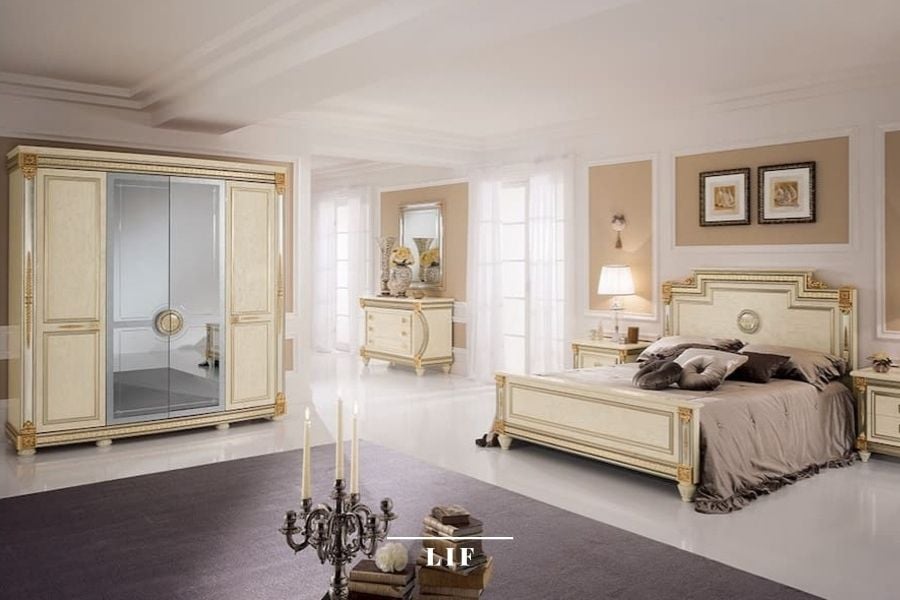 5. Classic style rugs with fine workmanship
To complete the furniture in each room in perfect neoclassical style, opt for classic style rugs made with fine workmanship.
An essential decorative touch for your home as it will add comfort and value to any interior.
We advise you to opt for the most precious workmanship, made with high quality fabrics and therefore suitable for a neoclassical atmosphere.
Specifically:


I. Persian rugs
The main characteristic that distinguishes Persian rugs from other types is the hand-knotting process and the large number of knots.

The central medallion is the distinctive feature in the centre of Persian carpets.
II. Caucasian rugs
The material used for the warp of this type of rug is cotton. The decorations follow vertical, horizontal and oblique lines and are combined with geometric or floral patterns.
III. Chinese rugs
Chinese rugs can be separated into old and newer ones.
The modern rugs would be ideal for a neoclassical setting. Knotted using an asymmetrical technique, they have floral decorations and inlays that give three-dimensionality to the entire piece.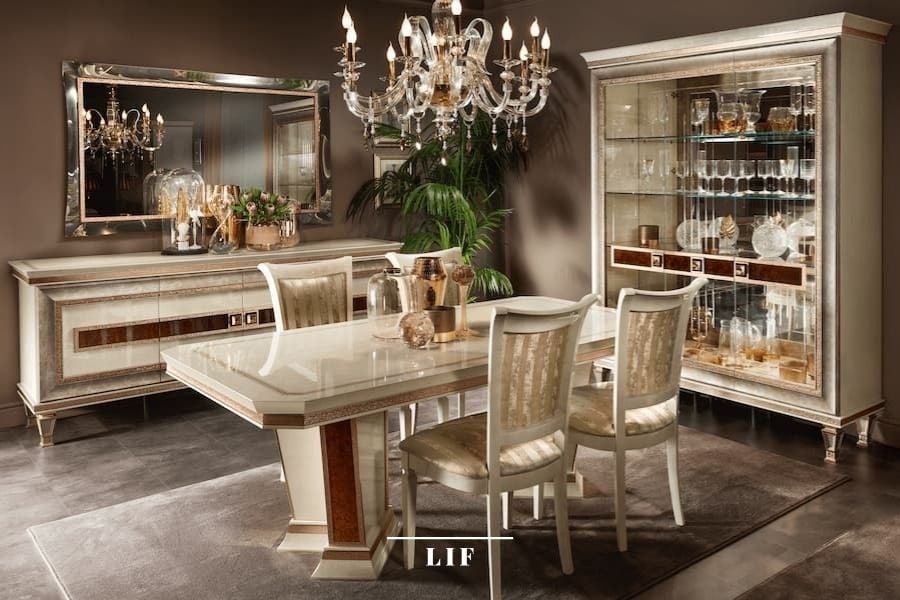 6. Rich, elaborate furnishing accessories
To embellish the room even more, rely on the decorative potential of fine furnishing accessories such as:
Vases finished with gold details and bas-reliefs
Gold or silver-plated brass candelabras
Silverware services
Porcelain, decorative hand-painted plates to be placed on the showcase shelves
7. Finely embroidered cushions
Last of all, do not forget to enhance the elegance of your seating by adding decorative cushions made from fine fabrics and with precious details.
Respectively, by this we are referring to:
Velvet and lampas
Brocade, damask and satin
Tassels and cords
Double flounces and buttons
Elaborate embroidery
All items with great visual appeal that pay homage to the neoclassical style, and lend a luxurious look to the various contexts.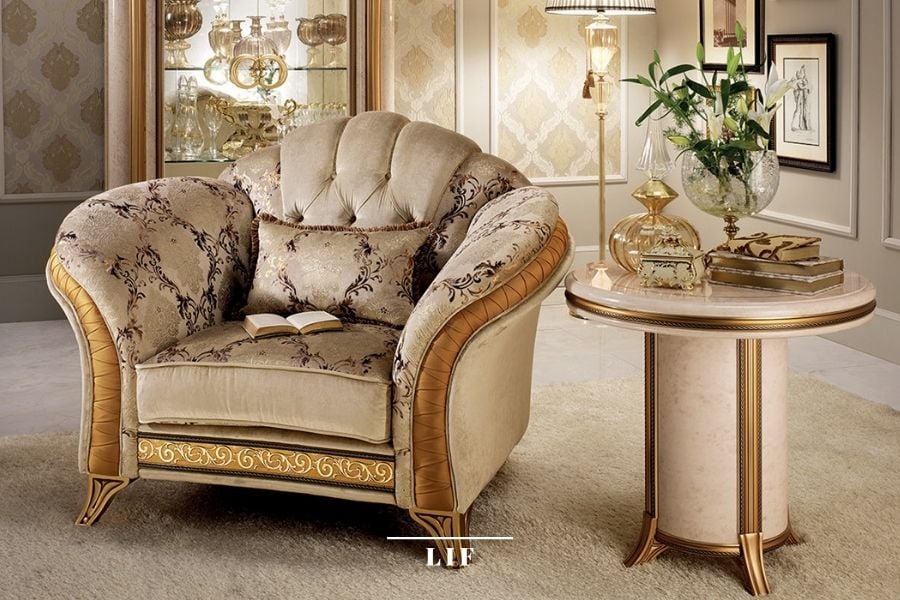 Our tips on how to decorate your home in a neoclassical style
In this article, we've outlined everything you need to know about the neoclassical furniture style and how to choose the right furniture to create dreamy atmospheres.
Follow our advice to make every room unique and elegant, as well as welcoming and warm, thanks to the unmistakable sophistication and comfort of the furniture you have chosen.