The neoclassical style in interior design finds many enthusiasts all over the world, especially among those who love luxury. The reason is quickly explained: this style is characterised by elegant lines, comfort, practicality and can furnish while respecting the functionality of the room.
It also combines classical elements with modern ones: for example, one may find stucco mouldings alongside LED lighting. However, the rule is that there must be at least one element in the room that is purely classic in style, such as a sofa.
Neoclassical style has always been synonym of simplicity and elegance. In fact, it was created to oppose the Baroque, a lavish and magniloquent style. Nowadays, this style can mix classic and modern designs in a perfect blend.
Before you start furnishing your home in the neoclassical style, you should understand its main features and some useful details that will allow you to make the most of your home.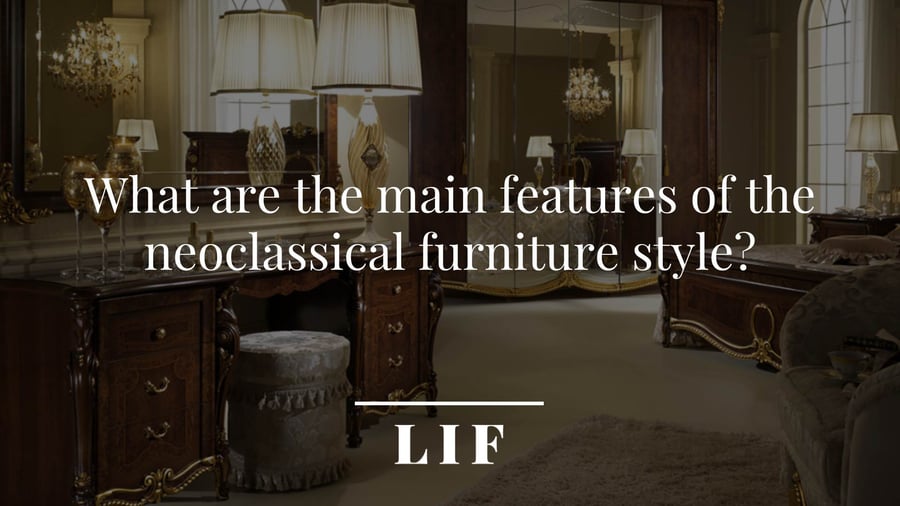 What is the neoclassical style?
The Neoclassical style is a style of furnishing that emerged in the late 18th and early 19th century. In Italy, master cabinet-makers from Lombardy carved antique furniture, decorating chests of drawers, tables and dressers with inlays and designs. One of the elements that still characterises this style is the perfect combination of details, clear geometries and linear shapes.
Neoclassicism spread in 1800 in Italy and beyond in three styles:
Directoire: a sober style whose main elements were the dresser, chairs and sideboards in mahogany, accompanied by fruit tree woods such as walnut, lemon, maple and elm. The furnishings were decorated with palmettes, columns, winged lions, sphinxes as well as winged victories, typical of the historical period


Empire: a style still remembered for its austerity. Made of furniture with smooth surfaces in wood such as mahogany and Indian walnut. Bronze decorations used to embellish the arms of chairs or the legs of coffee tables were characteristic elements


Restoration: a style in which the work of the craftsman was replaced by the mass production of factories between 1815 and 1830. The furniture was produced in larger quantities, with good attention to detail. The furnishing continued to be elegant, but also more practical and functional. The woods used were mahogany, walnut, maple and cedar while for the decorations, rosewood and metal were used.


What does it mean to have a house furnished in the neoclassical style today?
Nowadays, having a home furnished in neoclassical style means following certain rules to make the interior sophisticated, elegant and functional combined with a modern and practical style.
It is suitable for both living and sleeping areas. The important thing to keep in mind is to apply it consistently in every room of the house.
In a home, neoclassical interiors differ because they are:
Made with decorations, accessories and furniture moderate and never excessive
Featuring natural, muted colours
Rich in details such as stucco borders or frames, mirrors and classical patterns
Applied in spacious rooms with bright windows and high ceilings
Arranged according to the rules of symmetry, in the furnishing and arrangement of furniture
Neoclassical furniture style: 8 Key elements to furnish your home
In every furnishing context it is necessary to lend a certain stylistic continuity, i.e. to have the same style of furniture in every room. In this sense, neoclassical furniture is ideal for both the sleeping and living areas.
This means that it won't be a problem to meet this requirement and furnish the various rooms while maintaining a certain aesthetic harmony. However, it is important to identify the main features of a neoclassical furniture composition.
Below, we will show you 8 key elements that will make your home an authentic abode filled with neoclassical style.
Let's find out together.
1. Understated, classic colour palettes
Every self-respecting interior design project begins with a decisive first step, that is setting the right colour palette for the furnishing context.
In this case, the neoclassical style calls for a range of colours starting with mahogany and highlights provided by the gold leaf details and silver.
In Arredoclassic the processing of gold leaf is carried out by master craftsmen who combine tradition with innovation. The result of this process can be appreciated in the Donatello Collection.
The colours typical of the neoclassical style help to brighten up the room and emphasise the purity of the style, which is both classic and modern.
2. Hand-painted or wallpapered walls
How the walls are decorated is up to you and depends on your personal taste. Choose according to your preference: painting in pastel shades or wallpaper in a neoclassical style with prints, arabesques or Greek motifs.
These two solutions do not necessarily have to be chosen separately!
You can also create a nice color harmony by painting the upper part of the wall and applying wallpaper on the lower part.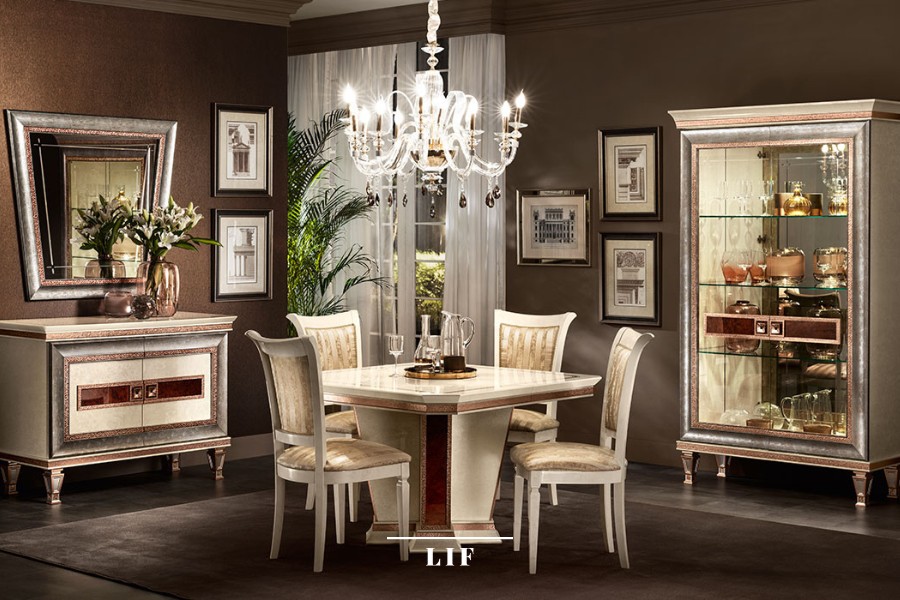 3. Decorative lighting with sophisticated finishes
To decorate your home following the dictates of neoclassical style we recommend you use some classic design decorative lamps and combine the use of several different lamps, made from different materials.
Lighting is one of the most important elements to consider when deciding to furnish the home in the neoclassical style. This is because light serves to make any environment cosy.
Opt for big chandeliers in the centre of the room, with Swarovski glass pendants and/or wall lamps with glass or crystal stands, but also decorative wall lamps in classic design, preferably in pastel colours . You could also select table lamps with a gilded wooden, copper, iron or brass stand.
The goal is to diffuse a soft light in the room.
4. Furniture with precious decorative details
Although the number one rule of the neoclassical style is to give space to simplicity and design, the atmosphere of the room must be embellished with certain details so that it can also be elegant.
Friezes, cornices, stucco borders and columns typical of the Empire period in the Neoclassical age help to embellish the furniture thus enhancing its appearance.
The furniture should be finished with soft lines, enriched with virtuoso gold (or silver) leaf decorations, to give the rooms a warm and charming atmosphere, emphasised by the right type of lighting.
5. Parquet or marble floors
Parquet or marble floors are typical of houses furnished in the neoclassical style.
Usually, parquet flooring is made of traditional solid wood, which is more valuable and elegant in refined environments.
Marble (natural stone) floors are also considered a refined and cool material thus associated with luxury indoor and outdoor environments.
The most commonly used marbles are:
Cryptocrystalline limestone marble
Serpentine marble
Crystalline limestone marble
This very durable material is used to brighten up the environment.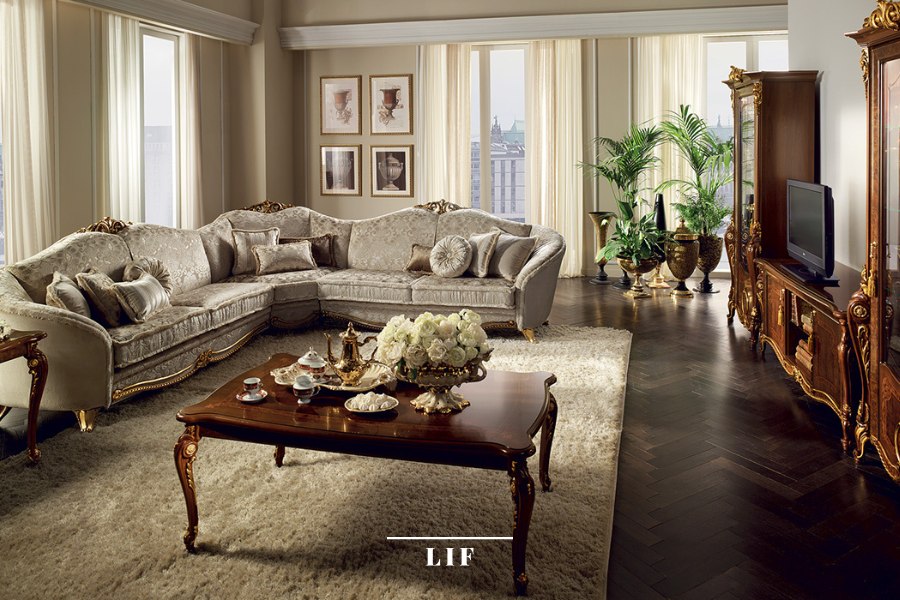 6. Classic style rugs with fine workmanship
To fine-tune the neoclassical furnishing, it is also useful to add decorative elements such as carpets, especially those made with fine workmanship. They will contribute to making the home more elegant and comfortable.
The advice is to spare no expense: make sure to choose carpets made of high-quality fabrics that are closest to the neo-classical style.
Specifically:
I. Persian rugs
The main characteristic that distinguishes Persian rugs from other types is the hand-knotting process and the large number of knots.
The central medallion is the distinctive feature in the centre of Persian carpets.
II. Afghan carpets
They can be of two types:
Khal Mohammadi
Afghan Aqche
Khal Mohammadi are hand-knotted by Turkmens from the northern area of Afghanistan or produced in Pakistan, also by Turkmens. They feature motifs such as the göl (shaped like an elephant's foot) and octagonal motifs with dark blue, ochre and beige stylised flowers. They usually have a typical red colour.
Afghan Aqche are hand-knotted by Turkmen from central and northern Afghanistan. The pile, warp and weft are made of wool, goat and also horsehair.
III. Pakistani rugs
These carpets are made from Australian wool yarn, which makes them similar to silk carpets. They have a high knot density and they are very durable, but cost a bit less than Persian carpets. The carpets are knotted with wool, while the warp and weft are cotton.
The Mori carpets are knotted in single warp, while the others are knotted in double warp. Usually, the main colour of these carpets is red.
IV. Caucasian rugs
The material used for the warp of this type of rug is cotton. The decorations follow vertical, horizontal and oblique lines and are combined with geometric or floral patterns.
V. Chinese Rugs
Chinese rugs can be separated into old and newer ones.
The modern rugs would be ideal for a neoclassical setting. Knotted using an asymmetrical technique, they have floral decorations and inlays that give three-dimensionality to the entire piece.
7. Rich, elaborate furnishing accessories
To make your neoclassical room even more beautiful, add that extra touch with fine furniture such as:
Vases finished with gold details and bas-reliefs
Gold-plated or silver-plated brass candelabra
Silverware
Decorative hand-painted porcelain plates for display case shelves
8. Finely embroidered cushions
Last of all, do not forget to enhance the elegance of your seating by adding decorative cushions made from fine fabrics and with precious details.
Respectively, by this we are referring to:
Velvet and lampas
Brocade, damask and satin
Tassels and cords
Double flounces and buttons
Elaborate embroidery
All items with great visual appeal that pay homage to the neoclassical style, and lend a luxurious look to the various contexts.
What are the elements that differentiate the neoclassical style from other styles?
Compared to other styles used in furniture, the neoclassical style is the most straightforward and practical. Marked by a simplicity of lines, it also takes elegance into account, making space for rounded shapes and painted decorations.
Typical of neoclassical furniture is the use of candelabra, pictures and mirrors, often large ones with gold frames.
Neoclassical furniture comes to life by combining high-quality elements, materials and finishes with modern design elements, creating unique rooms and atmospheres.
Straightforwardness, symmetry and balance are the hallmarks of this style, which make it different from others.
The strengths of furnishing your home in the neoclassical style
If you choose to furnish your home in the neoclassical style it means that you wish to enhance the living space. In particular, what makes it stand out from the other styles is:
Walls and ceilings decorated with frames, niches, and arches
Soft colours, such as white and beige, accompanied by gold
Lighting with large, bright windows and chandeliers that illuminate the room
The neoclassical style is increasingly becoming a trend year after year, because it represents a return to the past and to simplicity, exalting purity.
A return to the origins also in the choice of materials to be used for the composition of the various furnishing elements. Eco-friendly and sustainable materials such as wood, marble and natural stone are favoured, reminiscent of the style of the classical era yet combined with modern shapes and designs.
The features of the neoclassical style
Neoclassicism manages to combine classicism and traditional shapes, adapting them to modern environments.
Very often, rooms with neoclassical style furniture are combined with more minimalist settings, creating a sophisticated yet functional style for everyday life.
The neo-classical style focuses on proportions, lines, shapes and a balanced composition of the interior, but the main element is that rooms furnished in this style must remain usable and practical to help meet the needs of various daily activities.
An important rule of this style is that excess is not tolerated. The main decorative role is played by the harmonious arrangement of objects, upholstery, fabrics and colours: one must not risk weighing down the space and making it oppressive.
How to use the neoclassical style in the rooms of the home
Let's see in detail.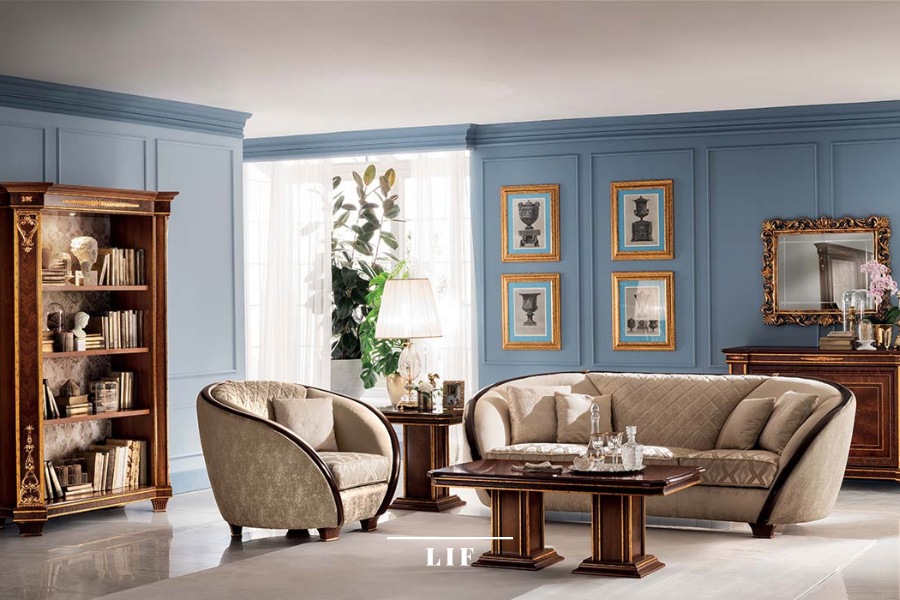 Living room
The living room can have a ceiling finely decorated with stuccoes and the floor can be embellished with fine carpets.
A central chandelier can give the room atmosphere, but wall lights placed on chests of drawers and other types of furniture, as well as mirrors, can help to illuminate the room well.
Positioned under the chandelier, the table is the central piece of the room and it is embellished by decorative elements in gold. The legs and sideboards will be modelled with rounded shapes.
A typical example is a neoclassical style living room from our Modigliani collection.
Parlour
In neoclassical-style living rooms, the protagonists are usually the sofa and the woodwork. The sofas are upholstered, with cushions upholstered in fine fabrics and arranged symmetrically on top. Instead of bookcases, sideboards with glass cabinets and boiseries can be used.
Muted colours are favoured and large windows should be present to give natural light a prominent role. There must also be some ornamentation, but it must never be excessive and it must be combined with clean, simple lines.
Bedroom
The bedroom, like the living room, may have a finely decorated stucco ceiling and the wall behind the bed may have a boiserie headboard.
The wardrobe can have contemporary-style glass doors that increase the perception of space, light and spaciousness.
As in the living room, wall decorations upholstered with fabrics such as brocade or satin can also be used in the bedroom above the dresser, embellished with gold decorative elements and legs modelled in rounded shapes.
Here are a few examples ofneoclassical style bedrooms from Arredoclassic.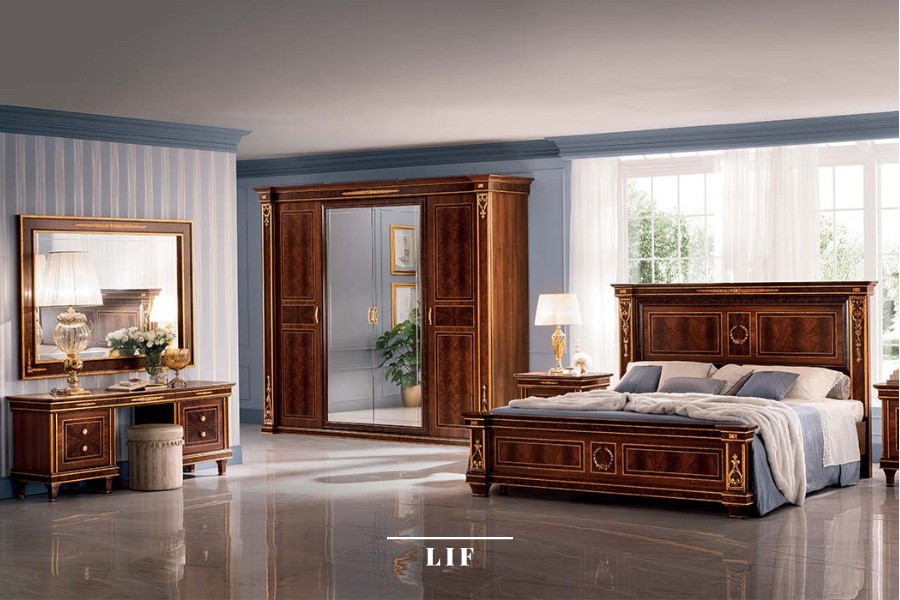 Our tips on how to decorate your home in a neoclassical style
In this article, we've outlined everything you need to know about the neoclassical furniture style and how to choose the right furniture to create dreamy atmospheres.
Follow our advice to make every room unique and elegant, as well as welcoming and warm, thanks to the unmistakable sophistication and comfort of the furniture you have chosen.
Get inspired by our latest interior
design project