In the Modigliani living room there is a perfect balance of color and texture visible on every piece of furniture.
The furniture features warm walnut nuances and elm-root silk-screen prints, and is embellished by elaborate friezes and motifs in fine gold leaf.
The leitmotif of the collection are the Empire-style columns with their golden notes, that can be found in each piece of furniture, making it even more austere and important.
Modigliani has been designed with the aim of recreating a refined and sophisticated living room scenario, making it both welcoming and comfortable.
In this article, we will take a closer look at the characteristics of the individual items in the collection, first reviewing some key suggestions for furnishing this room in your neoclassical living space.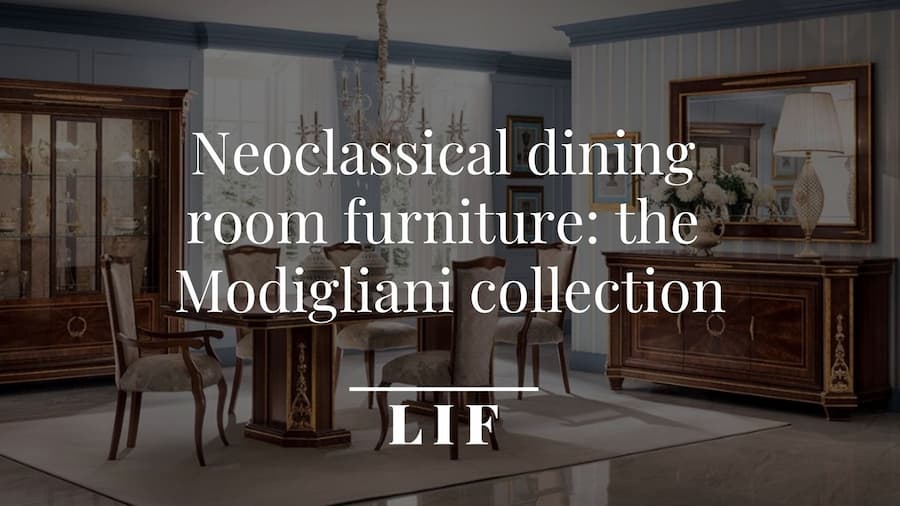 7 Tips to create the perfect neoclassical atmosphere in your dining room
Formal balance, decorative variety and undeniable scenic presence are the factors that define a sumptuous environment furnished according to the dictates of neoclassical design.
Let's go through the 7 decisive steps to set up an aesthetically pleasing concept:
Let's proceed step by step.
1. Setting the right color palette
Every self-respecting interior design project begins with a decisive first step, that is setting the right color palette for the furnishing context. In this case, the neoclassical style calls for a range of soft, neutral colors such as cream, ivory, gold and silver.
Shades of this type add aesthetic depth to your dining room.
For this reason, we recommend that you create a furnishing composition perfectly in tune with the color standards typical of this style.
2. Painting the walls or decorating them with wallpaper
To start decorating your dining room correctly, you should start from the walls.
Choose according to your preference: paint using pastel shades or wallpaper in a neoclassical style with classic style patterns or arabesques).
In both cases, these decorative solutions will immediately express elegance.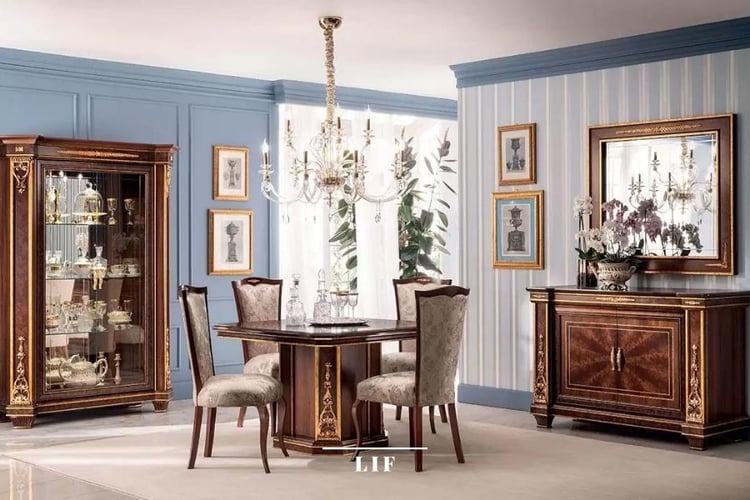 3. Focusing on the decorative lighting project
In addition to providing the room with practical illumination, decorative lighting is ideal to create a very welcoming atmosphere. To decorate with elegance the dining area, choose neoclassical style lamps.
We recommend combining the use of several lighting solutions from different materials.
Opt for majestic chandeliers and/or glass or crystal body. You could also select table lamps with a gilded wooden, copper, iron or brass stand.
Use classic design decorative lamps to communicate through lighting the kind of mood you wish to convey in your dining room: cozy, convivial, and stimulating.
4. Opting for furniture with precious decorative details: friezes, cymas and columns
The atmosphere of each room will take shape above all thanks to precious decorative details such as friezes, cymas and columns.
Unique details that not only embellish the furniture but also enhance its stylistic power.
Select furnishing elements meticulously finished with precious decorations patterns in Greek-Roman style may to combine with a curio cabinet with side columns.
5. Selecting a dining set of neoclassical inspiration
Tables and chairs together form a fundamental part of the dining room furniture. In order for them to match the style of the furniture, they must meet the neoclassical style rules.
Choose seats with slender lines and fan-shaped backrests, finished with fine fabrics and square tables, enlivened by important gilding along the edges.
6. Placing a large classic-style carpet in the dining room
To complete the composition, you could place tables and chairs on the large classical-style carpet. Make sure that the carpet is large enough to host the dining table and chairs.
A decorative touch that will not go unnoticed and will add comfort and style to your dining room.
7. Decorating with fine furnishing accessories
To further embellish the room, use the decorative power of fine furnishing accessories such as vases with gilded details and bas-reliefs, brass candelabras with gold or silver lacquer, decorated table lamps and decorative hand-painted dishes to hang on the wall.
All items of great visual impact that pay homage to the neoclassical style, and lend a luxury look to the dining room.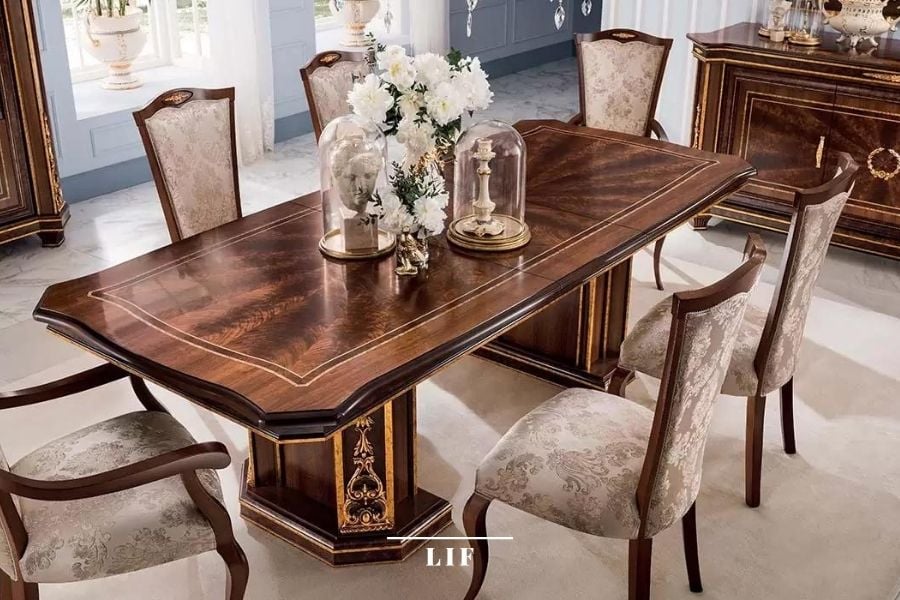 Neoclassical dining room furniture: the unmistakable beauty of Modigliani Collection
Next, we will list the stylistic peculiarities of the Modigliani living room furniture. In particular, we will talk about:
Let's have a closer look.


Tables
The profile of the Modigliani tables is essential and bold, and it fully expresses neoclassical elegance. The furniture is available in four sizes, each enriched with contrasting surface screen prints and distinctive gold leaf decorations.
Chairs
Seats made of beech wood and upholstered with precious damask fabrics that can be customized, with a sinuous and slender silhouette.
The Modigliani chairs are indispensable to complete the dining set and make the environment even more welcoming.
Display cases
Modigliani display cases are designed to meet both space and aesthetic requirements. In fact, they are available in three versions: single, double and triple door.
In addition, here we find the characteristic Empire-style columns with mahogany feather inserts and sinuous gold foil motifs.
Sideboards
The sideboards in the collection show the typical neoclassical charm, thanks to the combination of warm walnut tones and the shining golden accents of gold leaf.
Available in two solutions: two doors with precious jewel handles, or three doors with a central crown enlivened by golden details.
Mirrors
Modigliani mirrors are available in three solutions:
The wooden mirror

features gold leaf decorations and friezes

, and typical walnut burl nuances. Versatile and refined, it is ideal to combine with a dresser, dressing table or sideboard.
The carved mirror

with a gold leaf finish is an authentic gem.

A precious piece of furniture that adds richness and opulence to the living room.
The wall mirror

is a true reflective wall

: impressive and beautiful to look at, perfect if paired with the sideboard. Here we find small gold leaf friezes in the corners that give aesthetic continuity to the scenery.
How to make a style statement with neoclassical dining room furniture
We have given you some ideas for furnishing your living room in a neoclassical style and have also taken a closer look at the characteristics of the Modigliani Collection.
Choose the furniture and collections that best reflect your taste and, above all, meet the requirements of neoclassical aesthetics.
By following our suggestions, you will decorate the spaces of your home in a refined way and achieve a classy end result.