Decorating the walls of the living room requires special care and attention.
Here the furniture will define the comfort and conviviality typical of this room but it will be then the task of each decorative detail to give personality to the space
Each contemporary design element that you decide to add shall add charm to the space and integrate well with the furniture composition, as well as tell about you and your taste.
In order to achieve a good visual impact and elegant end result, in this article we drew up a number of useful tips on how to choose the best wall decoration for your contemporary living room.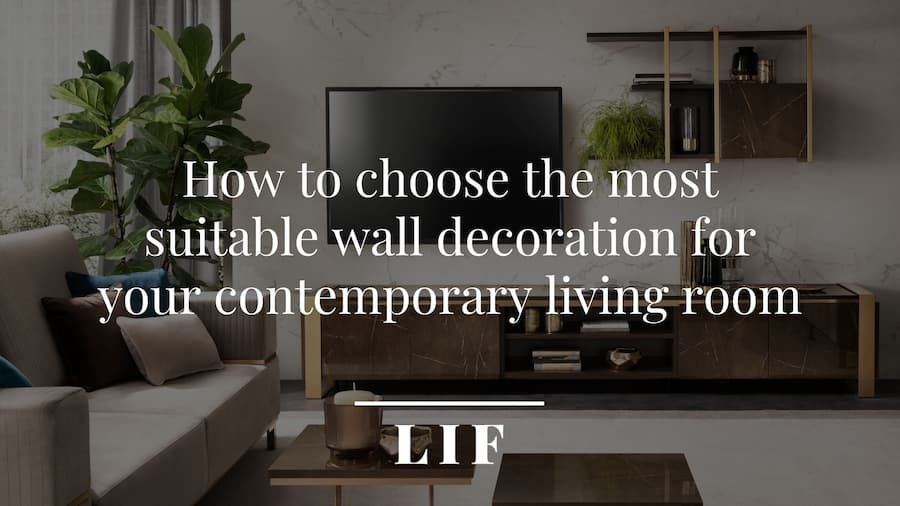 5 Tips to create the perfect wall decoration composition for your contemporary living room
The color and decoration of your walls are essential elements to create the right atmosphere in your living room. That is why it is important to select the right accessories and decorative elements.
Here are a few tips in terms of style and arrangement concerning the decorative items you will select:
Let's analyze each step individually.


1. Choose paint with basic, dark or bright colors and complimentary wallpaper
The contemporary design concept allows a wide choice in terms of basic, dark and bright colors.
Regarding the color palette of the interior of your home, we recommend that you combine shades of white, beige or ivory with brighter tones such as purple, blue or even dark green.
As a second step, consider the wallpaper, making sure to choose the solution that is most in line with the principles of contemporary design.
We recommend that you opt for prints with bold and lively patterns, striped drawings preferably vertical - to enhance the height of the walls - geometric and stylized motifs.
The choice and combination of paint and wallpaper will depend solely on your stylistic preferences.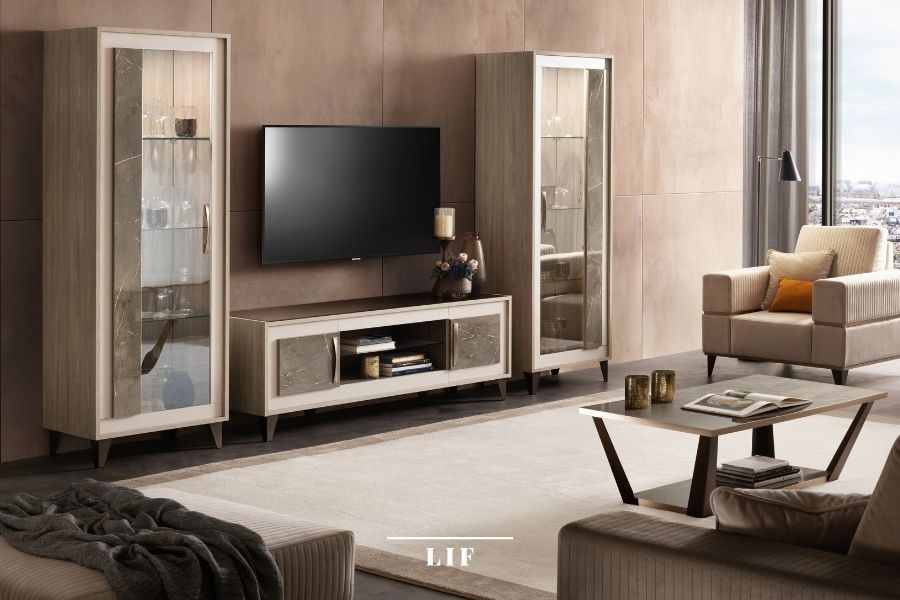 2. Choose design lighting solutions with a simple and minimalist charm
In any interior design project, lighting plays a central role in terms of style and functionality.
To ensure maximum visibility and comfort, but without sacrificing aesthetics, opt for contemporary style lamps with a minimalistic and refined design, such as:
Ceiling lamps
Recessed lamps
Wall lamps
Floor lamps
Make sure that the solutions you select are made of materials that fully match the furniture type, that is glass, metal, crystal or copper.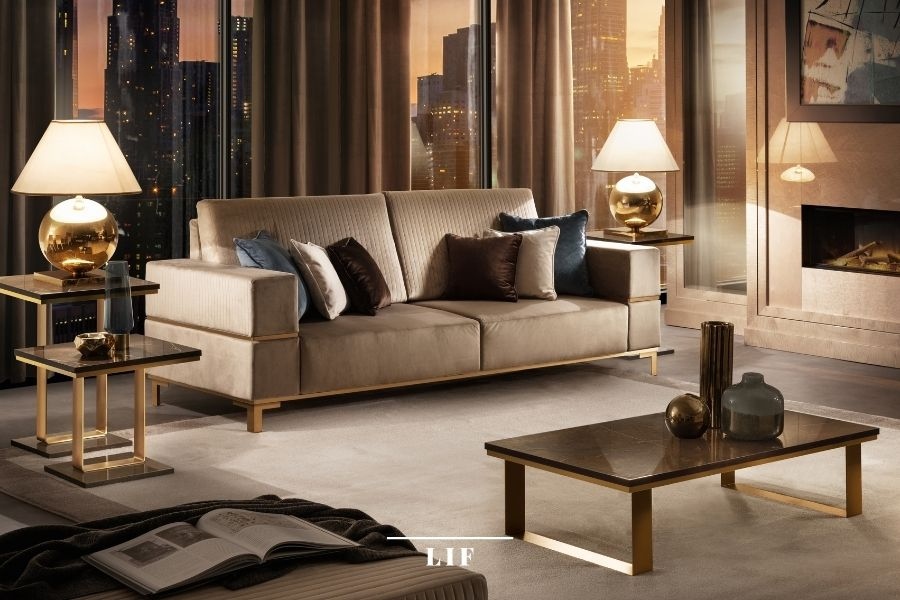 3. Complete the decorative set-up with accessories and home decor items in style with the concept
As far as the completion of the decorative set-up of the walls is concerned, it is recommended to opt for:
Square-shaped glass and metal wall clocks
Frames and mirrors with a modern design in a gold or silver, glossy or matt finish
Cubist, abstract and contemporary art paintings and drawings
Modern and sophisticated art installations or sculptures
As a whole, the objects will bestow to the living room a complete and cared for look.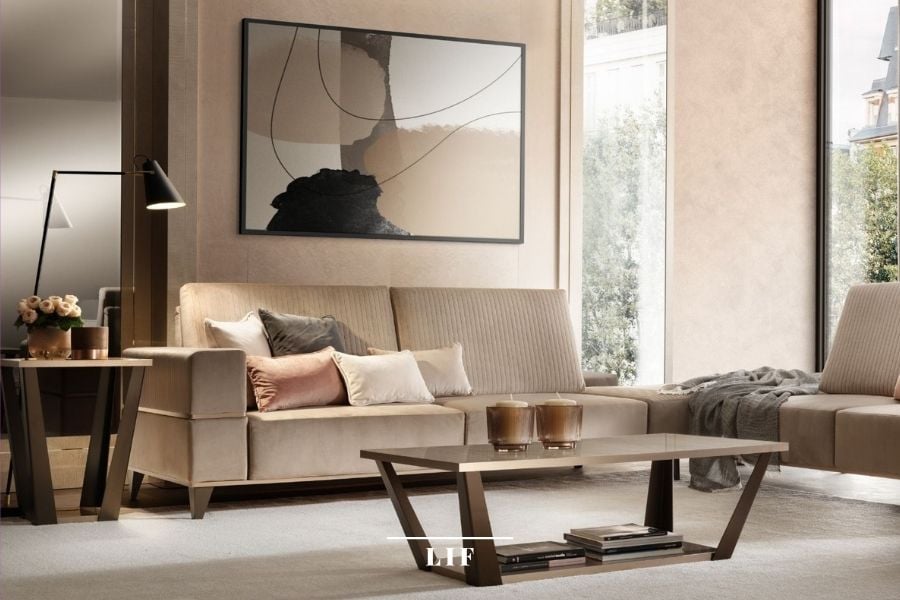 4. Carefully choose curtains and fine details for the windows
Do not forget the curtains! They too are part of the overall wall decoration and as an integral part of it, their choice deserves meticulous attention.
In fact, when it comes to choosing the fabrics and accessories that will become the curtains in your living room there are several factors to consider.
Specifically:

I. Type
A large selection of curtains is available on the market, namely:
Double-layer curtains
Eyelet curtains
Ring curtains
Folded curtains
Creased curtains
Panel curtains
Rod curtains
Rail curtains
Pack curtains
Band curtains
Choosing one of these models depends, as always, on your aesthetic taste and the touch you want to give to the decorative set-up of your walls.
II. Color and patterns
The choice of colors and patterns for your curtains must be in line with the color scheme of the walls of your living room.
If you painted the walls in a single color, you could opt for patterned curtains; while if the walls are covered with wallpaper in combination with a vibrant colored paint, it would be better to select solid color curtains.
III. Fabric
As far as the fabric is concerned, we recommend that you choose elegant, quality fabrics such as:
Linen
Silk
Satin
Velvet
Tweed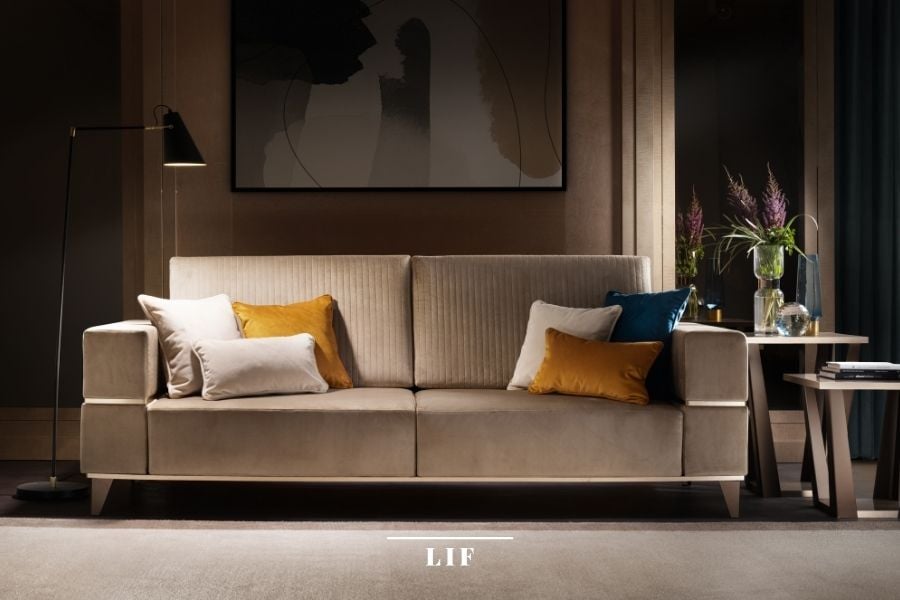 IV. Length and width
The length and width of the curtain make all the difference in terms of overall decoration.
Therefore, to achieve a final result with a contemporary and refined look, we recommend that you opt for curtains with a specific length, so that the curtains can fall flush with the floor.
Regarding the width of the curtains, measure the size of the window and add four to eight inches on both sides to the measurement to ensure greater visual extension of the curtain.
V. Thickness
Finally, the thickness will allow you to adjust the degree of coverage or exposure to daylight and therefore to set the mood of the room as you wish.
There are four types of thickness to consider:
Clear
Matt
Lined
Obscuring
5. Create a balanced wall composition with defined lines
Contemporary interior design criteria call for balanced compositions with well-defined designs.
For this reason, it is important to create a decorative composition that respects the space available, that is not too heavy in terms of visual and spatial impact and where each decorative element can stand out for its uniqueness and aesthetic charm.
Follow our tips to choose the most suitable wall decoration for your contemporary living room
In this article we provided a few tips on how to elegantly decorate the walls of a living room according to a contemporary style.
A space designed according to the criteria of this type of furniture will convey a welcoming and cosy atmosphere and along with a sophisticated one.
Follow our tips to create a decorative arrangement that can be integrated with versatility into the furnishing of your rooms and that can stand out for its great aesthetic content.