When it comes to dealing with living room furniture in contemporary style, every interior designer knows the importance of details and how they influence the perfect furnishing scenario.
With this in mind, curtains play a decisive role in creating the right atmosphere. In fact, in order for a room to give that welcoming feeling at all times, well decorated while providing the right amount of light, it is necessary to choose contemporary curtains suitable for the context.
Curtains are not only a useful tool for filtering the sun's rays, but they also serve as a decorative element for windows while completing their image.
Yet, how do you go about choosing the right ones for your living room? This article provides 5 style tips to help you choose the ideal solution for your needs.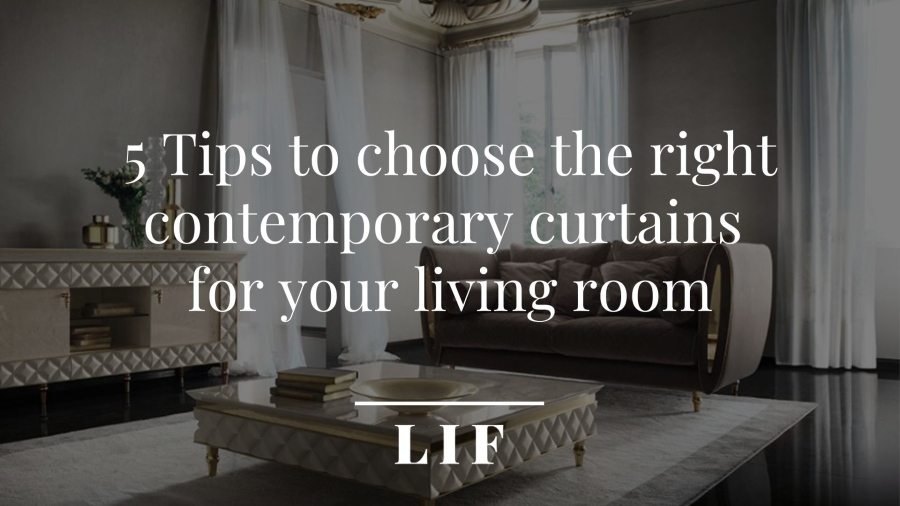 Contemporary curtains: 5 top tips to choose the right ones for your living room
By following our 5 suggestions you will be able to correctly choose contemporary style curtains that best suit the concept of your living room.
Below is a complete list of key factors to consider:
Let's analyse each point separately.


1. Typology
As was previously mentioned, details are important in any furnishing context because they give that unfailing final touch to the living room's aesthetic composition.
This is why, when choosing curtains, it is important to consider which curtain model can best suit your contemporary furnishing complex.
When focusing on the tapestry you will discover that there are various types of curtains:
Double veil curtains
Eyelet curtains
Ring top curtains
Pleated curtains
Curled curtains
Panel curtains
Rod pocket curtains
Pencil pleat curtains
Roman blinds
Strip curtains
Each one of these models is unique and is capable of providing a different stylistic feature to your contemporary living room.
2. Colour and pattern
The colour of the curtains should be in line with the colour scheme established for your living room's walls.
In this case, since it is an environment in perfect contemporary style, it is advisable to choose between basic, dark or brighter shades. It all depends on the colouring of the walls.
If the walls are covered in wallpaper decorated with prints or motifs on the surface, we strongly recommend selecting solid colour curtains (i.e. light shades of white, grey, turtledove or soft pink).
On the other hand, if the walls have been painted evenly use creative curtains (preferably with geometrical designs with thin and linear profiles), remembering to choose decorations in line with contemporary taste.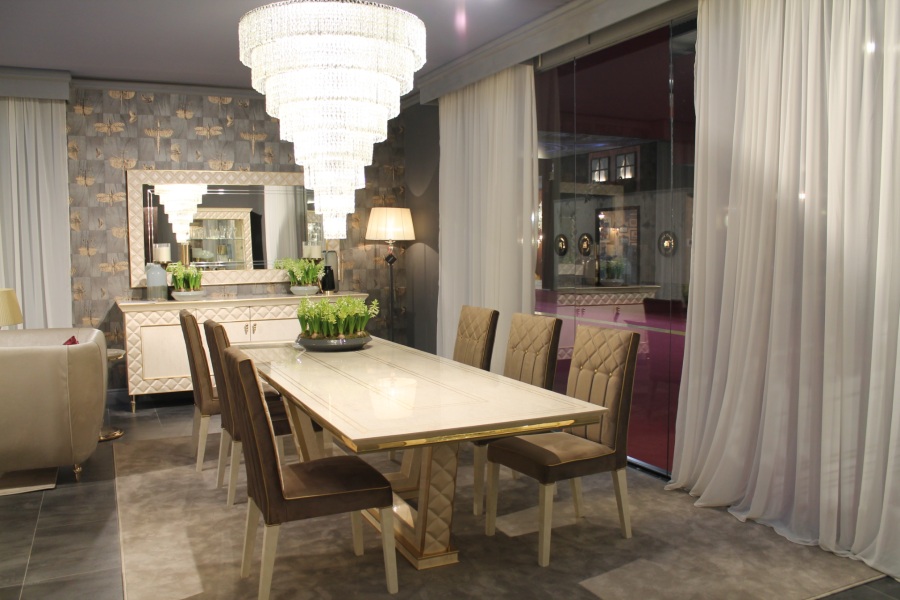 3. Fabric
As far as the choice of fabrics is concerned, we suggest you opt for quality and elegant fabrics with rich textures capable of creating bold light effects. For your contemporary style living room, you might want to choose between:
Linen
Silk
Satin
Velvet
Tweed


4. Length and width
The length and width of curtains are two crucial factors. The visual perception, not only of the geometry of the windows but also of the surrounding space, depends on these two features.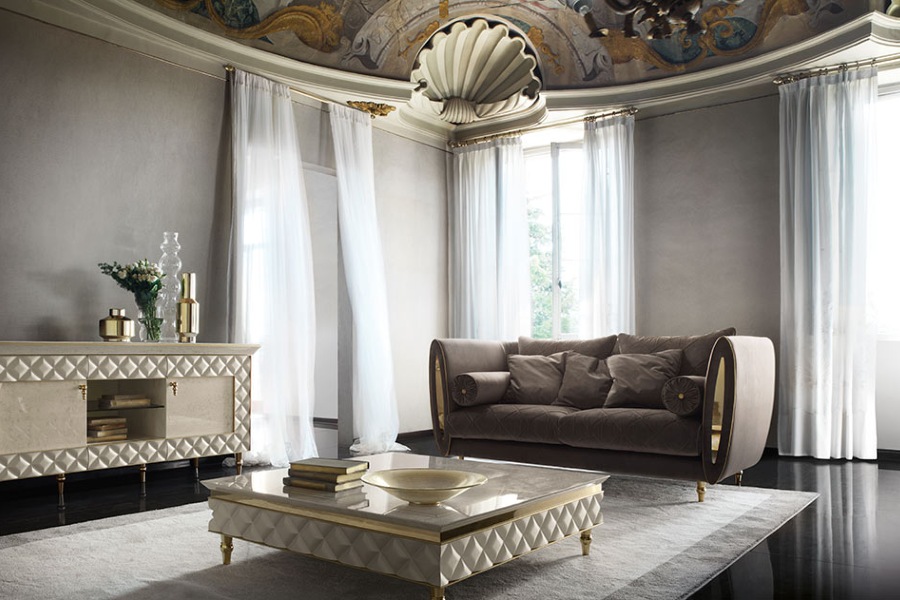 If you wish to obtain a more traditional composition, yet with a modern touch, make sure that the final flap of the curtains is placed on the floor (5 to 10 cm of fabric will be enough).
Whereas for a more contemporary and linear look, we recommend that the curtains are flush with the floor.
Last tip: when measuring the width of the window, be sure to add four to eight inches on both sides and double the total number to ensure greater visual extension of the curtain.
5. Thickness
There are four types of thicknesses to take into consideration when buying curtains:
Transparent: ideal for creating overlapping curtains and obtaining an ethereal and soft look


Matt: excellent for filtering light and making the atmosphere warmer and more welcoming


Lined: thickness that is more suitable for bedrooms, yet still versatile and suitable for any context


Darkening: this type of thickness is also ideal for the sleeping area, however it can still be used to create compositions of several curtains with different thicknesses and textures even in the living room
Transparent curtains are the most suitable if you are aiming for a bright living room. The most common type of ready-to-hang curtains available on the market are opaque and are excellent for filtering light and providing sufficient privacy, making only shadows visible at night.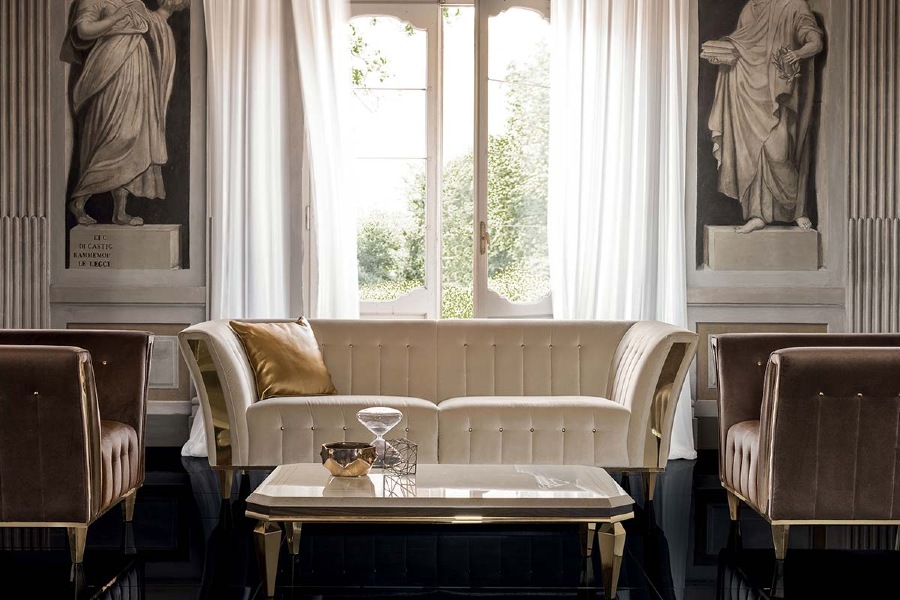 Select the best contemporary curtains to decorate your living room
As we have seen, curtains play an important role in the furnishing context of your living room. This is because, being decorative elements, curtains manage to complete a room's contemporary look and enhance its overall image.
In order to make a contemporary style living room aesthetically attractive and welcoming, it is also necessary to pay attention to the windows and decorate them with curtains that can ensure a pleasant atmosphere and provide character to the room.
Follow our style suggestions for your curtains: this way you will be able to choose the best proposals to decorate your environment in a perfect contemporary style.