Conviviality, aesthetics and comfort determine the atmosphere of your dining room and define the perception of the entire furnishing scenario.
When it comes to defining the interior design or restyling project designed specifically for this environment, it is necessary to take into account some style and decoration suggestions.
The aim is to achieve a final result of great aesthetic appeal that can give your dining room more stylistic character.
In this article, we will show you 7 contemporary décor tips to make your dining room even more daring and elegant.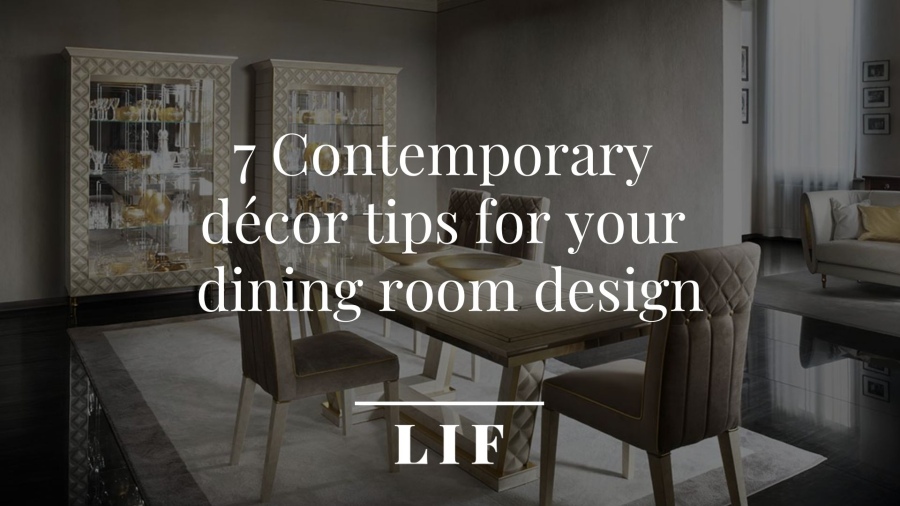 7 Contemporary décor tips to make your dining room design look beautiful
In order to properly decorate the dining room furniture scenery, it is important to take into account every little detail.
Below we list 7 contemporary decorating steps to keep in mind for your project. Specifically:
Let's continue by analysing each point.
1. Create a custom mood board for your project
Creating a personalized mood board is the starting point of any acceptable interior design project.
In this way, from the very beginning you will have at your disposal inspirations and decoration ideas in graphic format and this could be of great help both for you and possibly for the designer or architect you will rely on for the project when furnishing and decorating your dining room.
2. Establish the colour palette for the dining room walls
The walls act as a backdrop to your dining room decor. This is why it is essential, as a first step immediately after defining the mood board, to set the colour palette for the room's walls.
In particular, decide whether to opt for a decoration with wallpaper or for a solid colour paint, in perfect contemporary style.
Deciding on the colour of the walls or the type of wallpaper will help you make a more targeted selection of the furniture that will make up the layout of your dining space and understand which accessories and furnishings to choose based on their characteristics and aesthetic details.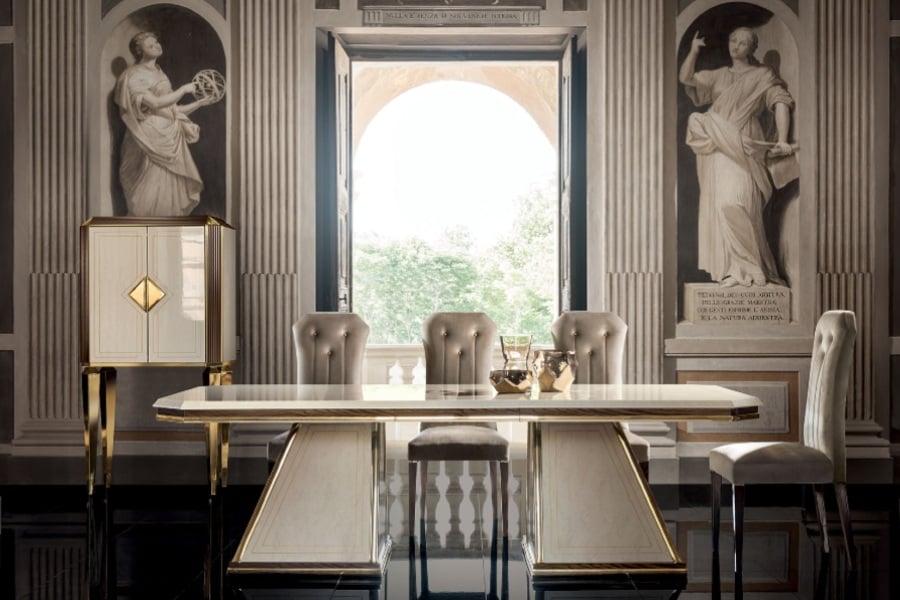 3. Decorate the empty areas of the floor with accessories and furnishings
Even if you decide to opt for a large carpet, perhaps placed in the centre of the dining room, or even lay a soft layer of carpet throughout the room, does not necessarily mean that you should not keep in mind the small areas of the floor left empty.
In case you decide to select a carpet or a rug we suggest you introduce other finely embroidered rugs of a smaller size to be placed under vases, plants or other furnishing elements of your liking, in line with the contemporary concept.
4. Select designer lamps that are ideal for the contemporary furnishing context
Lighting, is not only one of the key points in a furnishing composition, it also plays a central role in the perception of the dining room atmosphere.
Therefore, in this case, you should choose lighting design solutions that are in total aesthetic agreement with the contemporary furnishing style.
In this case, it is advisable to opt for lamps in line with the contemporary genre, made with quality materials, such as:
Glass
Metal
Crystal
Copper
Next, it is crucial to establish their proper placement.
5. Place the light sources in the correct positions
As has already been said: decorative lighting is essential in any furnishing scenario, but it is also important to know how to position each solution correctly.
Whether you decide to opt for elegant pendants, wall lamps, chandeliers or jewel lamps, it is advisable to place the lamps not too low to the ceiling.
The lamps should add a touch of decoration to the furnishings and therefore be in the visual field of the observer, but without weighing down the visual impact.
6. Arrange pictures and wall decorations on several levels
Often people tend to hang accessories and wall decorations at eye level, thus placing each ornamental object on the same level.
This arrangement creates a gap on other levels of the walls and makes the visual rendering of the room banal and flat. As has already been mentioned, the walls are the backdrop to the decorating atmosphere of the dining room, so it is important to make them a priority.
Therefore, we suggest you arrange pictures and decorative elements (such as paintings, mirrors, photographs, portraits) on several levels, taking care to maintain a certain symmetry in the overall design of the composition.
7. Design a scale composition of curtains in different colours and sizes
As a final decorative touch, select the curtains that best suit your decor. We recommend that you opt for curtains of various sizes and colours, so that you can create a scale composition.
An idea, for example, could be the combination with curled valances placed at the top or even shorter curtains overlaid on slightly longer curtains that almost touch the floor.
Try playing with the colour tones as well, respecting the colour palette initially developed with the creation of the mood board.
To give an overall austere and graceful look to your dining room, we suggest you go for neutral and sober shades such as beige, white, grey and champagne.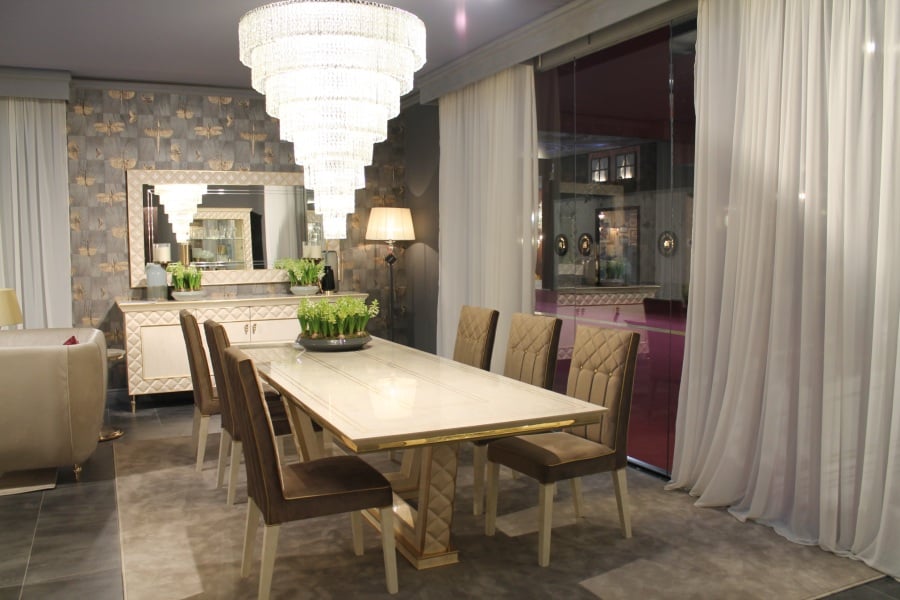 Contemporary décor tips: what you need to know to restyle your dining room
In this article, we have shown you some useful tips on how to decorate your dining room tastefully and elegantly while fully meeting the requirements of a contemporary furniture style.
By following our advice you will be able to carry out a unique restyling and decoration project, that reflects your style: with great aesthetics and a strong personality.