Moodboards are an extremely useful tool.
They're essentially collages of inspirations and ideas that can help create an overall theme when designing your bedroom.


Some of the very best design concepts originate from a collection of patterns, colours and images, all of which are combined to create a personal style. By creating a moodboard, you can immediately start outlining your bedroom's functional and stylistic characteristics.
That's why creating a personalised moodboard can do wonders for designing a harmonious, sophisticated bedroom space.

It's can also be a good idea to employ an interior designer, who can focus on the room's aesthetic layout during the project, allowing you to add your own stylistic touch to the space from the get-go.

If you want to create a sophisticated and modern bedroom environment, why not take a look at our bedroom moodboard, inspired by the Adora Diamante Collection.

Take a look at pictures and descriptions of the elegant collection below.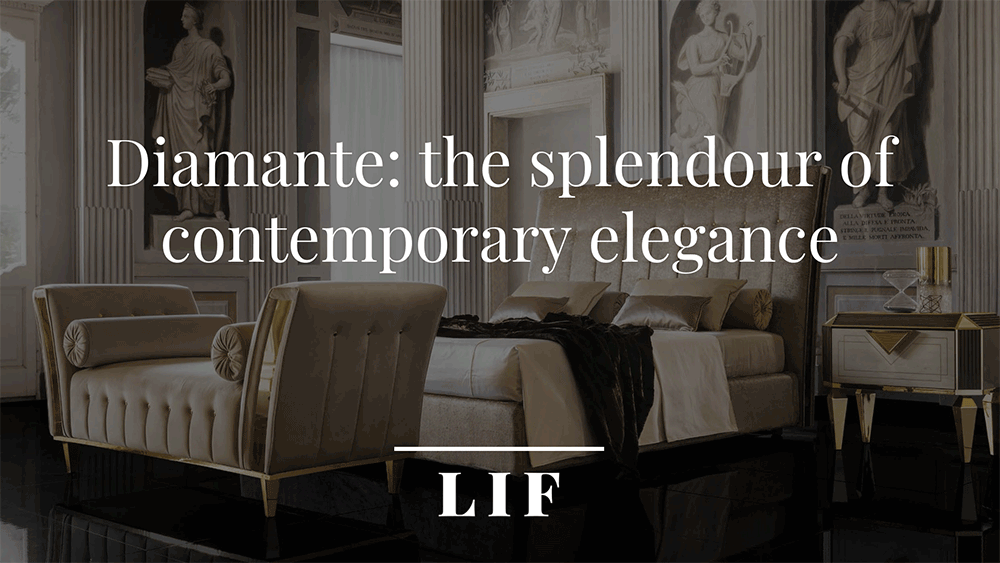 Diamante: the splendour of contemporary elegance
Our Diamante Collection belongs to Adora Collezioni, the Arredoclassic brand inspired by contemporary style.
Shape and comfort find perfect balance in these classy furnishing solutions, which are designed to give your private spaces an extra touch of sophistication, without sacrificing comfort.


Every item in the collection sports the same recurring motif: an elegant golden triangle, which mimics the shape of a diamond and adds a precious additional touch to each piece.

In this article, we explore the collection's characteristic features in more detail, including:
Our Diamante Collection beds: the star of the show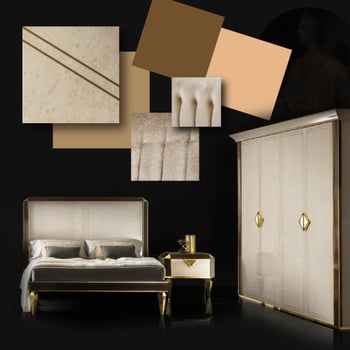 Our Diamante Collection beds sit proudly in the middle of the bedroom thanks to their defined shape and contrasting frames. Of course, you'll find characteristic golden triangles in the corners of the bed headboard, too, in perfect harmony with the frame's golden feet, which shimmer like precious stones.

The Diamante Collection also features an upholstered bed.
This particular bed comes with little golden spots, which are embedded in a capitonné padded, curved headboard and catch the light, offering true velvet seduction.

An unmistakably classic and versatile item that just oozes contemporary style.
The imposing elegance of our Diamante Collection wardrobes
Our Diamante Collection wardrobes offer a refined colour balance, characterised by a contrasting elm-finished frame, all of which is united by golden inlays and triangular handles. An elegant item of furniture that can turn any bedroom into a wonderfully sophisticated space.
Our precious Diamante Collection vanity tables
Precious golden details adorn our Diamante Collection vanity tables, with their defined shape and perfect geometric harmony.

Our vanity tables are also adorned with golden triangles in order to really enhance their contemporary look, a subtle yet decorative style that finds continuity in gold-plated feet, which catch the light and can brighten up any bedroom space.
Our Diamante Collection mirrors: add a touch of class to your bedroom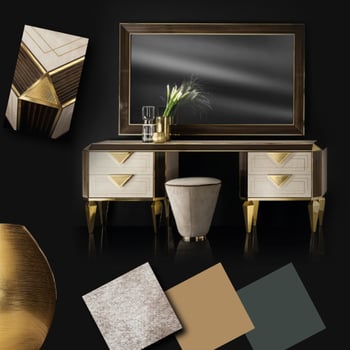 Our Diamante Collection mirrors are fairly minimalist, with a daring touch of dark and persuasive elm and a thin golden accented frame, allowing them to really stand in any space.
An essential piece of bedroom furniture and the perfect partner for your vanity table.
Contemporary moodboards: how to furnish your bedroom in style
Collecting together a collage of ideas and inspirations can help you create a "personalised" moodboard, designed exclusively to suit your own stylistic and functional needs.

A contemporary, modern and versatile style is perfect for creating an elegant atmosphere in which luxury and comfort blend with relaxation to offer a space that oozes class and Made-in-Italy elegance.

If, however, you're looking to furnish your bedroom with some timeless, classic charm, we recommend taking a look at our Sinfonia Collection bedroom moodboard: an elegant and stylish collage.