Just as every home tells a story, every room offers an intimate and unique atmosphere that reflects the owner's personal style and lifestyle choices.
Each individual space plays an explicit role in the home: the bedroom is a personal oasis of pure relaxation, the office is an important work area, while the living room is a pleasant, cosy space, perfect for entertaining guests and friends. The latter can often be ideal for making a classic statement that reflects your own personal style.
When it comes to welcoming friends and family to your home, a uniquely furnished living room essentially reflects who you are, providing people with a way to better understand your likes and dislikes.
In order to furnish your home well, we recommend following our five tips on personalising classic living rooms and creating elegant, refined spaces.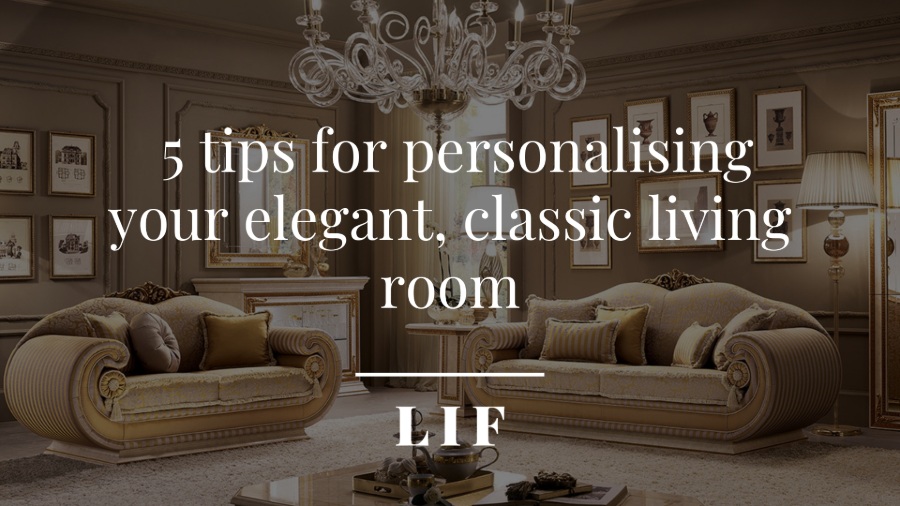 How to personalise a classic living room: five tips
It's all in the detail when it comes to furnishing your living room. But before you get started, we recommend following a few decorating tips that will help you to improve the space's overall look.
Here are our five tips:



1. Hang frames and mirrors on the walls
In order to really establish a theme that matches your taste in furniture, it's often a good idea to hang antique paintings in precious gold-leaf frames, along with classic, glass mirrors.
Hang these items where you think is most appropriate (for example, above a sofa sat flush against the wall). We guarantee that they will add great decorative potential and elegance to your living room.
It can also often be worth putting up wallpaper as a decorative feature. Opting for a classic or ornamental pattern will help you to remain faithful to the room's stylistic concept.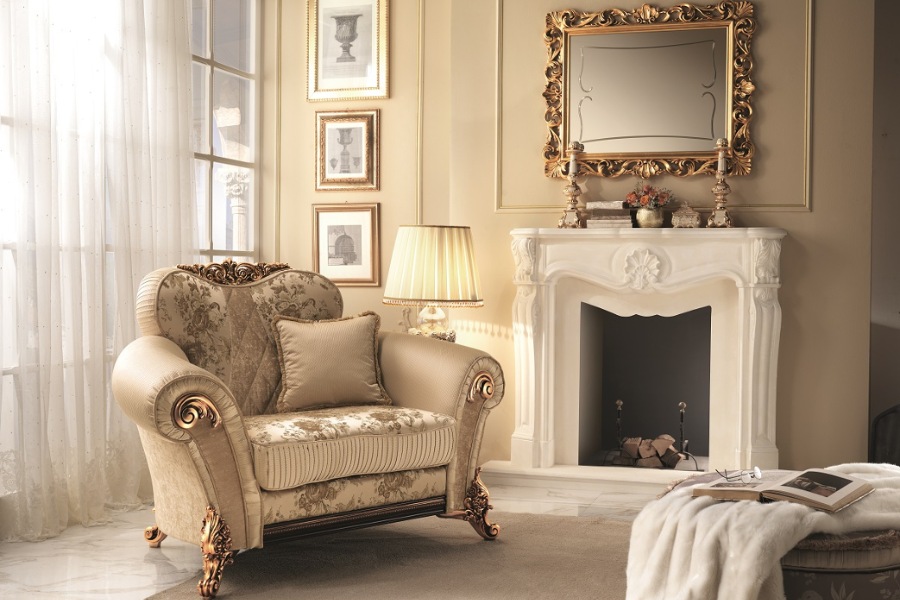 2. Add some decorative cushions
As well as being a great source of comfort and relaxation, cushions are perfect for giving sofas and armchairs a more well-rounded look.
In order to choose the best cushions for your classic living room, we recommend starting with a colour (opt for white, beige or brown). Then you can think about the shape that best suits the sofa or armchair you're decorating.
Finally, make sure to choose quality materials and precious fabrics (such as satin, brocade, damask, lampas, velvet or silk etc.), as well as cushions with intricate details, such as ruffles, fringes, cord or buttons.

3. Install a few bookcases and display cases
Order is synonymous with elegance and class. That's why it's often advisable to furnish your living room with bookcases and display cases, making sure to select the most appropriate materials and lining fabrics.
Ornaments can be personalised according to your needs. Shelves and display cases are ideal for displaying silverware, porcelain, books or collections, thus creating a feature that oozes classic, Italian elegance.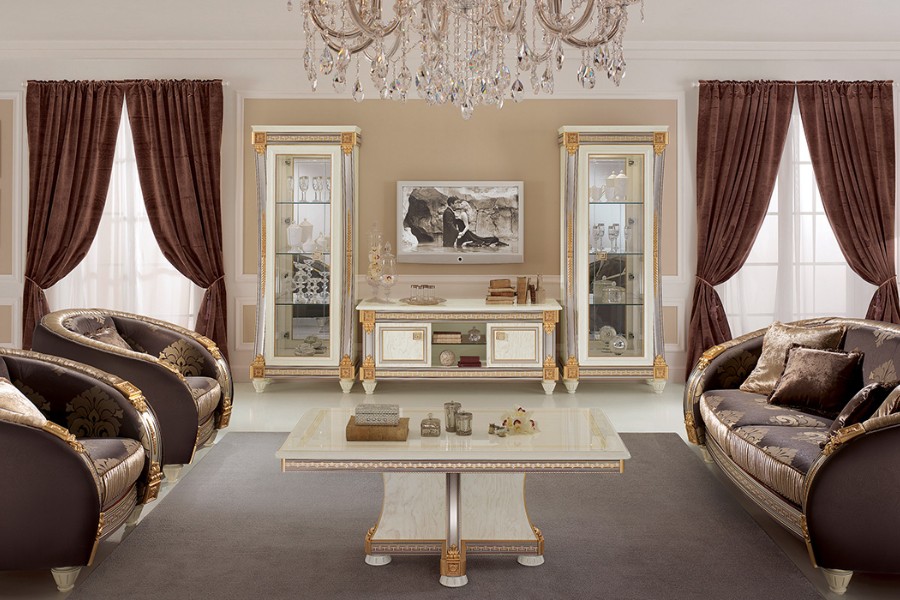 4. Add decorative lighting, such as classic lamps
Lighting often determines the mood of a room, and by extension, the entire house. This is because lights tend to emotionally connect observers to spaces.
In order to personalise your living room with class and to create the right atmosphere, make sure to choose classic lighting solutions. First of all, focus on the room's ambient lighting by choosing a curved chandelier with corolla-shaped lampshades, or one with crystal or glass pendants, which catch the light.
It's also important to pay attention to accent lighting in order to highlight certain objects, pieces of art or antiques. Appliqué wall installations with fabric lampshades often emit a filtered but bright light.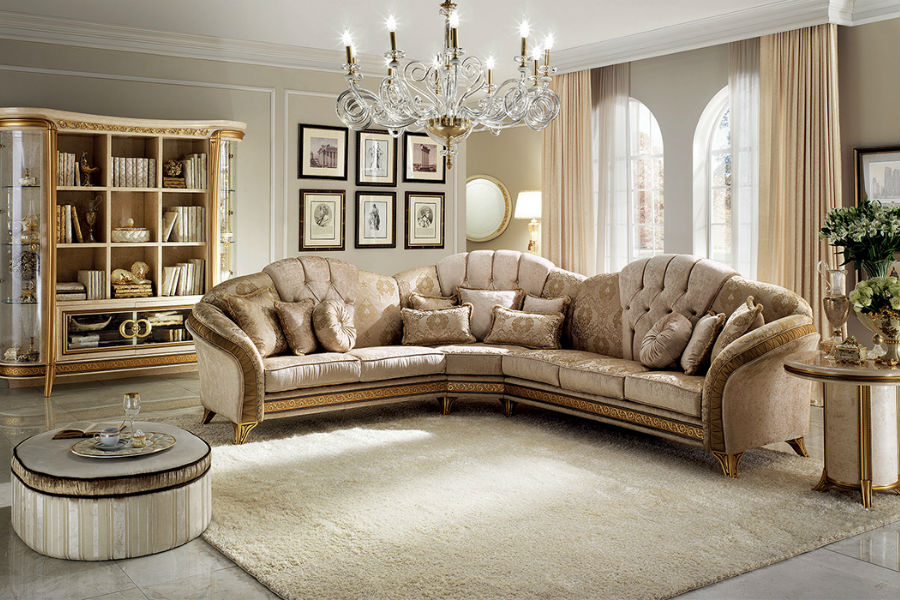 5. Fit a carpet and/or rug
Fitting a carpet or rug will give your living room a feeling of completeness. Choosing the most suitable rug or carpet for your living room depends on your comfort and style needs.
If you want to maintain a certain geometric and chromatic pattern throughout your living room, cover the floor with a layer of soft carpet.
If, on the other hand, you want to play with shapes, sizes and textures, lay rugs on the floor as a means of separating the main areas (sofas, tables, armchairs, etc.). Regardless of your decision, make sure to select quality materials and fabrics.
One final tip: if you're looking to fill small, empty spaces, place a few flowering or foliage plants (such as ferns, palms, azaleas, hydrangeas or orchids). A touch of green is always welcome in any space.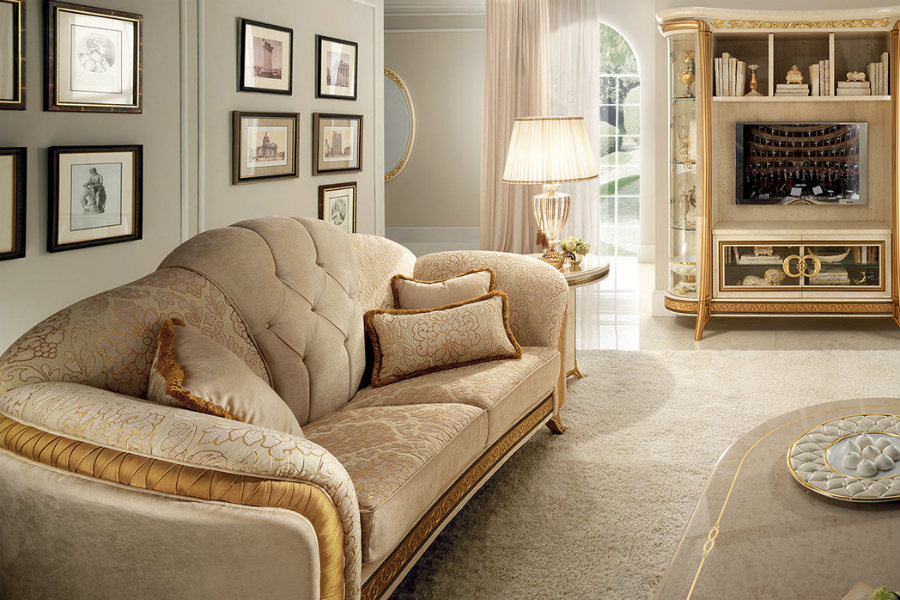 Add a touch of personal style to your classic living room
Every space is different, and every house stands out thanks its own stylistic character and unique atmosphere.
If you're looking to give your classic living room unparalleled personality, follow our tips: we guarantee your space will be beautifully furnished with class and elegance.