When it comes to decorating and furnishing master bedrooms, we often tend to pay more stylistic attention to furniture than sources of light. This is can often be a mistake, as light plays a decisive role in both functionality and aesthetics.
In addition to ensuring safety and comfort, lighting actively contributes to mood in classic master bedroom spaces.
Let's take a look at a few master bedroom lighting ideas that help to create intimate atmospheres, without scrimping on distinctive style.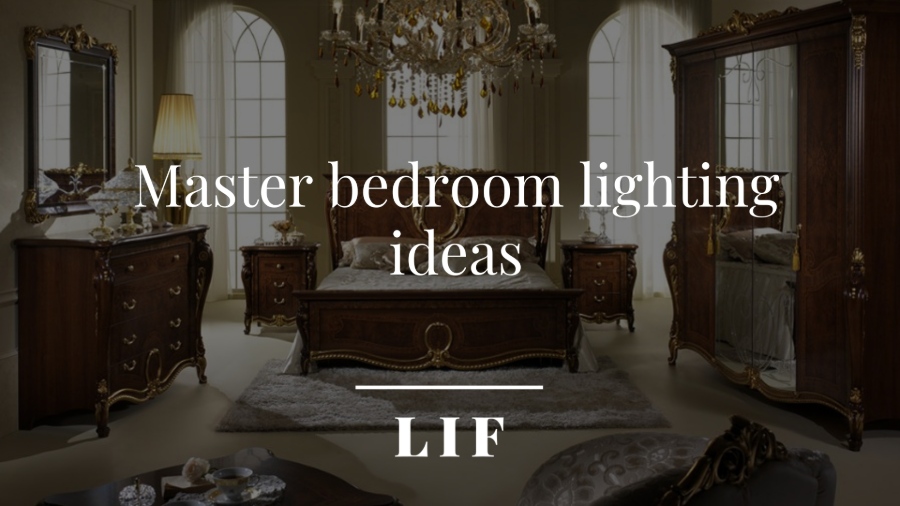 Master bedroom lighting ideas: 6 tips to creating the right atmosphere
Stylishly decorating your bedroom means selecting the right lighting solutions, as well as a few functional and aesthetic elements that will help to add a decisive touch to the space.
In order to execute a well-thought-out lighting design project that is impeccable both in terms of functionality and aesthetics, we recommend following our six practical technical-stylistic tips.
By following our style suggestions and with a bit of careful planning, you're guaranteed to find the best solutions for your master bedroom.


1. Pay attention to natural light
Don't forget to pay attention to sources of natural light in your master bedroom.
Before deciding where to place lamps, make sure to think about the room's current brightness level, paying attention to where windows and balconies are placed.
In general, if a room already enjoys a lot of natural light, you don't need to purchase many additional lamps. We recommend taking this factor into consideration carefully.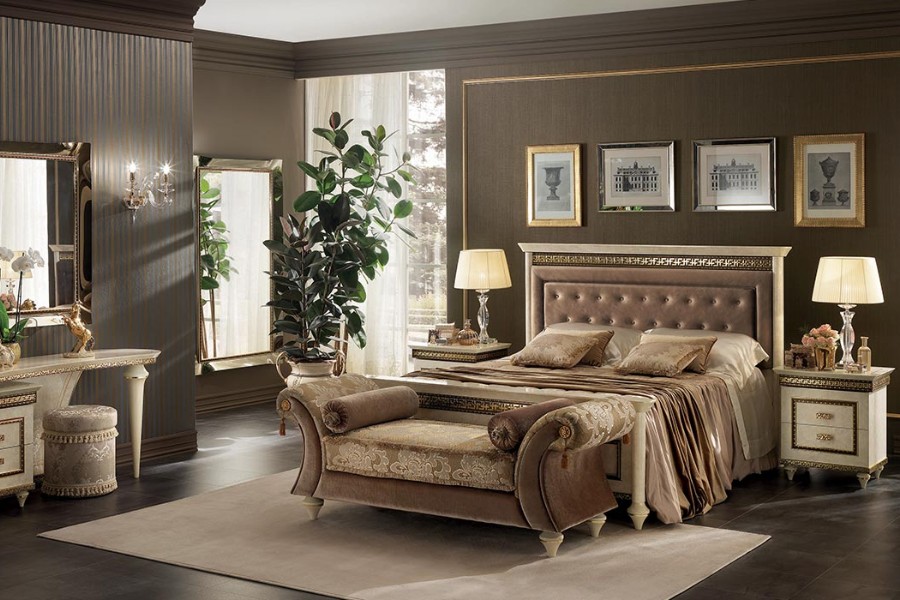 2. Go for classic lamps
If you're looking for stylistic continuity, we recommend selecting classic lamps for your master bedroom.
Decorate your room with lamps made from quality materials. Opt for pieces with a glass, crystal or ceramic base and lampshades with precious pendants, ironwork, textiles and fine fabrics.
By doing so, you will create an intimate and welcoming atmosphere in your personal oasis of rest and relaxation, adorning each corner with refined elegance and functionality.

3. Opt for a combination of light sources
Perfect classic Italian furnishing compositions stand out due to their undisputed style and balance. That's why we recommend opting for a stylistically balanced combination of light sources.
Combine table lamps with wall lamps, pendant lamps, sconces and floor lamps.
Lamps with unique decorative details will contribute to your master bedroom's aesthetic style, enhancing its luxurious yet refined appearance. Make sure to tastefully pair sources of light and correctly position them within the space, while respecting their functionality.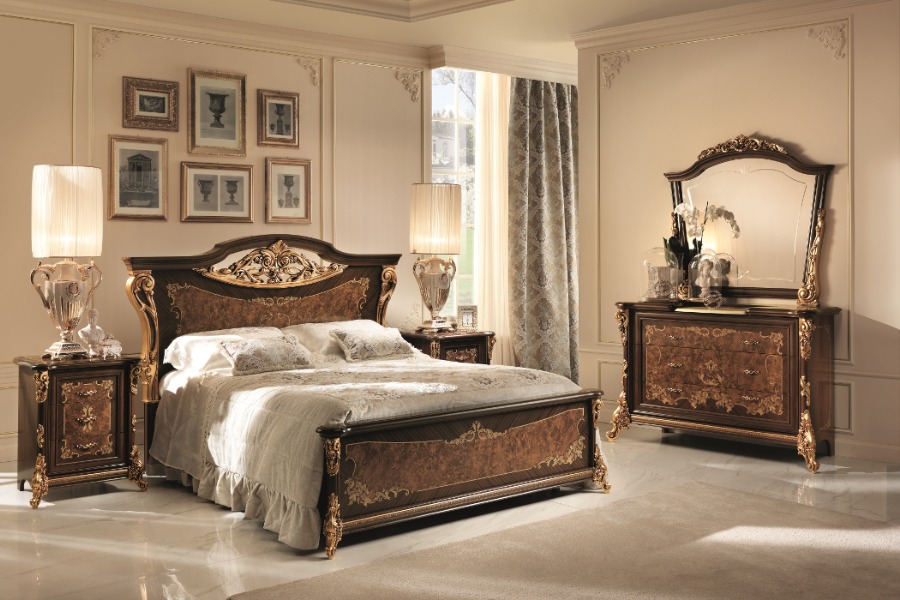 4. Select ambient lighting sources
Lighting levels play a decisive role in creating the right bedroom atmosphere: and most important of all, is ambient lighting.
If you're looking to set the mood in a room while guaranteeing excellent visibility and freedom of movement, we recommend selecting a few light sources that are specific to the purpose (while bearing in mind our above tips about materials), such as:
Pendant lights: Versatile both in terms of functionality and aesthetics, pendant lamps are great for providing optimal degrees of ambient lighting in bedroom spaces.


Chandeliers: Placed in the centre of the ceiling, chandeliers are perfect for making an incomparable style statement, serving as both light sources and precious decorative elements.


Ceiling lights: For an understated decorative touch with a remarkable aesthetic effect, you should consider ceiling lights. This type of light adds a touch of decoration to ceilings while guaranteeing a good degree of ambient lighting.
5. Switch to accent lighting solutions
When it comes to accent lighting, you need to identify the level of brightness needed to highlight certain architectural details, decorative accessories, paintings or artistic elements hung on the walls or placed in the corners of the room.
Appliqué light sources are often the most suitable solution if you want to provide small classic objects and ornaments with a bit of accent lighting.
In fact, wall lamps combine functionality with aesthetics, providing surfaces and decorative elements with light without weighing down the surrounding atmosphere.
We recommend opting for crystal or white satin glass appliqués, as transparent materials allow dim and soft light to filter out, while curved flower blooms add an extra touch of class.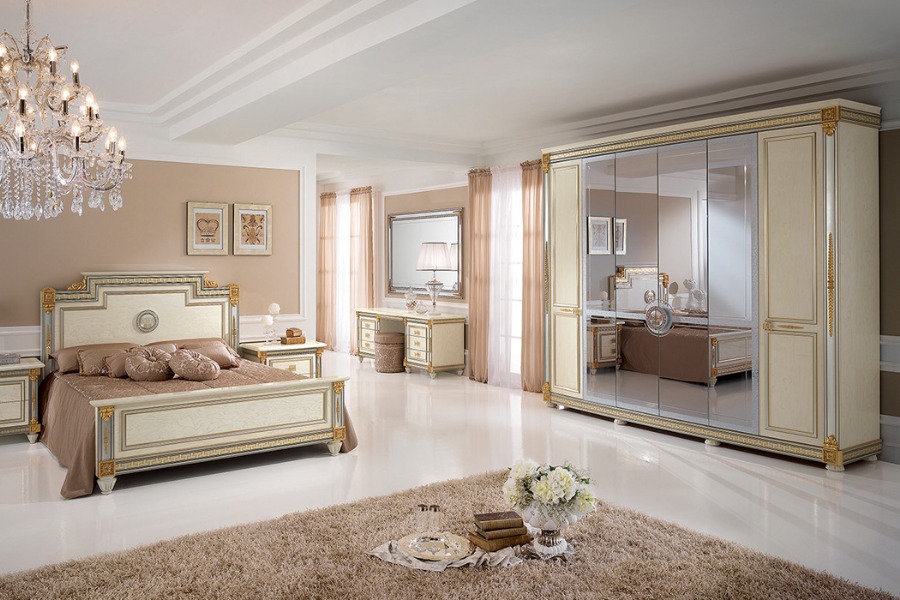 6. Choose suitable lamps for task lighting
Getting dressed, reading and moving around comfortably is essential in any master bedroom, which is why we recommend choosing sources of task lighting that are suitable for this very purpose.
Table and floor lamps are the perfect way to provide enough brightness so that you can comfortably perform your daily activities in the bedroom.
Place lampshades (with a ceramic or porcelain body and a finely decorated fabric lampshade) on your desk and bedside tables. By doing so, you will not only introduce a few additional lighting sources, but also design elements with remarkable decorative potential.
If you're looking for brighter, more directional light, we recommend placing floor lamps next to armchairs, ottomans and chaise longues (as well as near other comfortable items of furniture that you use to relax).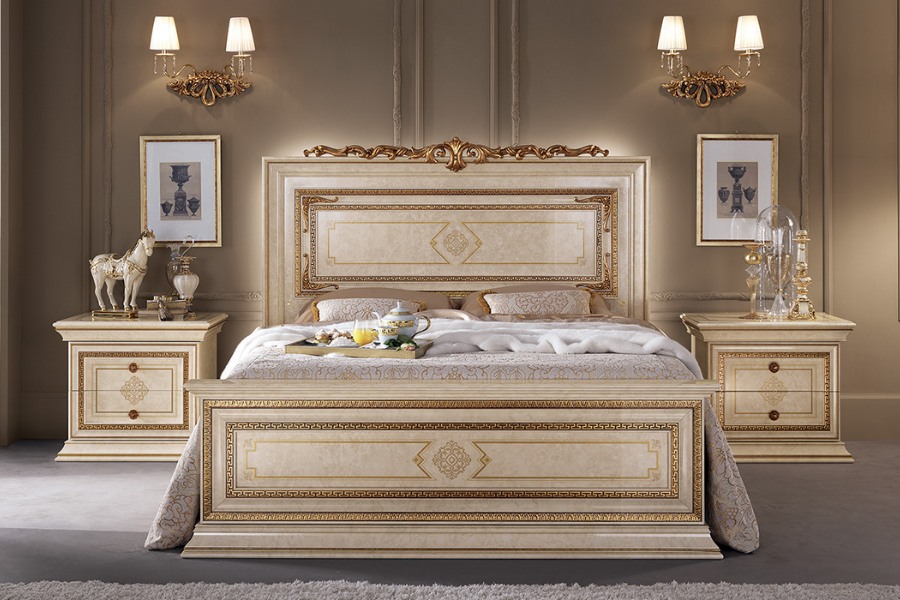 Master bedroom lighting ideas: how to set the perfect mood
Light has the power to enhance our spatial and emotional perception of surrounding environments.
Making mistakes when choosing lighting solutions that are stylistically and functionally suited to a room's atmosphere, risks shattering the space's emotional mood and its technical and aesthetic style.
In order to elegantly decorate the most intimate room in your home, choose lamps with classic Italian style. You'll end up with decorative lighting solutions that have a great visual appeal, guaranteeing a sophisticated and elegant mood.