Elegant, luxurious and timeless. Classical style, in all its countless variations, is an endless source for stunning inspirations that never cease to amaze.
In particular, neo-classical taste, as well as being one of the most popular and widespread design styles has excellent appeal in any setting.
From the bedroom through to the living area, with its prestigious materials and details, neo-classical style can bring a new light into any room.
This article aims to tell you a little bit about dining room furniture in neo-classical style and specifically, we are going to show you 7 useful tips to create your perfect furnishing concept. Let's take a look: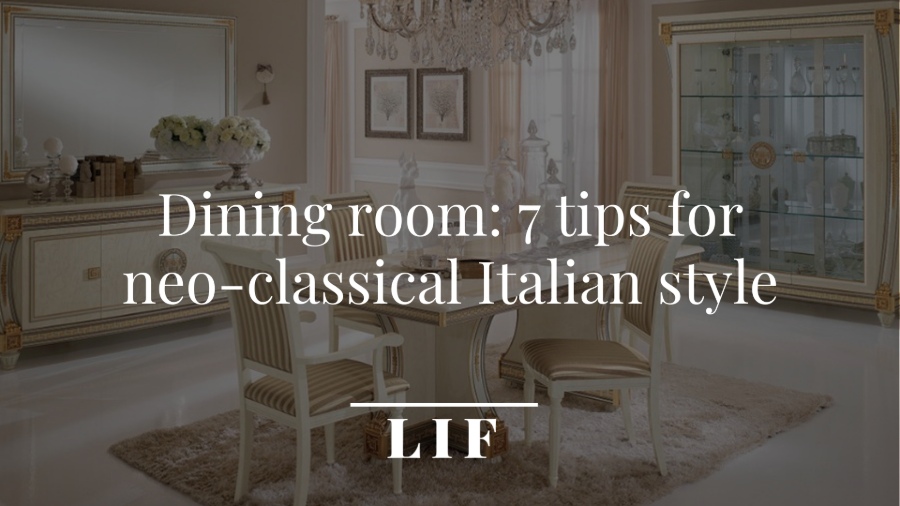 7 tips to create a neoclassical concept for your dining room furnishing
Formal balance, decorative variety, unquestionable dramatic presence: the combination that creates the style key in a furnished room, following neo-classical style.
Let's take a look at the 7 key steps in setting out a style concept with great aesthetic results:

1. Decide on the right colour palette
Every interior design project worthy of the name starts with an initial bold step, or setting out the right colour palette to suit the furnishing context. In this case, the neo-classic style requires a range of soft, sober colours, such as cream, ivory, cream, gold and silver.


Tones of this type can add an aesthetic dimension to your dining room.

That's why we advise you to create a furnishing concept that is perfectly in line with the typical colour standards of this style trend.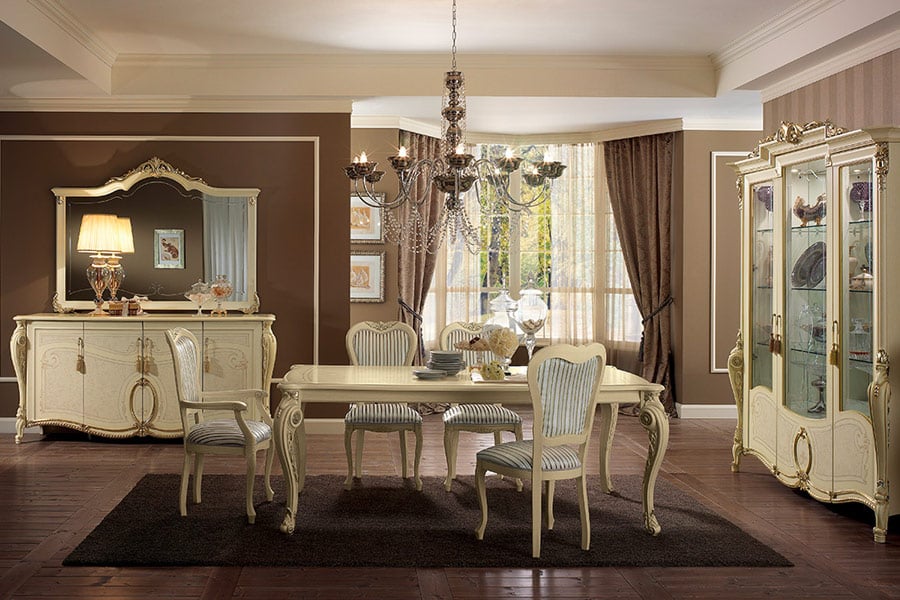 2. Paint the walls or decorate them with wallpaper: the choice is yours
To start decorating your dining room, you need to start with the walls. The choice is all yours: paint in pastel shades or wallpaper with a neo-classical design (motifs or arabesques in classic style).
In both cases, these decorative solutions will provide a look based on elegance.

3. Decide on your decorative lighting
As well as providing the light a room needs, decorative lighting is ideal for creating a dining room with a welcoming atmosphere. If you want an elegant decor in your dining area, choose lamps in neo-classical style.
We recommend that you combine more than one lighting solution, made in different materials. Choose important lamp shades and/or appliqués with glass or crystal body. You can also add table lamps in wood covered in gold leaf.
Use decorative lamps with a classic design to convey the ambience you want to create in your dining room: welcoming, convivial, stimulating…

4. Choose furnishings with precious detailing and decorations: friezes, coping and columns
The atmosphere in each place takes shape above all thanks to precious decorative detailing such as friezes, coping and columns.
Focus points that as well as enhancing your furniture, also boost the style potential of your dining room.
Choose furnishing elements that are finished in great detail, using prestigious decorations: sideboards with gold friezes, designs with a Greek or Roman feel, combined, where possible, with a display cabinet with side columns.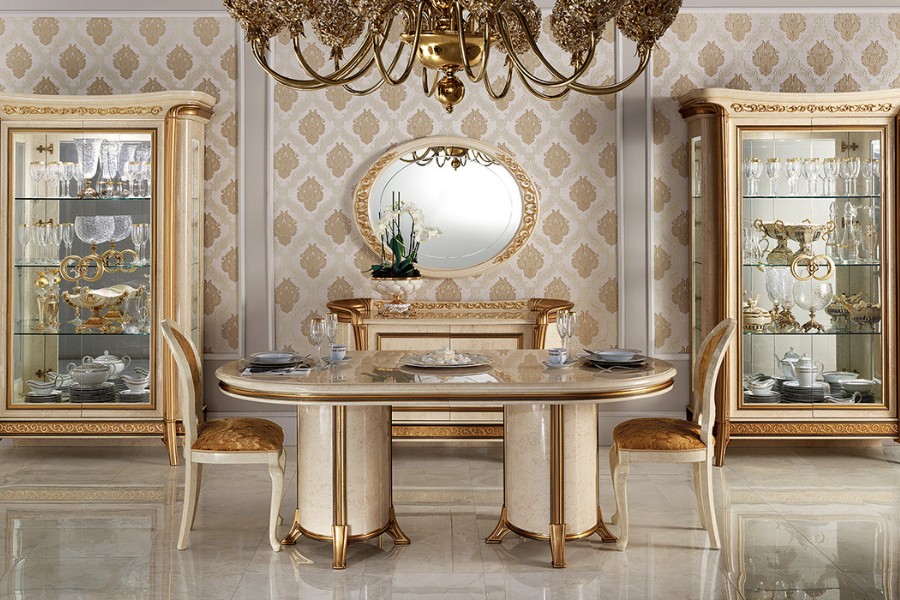 5. Select a dining set with a neo-classical design
The table and chairs are an essential part of any dining room furniture. If you want to find a style that matches the rest of the furnishings, these elements need to comply with the rules of neo-classical style.
Opt for chairs with sleek style and fan-shaped backs, finished with fine fabrics. Tables should be squared and have bold gilt decoration along the edges.

6. Place a large classical-style rug in your dining room
To complete your layout, you can always place your table and chairs on a large rug in classical style. Make sure the rug is large enough to cover a space for the whole dining set.


A decorative touch that won't go unnoticed, while also adding comfort and style to your dining room.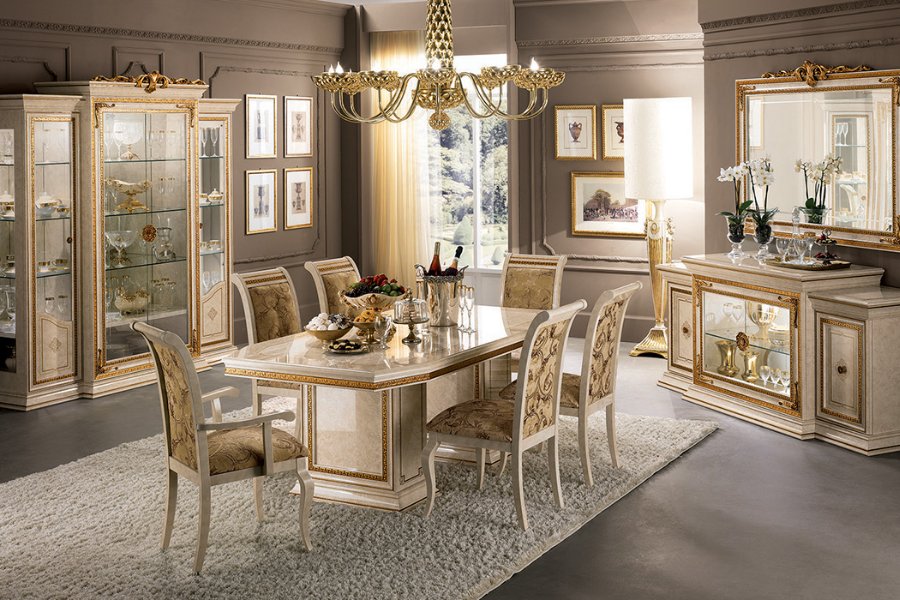 7. Decorate with elegant furnishing accessories
If you want to make your room even more beautiful, then don't forget the decorative potential of elegant furnishing accessories including vases finished with gold detailing and bas-reliefs, brass candelabras with gold or silver lacquering, ornate table lamps and hand-painted decorative plates to hang on the wall.
All of these items are great statement pieces that enhance the neo-classical style and add touches of luxury to your dining room.


Neoclassical dining room furnishing: make your style statement

Dining room furniture with neo-classical charm: a sumptuous furnishing style to enjoy, every day.
To create your classical interior design project, why not follow our style tips? Make an elegant style statement by choosing furnishing items with a prestigious feel and finishes with a great visual impact. Stunning to look at. Always.