In order to furnish your luxury bedroom in the best way possible, you should opt for a classy design concept that truly expresses the beauty and elegance of Italian style.
Closets play an important role in any bedroom, which is why it's important to choose an elegant design with a few precious details.
In this article, we focus on how to choose the closet that best suits your style. We've selected eight luxury bedroom closet ideas, which we take a look at in more detail below.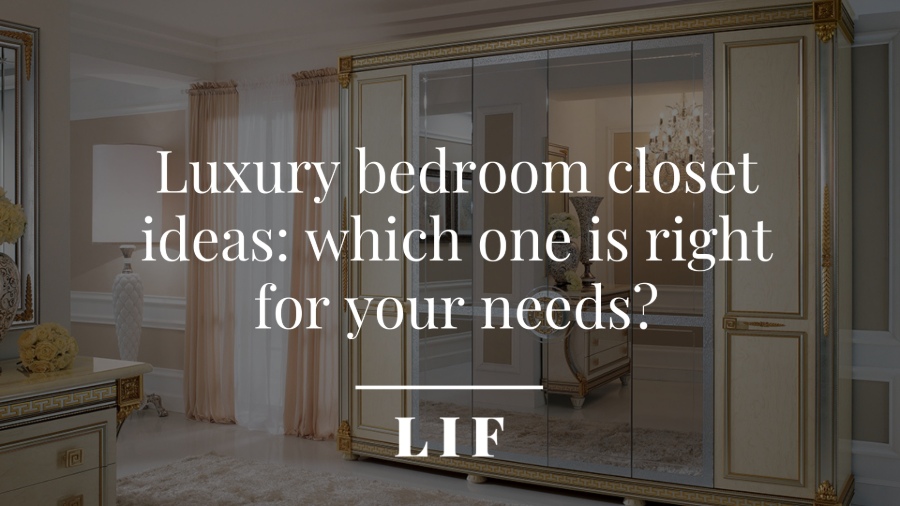 Luxury bedroom closet ideas: how to choose the right one for your needs
Choosing the right closet for your bedroom really depends on your functional and aesthetic needs. Below, we focus on a few luxury bedroom closet ideas that are both elegant and sophisticated:
Let's take a closer look at each individual model.

The Liberty closet: the essence of neoclassical style
A golden Greek motif elegantly frames the Liberty closet: a typical neoclassical piece with a majestic presence, guaranteed to take centre stage in any luxury bedroom space.
The larger model comes with a grand mirror set into its doors, featuring the Arredoclassic brand logo at its centre, while golden floral motifs adorn the closet's ivory-coloured doors and corners, contrasting with two silver columns topped with gold leaf capitals.
The smaller model comes with the same decorative details and a more petite mirror. But be it big or small, this closet is guaranteed to ooze ethereal charm.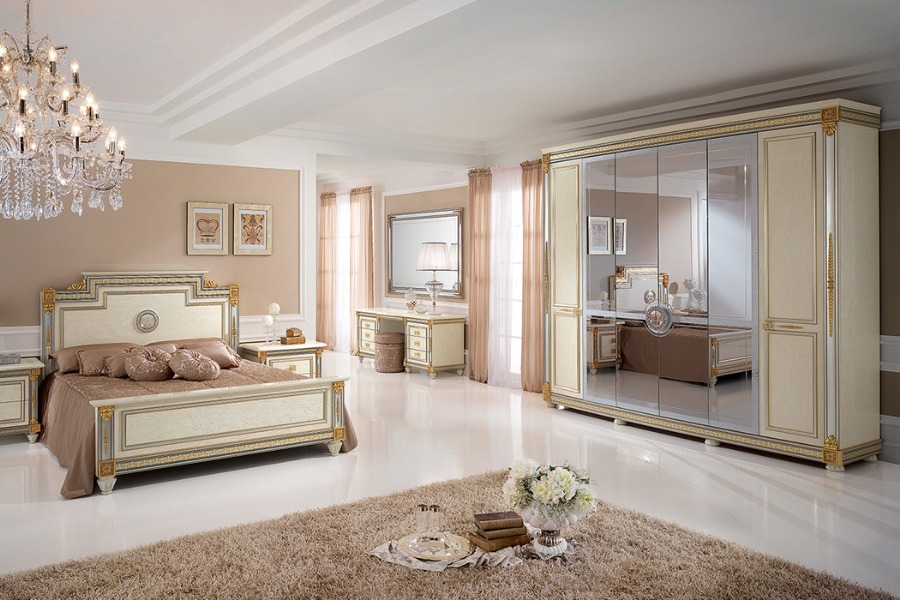 The Donatello closet: Renaissance style in all its splendour
Whichever model you choose, the Donatello closet exudes a sense of balance and refined decor, with a composed feel that perfectly embodies true Renaissance style.
In fact, curved acanthus leaves soften the closet's more imposing overall feel, while golden details blend perfectly with its warm, walnut finish.
The closet's side and top sections – which are adorned with curved gold leaf details – go hand-in-hand with two slender side columns, creating a seductive and harmonious feel.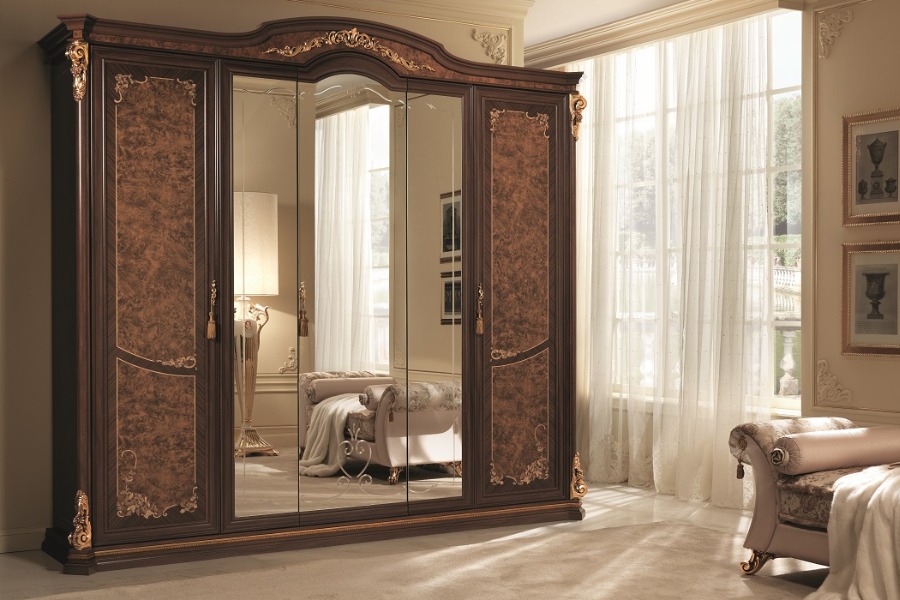 The Sinfonia closet: classic baroque charm
The Sinfonia closet is all about classic baroque charm. This particular closet features elegant contrasting screen prints, which are brilliantly paired with a statement gold-leaf frieze housed above the central door, whose curved shape mimics that of the closet's two side capitals.
Every single detail has been designed to make your bedroom shine with luxury and opulence, just like a noble palace. This closet really is a priceless treasure chest in a classic Italian style.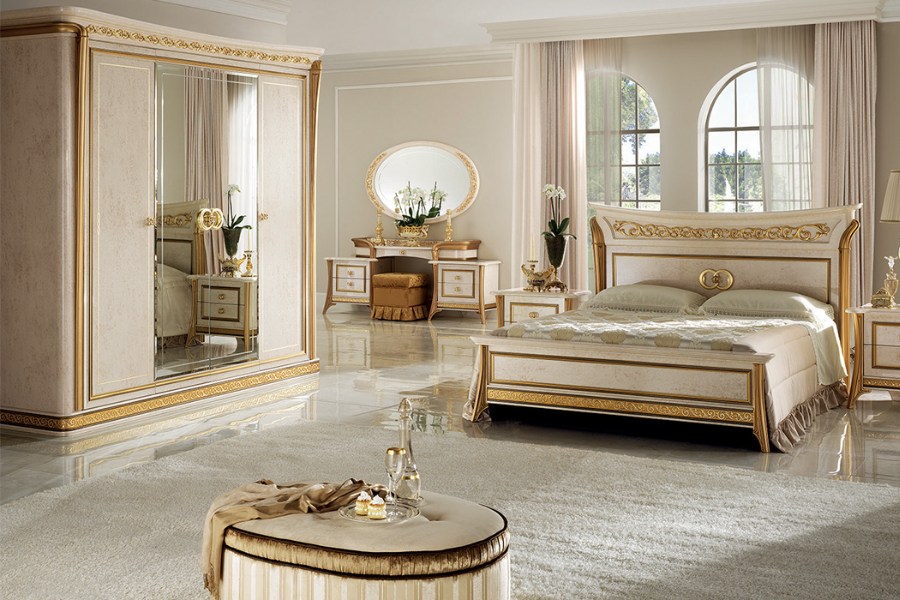 The Melodia closet: neoclassical elegance
The Melodia closet is all about harmonious shapes and colours. This item of furniture has unmistakable neoclassical elegance and is guaranteed to stand proudly in any luxury bedroom setting.
This slender closet is framed by golden curves that flow into clean-cut columns. A fresh overall design that's livened up by intricate details, such as the frieze running along the top of the central door and two statement golden handles.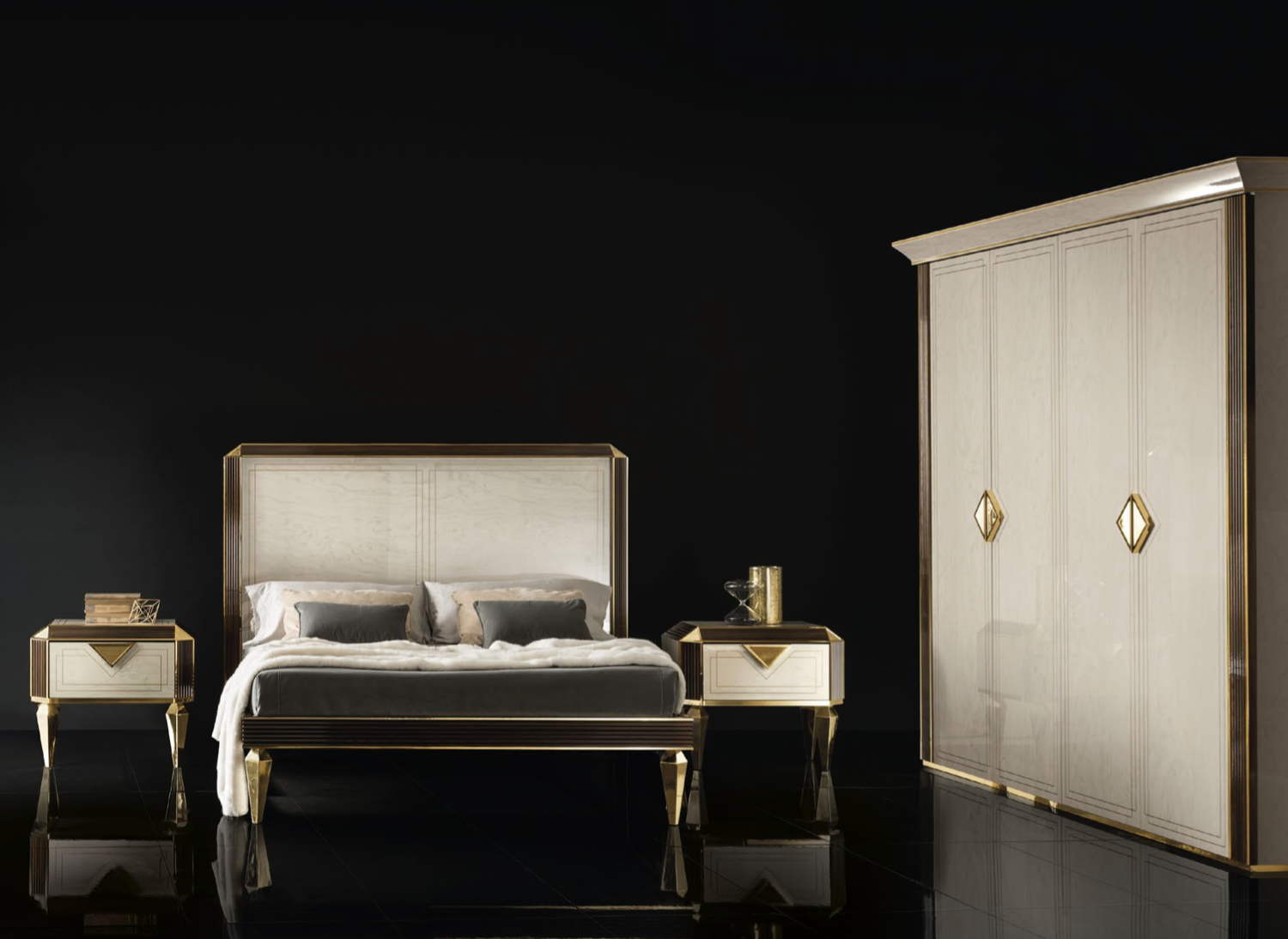 The Diamante closet: luxury contemporary style
The Diamante closet's well-defined shape is remarkably understated.
Fine, golden details are interposed with a contrasting dark elm frame and ivory door panels, which feature two elegant triangles housed in a central panel.
Golden triangles represent a recurring theme in the Diamante Collection, which aims to reinterpret the canons of classic Italian style in a modern key.

The Leonardo closet: a neoclassical feel
The Leonardo closet's most striking feature is the combination of different shapes, which characterise its overall design.
In fact, the closet's central mirrored doors dominate the overall piece, while maintaining stylistic harmony thanks to a range of unifying neoclassical details.
Golden Greek motifs frame the closet as a whole, while sections of varying dimensions are paired with curved gold leaf detailing for an intriguing look.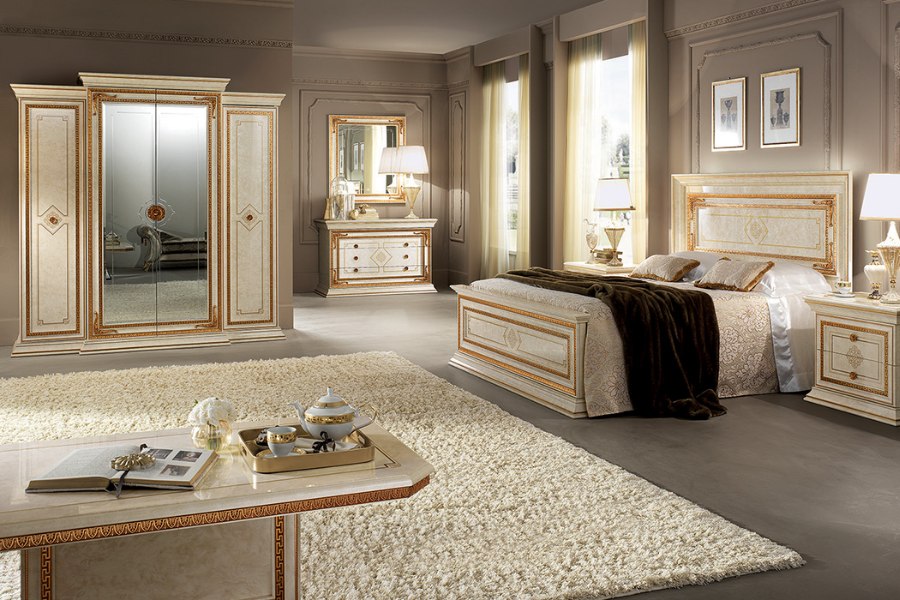 The Tiziano closet: graceful Florentine style
Soft, curved lines dominate the Tiziano closet, a Florentine-inspired item of furniture with considerable appeal, designed to furnish your dream bedroom and turn it into a fairy-tale setting.
The central cymatium section emits a silvery light that goes perfectly with the surrounding soft, cream-coloured closet. Serigraphs adorn a few key areas, guaranteed to seduce any admirer.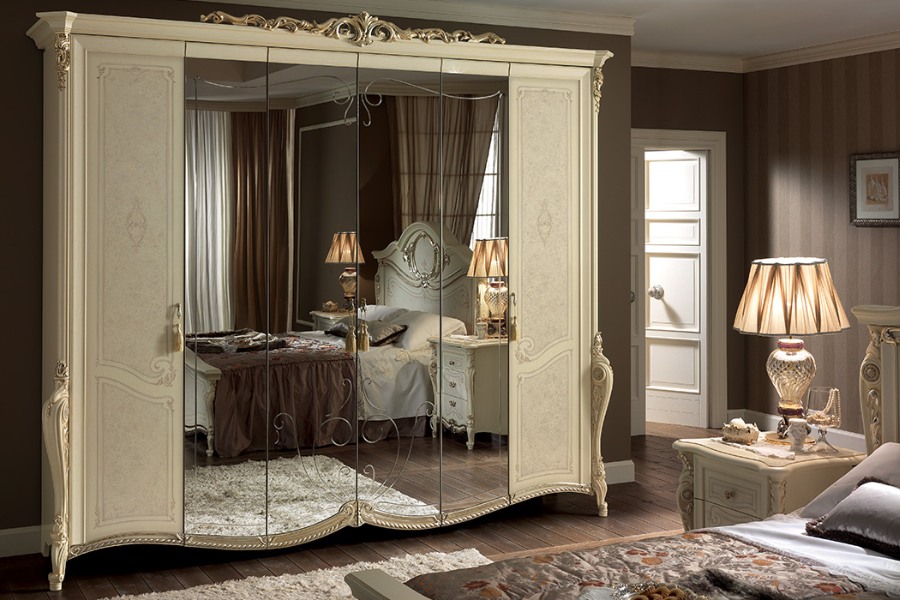 The Fantasia closet: typical neoclassical beauty
The Fantasia closet exudes a typical neoclassical sense of beauty. The mirror's central gold detailing expresses a bold and innovative style that remains in perfect harmony with the closet's decorative details and muted tones.
This elegant and refined closet is enhanced by two central handles set into a large mirror. Its spectacular F-shaped handles are a reference to the collection's overarching theme, "Fantasia." A term that's all about creativity, while remaining closely connected to the dictates of classic Italian style, which the Arredoclassic brand fully embraces.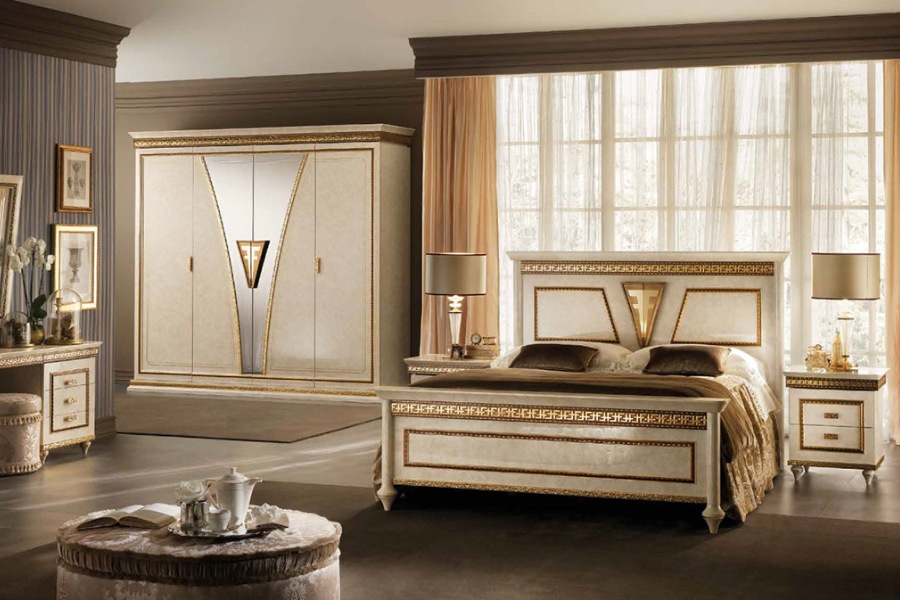 Be inspired by our luxury bedroom closet ideas
In this article, we've spoken a bit about individual features. All that's left to do is choose the closet that best suits your needs.
Be taken in by alluring details and let yourself be carried away by the elegance of design.
Choose the closet that best suits your storage needs (be it a smaller or larger closet) and sense of style.