If you want to furnish your bedroom with elegance, if you're looking to create a sophisticated setting, then you need to think big and first of all, to bring your ideas and style tips together with some orderand in detail.

The best way to start creating a bedroom design project is to make a personalised mood board.
By mood board, we mean a collage of ideas, a genuine concept map of texts, drawings, designs and images that show colours, finishes, and furniture which can inspire the design project you want to create.
Are you looking to choose every detail in your bedroom design project? One option could be to engage the services of a professional and to come up with a mood board together with your interior designer.
A mood board is an extremely useful tool. If you have a mood board, you have your inspiration in visual form so that you can start to create an initial furnishing concept idea to suit your bedroom.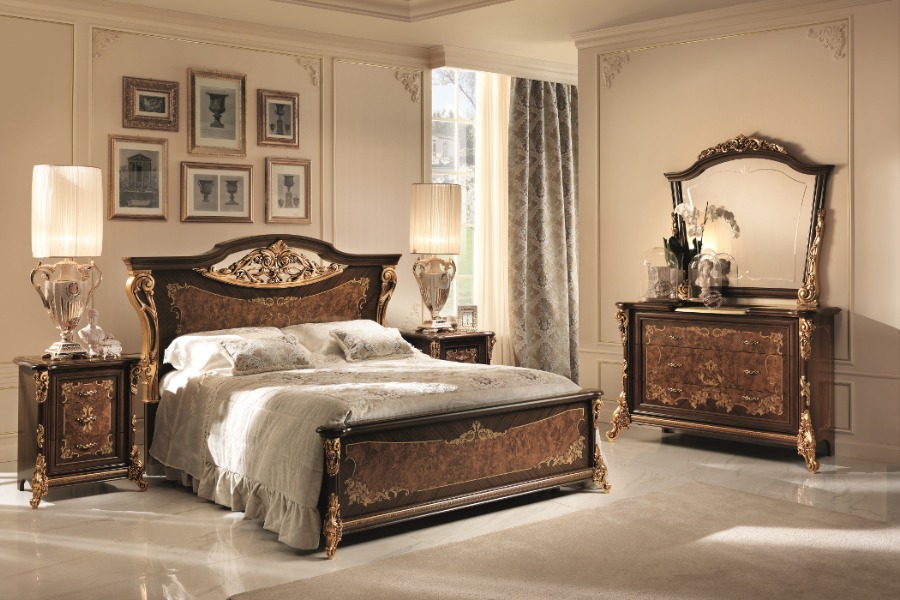 Do you want to your room to have elegant furnishings in classic style?
This is our mood board, inspired by the Collezione Sinfonia range by Arredoclassic.
We have provided a detailed layout, complete with images and descriptions of the main furnishing elements.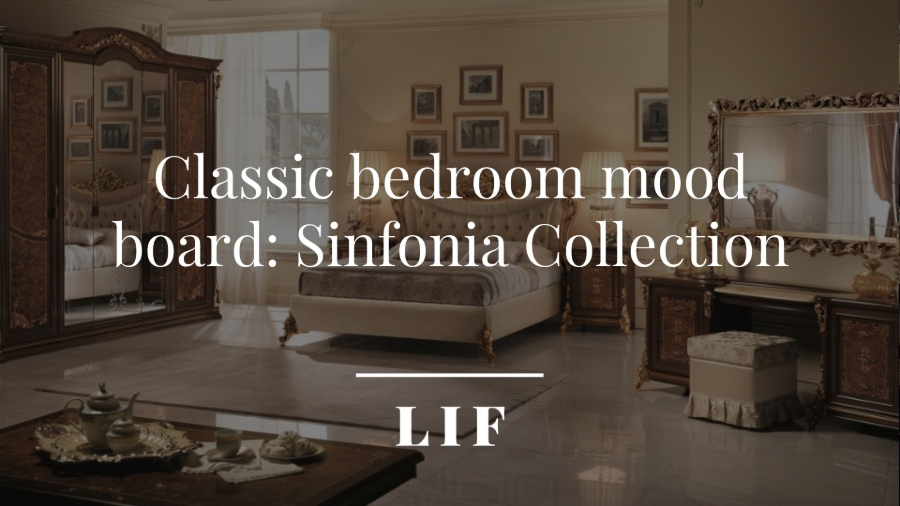 Sinfonia: an unmistakable note of class
Sinfonia is one of the Collezioni Arredoclassic lines designed for a bedroom that interprets Baroque style canons.
An aesthetic flavour that pushes style boundaries and translates as extraordinary living experience in your own room.
Comfort and aesthetic style are essential elements that only furnishings wich classic designs can guarantee.
The furniture from Collezione Sinfonia range offers sinuous lines and a palette of deep colours, brought to life with bright detailing that adds to your bedroom with their precious elements inspired by classic design.
Every complementary furnishing item has elaborate details and soft shapes that pair seamlessly together, respecting a fine balance of subtlety and refinement with the aim of making your bedroom a precious room, filled with elegance.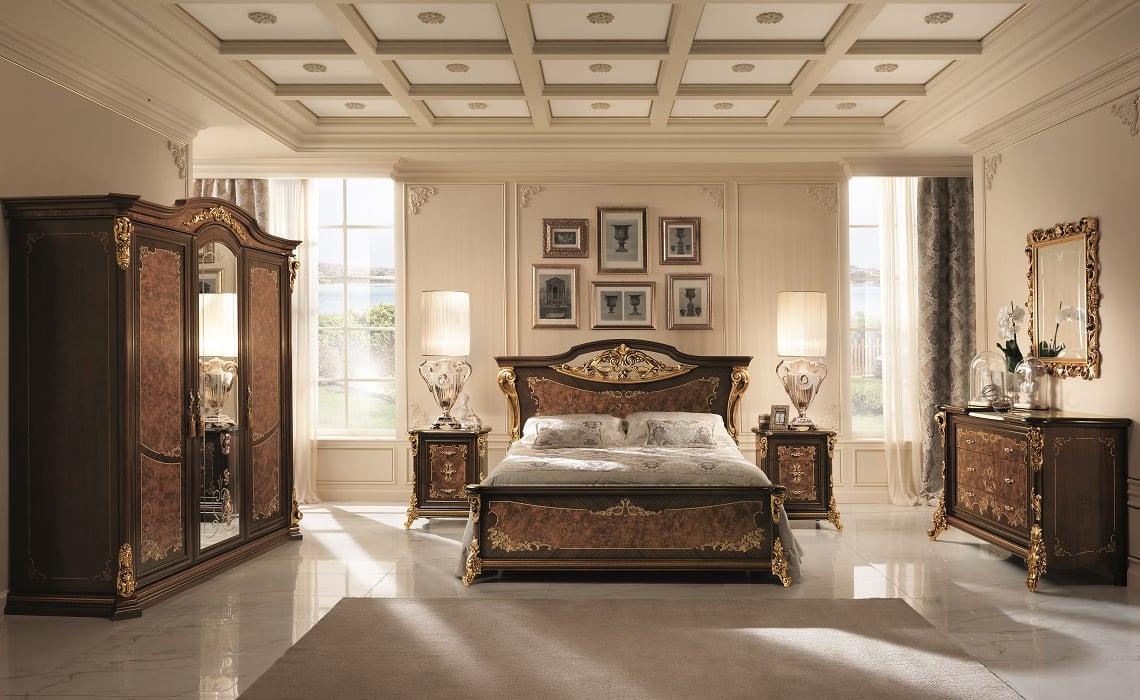 Let's take a closer look at the key elements of this collection:
The beds from the Collezione Sinfonia: wood and upholstery
The Sinfonia bed stands out in the centre of the room, just like an authentic jewel.
The central frieze is an elaborate floral design with curved sections that shine with golden reflections. Precious details work together to punctuate the seamless colour effect of the wooden frames in shades of walnut briar, an elegant tone with excellent style results.
If you appreciate contrasting materials and alternating textures with different surfaces, we can recommend the Sinfonia upholstered bed. This composition offers fantastic style, combining the soft texture of upholstery with pleated trim, with the solid feel of golden wood.


The Sinfonia master bedroom wardrobe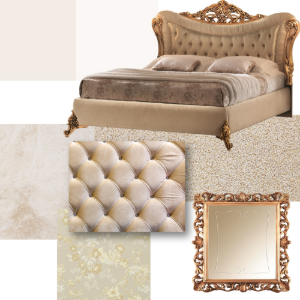 The wardrobe in this collection, still in the appealing tones of walnut, has three central doors with mirror that add a linear touch to the whole piece, together with fine decorative details that add bright touches of gold to the whole composition.

Gold capitals next to the side doors and a gold leaf frieze on the top of the piece are details that together, express the elegant style that focuses on classic beauty and bring out the full profile of the furniture.
Details of the Sinfonia dressing table
The warm tones of the top on the Sinfonia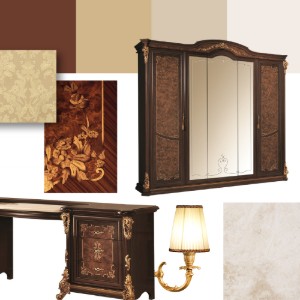 dressing table are enhanced by a sheet of elegant natural granite in white, which completes the top of the unit, adding a touch of brightness to the aesthetic layout of this complementary piece.
In the corners of this dressing table, we find gilded acanthus flowers with curved shapes that create a sense of movement and complete the profile of the piece.
Sinfonia mirrors: decorate your room with class
Sinfonia has two mirror models to use with the dressing table. Although the mirrors in this collection are functional accessories, they are still designed to add a decorative touch. Each model has a different shape:
The gold mirror has an inlaid frame in gold leaf, with an elaborate design that culminates in the soft lines of elegant blooms
The frame of the wooden mirror also has a floral design along its sides, while the top is decorated with a frieze created with gilded curves and ripple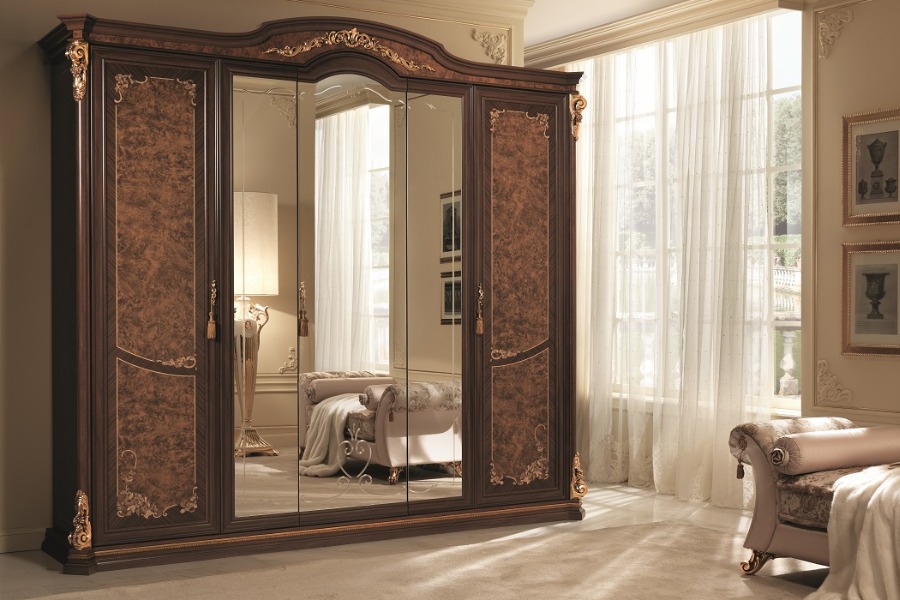 Classic mood board: the best style ideas for your bedroom
Creating a mood board will help you put your ideas together and give you the inspiration to personalise your room, right down to the smallest detail, for an elegant, classy effect.
This way, you can create the room of your dreams, in perfect classic Italian style: a guarantee of elegance and prestige.