'Luxury-à-porter' perfectly sums up Adora's philosophy – the Arredoclassic brand designed to meet the stylistic needs of a wider audience.
Adora's furniture lines reinterpret the dictates of classic Italian style in a contemporary key, adding a certain aesthetic quality to living spaces. Every piece is designed to create unparalleled, unique atmospheres, from your living room to your bedroom.
Are you looking to create a glamorous space? In this article, we take a look at the latest Adora collections, which combine contemporary style with a spot of glamour, kitting out living rooms with an elegant and modern spirit.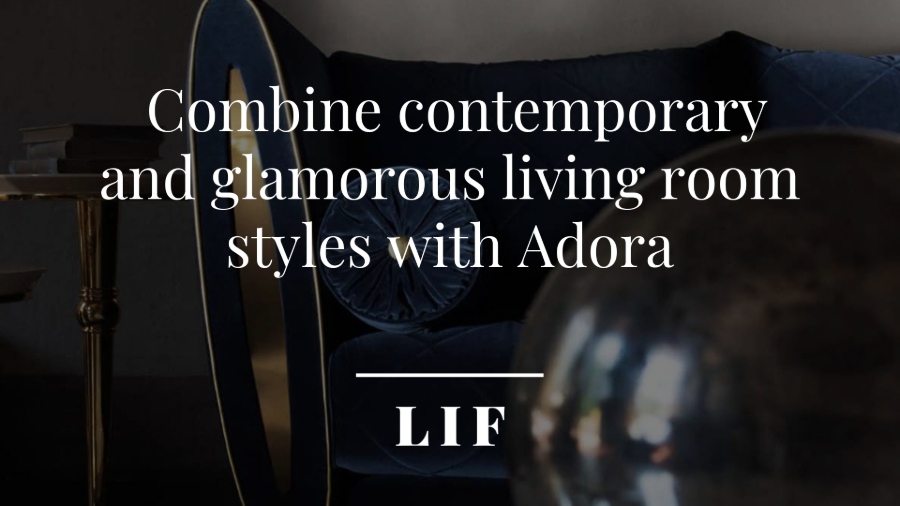 Glamourous living room furniture: our Sipario and Diamante Collections
Both our Sipario and Diamante collections are perfect for your home, exuding Adora's unmistakable signature style.
These two collections have a contemporary feel, moving in the same aesthetic direction while also making their own individual glamour statements – both elegant in equal measure.
In this post, we touch upon some of the main features of the new collections in more detail, revealing how to create the perfect glamorous living space. We'll explore:

Comfort and elegance: contemporary sofas and armchairs
Sofa and armchairs are often the focal point of any living room as they tend to establish the room's stylistic theme, creating a refined and glamorous space.
The armchairs and sofas featured in our Diamante collection come with characteristic capitonné padding, finished with golden buttons – small details that reflect the light and complete the piece's key style – which is elegantly covered in a tailor-finished velvet. This particular piece is slender, with a light, curvilinear shape that finds its continuity in gold-insert armrests and gold-plated feet, which recall the look of precious stones.

The armchairs and sofas featured in our Sipario collection are also elegant and classy but differ in their more pronounced geometric shape. These pieces of perfect contemporary furniture boast subtle curved lines that flow into pointed gold-studded armrests, which wrap around the entire seat in one single embrace.
Both Adora lines guarantee single-solution pieces for comfortable yet elegant living room spaces.




Coffee tables: add a touch of glamour to a room for sharing experiences
Often a functional yet aesthetic accompaniment to sofas and armchairs, coffee tables not only represent elegant pieces of furniture, but also central points in any living room.
It's in the living room that the true essence of shared experience comes to life, which is why it's always a good idea to opt for a light, versatile piece of furniture with a slightly more understated, refined style: to be placed wherever you see fit, for moments of pure relaxation.
The Diamante collection coffee table is defined by bold and sophisticated contrasting colours, with an ivory surface, elm finish and square corners, completed by sharp-cut gold-plated feet.
On the other hand, this Sipario collection coffee table comes with an ivory mantle, which is interspersed with golden inlays that serve to break up its solid colour base, all of which is supported by captivating gold-plated feet and finished in an elegant diamond-pattern trim, adding a touch of class to its look.




Mobile TV: when relaxation meets style
The TV furniture in our Sipario and Diamante collections guarantees neat and luxury design for living rooms furnished in a contemporary yet elegant style.
The TV furniture in our Diamante collection comes in important and defined shapes, creating a refined look, characterised by a more formal colour balance.
Both the glass panels and frame itself are kitted out with dark, alluring elm cornices, brightened up by elegant golden triangular corners – a theme that runs throughout the entire collection. Completing this piece of furniture are thin, gold screen prints, which contrast with its ivory finish.
The Sipario collection TV cabinet also embraces the collection's characteristic diamond-pattern theme on its front panels, creating a dynamic textural contrast that gives movement to the piece. The glass side panels and cabinet frame also serve to create a refined composition with a glamorous, highly aesthetic appeal.

Precious reflections, refined finishes: hang a mirror in your living room
The mirrors included in our Sipario and Diamante collections add a special something to your home, ensuring sophisticated stylistic continuity throughout living room areas.
The Sipario mirror comes in a diamond-pattern texture, a recurring theme throughout the collection. An innately classy piece, this particular mirror is housed in a thin golden frame, which perfectly complements its ivory base and enhances its reflective power.
The Diamante mirror is also perfectly in keeping with the collection's recurrent theme, with a dark elm frame that is livened up by a refined golden trim, which serves to highlight its defined shape.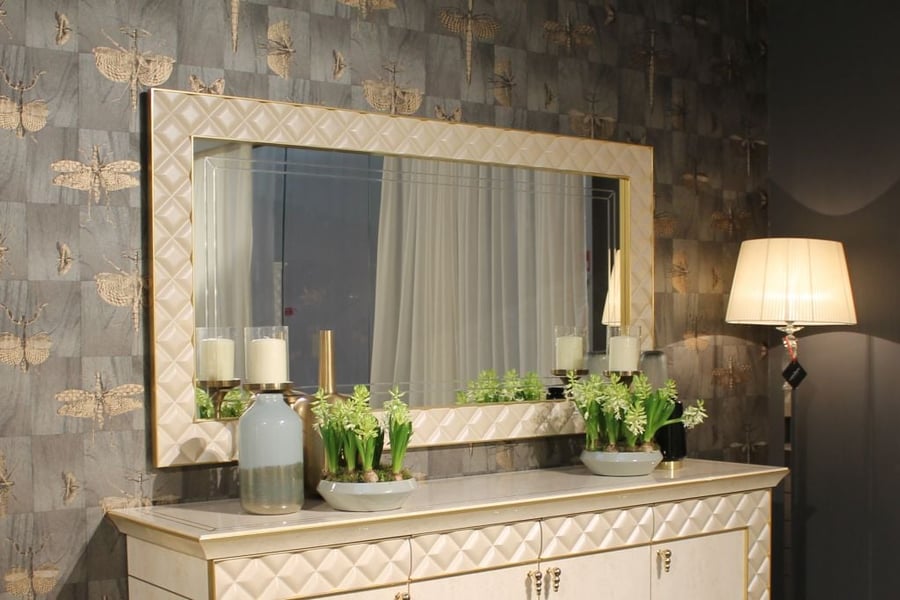 Chaise longues: the perfect accompaniment to your living room
If you're looking to create a glamorous living space, purchasing an elegant chaise longue is an absolute must: this piece of furniture embodies both comfort and style in perfect harmony.
The Diamante collection chaise longue is perfect for any living space, given its extremely versatile and understated appearance. Its wide armrests, with gold inserts, glide along curved lines that flow in an outwardly direction, giving movement to the seat. This particular chaise longue stands on four gold-chrome feet, a seductive touch of glamour for the more attentive among us.
The Sipario collection chaise longue, on the other hand, has a more curved and dynamic shape. Its shaped backrest, which sits in one corner, finds continuity in its curved armrest. A contemporary design dressed in a variety of precious fabrics, perfectly in keeping with specific tastes. This piece of furniture suits just about any living room, guaranteeing the pleasure of a comfortable seat with great decorative potential.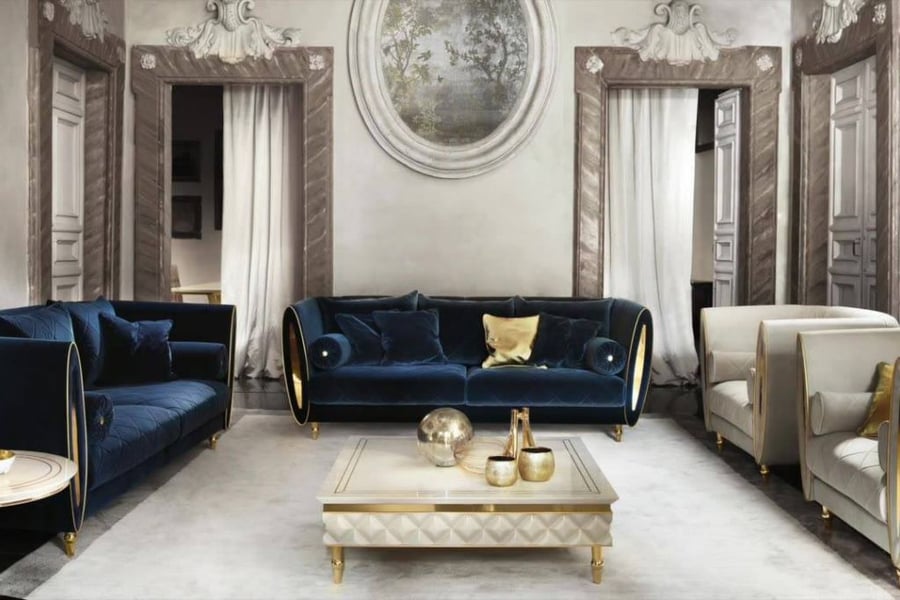 A touch of unique style: glamorous living room furniture by Adora
Our Adora collections are all about contemporary elegance and glamorous touches, thanks to furnishing solutions with an unmatched presence, ideal for decorating your living room and creating spaces with a touch of class and elegance.
Giving your living room some personality with Arredoclassic and Adora is all about harnessing the love for style and aesthetic perfection that is oh-so-typical of Italian glamour, a style that will guarantee that your interior design aesthetic exudes a sense of timeless charm.