A classic style has always been about elegance and luxury appeal. In its different aesthetic options and in every furnishing context it shows its versatile, timeless and charming character.
Of all the stylistic variations, there is one in particular that fascinates: the neoclassical style. A furnishing style that can "dress" every room with sumptuous luxury and elegance in a balanced formula.
In this article, we will focus on the dining room furniture and, specifically, on the table choice given that the table is the true protagonist of this interior design style.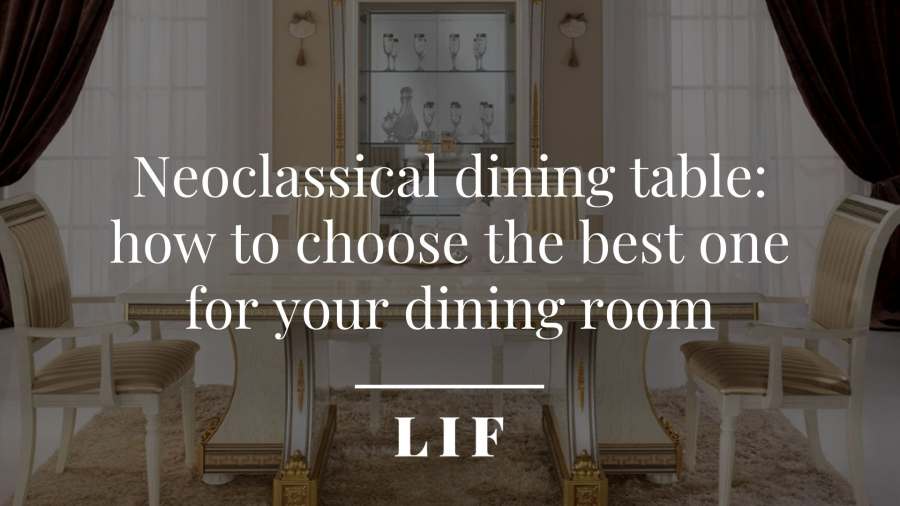 6 Tips to set the right neoclassical concept in your dining room
Before focusing on the choice of the ideal table for your dining room, it would be a good idea to outline the layout of the room. From the layout to the selection of furniture, wall decorations and finally the smallest details.
Here are some tips to guide you to set up the perfect neoclassical dining room:
Let's take a closer look.


1. Setting the right color palette
As a first design step, it is necessary to set the right color palette suitable to the furnishing context. In this case, the neo-classical style calls for a range of soft, neutral colors such as cream, ivory, gold and silver.
Shades of this type add aesthetic depth to your dining room.
For this reason, we recommend that you create a furnishing composition perfectly in tune with the color standards typical of this style.
2. Paint the walls or decorate them with wallpaper
To start decorating your dining room correctly, you should start from the walls. Choose according to your preference: paint using pastel shades or wallpaper in a neoclassical style with classic style patterns or arabesques).
In both cases, these decorative solutions will immediately express elegance.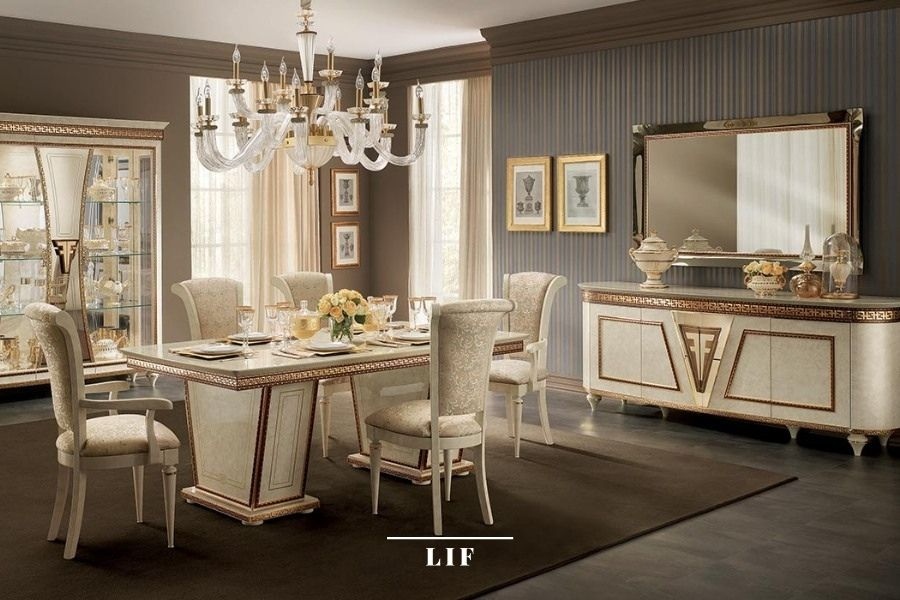 3. Include decorative lighting
In addition to providing the room with practical illumination, decorative lighting is ideal to create a very welcoming atmosphere. To decorate with elegance the dining area, choose neoclassical style lamps.
We recommend combining the use of several lighting solutions from different materials. Opt for majestic chandeliers and/or glass or crystal body. You could also select table lamps with a gilded wooden, copper, iron or brass stand.
Use classic design decorative lamps to communicate through lighting the kind of mood you wish to convey in your dining room: cozy, convivial, and stimulating.
4. Give preference to furniture with precious decorative details: friezes, cymas and columns
The atmosphere of each room will take shape above all thanks to precious decorative details such as friezes, cymas and columns.
Unique details that not only embellish the furniture but also enhance its stylistic power.
Select furnishing elements meticulously finished with precious decorations patterns in Greek-Roman style may to combine with a curio cabinet with side columns.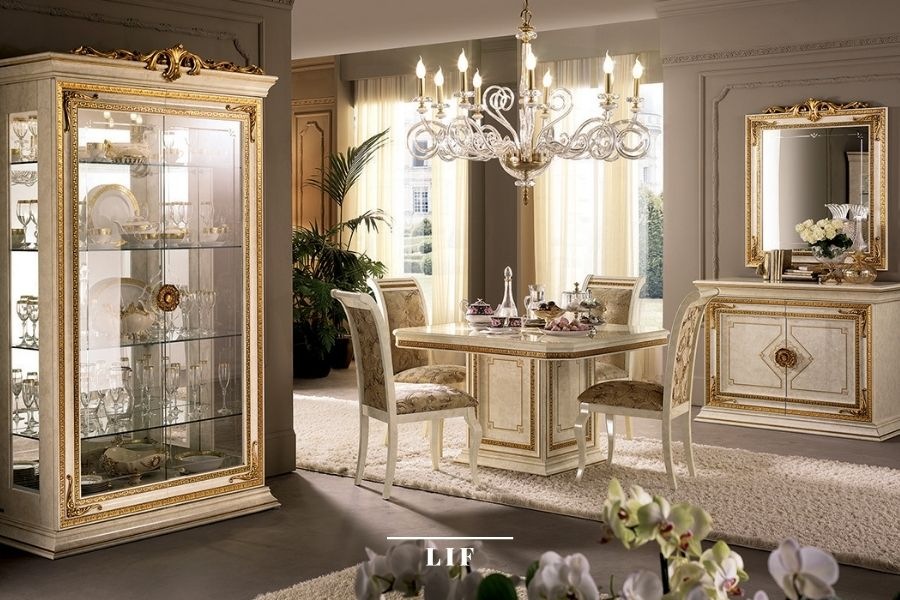 5. Place a large classic-style carpet in the dining room
To complete the composition, you could place tables and chairs on a large classical-style carpet. Make sure that the carpet is large enough to host the dining table and chairs.
A decorative touch that will not go unnoticed and will add comfort and style to your dining room.
6. Decorate with fine furnishing accessories
To further embellish the room, use the decorative power of fine furnishing accessories such as vases with gilded details and bas-reliefs, brass candelabras with gold or silver lacquer, decorated table lamps and decorative hand-painted dishes to hang on the wall.
All items of great visual impact that pay homage to the neoclassical style, and lend a luxury look to the dining room.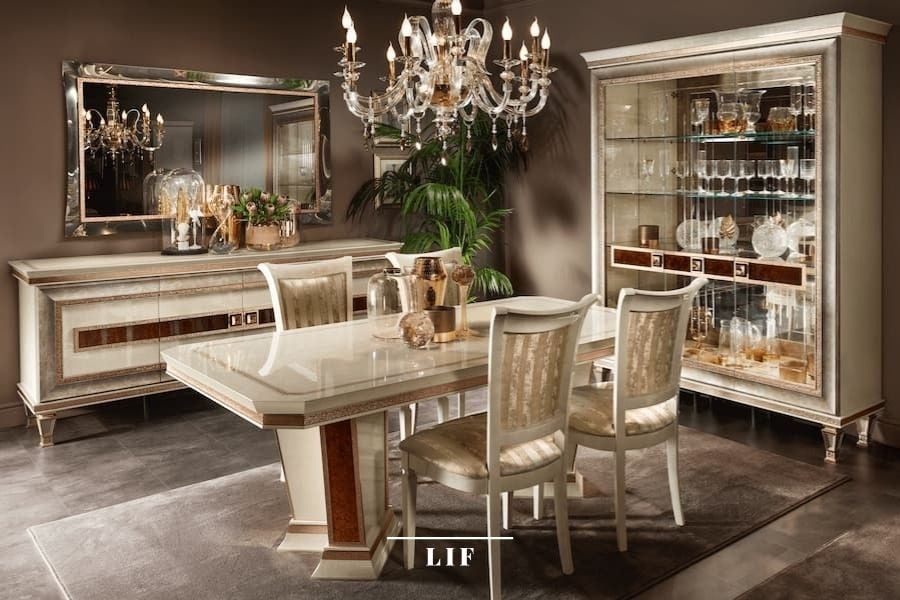 4 Aspects to consider before choosing a neoclassical dining table
Tables and chairs together form a fundamental part of the dining. In order for them to match the style of the furniture, they must meet the neoclassical style rules.
Basically, the dining table is the focal point of the dining room, so there will be several aspects to take into account when making the right choice: from size and shape to material.
Specifically, it is important to consider:
Let's move on now by analyzing each point.
1. The size of the room
First of all, it is critical to assess the size of the space where the dining set will be placed. This will give you an idea of the size of the dining table you need.
Ideally, the distance between the edge of the dining table and the wall, or any other piece of furniture, should be roughly one meter. This will allow you to have enough space to move around freely, move the chairs and have enough space to walk around the table.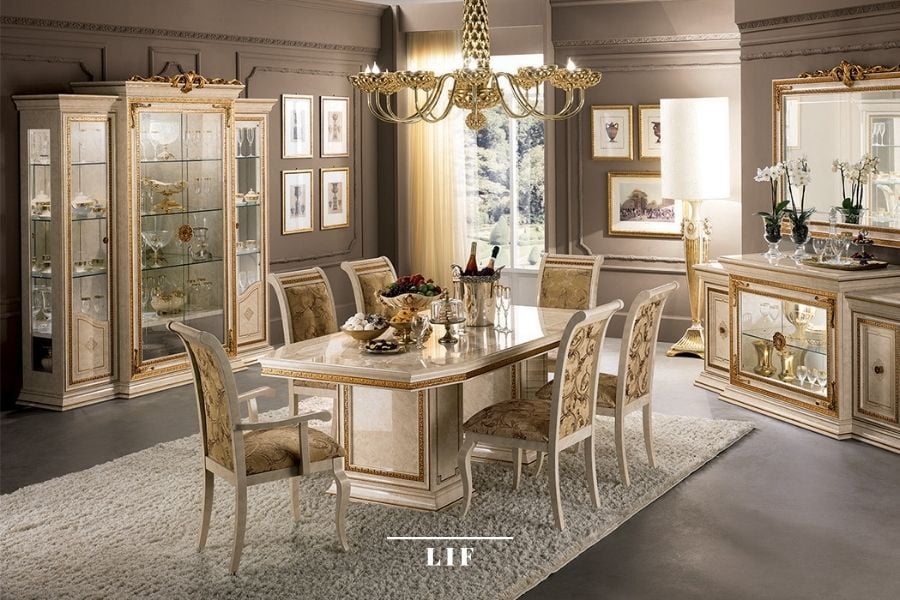 2. The shape of the table to suit the room
The size of your dining room has a critical impact on the shape of the table. If you have limited space, we recommend a 36-44 inches square four-seater table or a round table with a 36-48 inches diameter.
You could also choose a triangular-shaped table. These models can accommodate up to 6 people depending on their position and size.
If you have enough space, a 72 inch long rectangular table will be the ideal choice to accommodate six people, while a 96 inch long rectangular table can comfortably accommodate eight people.
3. The material and finishes
The choice of material and finishes is an important decision to take in this case, taking into consideration the neoclassical furnishing concept and therefore an entire series of related aesthetic factors.
Like, for example:
Wall and/or wallpaper color
Floor color and finish
Design of the remaining furnishings that make up the composition
If you like wood, we recommend that you always opt for hard and strong woods such as walnut, mahogany or oak.
If, on the other hand, you want to opt for more sober and elegant material, choose a table with a glass top: ideal for different types of decorations.
And, since glass tables are reflective, they add a lighter, brighter touch to the room.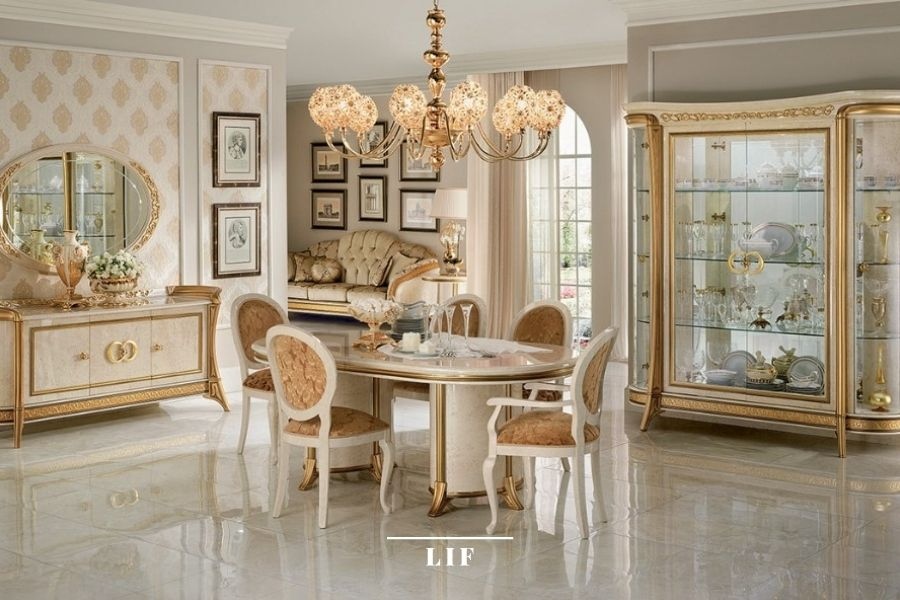 4. What sort of seats should be combined with the table
The ideal way to choose dining room seats would be to buy the entire set, or choose chairs that match the table perfectly.
If you're in a daring mood, let your creativity and the desire to create new combinations run loose: choose chairs from another collection and match them with the table using aesthetic criteria.
Neoclassical dining table: the central element you need to complete the furnishing of your dining room
We've given you some useful tips in order to correctly choose dining tables for your dining room in this article.
Furthermore, to guide you through the various style and concept options, we have shown you the Arredoclassic collections designed for this key environment in your home.
We advise you to opt for the collection that most appeals to you and then opt for an ad hoc solution that can make your dining room a welcoming, refined and comfortable space.