In any classic interior design project, each element plays a fundamental role in creating the right atmosphere.
In the living room, for example, the seating set outlines the functional and aesthetic aspects of the room.
This is why it is important to carefully select both the sofas and the armchairs with which to set up this relaxing and welcoming environment.
In this article, you will find some tips on how to set up a stylish and elegant sofa set by combining the right furniture elements.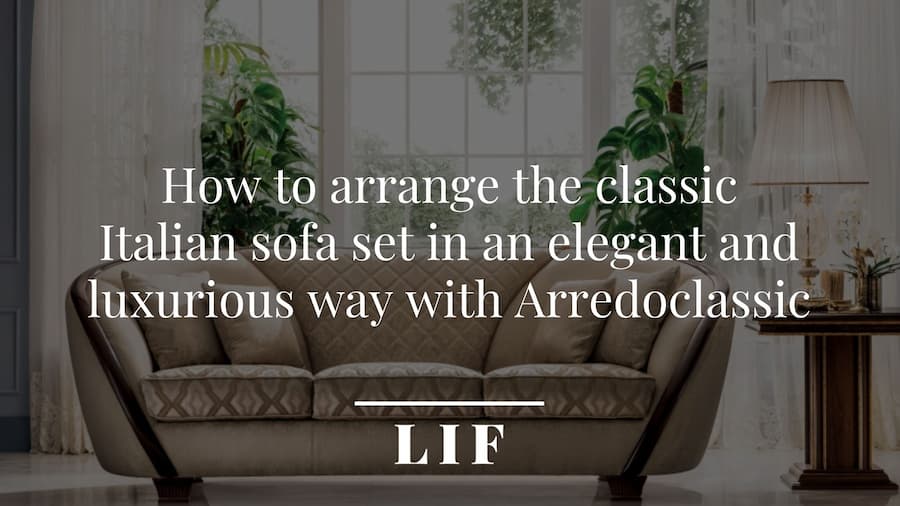 Arredoclassic Collections: the unmistakable beauty of classic Italian sofas
The undisputed star of the living room furniture is the sofa set.
With the aim of selecting seats of remarkable comfort and unquestionable aesthetics, let yourself be seduced by the elegance of the sofas and armchairs with a classic taste and select the solutions that you like best from the Arredoclassic Collections range, such as:
Let's find out the features of each collection.


Dolce Vita
Dolce Vita seats give shape and personality to a setting in perfect art-deco style. The curved silhouette of the sofas and armchairs is upholstered entirely in fine fabrics and is embellished by a pleated design that frames the backrests.
The structure is completed by ivory-colored wood inserts with concentric frames in a rose gold finish hinting at the collection's decoration.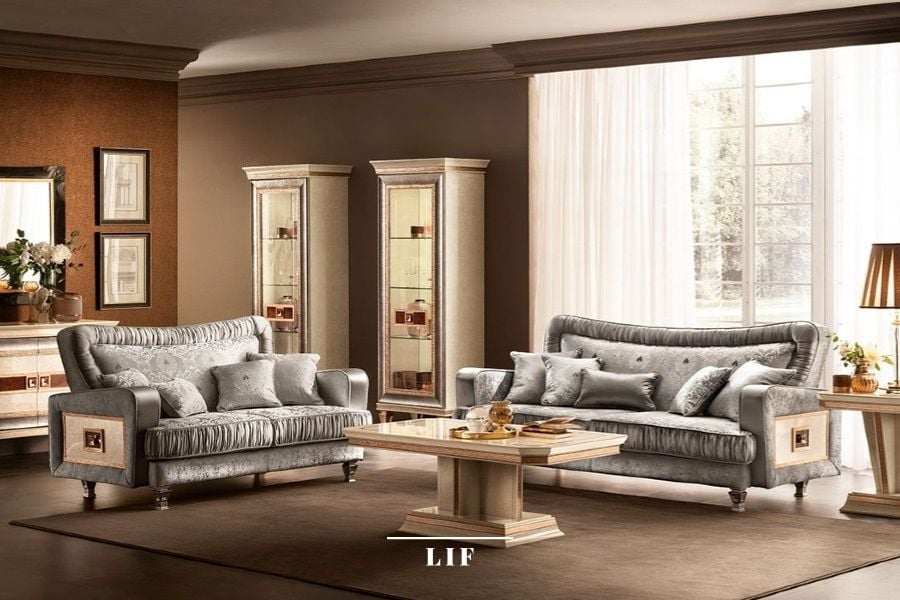 Modigliani
The Modigliani living room communicates through an aesthetic language entirely based on classic Italian style.
Seats in gold or walnut finish, characterized by elegant quilted backs; furniture elements with handmade gold decorations and recurring gold motifs, details that denote stylistic continuity and meticulous attention to detail.
The furnishing elements of this collection create a furnishing atmosphere following a balanced choreography of strong lines and sinuous volumes.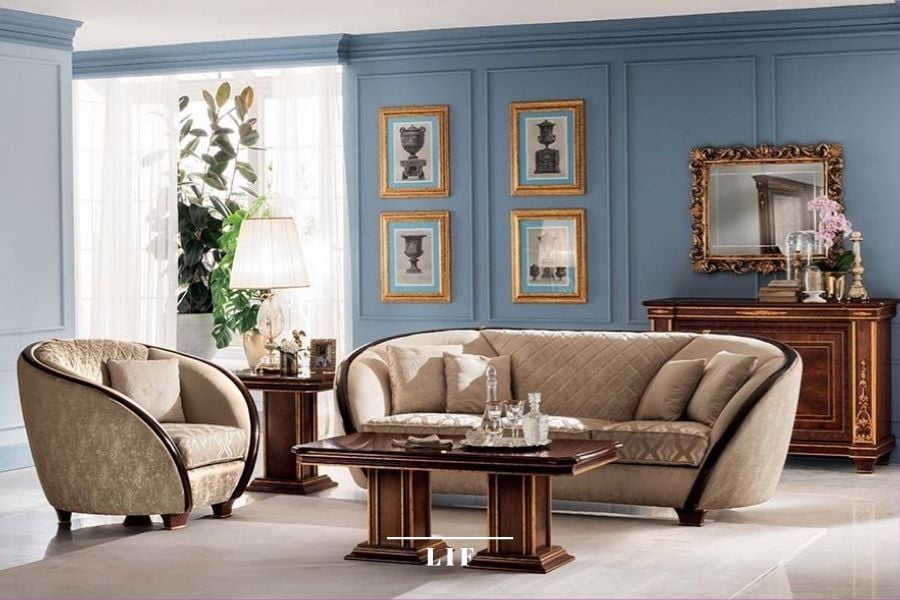 Fantasia
The Fantasia living room is a true symbol of beauty and elegance in typical neoclassical taste.
Each piece of furniture is characterized by bold, square lines - especially the tables and display cabinets - friezes and patterns, as well as major decorative details recur with continuity throughout the collection, and create refined effects on the armchairs and sofas.
The distinctive feature of the Fantasia sofa is its soft shapes and the fan-shaped design of the central upholstery: features that make these sofas of great visual impact.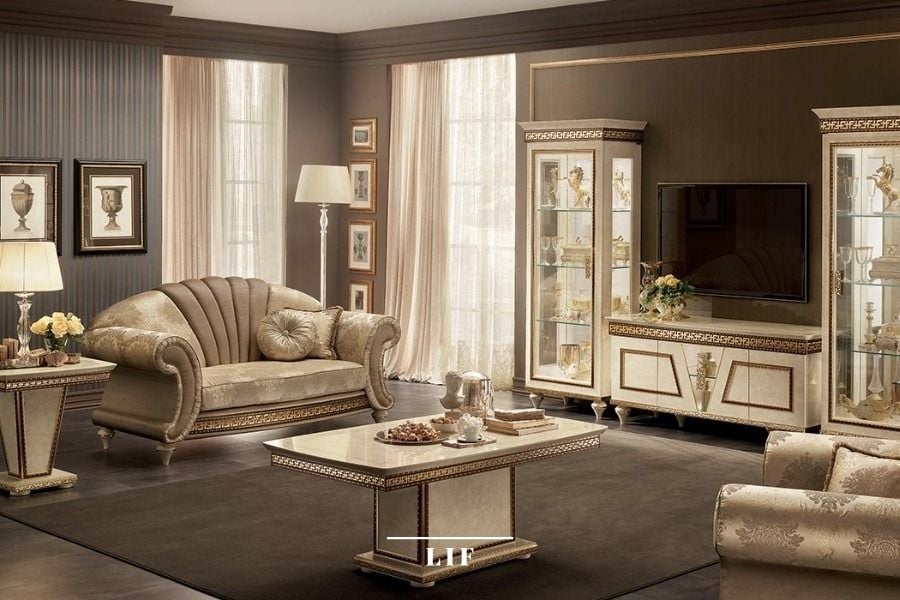 Melodia
Each furnishing element of the Melodia living room is linked by a subtle stylistic and formal balance, made bolder by the gilded accents.
In coffee tables, display cabinets, armchairs and sofas. Here, gilded friezes and feet bestow charming effects to the seats.
Melodia sofas combine comfort and elegance in a design synthesis that enhances the aesthetic value of your furniture.
In addition to the design, the "variations on a theme" in the sofas of this collection also involve the upholstery chosen, which can be simple or with tufted inserts, so that there are no limits to your desire to amaze.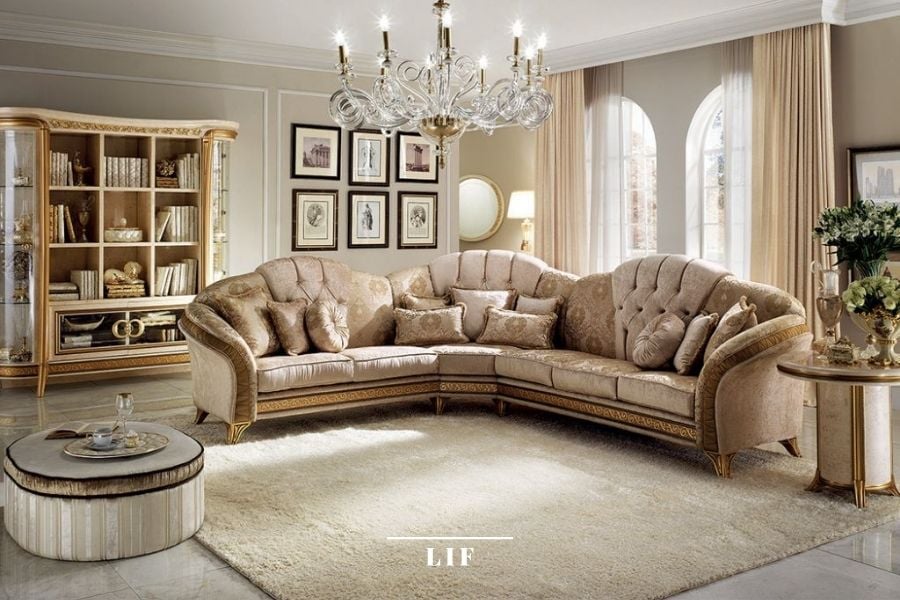 Leonardo
The furnishings of the Leonardo living room are characterized by refined volumes and fine details. The unmistakable character of this high-quality collection shows in the sofas.
Extremely cozy seating made of elegant fabrics with a strong aesthetic appeal, whose soft shapes and precious base bring to mind the patterns of the ancient capitals.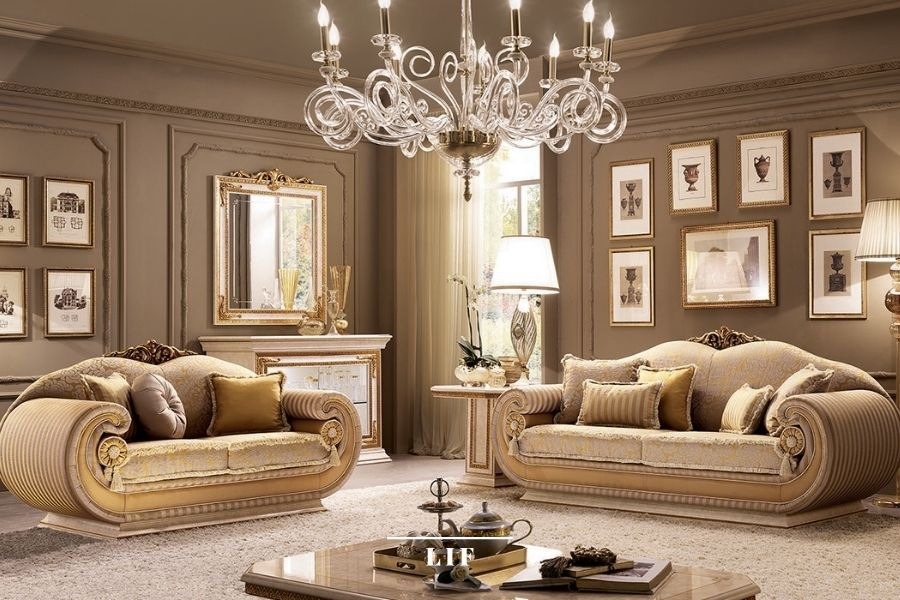 Donatello
The Donatello Collection enriches the design of the living room with gold leaf decorations and intense walnut finish hues. A room where you can breathe in the Renaissance air and touch the refinement of its typical finishes.
If you indulge on the Donatello seats, you will recognize the unmistakable texture of the damask velvet, embellished with gold leaf inlays. Details that only true fine Italian furniture connoisseurs know how to appreciate.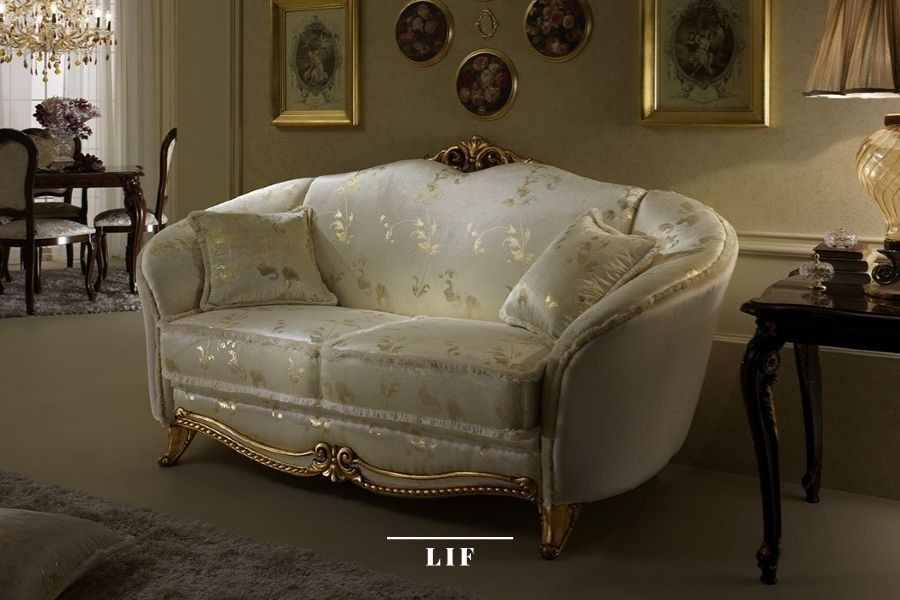 Liberty
Bright ivory and gold shades enliven your living room with the Liberty Collection.
The sofa is embellished with neoclassical friezes, decorative patterns and gold and silver effect details along with fine damask velvet fabrics embodying the beauty of an element in perfect neoclassical style.
The Liberty living room armchairs, with their soft, rounded lines, add a touch of vanity to the collection.
Comfortable, thanks to the large enveloping seats, they do not forget to boast polished details that with the gilded grid of the base frame, embellishes the armrests.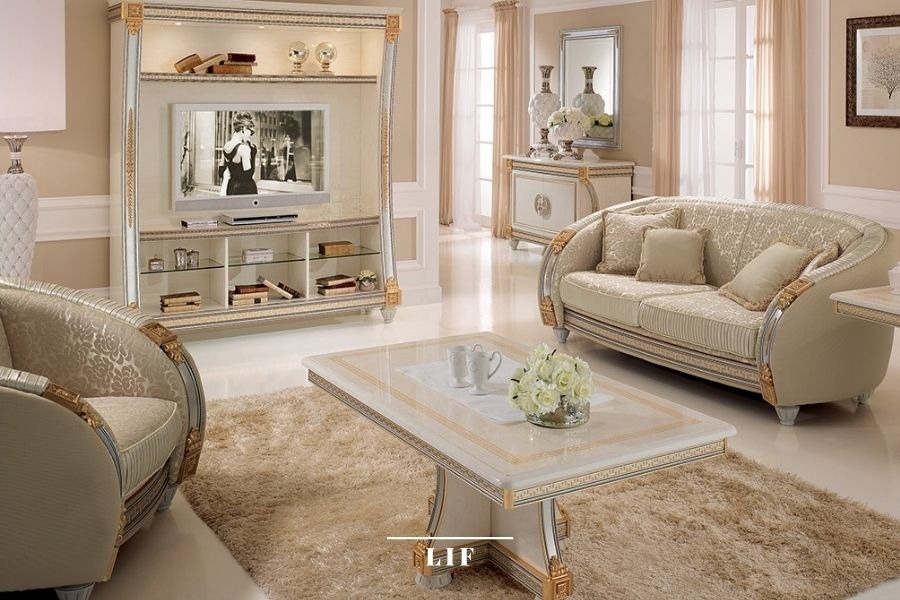 How to decorate the living room space in order to emphasize your classic Italian sofa set
A neoclassical style furnishing solution brings new personality to the living room. A refined image that finds full expression in elegant furniture elements and fine details.
To complete the setting for your classic Italian sofa set, we recommend you follow our 4 style tips:
Let's proceed step by step.


1. Set up a color scheme appropriate to the context
To furnish the living room in perfect classical style, it is fundamental to set up a color scheme appropriate to the furnishing context.
Classical furniture compositions are recognizable by their soft, muted shades of cream, ivory, cream, gold and silver: colors that permeate every element in the living room, from the furniture to the smallest detail.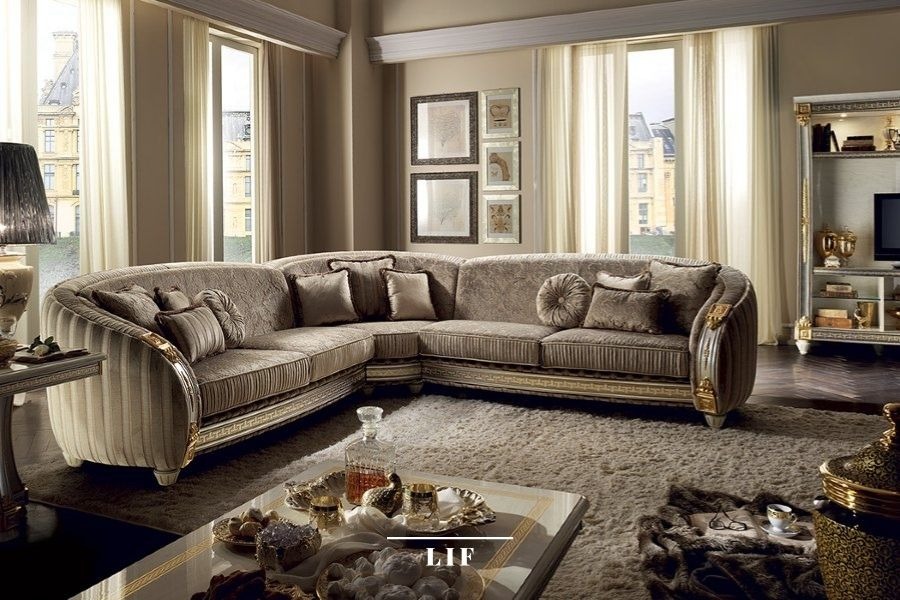 2. Opt for a wallpaper in line with the concept
To give a sense of stylistic consistency in your neoclassical style living room, we recommend to opt for wallpaper in line with the design concept of the living area.
For a more opulent image, choose wallpapers with well-defined arabesques that can remind of the ancient design of columns and capitals.
If you prefer neutral tones, choose plain wallpapers taking into account the above mentioned color scheme.
3. Favor elegant lighting solutions
Decorative lighting plays a central role in creating the perfect neoclassical atmosphere.
In this case, it is advisable to give preference to lighting solutions with neoclassical aesthetics that boast unmistakable elegance.
To make a statement that is about style and luxury, choose jeweled chandeliers with pendants made of blown glass or crystal.
Alternatively, to decorate and illuminate the room, opt for elegant floor lamps to be placed next to armchairs and sofas, or select wall lights made of coated or frosted glass with gilded details.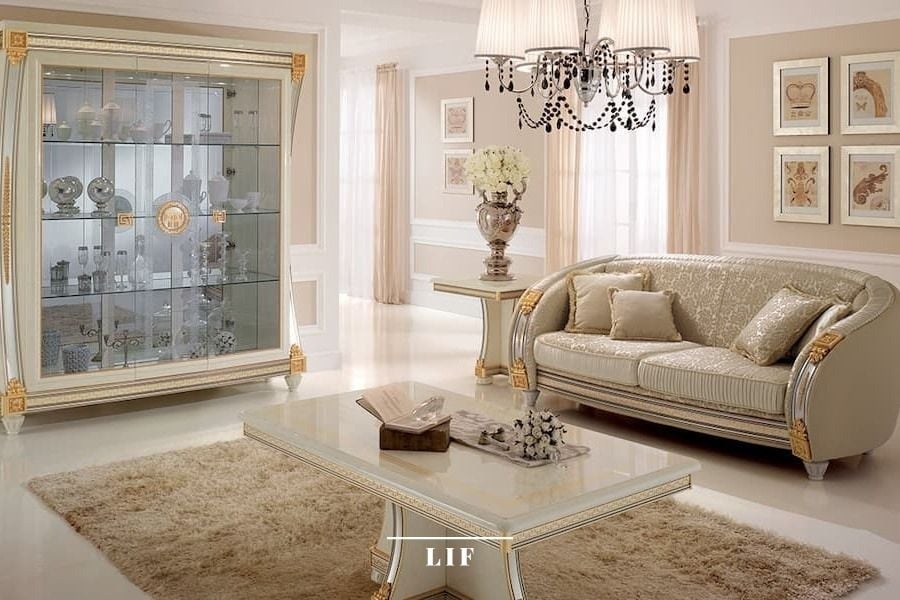 4. Decorate with furnishing accessories and sophisticated accent pillows
To complete the furnishing composition of your living room, place fine furniture accessories on side tables and glass cabinets, such as:
Vases finished with gold details and bas-reliefs
Gold or silver-plated brass candelabras
Silverware services
Porcelain, decorative hand-painted plates to be placed on the showcase shelves
Lastly, do not forget to enhance the elegance of your sofa by adding accent pillows made from fine fabrics and with precious details, such as:
Tassels
Cords
Double flounces
Buttons
Elaborate embroidery
The elegance of a classic Italian sofa set: the real protagonist of your living room
Creating a furnishing scenario with classic charm means selecting furniture elements of great class and elegance.
Favor the timeless spirit of sofas and armchairs with baroque, neoclassical, art deco and Florentine aesthetics to make up your living room set.
Make an exclusive style statement and give a new image to this space that symbolizes welcome and comfort.