The high ceilings immediately take us back to a gallery of images linked to the villas of the great families of bygone eras, and the reception rooms where parties and receptions were held.
In the 18th and 19th centuries (and even in earlier periods), these imposing halls were characterised not only by high ceilings, often embellished with coffers painted with allegorical figures, but also by the massive presence of fine furniture, carpets, draperies and luxurious curtains, ornate floors, monochrome bands around the perimeter of the four sides and, on the walls, many paintings and works of art.
Finding a high-ceiling house today means having the opportunity to recreate the old splendour of that era, albeit bringing it up to date with the new living requirements, which care more about comfort and functionality than decoration for its own sake.

Ideally, both dimensions - functionality and decoration - should coexist by exploiting the design potential offered by ceiling height.

In fact, houses with high ceilings offer many opportunities, if exploited in the right way.

Full-height mezzanines and pantries are solutions that wink at modern furnishing concepts, while decorations in classical, art nouveau, art deco or neoclassical style are a tribute to the opulence of the old reception rooms.

In this in-depth study, we will focus on the latter aspect - aesthetic enhancement - and see how to furnish a living room with a high ceiling in the wake of past styles, but always with an eye on the stylistic dictates of the present.

Here are some ideas for enriching the living area of your home by choosing the impeccable classical taste (and its declinations) of Made in Italy furniture tradition.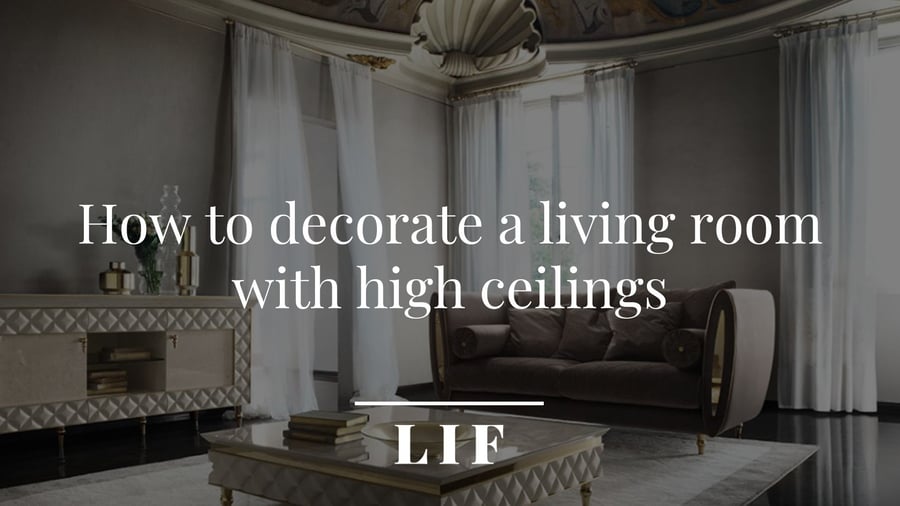 5 Suggestions for furnishing a living room with high ceilings
Don't be fooled: 'high ceilings' are not synonymous with large spaces or elegant, sophisticated rooms. If not exploited properly, the surplus of the high ceiling can become a kind of boomerang, making rooms look smaller than they are, or bare and neglected, and making the overall vision uncoordinated and disharmonious.

The available height space should be enhanced and exploited appropriately, to find one or more solutions capable of permeating this room of the house with luxury and exclusivity.

In this article, we have collected 5 elegant and refined ideas for furnishing a living room with a high ceiling or a dining room along the lines of large banquet and event halls.

Proposals capable of leaving their mark and satisfying the aesthetic taste of the classic style, without losing sight of functionality and living comfort criteria.
1. Fill the empty space with art
Art is the purest, most noble human creative activity, and any home without type of art loses value and beauty.
Of course there are subjective preferences of taste in style and type, but the greatness of a work of art is always objective, as it always knows how to be current in its language and form.
This is perhaps the most immediate response to the question of how to furnish a living room with high ceilings, but not necessarily banal or predictable.
Reducing the height of the ceiling using artistic elements is considerably helpful: it does not only fill the space vertically, filling any sensation of emptiness on the walls, but also lends aesthetic value to the whole room and livens up the entire concept of furnishing.
It is not necessary to create an art gallery, covering every part of the wall. For an elegant result it takes balance and moderation.
The possibilities for exploiting verticality are manifold - from paintings to sculptures, from tapestries to bas-reliefs - and it is also possible to create striking combinations by juxtaposing classical elements and contemporary wall decorations to make living rooms with high ceilings truly unique.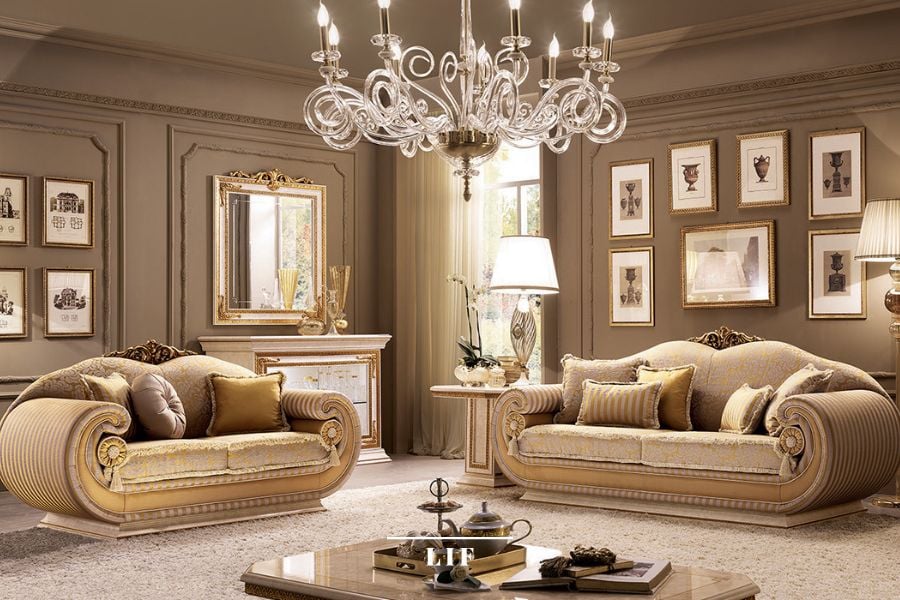 2. Choose long floor-to-ceiling curtains
This phrase may sound misleading, but it is a simple trick which only requires the point where the curtains are attached to be moved higher up.
Hanging long curtains from the ceiling is an apparently unusual solution, but is highly effective that will highlight the quality and finery of the fabrics you have chosen for the drapes extending both visual and spatial capacity, without making them bulky within the living room space. They only develop vertically, in fact.
Another fundamental aspect is to calibrate the choice of fabric and colour of the curtains, keeping the living room characteristics in mind.
Apart from high ceilings, what are the special features of the room?
If the living room is large and well-lit, and if the interior design project includes furniture and sofas in the bright colours of classic and art deco styles, such as Arredoclassic Dolce Vita collection and the Leonardo collection, then you can also afford curtains in dark colours and heavy materials (velvet, brocade).
If, on the other hand, the room is medium-small, poorly lit and/or furnished with the dark woods of the Donatello neoclassical collection, it is better to lighten the scenery with light-coloured curtains and light, precious materials such as silk, linen, satin or cotton.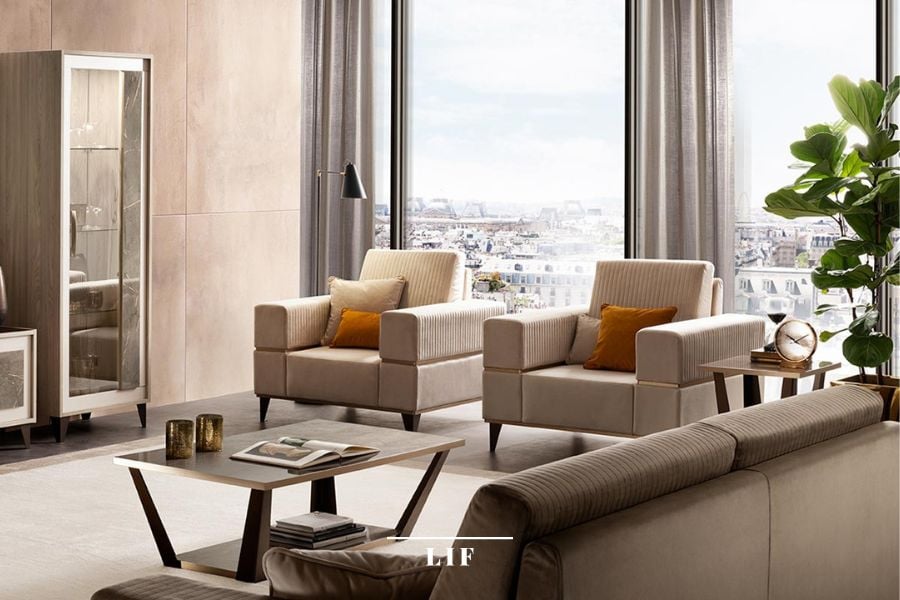 3. Make the most of architectural details and finishes
Leave any architectural finishes intact, not changing their original beauty.
Do not change the appearance of the ceiling, but take ideas from its size, it architectural details that help to make the entire living room a majestic, unique and inimitable space.
Choose a design element that can fully adapt to the huge space around it, embellishing it in every part.
If, for example, the structure of the living room is characterised by the presence of friezes and mouldings in the empire style, the best way to furnish this living room with high ceilings and further enhance the artistic value of its architectural features is to choose furniture finished with decorations that echo this style, such as the long, sinuous gilded frames of the Melodia collection and the display cabinets with side columns of the Modigliani collection.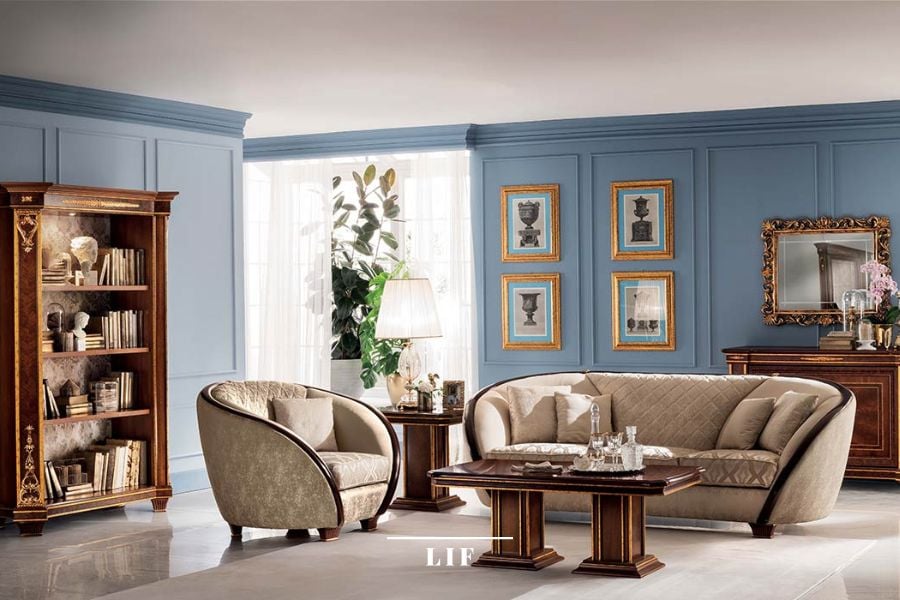 4. Introduce an imposing lighting fixture
One of the most particular suggestions on how to furnish a living with high ceilings, we can find a wide choice from the fine lighting solutions. Our advice is to use a large lighting fixture that acts as a "visual connection" between the ceiling and the area below.
In order to do this, the lighting fixture needs a personality of its own and must be able to enhance the way the entire room is furnished with its light.
Given the luxurious, sought- after image of the room, it becomes almost inevitable that models embellished with precious details are taken into consideration.
You could opt for a lighting fixture with crystal pendants, like one of the models from the Donatello Collection, full of flowers and extremely ornamental decorations.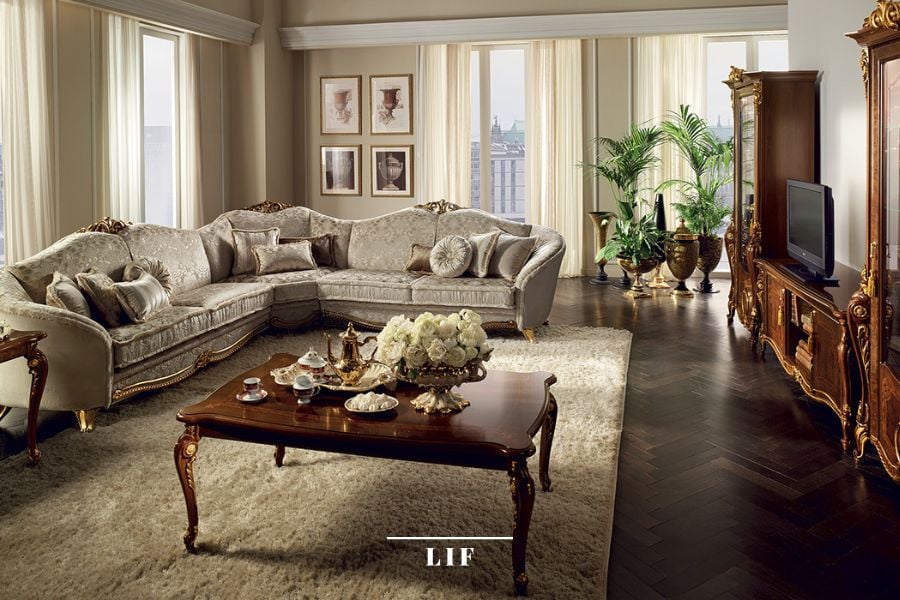 5. Add shelves, bookcases and glass cabinets to furnish walls
Tall shelves and items of furniture, like a bookcase for example, are excellent solutions for completing the furnishing of a living room with high ceilings, as they are a universally appreciated answer. Taking up only a minimal amount of room, they fill walls and dress them with a regal feel.
You could fix shelves to the walls and personalise them in height, number and position, depending on how you prefer them.
If you are looking for more sophisticated decorative furnishings you could choose glass display cabinets, which are structurally lighter in appearance. Filled with silver and glassware, they lend a richer, elegant appearance to the living room, like a treasure chest full of jewels.
One item of timeless classic magnificence and elegance is the Liberty glass cabinet a classy item of furniture almost entirely made of glass. Lightness and brightness merge and give light to a wonderful item that it is difficult to take your eyes off.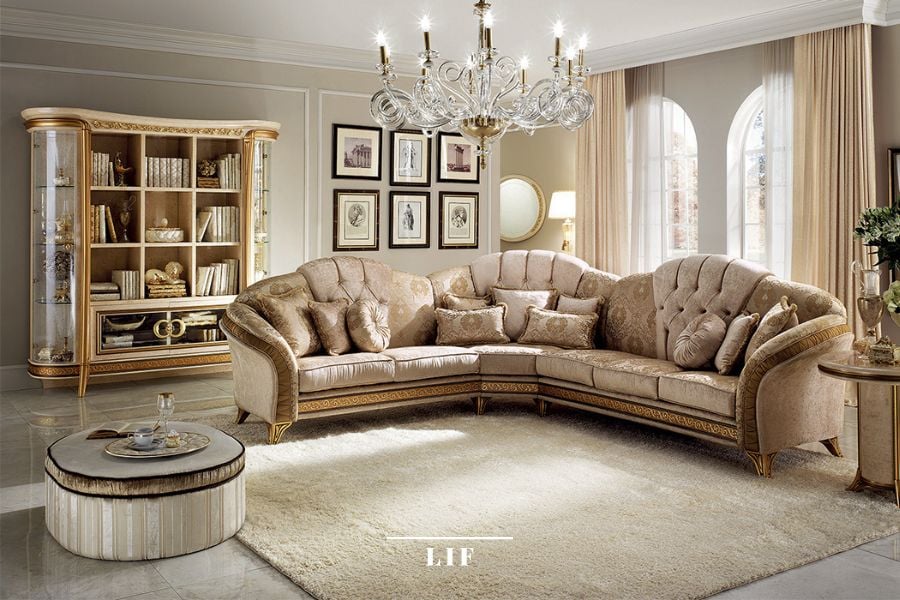 Furnishing a living with high ceilings: leave room for elegance
In a living room with high ceilings furnished in the various declinations of the classic Italian style (neoclassical, empire, art deco, liberty, etc.), every element - from the solutions for filling the vertical space to the dining table, from the fabrics (curtains, carpets, cushions) to the configuration of the sofa area - is not limited to the simple function of furnishing, but it enriches, excites and communicates a way of living spaces in the name of elegance, refinement and stylistic sophistication.
Follow our suggestions for furnishing your living room and see which accessories you prefer that can create a luxury atmosphere in your living room.
Are you seeking inspiration for decorating your interiors?