Decorating your walls is the easiest and more impactful way to renovate your dining room. Many times, changing the wall colour, choosing a new wallpaper or decorating with paintings or mirrors is enough to give a new look to the room you want to redesign.
The dining room is a very important place in your home: it is where you welcome your guests. For this reason, you need to pay attention, by choosing a few unique wall touch-ups for this special room, to obtain the perfect amazed reaction from your guests.
However, if you love contemporary style, andyou want to go for contemporary wall décor, you need to follow a few simple rules. Contemporary style is essential and minimal. You have to make a few bold choices. The key word here is: attention to detail.
Read the article to find out interesting rules and tips to furnish your dining room in a contemporary style.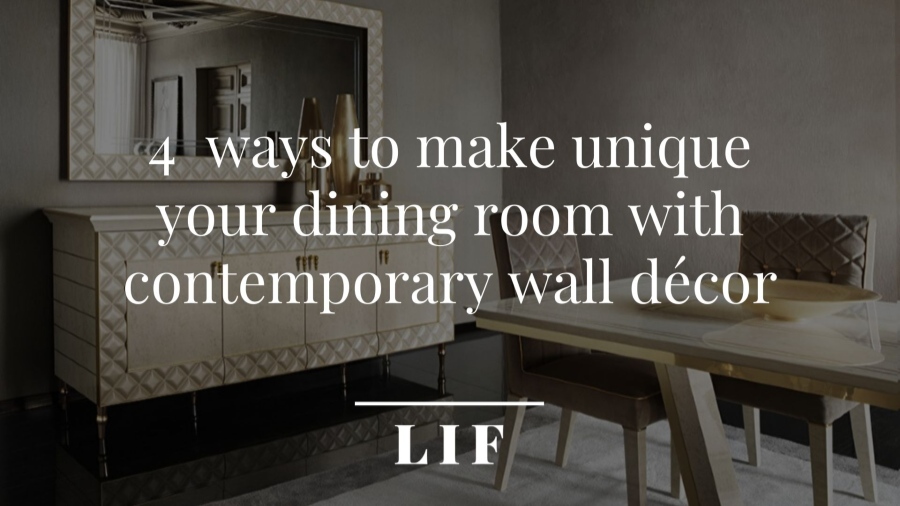 Contemporary style: elegance and design
Many people think that furnishing a home in a contemporary style can make it cold and unwelcoming. However, it is a little known fact that contemporary furniture can help you create an extremely comfortable environment.
Contemporary does not mean cold. On the contrary, a minimal and well finished design pairs perfectly with empty and airy spaces . It gives a feeling of wellness, comfort and functionality to the entire ensemble.
In addition, contemporary style can be technological, luxurious, progressive and sophisticated at the same time. Find out how to obtain this amazing mix of beauty and eccentricity, by decorating your dining room walls with the help of these tips.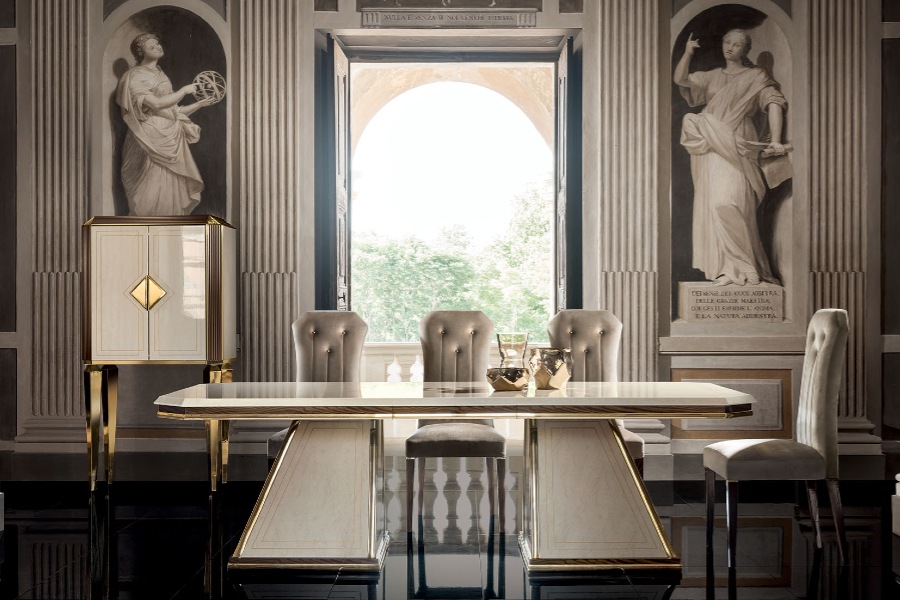 Contemporary wall décor: 4 tips
You are probably wondering: what kind of décor is fit for a contemporary dining room? Can I hang more than one painting on the walls? What kind of subjects should I choose for my prints? If I want to repaint the walls, what would be the best colour? Is wallpaper a good fit for a contemporary dining room?
All these concerns are perfectly natural. Today, understanding the new interior design trends is far from easy. However, renovating a room in your home should be fun and exciting. This is why we decided to give you 8 simple rules you can follow to choose your contemporary wall décor, so that you can be free to select the ones that best suit you with a careful eye.
Are you ready? Here we go.

1. Don't overcrowd your space
As noted above, contemporary style requires empty and airy spaces. This does not mean you shouldn't have fun when choosing your décor. On the contrary, you should be very scrupulous in choosing the right items, in the right quantity.
For instance, you can opt for a single painting on the wall, provided it is big enough and with a relevant subject.
If your space is not that big, don't worry. Just balance the painting size to obtain a visual and spatial centrality.

2. Dare with patterns
Contemporary style means experimenting. If you love décors with uncommon patterns, don't worry: they are perfectly suitable to contemporary style. Even a simple wall print, maybe with an abstract subject, can draw attention, inspiring curiosity and appreciation in those who look at it.
Wallpapers are always an excellent solution, in these cases. They can embellish the wall you want, without being too invasive.
If you opt for bold patterns, do not follow the same criterion on more than one furnishing element. For instance, a neutral wall will be the perfect background for your unique and colourful print.


3. Wall colour
As noted above, the best way to renovate a room is repainting the walls.
And in contemporary style, you can afford to go a little crazy with colour.
Let's take a look at some of them.


White and all its nuances
White is always perfect. And, contrary to popular belief, it has a very broad nuance range. If you want to go for a warmer effect, instead of choosing the usual neutral white, you can opt for a pinkish white in your dining room. The result will be very classy.


Bright colours
Since we are talking about a dining room, you can also opt for a brighter colour. The light effect will be guaranteed and spaces will become wider and more airy.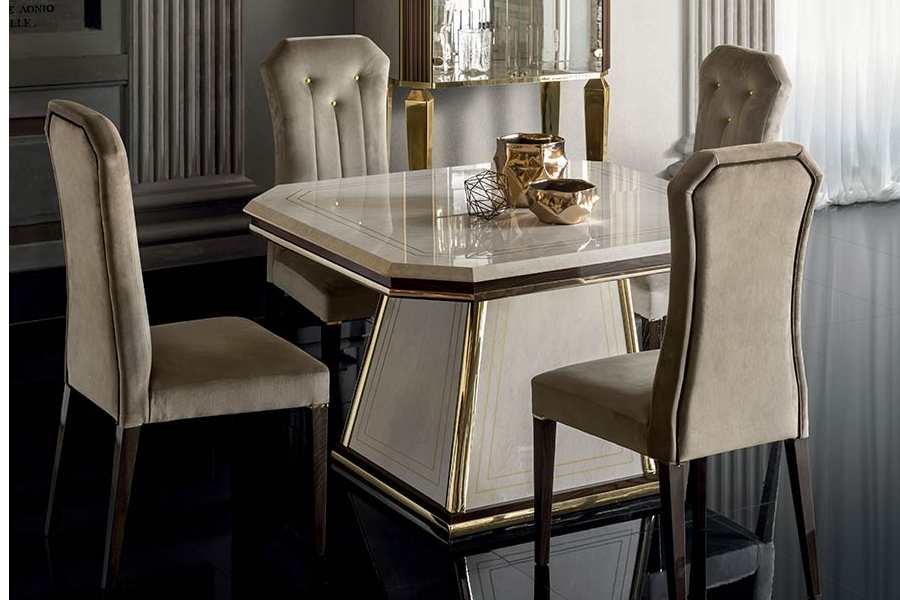 Dark colours
Purple, dark green, and - why not? - black, are perfect for a contemporary design. If you love dark nuances, be careful to balance the wall colour well with the colours already present in the room. If they blend in well with the surrounding environment, dark colours can create a high-end and very sophisticate environment.


Pastel colours are a no-no
When we talk about contemporary style, we talk about bold hues and daring contrasts. Pastel colours have nothing to do with contemporary style; they are best suited for more rustic environments.
You can choose the colour you like. Just remember: do not use too many colours in a single room. It would create confusion and it wouldn't really be in line with contemporary style, which is minimal also in the colour palette.
Lastly, remember to take the floor into account, for a more harmonious result.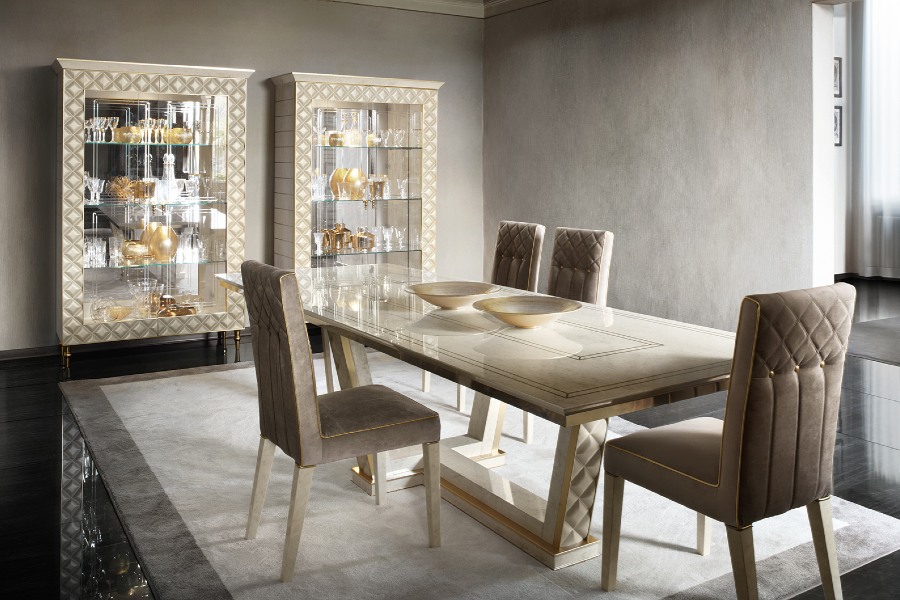 4. Trending décor: prints and paintings
Contemporary art paintings or artwork and photography prints are perfect for a contemporary dining room.
Often, a single painting can change the look of your room. Take some time to choose the painting you want to hang in your dining room. It should be the star of the wall and attract attention, without distracting from the other furniture.
You can opt for an abstract, post-surrealist subject, or for a wild landscape, like a forest. The important thing is that the colours and size of this special décor are balanced with the surrounding environment.
Being at the forefront is an essential prerequisite of contemporary style. Digital prints are an excellent choice to decorate your walls, as an alternative to an actual painting. In addition, prints have a smooth and shiny surface. And this pairs well with this style, where smooth and clean surfaces are the golden rule.


Provoking with style
Defying colour combinations, bold nuances, impactful artwork: these are the precious elements you can décor your dining room with. Whatever contemporary wall décor you choose, remember to do it tastefully, without fearing uniqueness.