The dining room is one of the core environments in your home . Here, you spend precious relaxing and convivial moments with your family and your guests. This is why, apart from all functional aspects, you should also take care of its appearance.
Are you thinking about redecorating your dining space completely and you don't know what furnishing style would be best to combine comfort and aesthetics?
Then, a contemporary style may be just what you are looking for.
Contemporary style makes any room refined and classy, and this is why you should choose it to lighten up your dining room.
In this article, we will give you some tips on how to create a perfect contemporary furnishing scenario to amaze your guests.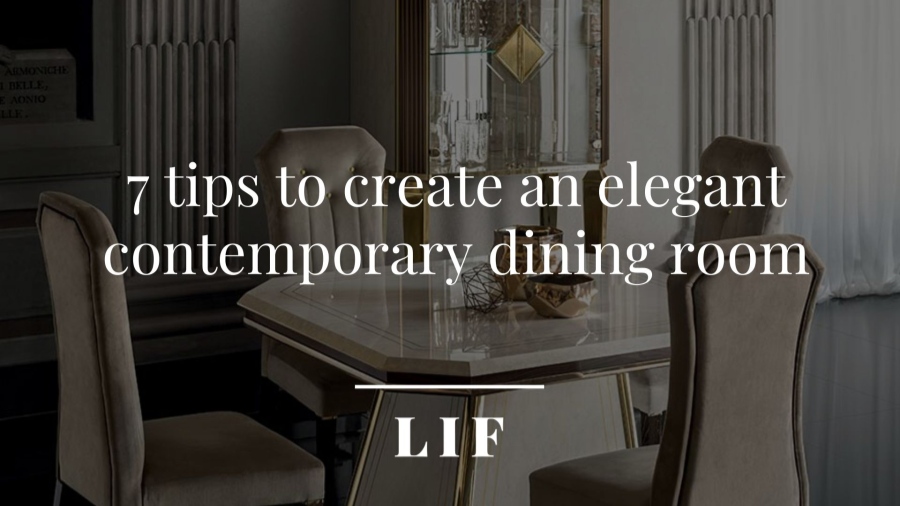 7 design tips to make your dining room look amazingly elegant
In any interior design project, paying attention to every detail is essential to create a beautiful and balanced layout, where function and aesthetics coexist in perfect harmony.
These tips will enhance the allure of your contemporary dining room.
Let's go over them in detail.

1. Choose a neutral colour palette
To furnish a contemporary dining room, you should start from choosing the right colour palette.
In this case, a combination of the neutral hues of white, beige, ivory and black and the brighter tones of blue and purple, for instance, will be perfect, or even light cerulean blue hues, or vibrant orange tones, for a bold touch.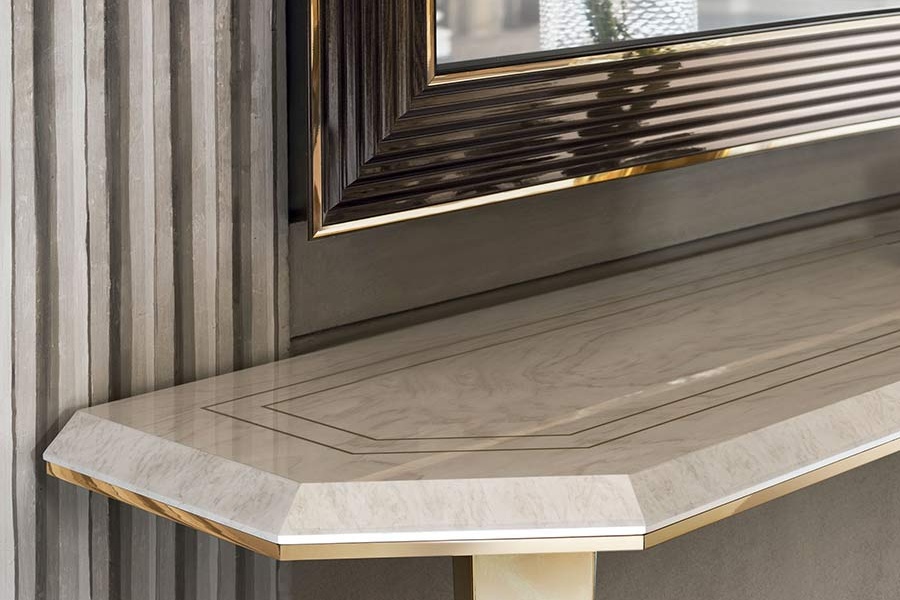 2. Choose suitable wall painting and wallpaper
In every room, it is essential to add a personal décor touch, and the dining room is no exception.
In order to make your layout balanced from a colour standpoint, start from the walls: you can paint them or apply some wallpaper, in perfect contemporary style.
If you'd rather paint the walls, opt for simple nuances in the colour palette mentioned above.
If you want to go for the wallpaper, choose solid colour models or with minimal and geometric patterns, with a clean and refined spin.

3. Choose a contemporary dining set
Display cabinets, tables and chairs are the focus of your dining room. This is why choosing a dining set that perfectly balances the interior design concept is essential.
For a contemporary dining area, you could choose a rectangular table and high-back seats with a geometric profile, upholstered with fine fabrics.
Apart from the aesthetic potential of each piece of furniture and their position in the dining room, you should also analyse the space available and the use you make of the room.
Do you usually entertain lots of guests or have many people over? If so, you should opt for a longer table and maybe for a display cabinet with one, two or three doors, based on your needs.
Lastly, to complete the room, place the remaining furniture, e.g. sideboards and mirrors, around the dining set.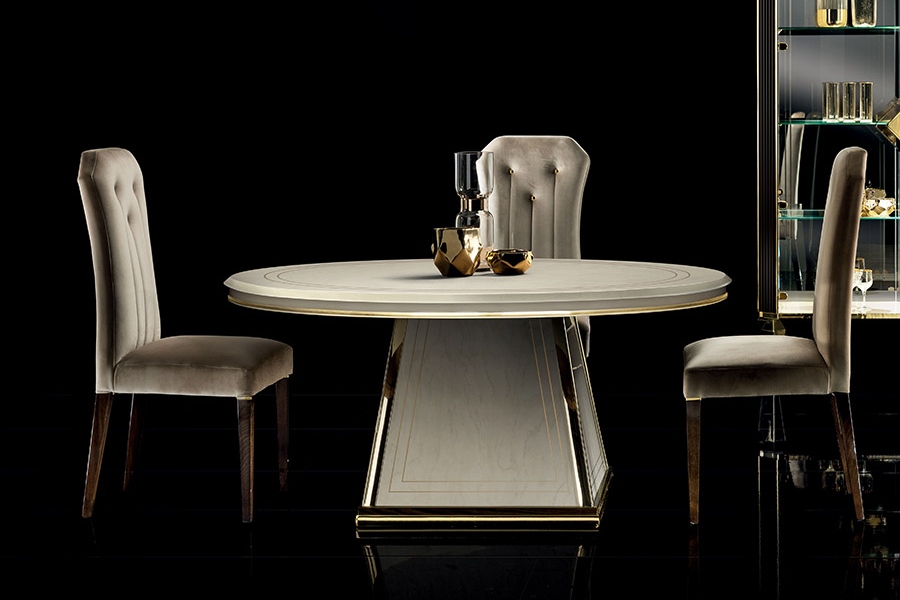 4. Place contemporary designer lamps
Lighting plays an essential role in creating the right atmosphere for your dining room.
For this reason, it is important that you choose contemporary lighting design solutions perfectly balanced with the concept of your interior design.
In this case, you should opt for glass, steel or copper ceiling, hanging or wall lamps with metal inserts or gold leaf decorations.

5. Opt for suitable furnishing elements
The details and design of each furnishing element help create a fulfilling and sophisticated atmosphere.
This is why choosing each element based on its features is essential.
For a contemporary dining room, choose furniture embellished with golden metal inserts, diamond-shaped patterns and fine tops.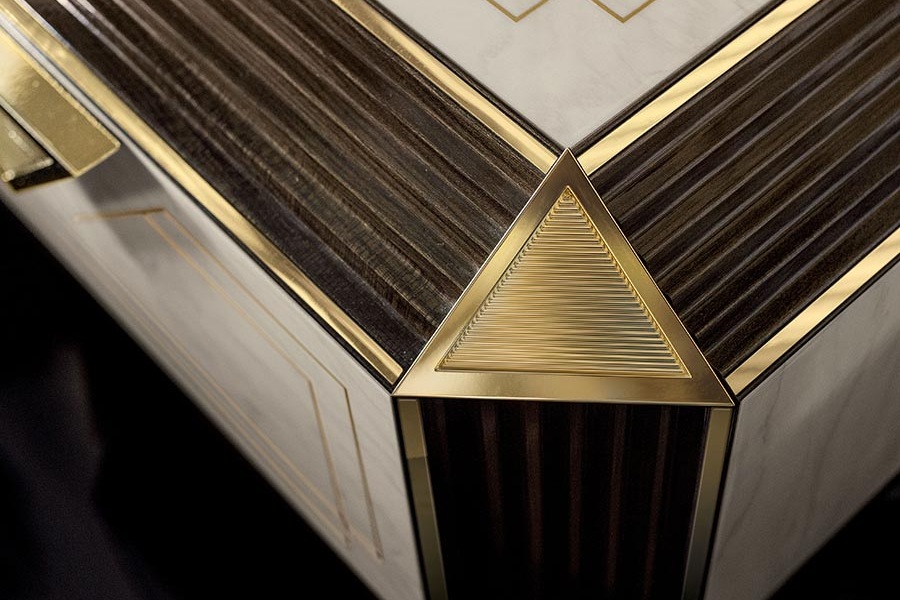 6. Decorate your walls with contemporary paintings and artwork
To enhance the appearance of your dining room, top off your layout with fine furnishing elements, such as:
Contemporary design objects (clocks, frames, wall mirrors or metal sculptures to be arranged in the room according to your taste)


Paintings, artwork and prints with vibrant colours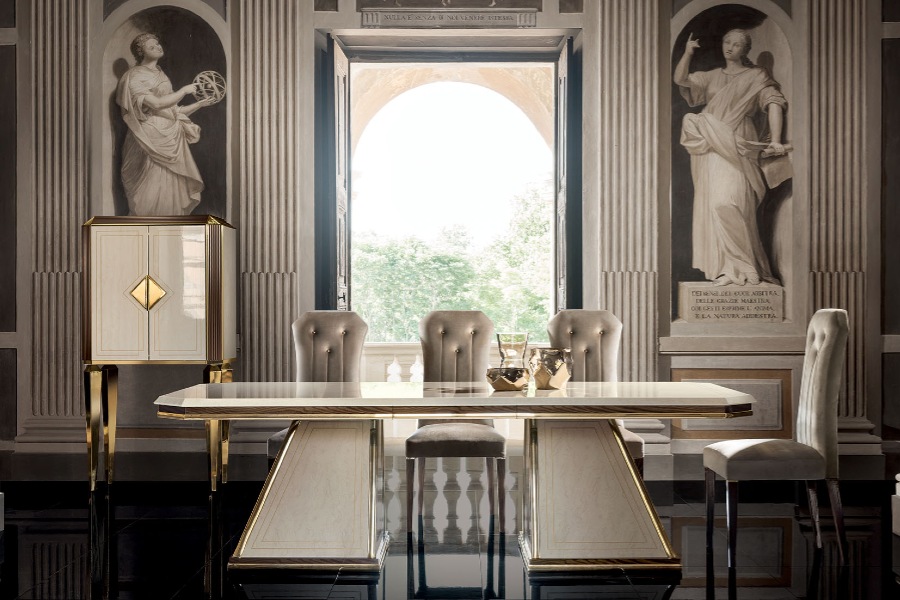 7. Top it all off with minimal rugs or carpet floor
To complete the dining room layout, you can add some minimal rugs or a layer of fine carpet.
Make sure the carpet or rug colour matches the general colour palette.

Follow our tips to create an elegant contemporary dining room
Attention to detail and love for elegance: this is what shines through a room designed according to Italian contemporary style canons.
In this article, we gave you some tips on how to furnish your dining space with taste, down to the last detail.
Follow our advice and make your dining room shine, by furnishing it with taste and elegance.