The sofa is the main and essential element of your living room furniture. Choosing the best sofa is not easy. There are countless models and often we let ourselves be guided by our instincts, thus making irreparable mistakes.
We ask ourselves: what is the right size for my living room? Should I go for a three- or a four-seater?
An excessively large sofa could take up too much space, and play down the other furnishing elements. However, if the sofa is too small, it could end up becoming one of the many elements in the room, losing its stardom in the living area.
Not to mention that choosing the right model can generate even more doubts. Should you choose a traditional sofa or an "L" shaped sofa? In this case too, the wrong choice could compromise the beauty and harmony of your living room design.
You are probably wondering: is it really possible to choose the right sofa for my living room? Don't worry. The answer is yes: you can find the perfect sofa. You just need to follow the right rules.
Read the article to find out what you should take into account to choose your living room sofa.
You'll be finally sure you have made the right choice.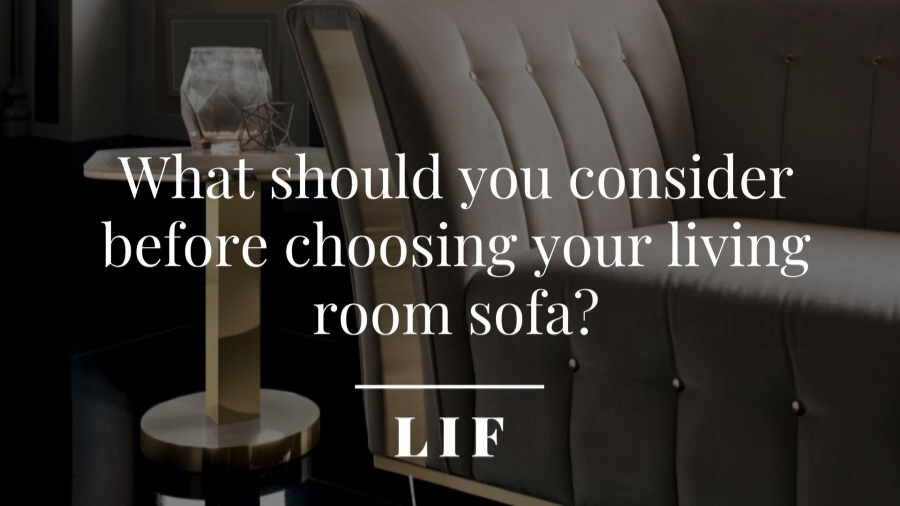 How to choose the right sofa size
The first question we must ask ourselves when we choose our sofa, is how big should it be. To answer this essential question, you should take two main aspects into account. Let's go over them in detail.

1. The room size
As stated above, there is no greater error than choosing an excessively big sofa for a small space. When deciding your sofa size, remember to take several elements into account: the room layout, the space taken up by other furnishing elements, and, above all, the space for movement within the room.
You should take the size of the other furniture pieces into account, because the sofa you choose shouldn't be too big or too small, and you should leave some empty space in the room to allow movement. This aspect should not be underestimated, both for a practical matter, and to preserve the room proportions and harmony. Empty spaces play a key role in interior design, and shouldn't be underestimated. An excessively full or empty room is likely to become disorienting and make the ensemble disharmonious and unbalanced.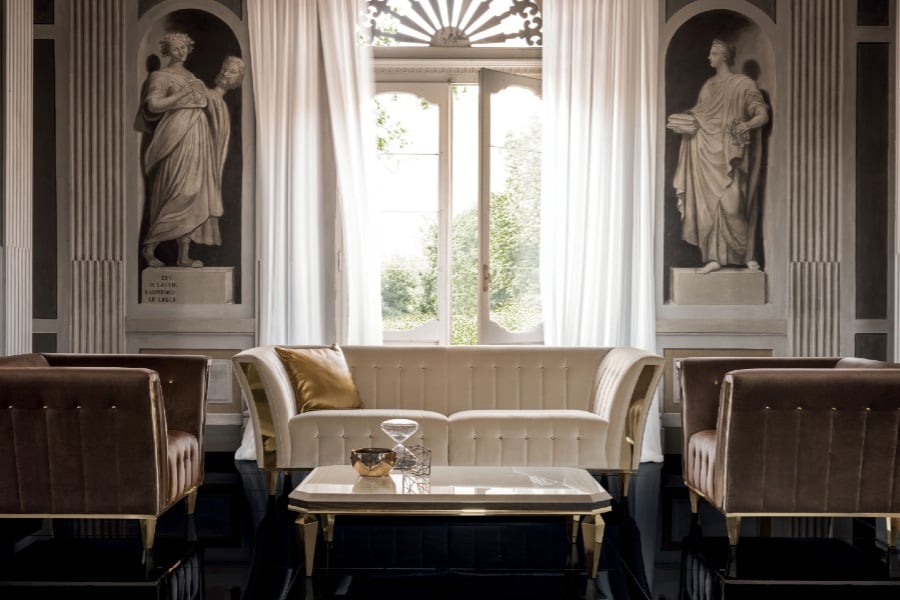 2. Intended use
Our living room is not just part of our home. It's a place to relax, rest and welcome our guests.
If you entertain and you like spending time with your guests in your living room - maybe for a pre-dinner drink or a chat in front of the fireplace - you will need a big sofa to ensure that everyone is comfortable. You could also opt for a pair of sofas, if your living room is big enough.
On the other hand, if your living room is an intimate place, to read a book or watch a film, you should opt for a smaller sofa (while always taking into account the room size).

Choosing a model
Choosing the right sofa model is no easy task. The most common mistake is letting ourselves by guided by our instincts or personal taste, overlooking a series of fundamental criteria.
When you choose your sofa model, you should always take into account the overall room style.
An "L" shaped sofa or a large sofa with a chaise longue may seem tempting and comfortable at first sight, in a showroom or on the pages of a catalogue, but it could become excessive and disharmonious in certain living rooms. Choosing this kind of model - with strongly unbalanced proportions, because one side is longer than the other - could make preserving a harmonious environment difficult. If you opt for this kind of sofa, you should balance it out with the rest of your furniture.
A more classical model will be easier to pair with the rest of the room. In this case, remember that centrality is essential. Choose its position well. Make sure your sofa is the focus of your room; this way, the model you chose will be nicely displayed.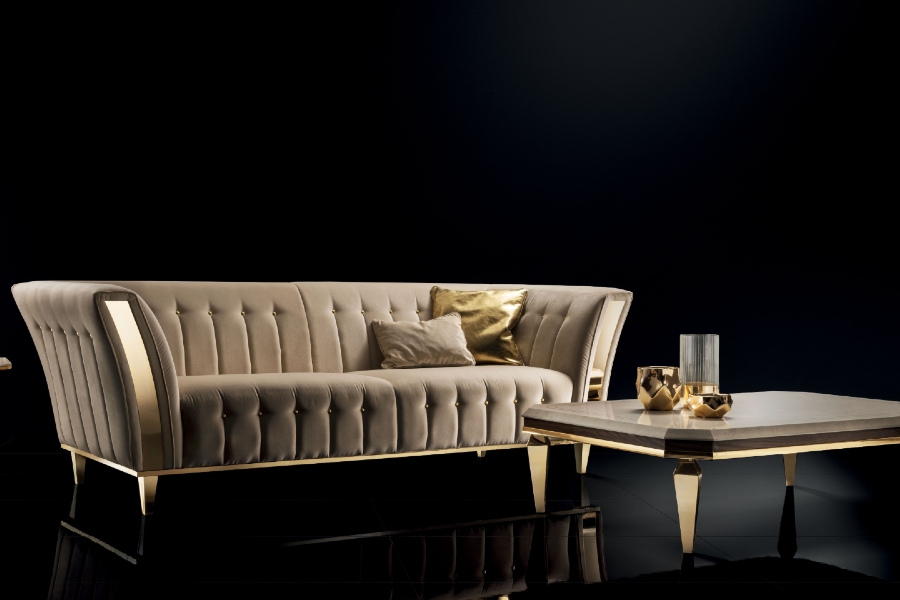 Choosing the best fabric and materials for a designer sofa
Once you chose the sofa size and model, you can focus on the best fabric and materials. This too is not an easy decision, given the endless quantity of offers. If you are thinking about the items you should take into account for your living room sofa, don't forget the fabric and materials.
When choosing these two elements, consider:

1. Sturdiness and softness
The sofa material and upholstering should be selected also based on how you spend time in your living room. There are more wear-resistant fabrics, and more delicate ones.
Here too, there is no one-way choice.
You shouldn't give up on a nice velvet sofa, just because you are afraid to ruin it. The important thing is being aware of the furniture you are buying, to care for it in the right way. With the right care, a high-quality sofa will look nice and shiny like the day you bought it for years to come.

2. Design
The aesthetic aspect is not secondary. If your living room is classic, you should opt for suitable materials and fabrics. If you have a contemporary living room, you should go for trendier materials and fabrics, in line with the new interior design trends.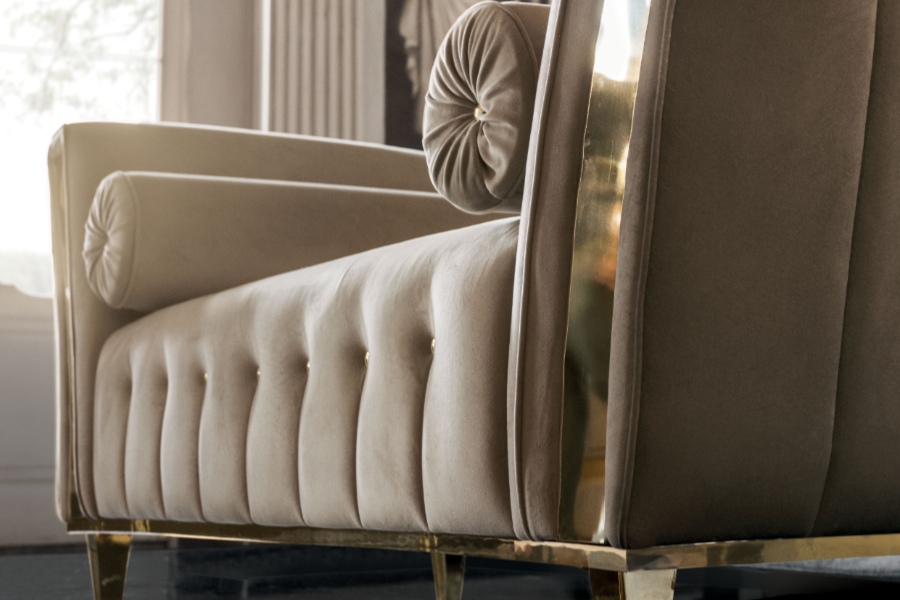 Considerations to make before choosing your living room sofa: an harmonic ensemble
You probably realized that, when thinking about the right considerations to make before choosing your living room sofa, a harmonic ensemble should always be taken into account.
The sofa is the star of your living room - and maybe a more bold choice, compared to the rest of your furniture.
There is nothing wrong in opting for a bolder sofa. Often, our taste pays off. The important thing is that the overall harmony is preserved.
Another aspect that helps you link the different furnishing elements together is colour. Matching fabric or finishing, for instance, can turn your sofa into a well-balanced star in your room, even if the overall style is different.