Let's say your ideal dining room is sophisticated and elegant. Let's say you've always dreamed about a sumptuous and luxurious place, where you can welcome your friends and guests in complete relaxation and in a warm and pleasant environment.
If you want to design your new dining room and you already have a style and the right furniture collection in mind, you should also start thinking about the colour scale you want for your walls and home décor. Colour will help you recreate the atmosphere you have in mind effortlessly, with a balanced and neat visual impact.
You may wonder how you can choose the right colour hues and the most elegant shades.
Read this article to find out the best dining room colour ideas. You'll finally be able to give a new welcoming and classy feel to your room.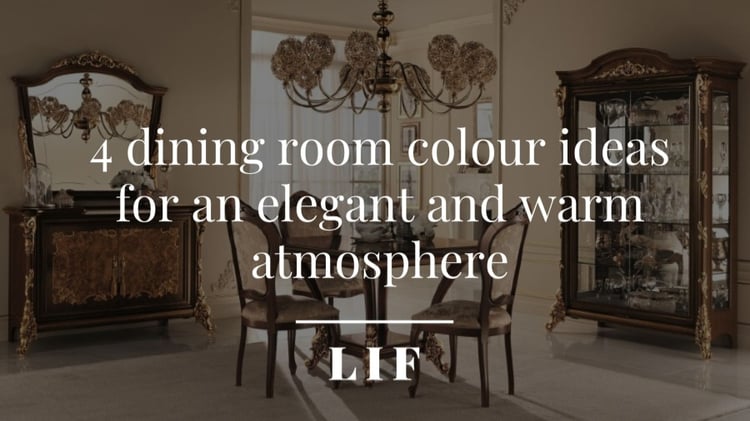 Atmosphere and perfect harmony: the importance of colours
The right colour choice is often underrated when it comes to designing a room. First of all, we think about furniture, and about choosing the right style, in line with the rest of our home. We study where to place the lighting fixtures, and we have a bit of fun by adding a touch of originality when choosing lamps and ceiling lamps.
However, we don't always consider how important the wall, fabric and home décor colours are. Colour combinations, along with lights, help us give a crucial touch to our home.
Clearly, your colour choices - just like any other interior design aspect - should be well-reasoned and never accidental. They should take into account the style of the room you are decorating, and of your entire home.
You will find that choosing the right colour when decorating a room can become the glue that bonds together the entire interior design of your home. Very often, colours can tie together very different rooms or furniture pieces. Hence, the dining room curtains can match the living room couch cushions; the night area lamp shades can match the hues of the wall behind the master's bed.
Colours can become the fil rouge that creates harmony and unity in your interiors. And they have the ability to create a marked mood.

Dining room: what elements should you focus on
Like every other room, the dining room comprises several furnishing elements. In this environment, a large table with chairs is central. It can then be paired with elegant display cabinets and sideboards. In addition, you can choose a nice mirror that matches the rest of the furniture to embellish the room. And don't forget fabrics and lamps. All in line with the style you've chosen.
However, keep in mind that you should choose the best colours right from the start of your interior design project.
For instance, if you decide to choose a strong hue for the curtains, it shouldn't be in contrast with the chairs upholstering.
Lampshades can also be used to add a touch of colour to your room. Elegant and tapered, floor lamps are often precious allies in the darkest corners, creating a comfortable and classy environment.
When it comes to interior design, you should never underestimate the importance of walls. Smooth, single-colour or decorated with wallpaper, walls can really make a difference in adding a dash of chromatic elegance to your dining room.
Don't forget you can pair these colours with the furniture finishing. Observe and take note of the details on the furniture collection you have selected for your dining room. Handles, frames and décors will inspire you in choosing the best colour pattern.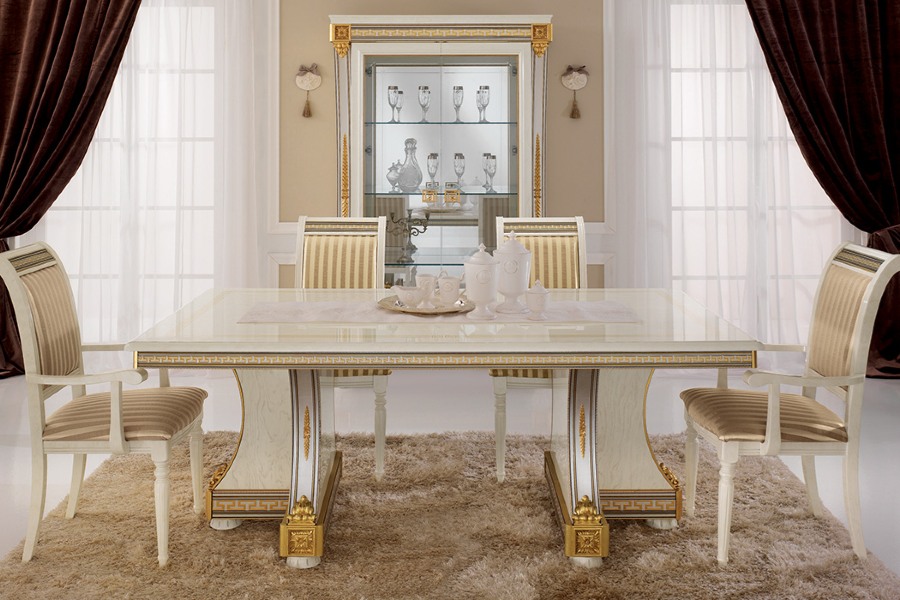 Ideas for your dining room colours: five suggestions
Now, let's talk about the colours for your classy dining room.
First of all, keep in mind that a dining room should be welcoming. Whatever style you opt for in this environment, this aspect cannot be overlooked.
If you chose a contemporary and elegant style for your home, you should stay true to this look also when choosing a colour pattern.
Let's see four colour suggestions for your dining room.

1. Beige
Beige hues perfectly call the idea of hospitality to mind. When paired with white details (maybe in the wallpaper pattern or in the stucco decorations), they can add a touch of warmth and classic elegance to your room. However, you shouldn't underestimate the impact that this colour can have in a contemporary dining room.
It creates a very relaxing, bright and not-too-overstated atmosphere.
Be careful when choosing beige hues for your environment. Since it is a very versatile colour, you could risk choosing the wrong hue and not obtain the desired effect.
You'll be happy to know that beige - and all its hues - is not hard to pair with other colours, including stronger shades.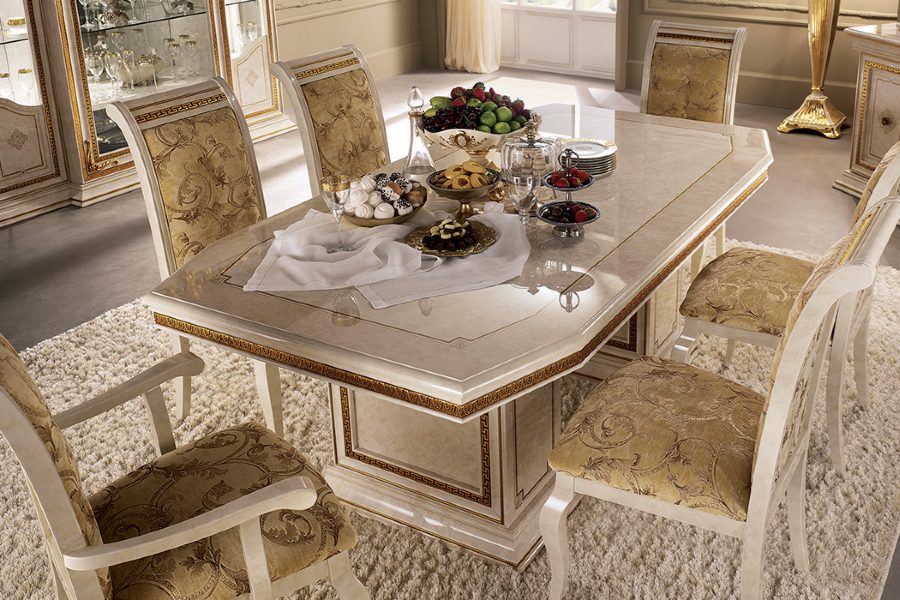 2. Grey
Grey could instinctively seem like a cold colour. In truth, the more brownish and dove-grey hues can create a very warm and comfortable atmosphere.
Grey is very popular in contemporary interior design, and can be paired with a wide range of colours.
Grey chair upholstering or wallpapers are fireproof eye-catchers, if they are well-balanced with the rest of the furniture.
If you are redesigning your dining room and are looking for new dining room colour ideas, you should really take grey into consideration. Sometimes, changing the wall colour is enough to refresh your home. If you don't want to change your dining room too much, and would prefer some small changes, grey will be perfect. It's not too strong, but it still gives a new feel and look.
And then, grey can be the perfect background both for classic and modern style furniture. It is versatile, young and classic at the same time.

3. Green
When we talk about green for a luxury dining room, we talk about dark green in particular. A nice deep green with dark nuances, maybe mixed with décors with matching colours, can create a very stylish environment, much appreciated by contemporary design.
If the green hue you have chosen is very dark, make sure you enhance your environment with the right lighting. Mirrors and light spots can help make our colour patterns brighter.
With green curtains or wallpaper, your dining room will becomeclassic, fascinating and contemporary at the same time.

4. Dark blue and gold
Nothing is more elegant than pairing dark blue hues with gold. Precious, sophisticated and stylish, this colour pattern is a win-win if you want to dazzle and enchant your guests.
There are countless combinations and pairings between these two colours and the different furnishing elements. Blue curtains can be decorated with gold patterns, just like the chair upholstering can play around these hues, maybe by matching the furniture's golden finishing.
The results obtained will be great.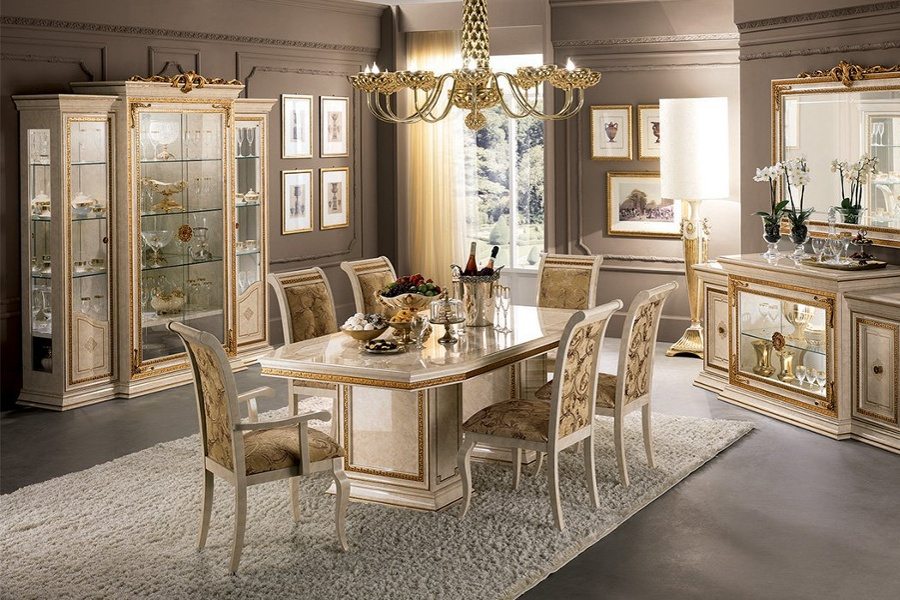 The right atmosphere for a classy dining room
You have realized by now how important colour is in interior design. In dining rooms in particular, you should create the right atmosphere, to avoid inspiring a sense of discomfort in your guests, and let them feel happy and welcomed.
Once you have glanced at our dining room colour ideas, you can finally design your comfortable and classy environment.