Neoclassic style means elegance and balance. The living room is the preferred place for welcoming and entertaining people. Being able to welcome your guests in your home, surrounding them with an elegant, perfect and timeless atmosphere, is priceless and will give you endless satisfaction.
If you want a neoclassic living room, get inspiration from Arredoclassic collections. You will fall in love with the harmonious and fancy shapes of our furnishing elements, such as display cabinets, sideboards, tables and chairs. And also bright mirrors, fine fabrics and elegant décors. Everything is designed to create a classic and fancy environment.
Trust Arredoclassic collections to furnish your living room in perfect Neoclassic style.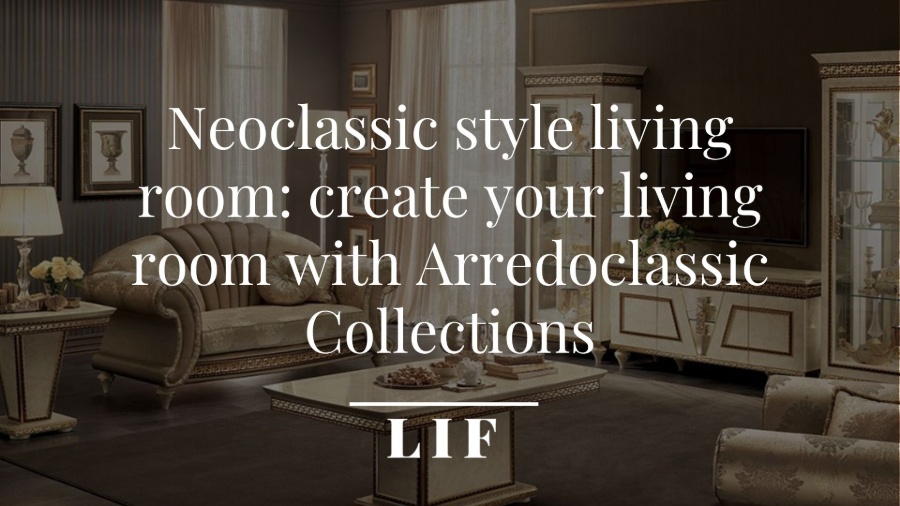 Arredoclassic collections: stand out with style
Arredoclassic furniture collections are rare gems in the world of interior design.
Every collection encompasses an emotion that reflects what the specific style is all about. And there are no two emotions alike. Just like there are no two styles alike.
If you want to create a unique living room, choosing a neoclassic style for the room you want to furnish, read this article and let yourself be inspired by the collection that most suits you.


Fantasia: Empire style and modernity
The Fantasia collection is a blaze of precious and elegant features. The harmony of the Empire style classic canons is combined with more contemporary shapes, making your living room exceptionally beautiful and sophisticated.
The Fantasia collection living room combines precious golden frames with balanced and magnificent marble surfaces.
Furnish your Fantasia living room with chairs upholstered with fine embroidered fabrics. Combine the precious display cabinet with the marble table, to alternate the luminous vertical lines with the well-balanced and grand horizontal ones.
Then add an accessory like the large mirror and the sideboard to complete the room and make it perfectly balanced.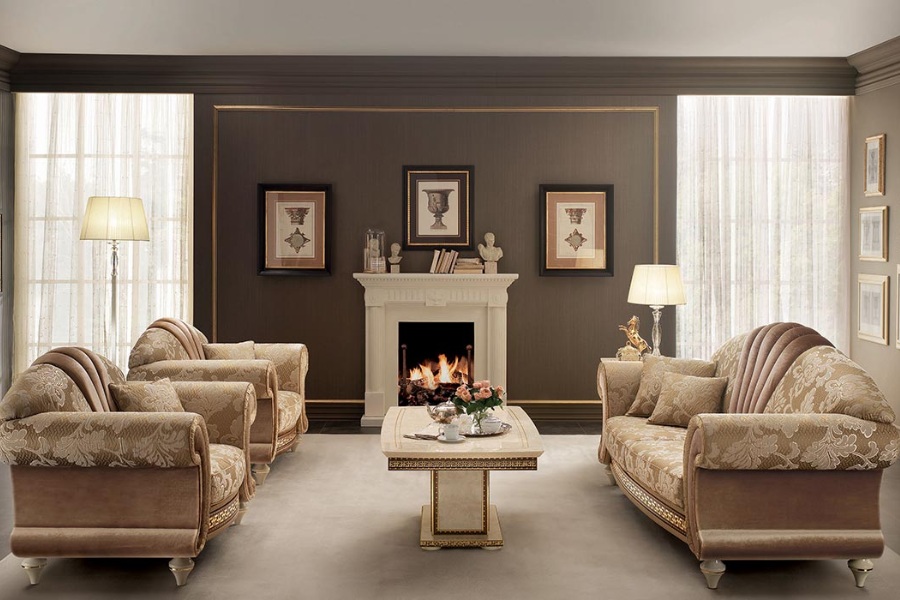 Leonardo: beauty and luxury
The Leonardo collection: sophistication and experimentation. The lines and materials in this collection create strong and unquestionably fine pieces of furniture.
The Leonardo collection living room has the character of someone who loves luxury and refinement. If you are looking to recreate an aesthetically rich living room worth admiring, take a look at the Leonardo collection furniture. You can choose between our top Italian unique products.
The precious golden décors framing the table harmonically match those on the display case and on the sideboard. The elegant Leonardo display case is an artisan masterpiece. The giant mirror makes the living room bright and majestic, for a luxurious and unique experience in the eye of the beholder.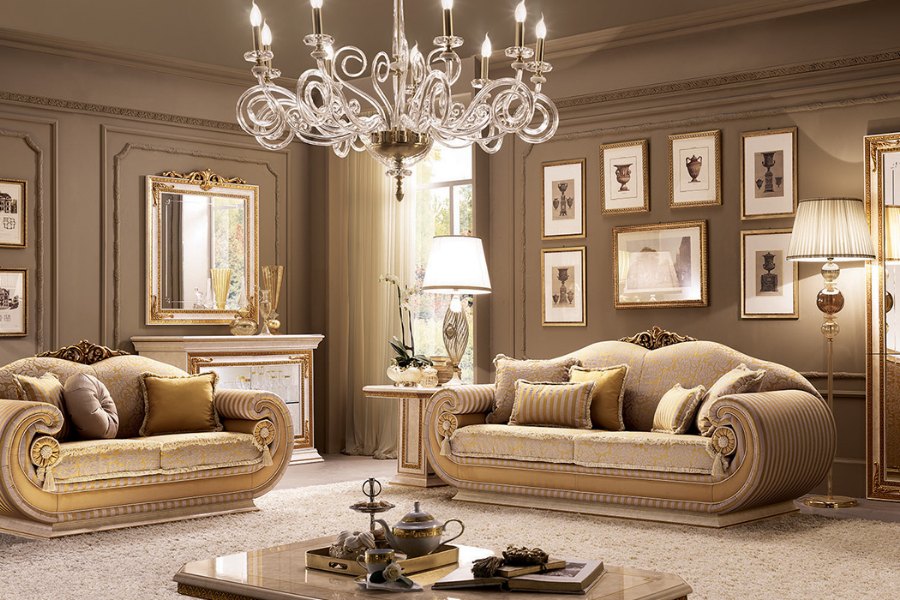 Melodia: harmonious and gentle
Gentle like a love song, this Arredoclassic collection is characterized by soft and sinuous lines.
Here, Neoclassic style is embellished by a few Art Deco details that emphasize its preciousness.
The Melodia living room features curved lines decorated with friezes and golden arabesques. The gentle details make this furnishing line precious and unique.
You can choose to arrange your most prized possessions in a dedicated place in your living room, with the precious Melodia display cabinet: its gently bevelled glass allows the mirrors inside to capture light and extend space.
Chairs and tables follow the same oval and sinuous trend. Top off your living room with the sideboard matching the oval mirror.
With the Melodia collection, your living room will become majestic.

Liberty: charmingly classic
Arredoclassic Liberty collection is noble and classic.
Very bright with square lines, the Liberty collection reflects the soul of someone who loves to impress with fine classic details. With the Liberty collection, your room will become harmonious and gentle.
The Liberty dining room features silver frames with small golden décors that make the room warmer and more precious.
Formal, clean and with geometric details, the Liberty furnishing elements capture the charm of those who love balanced and harmonious features.
Ancient Greek and Roman inspired décors make the Liberty collection unique and classically elegant.
You can furnish your living room with the Liberty line by pairing the table and the sideboard: their smooth and glistening surfaces will give intensity and elegance to your room. Chairs feature a golden Greek fret - present in all the products of the collection, as the recurring theme of timeless elegance.
The display cabinet and sideboard handles are gems of absolute beauty. Thanks to these details, your living room will stand out for its simple and bright features.


How to arrange your Neoclassic style living room
Once you have chosen the collection that best suits you, make sure to arrange your Neoclassic living room the right way. Find out how to arrange your living room in three simple steps.
Choose a large carpet with fine weaving that matches the décors on the furniture. Place the table on the carpet, like a masterpiece on its pedestal.


Frame the windows with velvet curtains (or some other heavy and soft fabric). Choose ivory, beige or cream coloured curtains.


Match the table with a nice ceiling lamp. When choosing this special and precious furnishing element, opt for a luminous and majestic model, to add a touch of luxury to your living room.


Neoclassic style living room: the glamour of a timeless atmosphere
Your living room is your home's visiting card. For a luxury and classy home, you need precious and timeless furniture.
The balance and beauty of Arredoclassic Neoclassic living rooms combine classic grandeur and magnificence with contemporary sophistication and luxury. For those of you who are looking for a sophisticated living room and want to amaze your guests generating a feeling of admiration and creating a noble and well-crafted environment, look no further: Arredoclassic neoclassic collections are the right choice!