Creating a classic dining room means giving a new look and image to one of the most important rooms in your home. Are you furnishing your dining area and want to make it more classic with furniture in perfect classic Italian style?
Let yourself be inspired by Arredoclassic Collections, and transform your dining room in a place where routine becomes luxury and pure fascination.
In this article, you'll find some style and design advice to furnish your dining room in an elegant way. In addition, we will showcase our dining room furniture collections.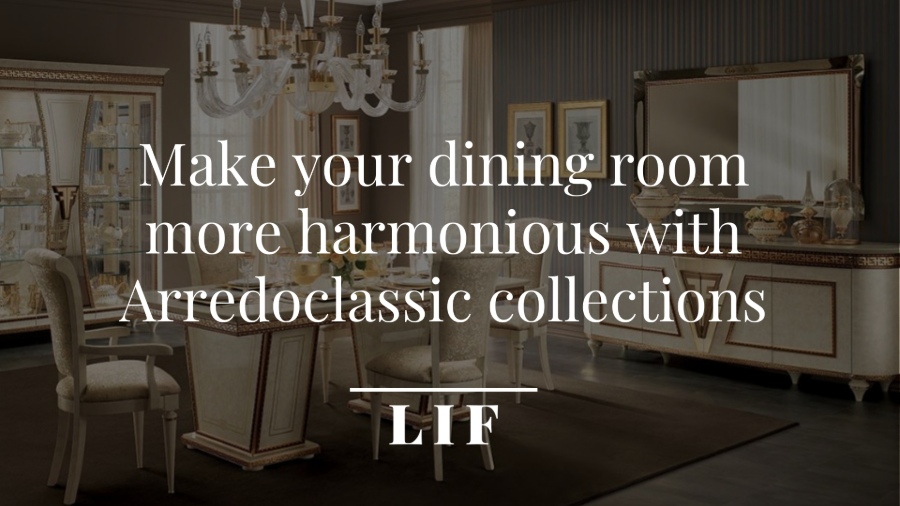 10 design and furnishing tips to make your dining room more harmonious
Here is a complete guide with 10 suggestions to create a classy interior design project for your dining room:

Choose the concept that bests suits you
Choose the best colour palette for your concept
Measure your room
Decorate the walls
Choose classic or contemporary decorative lamps
Choose a dining set that matches your style
Choose the interior décor based on their design and details
Top it off with a decorative carpet or rug
Choose classy furnishing accessories
For more information, see our dining room design guide.


Be inspired by Arredoclassic Collections: furnish your dining room with unique taste
Classic furniture is enchanting, in all its variations.
Intense nuances and classic hues, golden gleams and silver details, strong lines and soft silhouettes. These are the features that best describe our collections:
Let's find out together the aesthetic features of each furnishing collection.

Modigliani Collection: Neoclassic allure
A perfect colour and material balance reigns over the Modigliani Collection dining room. Every furnishing element is enhanced by the warm hues of walnut finishing, elegantly contrasting with elm veneer silk-screening, and completed by laboured gold leaf friezes and décors.
Precious details with a unique refined touch, decorating the front and the formal Empire style column on each piece of furniture. A dining room collection with a classic Italian allure, perfectly in line with the Neoclassic style, and extremely pleasing to the eye.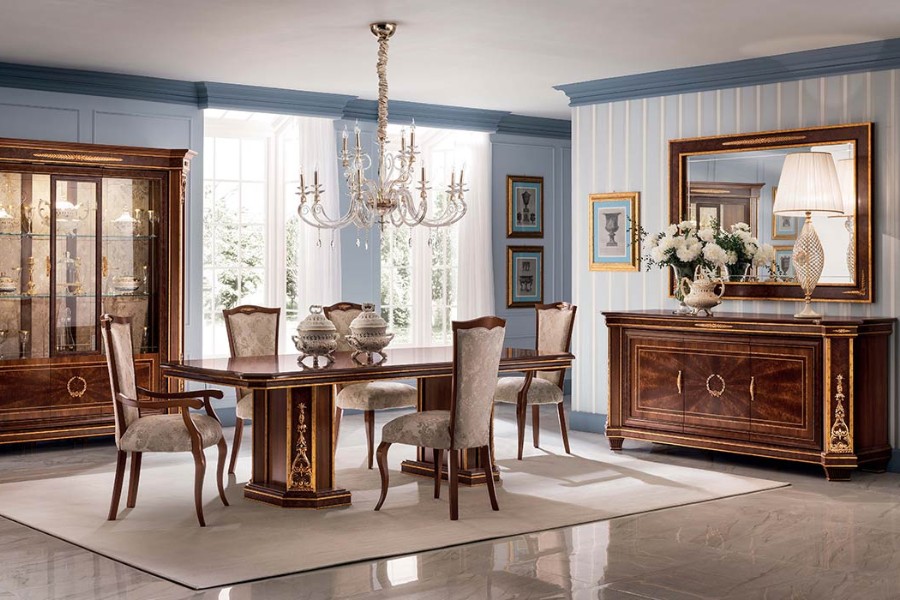 Fantasia Dining room: where elegance and comfort are perfectly combined
In the Fantasia Dining Room modern meets ancient, thanks to the Neoclassic style references in the collection.
The ornamental pursuit is perfectly harmonized by the contrast between structural linearity and curves, just like in the table-sideboard combination. Elements such as the cabinet and the big mirror make the room brighter.
Elegance and comfort go hand in hand.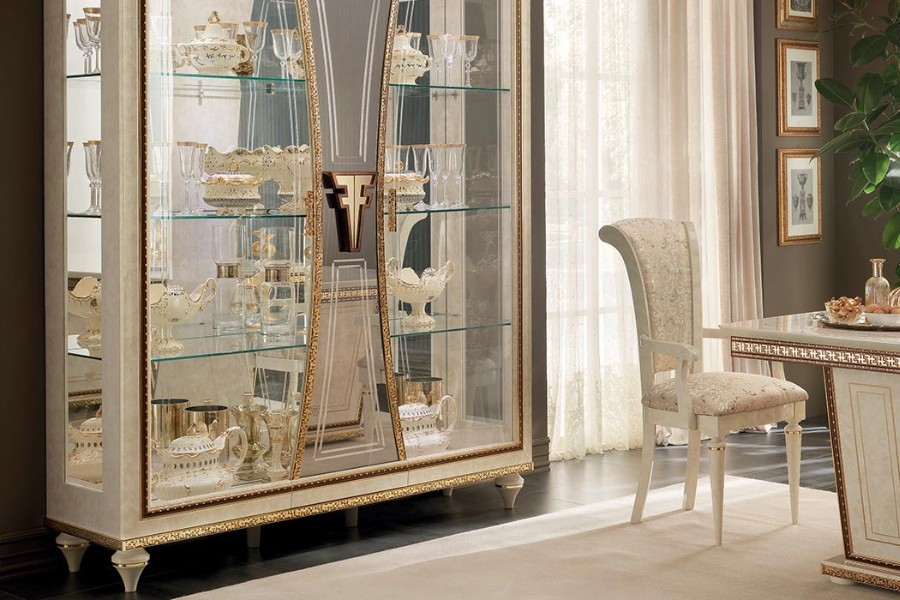 Sinfonia's baroque style
The Sinfonia Collection dining room is elegantly dynamic. Every piece of furniture fully embodies the essence and values of classic Italian design, which reaches its decorative peak with the Baroque style.
To pay tribute to the theatrical fusion of shapes and colours in the 17th Century - the Golden Age of Italian decorative tradition - table bases, mirror cymatia, and wall furniture doors are embellished with flower gilding and curvy spirals, in a classic and everlasting style.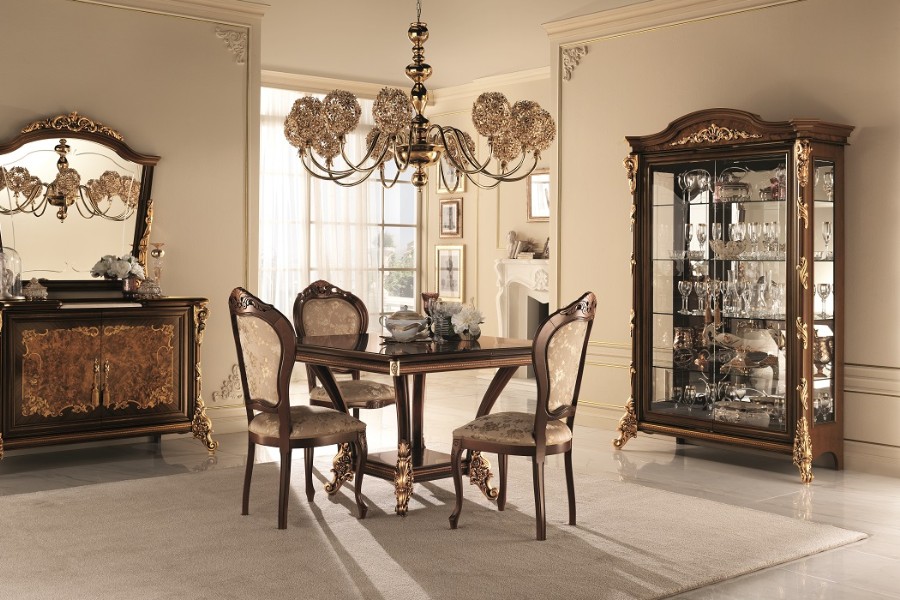 Aesthetic harmony in the Melodia dining room furniture
Everything is in perfect harmony and style in the Melodia dining room: a furniture collection where every element matches the Italian style that inspires all of Arredoclassic collections.
Every line, every detail and every gilding is designed and created with great care, in line with the highest quality standards, to ensure a pleasant atmosphere and a place to live to the fullest.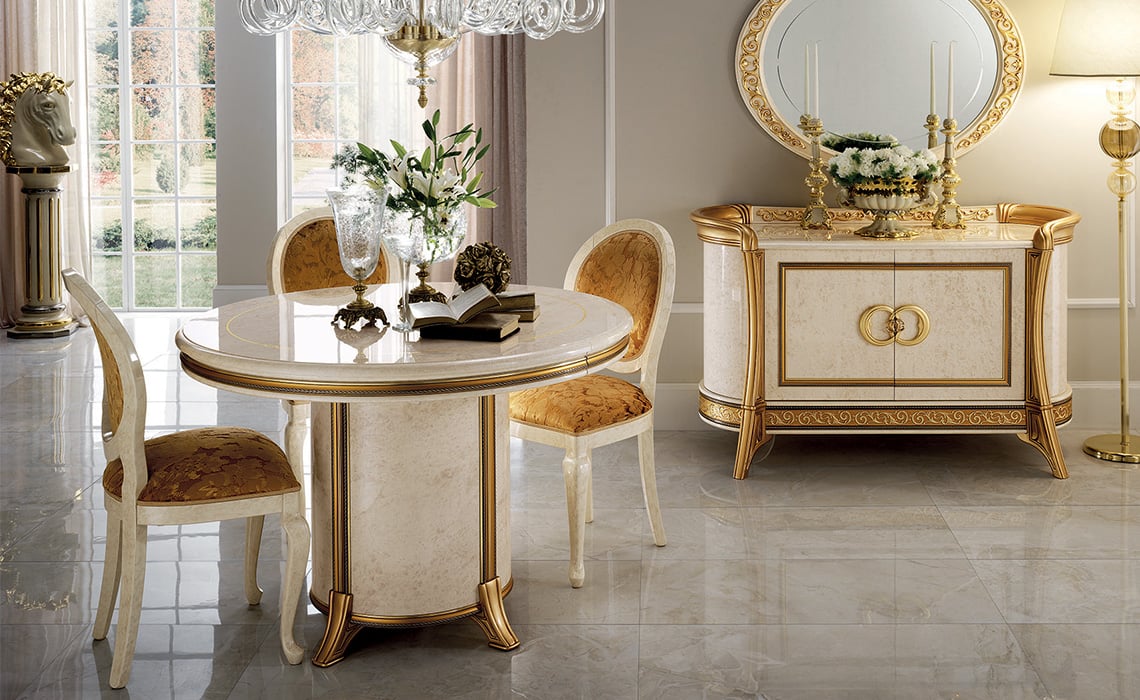 Leonardo: the essence of classic Italian style
The Leonardo collection dining room gleams with intense gilding, providing an intense pleasant and welcoming sensation.
This collection features furniture designed to offer the pleasure of passing time in a stylish room to you and your guests, surrounded by the creativity and quality that only expert artisan can ensure and convey. A dining room made to be admired and to let you indulge in all the luxury you desire.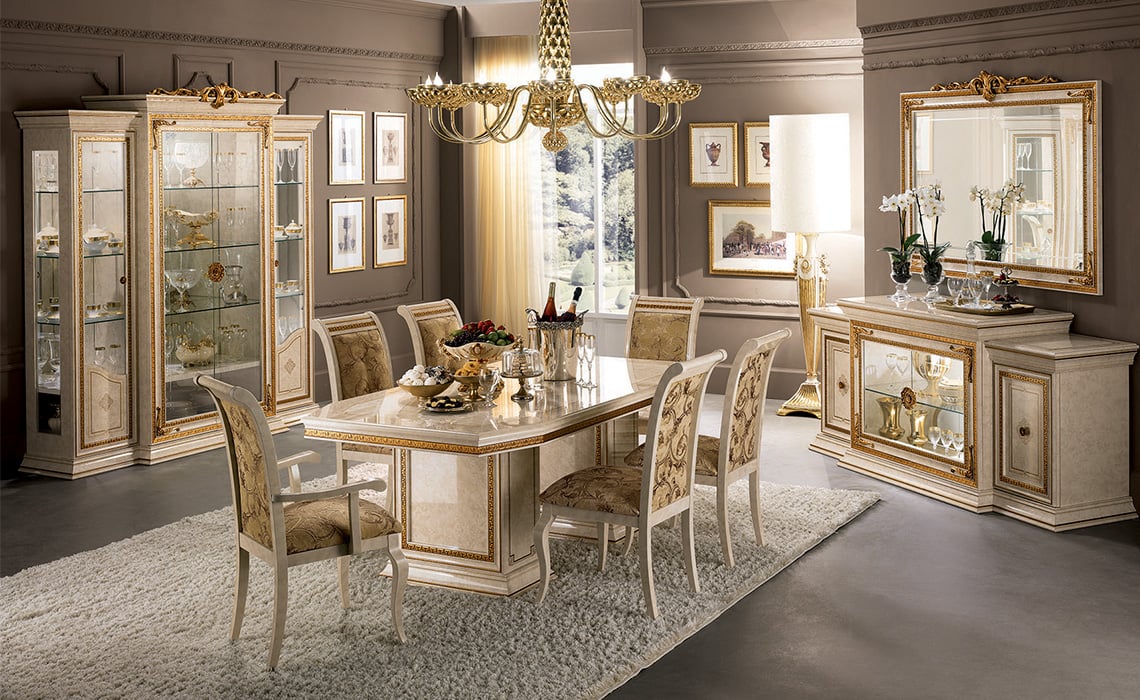 Tiziano dining room: a dreamy atmosphere
Tiziano dining room shows the love for elegance and the utmost care for detail that makes classic Italian style so excellent.
Planes with bright lacquered ivory hues, silver leaf finish with sand-coloured reflections, and fine intense drawings make these pieces the best choice for anyone who wants a place where they can enjoy the pleasure of living in a classy environment.
Every detail confirms the exclusivity of a job well done: a process that entails an eye for detail that makes your living area unique.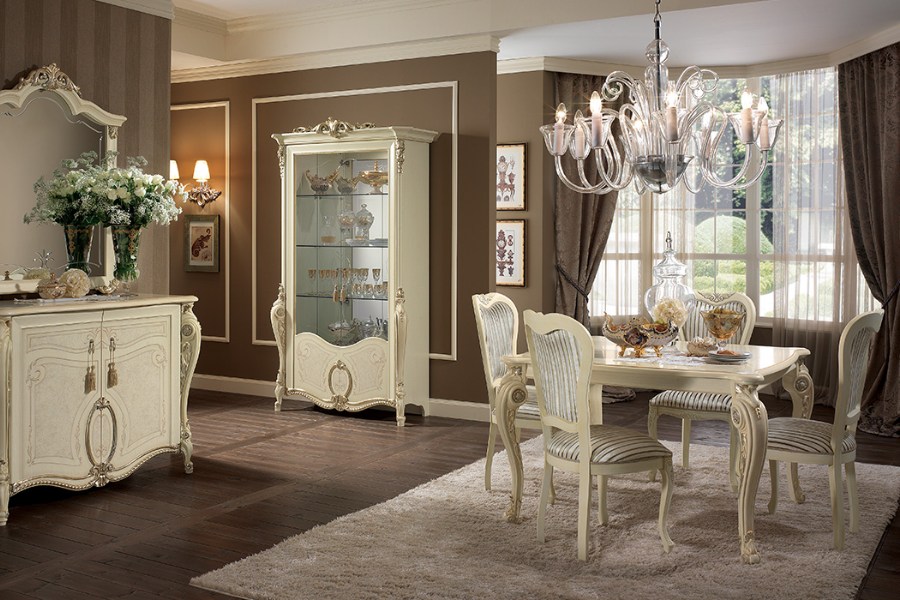 Donatello Collection: typical classic style sophistication
The Donatello Collection dining room has been designed to be a place of absolute beauty, perfect to celebrate the art of good living and hospitality that is rooted in the Italian culture and style.
Every detail, from handmade gilding on friezes and cymatia, to the décors that embellish semi-polished surfaces, is designed to please your eyes and those of your guests. Leaving a permanent beauty trail: this is the intent of the Donatello Collection.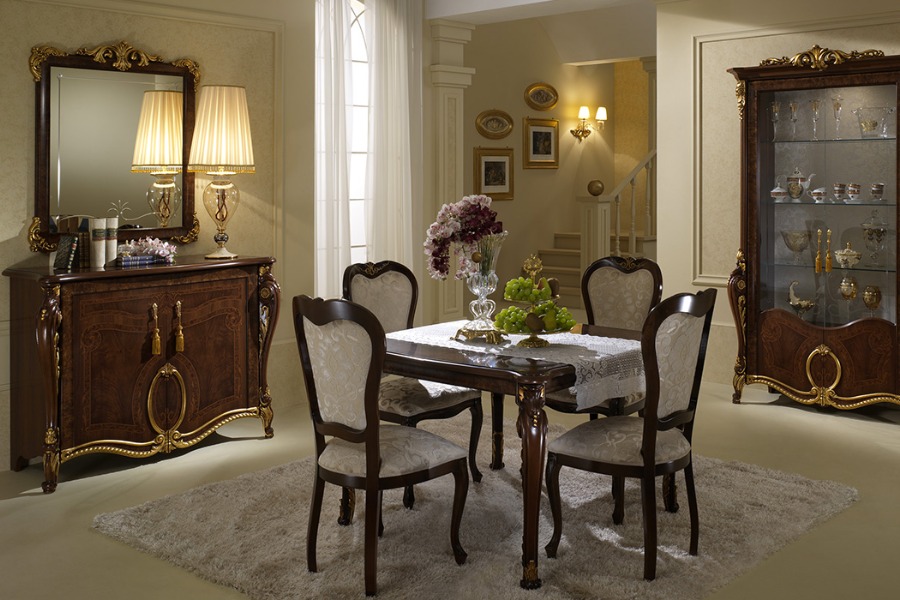 The unique class of the Liberty dining room
The class of the Liberty dining room never goes unnoticed: a clean and clear light makes the polished surfaces decorated with geometric frames glisten.
Choosing important details, inspired by ancient Greek and Roman architecture friezes, makes the entire living area more regal and monumental in a sophisticated way, filling the eyes with the kind of beauty that only classical style can give.




Style, elegance and harmony: what you need to create the perfect atmosphere in your dining room
Passing time in an Arredoclassic dining room means living surrounded by a precious luxury environment, welcoming your guest in a place where the unique Italian comfort and elegance blend in a balanced combination.
Choose the furniture collection that best suits your personal aesthetic taste and transform your living room into an unmistakeably fine furniture scene.