Classic style furniture has always been a universal source of inspiration. Interior designers and customers favour the timeless charm of this style to tastefully furnish luxury homes.
Renaissance style is one of the favourite classic styles to create classy and fancy furniture scenes.
If you are looking for ideas and tips to furnish your living room in perfect Renaissance style, read this article: you'll find useful tips for a flawless final result.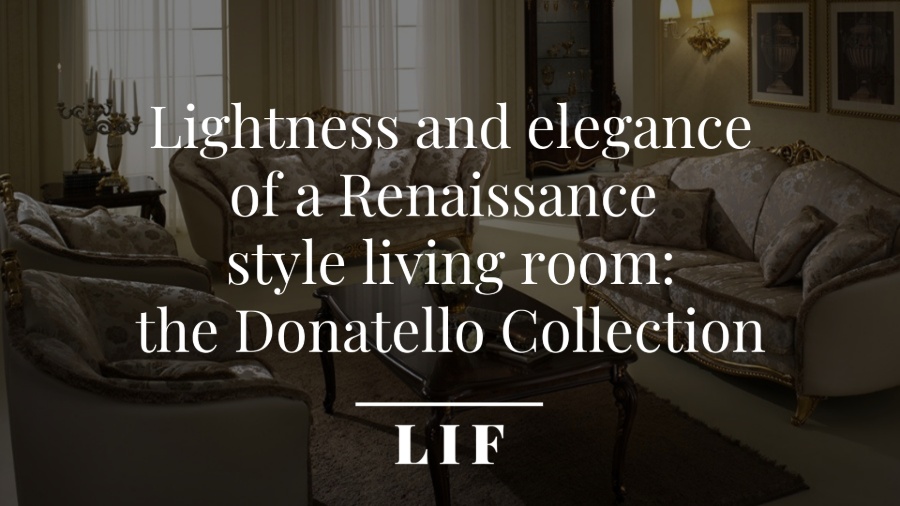 Lightness and elegance of a Renaissance style living room: 6 steps to create the perfect atmosphere
Here are 6 style steps to follow to recreate the wealthy and sumptuous atmosphere of a Renaissance furniture scene:


Let's delve deeper into each step.

1. Create a customized mood board
Creating a customized mood board will help you outline the final look you want for your Renaissance style living room right from the start.
To perform this first step correctly, keep in mind the typical aesthetics of a Renaissance furniture scene:


Furnishing elements with cymatia, friezes, columns, engravings: small details that characterize Renaissance opulence.

2. Decorate the walls
Walls are the background for the entire furnishing composition: this is why it's essential that you focus on decorating the walls right from the start.
The fanciest rooms reach their maximum artistic expression with neutral or patterned wallpaper with classy motifs, such as arabesques and Moorish motifs with golden hues.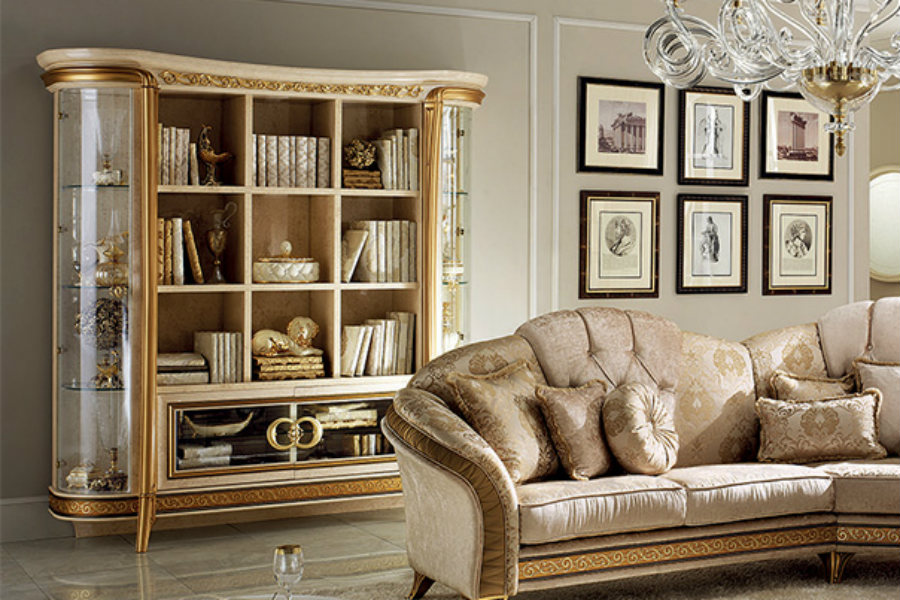 3. Choose the finest fabrics to upholster your sofa, armchairs, chaise longue and footstools
In the third step, you should choose the finest fabrics to upholster your sofa, armchairs, chaise longue and footstools.
Arredoclassic offers a wide range of high quality fabrics to upholster your living room seats, all customisable to meet your requests. Specifically:


4. Choose elaborate coffee tables and bookcases
To obtain a final result that perfectly reflects the Renaissance style in all its beauty, choose elaborate coffee and end tables and bookcases.
These furnishing elements - essential to complete your room - must match the rest of the furniture. For this reason, they should be chosen with great care, by taking into account their details and décors.

5. Choose elegant decorating lighting
In every furnishing context, decorative lighting plays an essential role. This is why you should opt for classy solutions, to enhance your Renaissance style furniture.
For general lighting, choose large ceiling lamps or crystal chandeliers. For accent lighting, choose stained or layered glass wall lamps with golden inserts.

6. Top off the room with furnishing accessories that match the furniture
When furnishing your living room, accessories make all the difference. Complete the scene with fancy accessories placed on tables or cabinet shelves, such as:
Hand-painted chinaware
Vases and decorative plates with elaborate décors
Silverware
Crystal glasses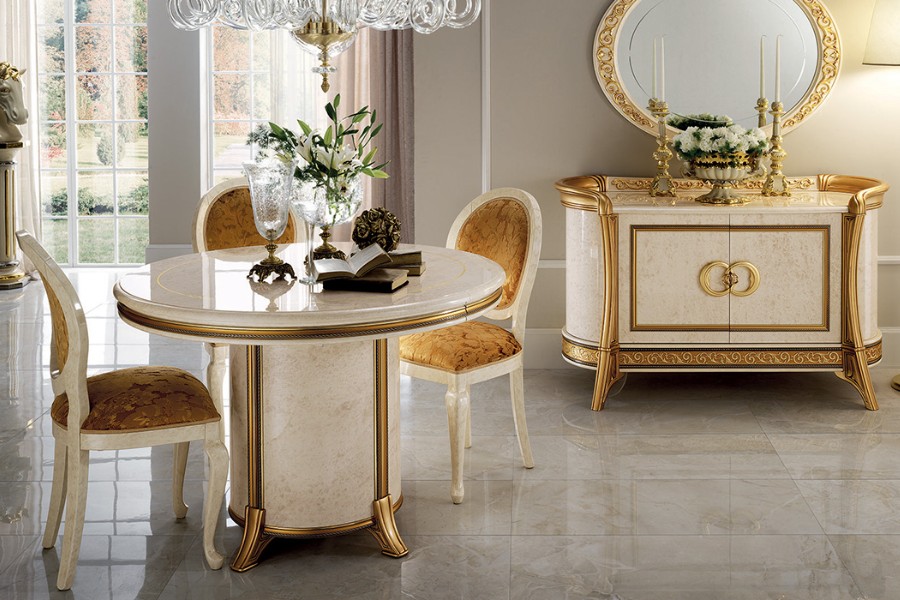 Discover the charm of the Donatello Collection
Now that you know the essential guidelines to tastefully furnish your living area, you just need to choose the Arredoclassic collection that best matches the Renaissance style: the Donatello Collection.
The Donatello living room is fancy, harmonious, elegant and intense, insomuch that the pen that drew it doesn't seem to move away from the paper. A sinuous and classy line permeating the entire collection, with golden ripples of cymatia and friezes on each piece of furniture.
Let's see the items in this collection more closely:

Donatello Sofas: fine finishes and precious décors
Donatello sofas are designed to meet everyone's taste and needs. The golden cymatium becomes the base note over which many different fabrics are blended: choose between Arredoclassic's brocade, leather and damask to customise your relaxing area.
The golden cymatia and the carved frame divide the space in an elegant and sober way. The fine finishing – customisable to your taste – completes the Donatello collection's wealth of details.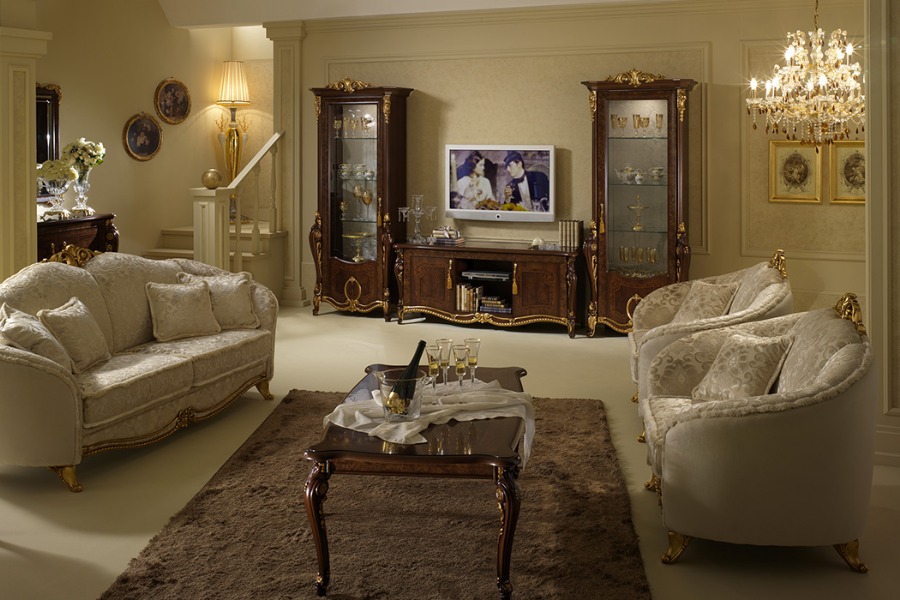 Palace Footstool: an elegant yet comfortable seat
The Donatello Footstool is an extremely fine and versatile piece of furniture that stands out for its elliptical shape and for the many customization possibilities: from fabrics to creasing and details, all according to your taste.

The fine sinuous profile of the Vittoria and Venere chaise longue
This collection features two chaise longue models: Vittoria and Venere.
On one side, the Vittoria model, with a classic design and dynamic and elegant lines, which will complete your furniture with its intense profile and fine finishes.
On the other side, the Venere chaise longue, with its unmistakeable allure, balanced between comfort and clean shapes that close in a soft hug. This model features a compact structure, livened by elegant finishes that can be customised in many different ways, in the name of luxury and timeless beauty.

Functionality and classic aesthetics: the Donatello TV cabinet
The Donatello TV cabinet is the perfect combination of elegance, fine décors and wealth of detail: all features that perfectly blend with the function and storage needs of a TV cabinet.

Coffee and end tables: furniture with a classy finish
In the details of our coffee and end tables you can see the craftsmanship and ability of our fine artisans. Every spiral, engraving and golden application has been obtained with patient and mastery, to preserve the overall quality of this collection.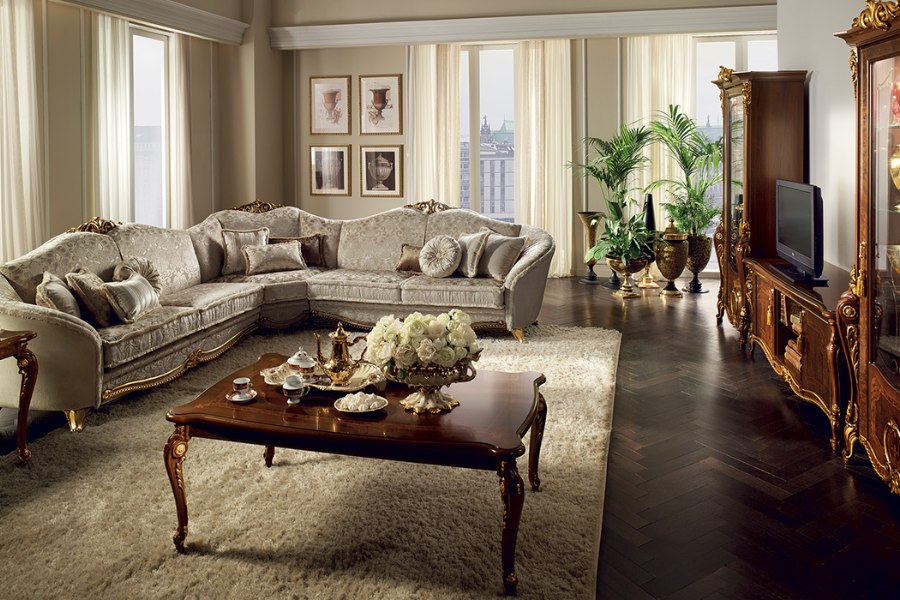 How to achieve the lightness and the elegance of a Renaissance style living room
In this article, we showed you how to furnish your Renaissance style living room in a few easy steps.
We also saw the Donatello collection - one of Arredoclassic collections that best meets the Renaissance style aesthetics - in detail.
Now, it's your turn to create an extraordinary living atmosphere, where light and elegance are perfectly balanced out, to enjoy an exclusive and luxury experience, every time.