Are you redesigning your living room and looking to recreate an elegant space? Why not take a look at our countless classic furniture options?
From imperial to neoclassical style, classic furnishings are guaranteed to create a living room with a luxurious and elegant feel.
In this article, we focus on how to furnish your living room with Renaissance furniture to give it that wow factor.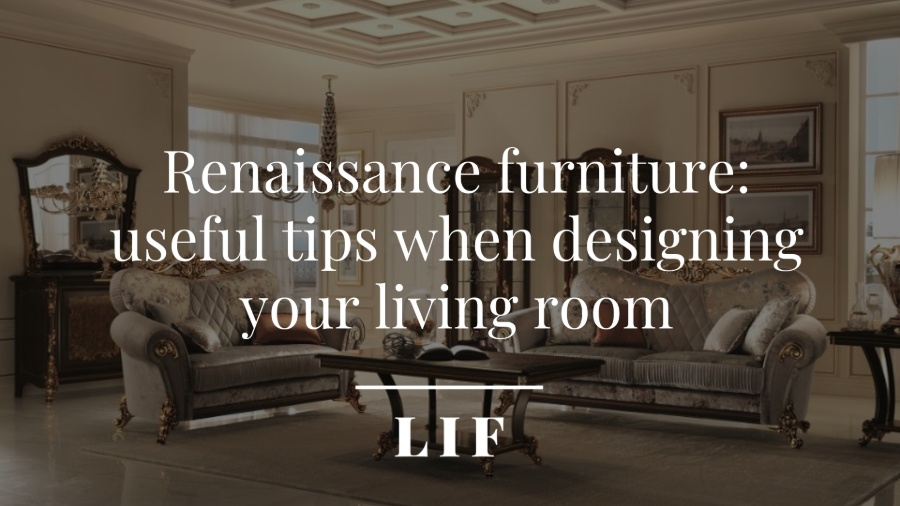 How to give your living room the wow factor with Renaissance furniture
If you're looking to create a lavish, opulent atmosphere characterised by Renaissance furniture, there are a few important steps to follow.
We've come up with six style tips to help you create your dream Renaissance living room:


Let's focus on each individual point.

1. Create a mood board
In order to get off to the right start when designing your living room, it's a good idea to create a personalised mood board. Mood boards are a very useful tool, both for you and for your interior designer, if you choose to collaborate with one.
A mood board is essentially a collage of ideas – a conceptual map consisting of words, drawings and images that depict colours, finishes and items of furniture. In short, it consists of visual inspirations for your interior design project.
By creating a mood board, you will immediately be able to establish the Renaissance-style look you want to create in your living room.
In this first key stage, it is essential to keep a few typical Renaissance features in mind, such as:


The colour palette

Usually, Renaissance-style furnishings are fairly rich in colour, with a tonal balance that combines golden hues with warm, walnut tones. Choosing the right colour scheme at the beginning of your project is essential.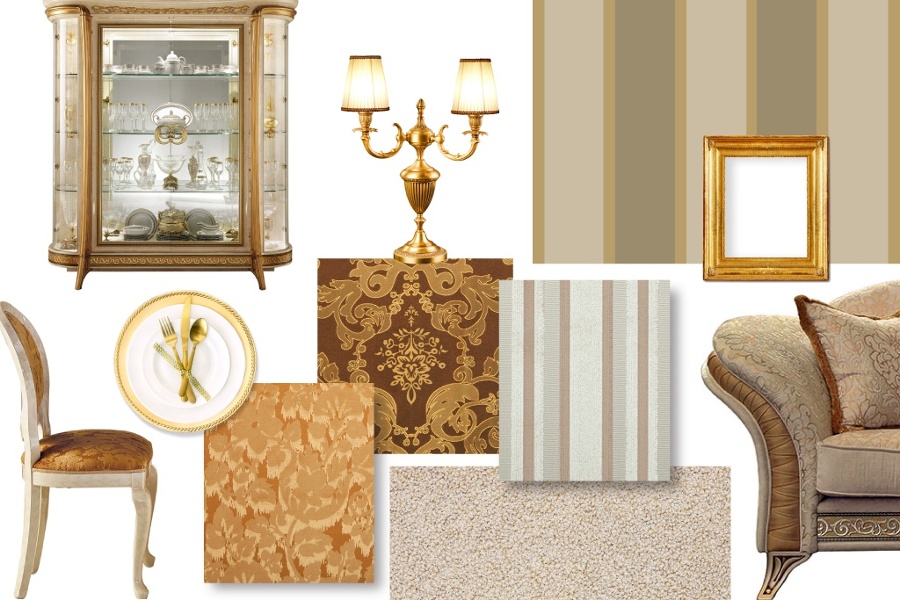 2. Decorate the walls
Walls help to frame the entire composition. That's why it's very important to choose the right wallpaper from the get-go, as well as any patterns that might complement the space.
We recommend choosing neutral colours or, if you want to be bit more daring with elegant patterns, arabesques or Moorish decorations with golden tones that contrast with the background but complement the overall colour scheme you've chosen for the space.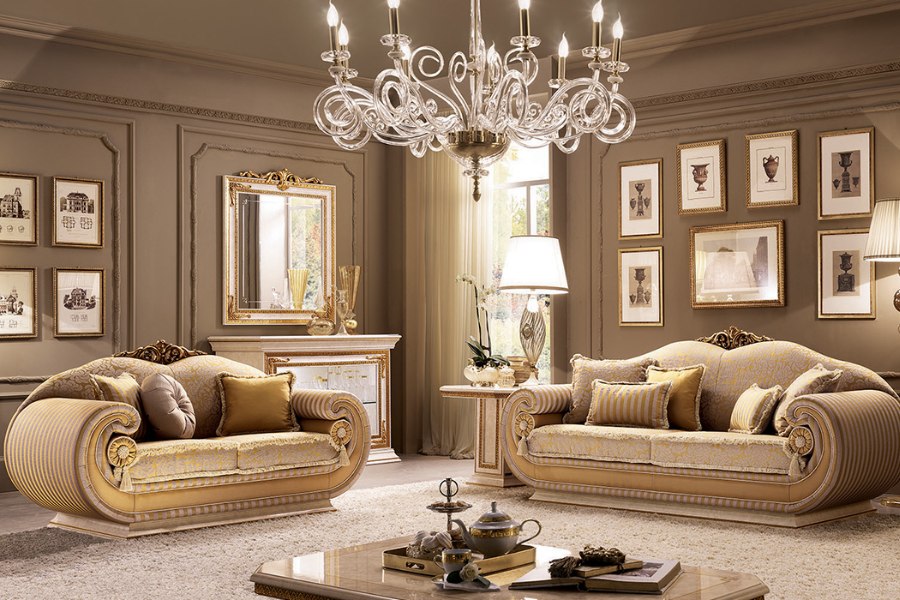 3. Upholster sofas, armchairs and ottomans in quality fabrics
The selection of fabrics you choose to upholster your sofas, armchairs and poufs is vital. The consistency of fine fabrics and the seductive appeal of precious golden embroidery will make your living room really stand out.
Arredoclassic offers a wide selection of high-quality fabrics to upholster living room furniture, all of which can be personalised depending on your needs. The best fabrics for a Renaissance-inspired space include:
Velvet
Lampas
Wool
Linen
Cotton
Satin
Brocade
Damascus
These fabrics are also suitable for upholstering a sophisticated chaise longue, which is guaranteed to provide great comfort and elegance to your living room.

4. Opt for coffee tables and display cases with elaborate decorative details
Renaissance-style items of furniture such as coffee tables and display cases should be adorned with elaborate decorative details, including columns, cornices, friezes and cymas.
These are essential accessories for any living room space as they provide a sense stylistic continuity with the rest of the room.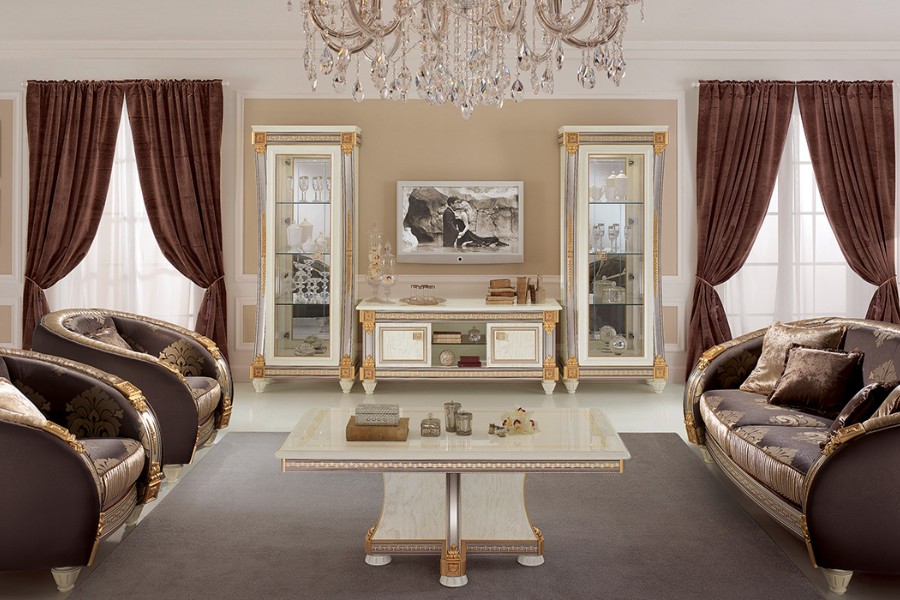 5. Pay attention to decorative lighting
Decorative lighting in a Renaissance-style living room should be romantic and warm. To obtain an impeccable final result, we recommend choosing large or majestic crystal chandeliers.
If you want to add some accent lighting or introduce a few focal points to your living room, opt for appliqué designs with frosted or layered glass and gold inserts.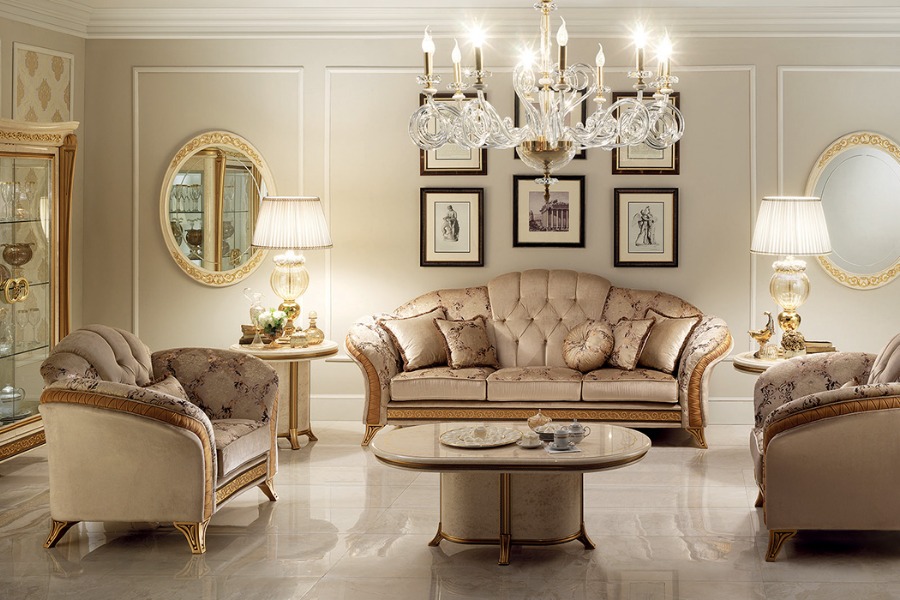 6. Complete the space with decorative objects and accessories
To give a sense of completeness to the space, place valuable collector's items or handcrafted ornaments on tables and in display cases, such as:


Porcelain or hand-decorated ceramics;


Vases and dishes with elaborate decorations;


Silver serving dishes;


Crystal glasses.


Renaissance furniture: luxurious elegance for your living room
Renaissance style has a timeless, opulent and rich quality to it, perfectly encapsulating the beauty and elegance that has always distinguished Italian design.
Follow our recommendations and you are guaranteed to create a space with great aesthetic appeal, perfectly inspired by the Renaissance period.