Dating back between 1400 and 1550, the Renaissance was a period of revival that marked profound changes in every sphere of life - socio-political, cultural, philosophical, artistic, architectural - after the obscurantism of the Middle Ages.
We might call it an age of abundance and 'light', especially if we contrast it with the medieval darkness. However, the Renaissance is much more than that. There is a close correlation between Renaissance and Humanism: the latter is the dominant culture of Renaissance civilisation, with man becoming the centre of the world, in contrast to the centrality of religions and gods in previous eras.
Interior design also benefited from that period of renewal and cultural ferment, giving rise to a style with timeless appeal, so much so that it is still one of the best-loved in today's classical interpretations.
In what, and how much, has the way of furnishing changed compared to today?
How do you furnish a Renaissance-style living room today?
Between iconic elements, typical nuances and old-fashioned details, in this article you will find interesting ideas to inspire you.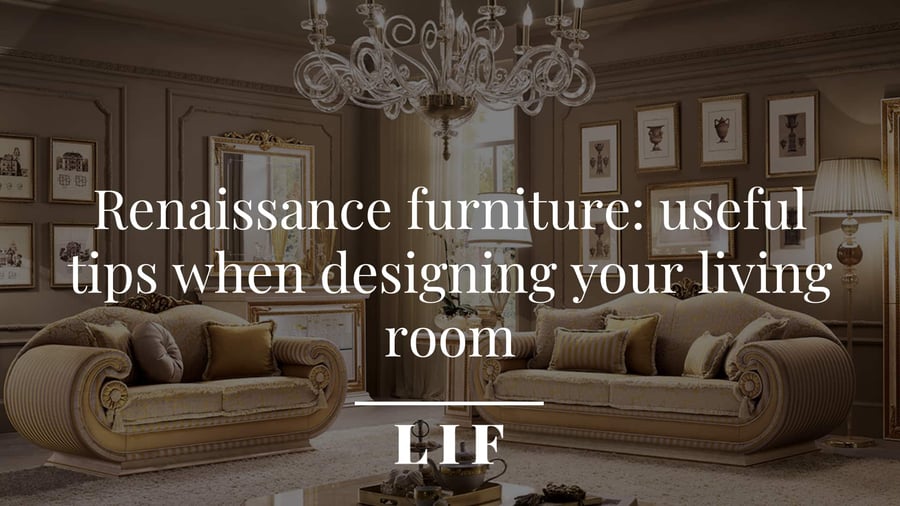 What is the Renaissance style?
At the heart of the Renaissance style, there was, and still is, a consistent interest in ancient classical tradition, particularly Greek and Roman.
The basic principle of this style is symmetry of composition. All interior elements are arranged in an orderly and elegant manner, respecting visual harmony and stylistic, architectural and chromatic balance.
The most commonly used material, at least initially, was wood, which was joined over time by various decorative techniques, such as graffiti, marquetry and carving, and other materials, including MDF and lacquered wood.
The strictly square volumes began to be adorned with cornices, mouldings, beading, pilasters, capitals, lozenges, paws and lion heads, often in ivory or mother-of-pearl - elements and motifs typical of classical tradition.
Today's Renaissance-style houses are also characterised by large volumes and imposing furniture, both in size and style: the best raw materials, the most luxurious decorations, and the finest fabrics are selected.
The living room and the dining room are the focus of furnishing projects, as they are conceived as places of representation in which to show off wealth and elegance.
Characteristics of the modern Renaissance style
Today's Renaissance-style living rooms are spacious and bright, with little but finely decorated furniture.
The style, as already noted, favours refinement and order. It is therefore important to pay attention to symmetry and proportions, placing furniture of similar shapes and volumes side by side to form a 'geometric' composition.
It is not uncommon, even today, to find walls decorated with frescoes and with marble, natural stone or sandstone, carved panels of fine wood, velvet and brocade.
In living rooms with high ceilings we can still find elements reminiscent of the solemnity of the classical era: vaulted and coffered ceilings, and other decorative elements typical of the Renaissance period, such as stuccoes and Greek fretwork.
A luxurious aura also for the floors: marble, natural stone and wood are among the iconic materials of the Renaissance style, both in the connotation of the origins and in modern interpretations.
How to create an elegant living room with Renaissance furniture
To create a sophisticated and cosy atmosphere in a Renaissance-designed living room, you have to keep a few stylistic 'rules' in mind.
Let's see them.
Create a moodboard
In order to get off to the right start when designing your living room, it's a good idea to create a personalised moodboard. Moodboards are a very useful tool, both for you and for your Interior Designer, if you choose to collaborate with one.
A moodboard is essentially a collage of ideas - a conceptual map consisting of words, drawings and images that depict colours, finishes and pieces of furniture. In short, it consists of visual inspirations for your Interior Design project.
By creating a moodboard, you will immediately be able to establish the Renaissance-style look you want to create in your living room.
In this first key stage, it is essential to keep a few typical Renaissance features in mind, such as:
The colour palette
Renaissance-style furniture tends to be characterised by a tonal balance based on two nuances, with a preference for the combination of warm wood tones and gold hues, plus a third colour used for walls and some accessories.
The third colour, which may tend towards a warm neutral tone (such as beige) rather than a cold neutral one, such as dove grey and greyscale, has a double task: it emphasises the colour contrasts and the sumptuous atmosphere typical of the Renaissance mood, and balances the overall view in order to instil a feeling of order and visual cleanliness.
For a Renaissance-style living room with a more contemporary feel, you could focus on the combination of furniture and upholstery in glossy surfaces in light, bright colours such as ivory, white and mother-of-pearl, and deep, saturated colours for accessories, objects and textiles.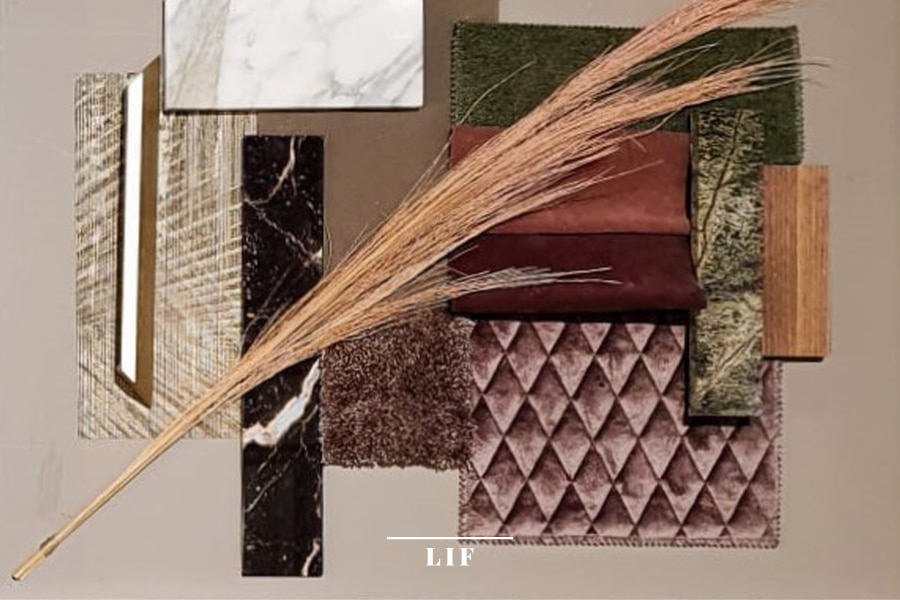 Decorative details on furniture
In order to enhance the characteristics and refinement of Renaissance-style furniture, it is necessary to focus on the decorative details: selvedges, friezes, columns and carvings are elements that contribute to emphasising the charm of this furnishing trend.
Gilding, in particular, is the stylistic feature that makes furniture and decorative elements in the classical Renaissance style unmistakable. In the past, gilded decorative friezes were representative of a high or even noble social class.
Even today, gold leaf finishes are a symbol of luxury and wealth. And not only that. Gold colour is also very versatile (it can easily be combined with almost any shade) and serves to enhance the colour scheme and opulence of the furniture design.
Decorate the walls
Walls help to frame the entire composition. That's why it's very important to choose the right wallpaper from the get-go, as well as any patterns that might complement the space.
We recommend choosing neutral colours or, if you want to be bit more daring with elegant patterns, arabesques or Moorish decorations with golden tones that contrast with the background but complement the overall colour scheme you've chosen for the space.
Walls can also be enriched in other ways. For instance, through rustication with cornices, as in the Modiglian living room, or 'moulded' by creating niches in which to display works of art and small sculptures, or columns, pillars and architraves to give the room an even more sumptuous touch.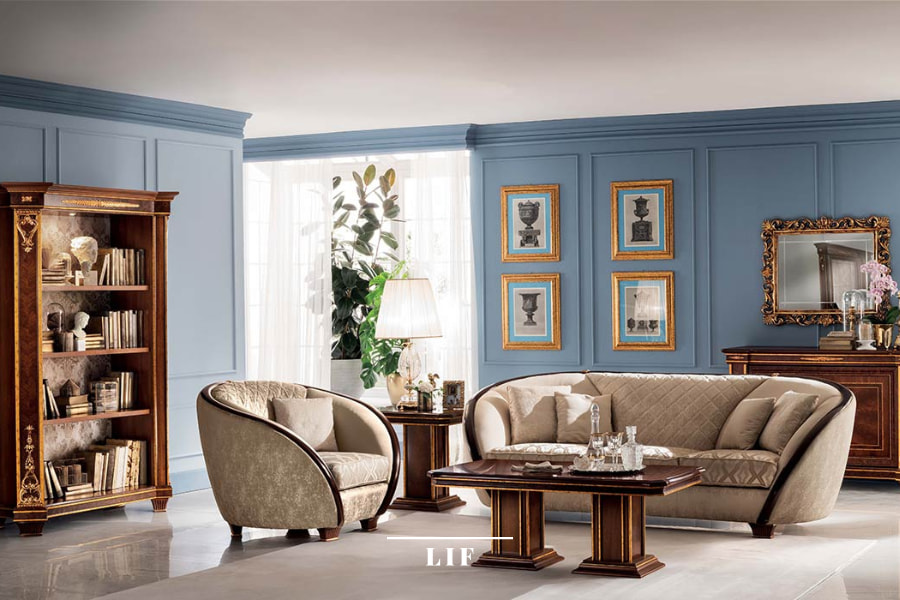 Upholster sofas, armchairs and ottomans in quality fabrics
The selection of fabrics you choose to upholster your sofas, armchairs and footrests is vital. The consistency of fine fabrics and the seductive appeal of precious golden embroidery will make your living room really stand out.
Arredoclassic offers a wide selection of high-quality fabrics to upholster living room furniture, all of which can be personalised depending on your needs. The best fabrics for a Renaissance-inspired space include:
Velvet
Lampas
Wool
Linen
Cotton
Satin
Brocade
Damascus
These fabrics are also suitable for upholstering a sophisticated chaise longue, which is guaranteed to provide great comfort and elegance to your living room.
Fabrics with elegant embroideries are also successfully used in bedrooms, for curtains, bedspreads and decorative cushions.
Opt for coffee tables and display cases with elaborate decorative details
Renaissance-style furniture such as coffee tables and display cases should be adorned with elaborate decorative details, including columns, cornices, friezes and cymas.
These are essential accessories for any living room space, as they provide a sense of stylistic continuity with the rest of the room.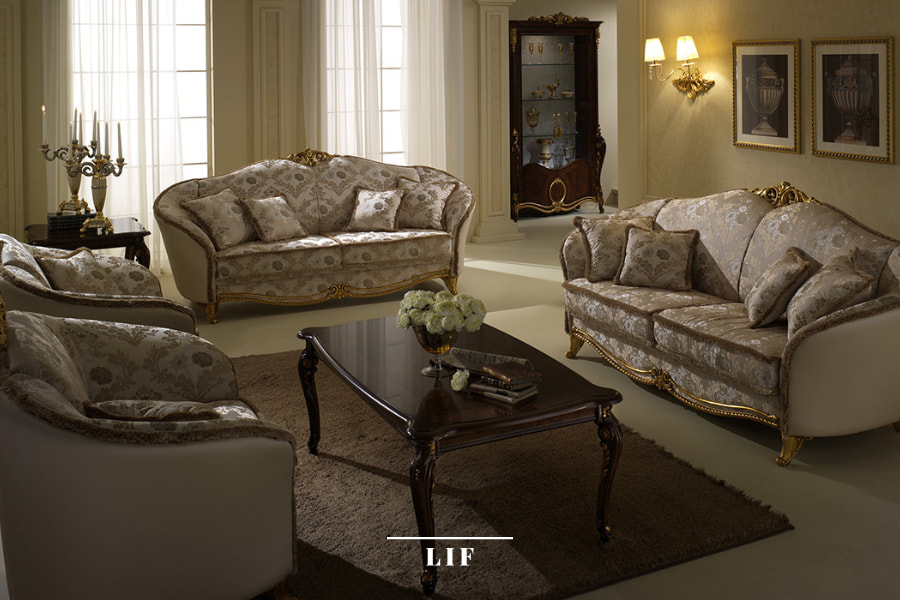 Pay attention to decorative lighting
In Renaissance-style rooms, it is natural light that prevails, through the presence of numerous large windows.
No less important is the design of a lighting system that can create diverse and well-distributed points of light in the room.
Decorative lighting in a Renaissance-style living room should be romantic and warm. To obtain an impeccable final result, we recommend choosing large or majestic crystal chandeliers.
If you want to add some accent lighting or introduce a few focal points to your living room, opt for appliqué designs with frosted or layered glass and gold inserts.
Complete the space with decorative objects and accessories
To give a sense of completeness to the space, place valuable collector's items or handcrafted ornaments on tables and in display cases, such as:
Porcelain or hand-decorated ceramics
Vases and dishes with elaborate decorations
Silver serving dishes
Crystal glasses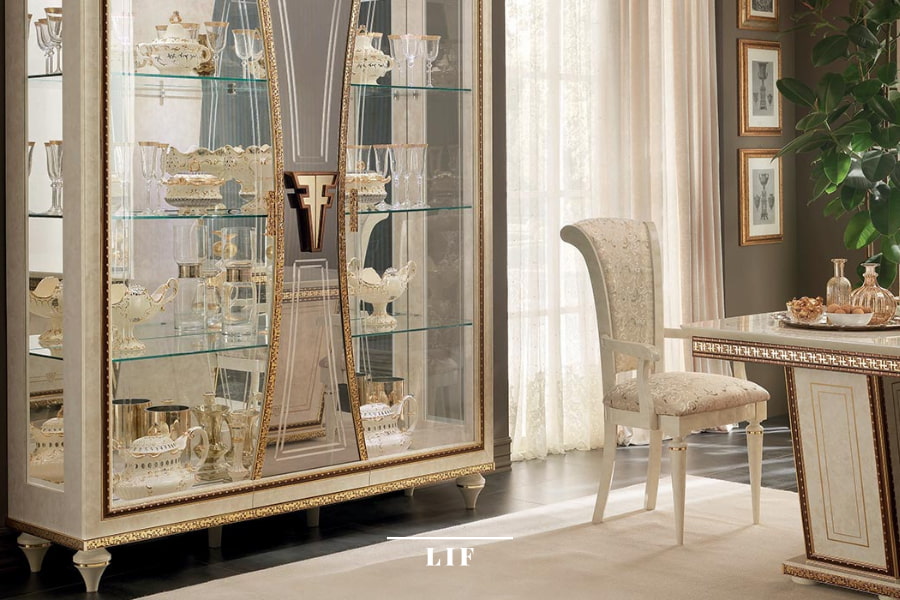 Arredoclassic Renaissance furniture: elegance and luxury for your living room
The transition from the Medieval to the Renaissance era saw a shift in the concept of furniture: from simple, functional and unadorned, furniture became majestic, elaborate and richly decorated.
Fine Renaissance-style furniture is not only an example of craftsmanship, but also an icon of style and timeless elegance.
Various pieces of furniture have become symbols of this classic style over the course of time, right up to the present day: from sideboards to wardrobes, from chests of drawers to chairs upholstered with precious fabrics, such as velvets and damask fabrics, as well as sumptuous coffee tables and the soft design of sofas, chaises longues and armchairs.
Renaissance-style dining tables are large, almost monumental, characterised by carved supports, large side legs with stylised friezes, also applied to the circular or rectangular top, and outwardly curved feet.
Arredoclassic offers classic and classic-Renaissance style collections that faithfully interpret the stylistic dictates of the origins, but without forgetting to update them to the new way of living and conceiving living spaces.
The Renaissance style possesses inestimable value, uncompromising quality and beauty that synthesises the elegance and refinement that have always distinguished the great furniture-making tradition and Made in Italy design.
The furniture in Arredoclassic collections is decorated with three-dimensional carvings and inlays that only emphasise the grandeur of Renaissance-style interiors.
The starring furniture is surrounded by a corollary of elements that seal the richness and uniqueness of this style - precious tapestries, brocades, wall decorations, wooden wall panelling, stuccoes, gilding, refined complements and accessories and small details that contribute to the charm of a style that will never be marred by the passage of time.
Are you looking for an elegant and exclusive design for your interiors?