When it comes to interior design, we need to stay ahead of the game. Architects, interior designers and companies are always on track, monitoring new trends.
The latest innovations inspired a more tasteful style also in the furnishing field, making customers more demanding and curious.
It is always fascinating to see how a form of art - such as interior design - evolves and inspires new trends.
We are just a few months away from 2020, and we want to know what will be the interior design and furniture trends for the new year.
In this article, we'll talk about the main living room trends for 2020.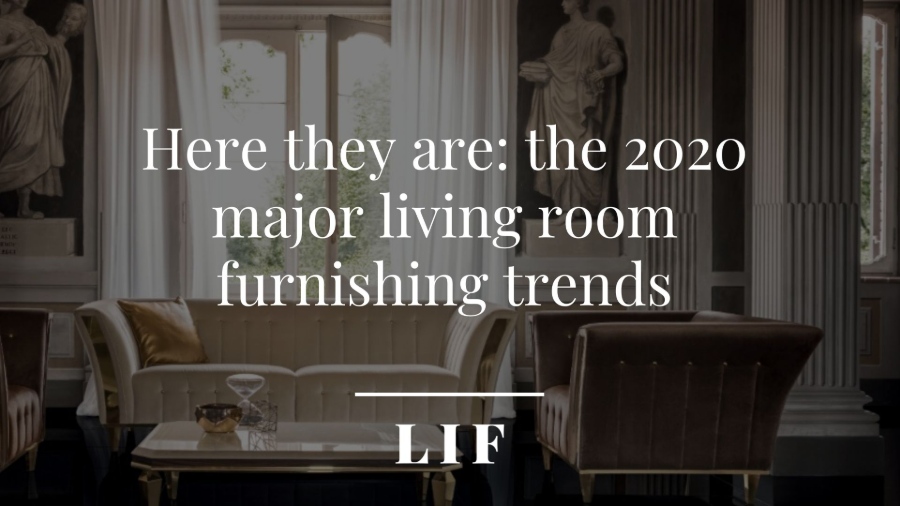 Living room: the focus of your home
Before focusing on the main living room trends for the near future, we'd like to underline how important this room is when furnishing your home.
Your living room is your home's visiting card. Is the first place where you welcome your guests, where you offer a drink before dinner, or where you spend the last part of the evening chatting comfortably sitting on the couch.
Is the room where you relax in the evening or where you silently read on weekends. The couch is the main element of this welcoming and central environment. The couch is paired with other furniture, such as a bookcase or a coffee table. Everything is designed to make this room comfortable and calm.
Living room furniture and decorations must take into account its welcoming and relaxing function.
Whether you are an interior designer or the owner of a wonderful luxury home, we suggest you consider this factor, before restyling your living room with the new 2020 trends.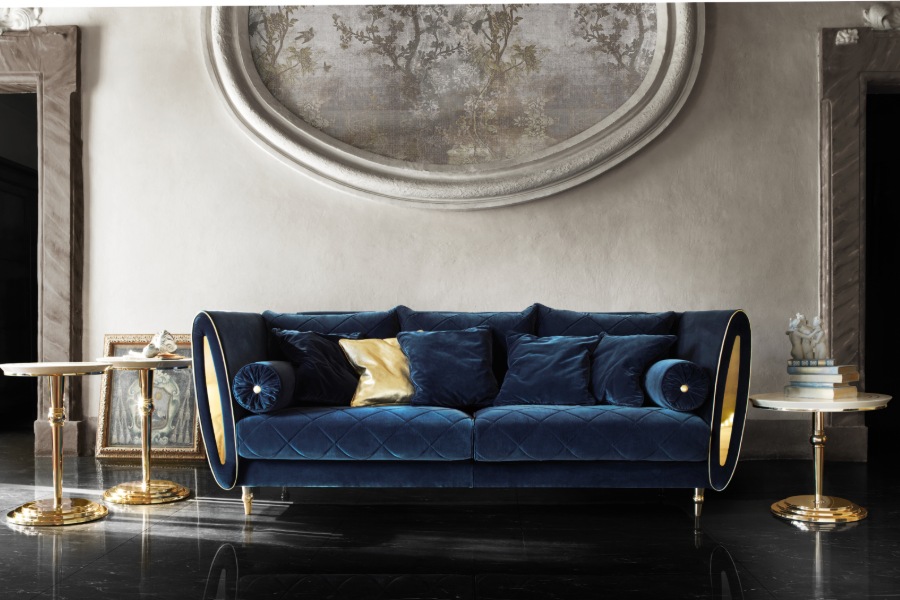 Fabrics: renovating your curtains and carpets
Concerning fabrics, 2020 brings new colours and patterns. Carpets are a very important furnishing element in your living room. They warm up the environment and add a personal touch. If you want to renovate your living room, why don't you start from the carpets or other fabrics, such as curtains or cushions?
Your living area will be brightened by a new look in line with 2020 styles. Let's see them in detail.

1. Warm hues
Warm hues will be the protagonist of next year's furnishing fabrics. Dark red for carpets or night blue for curtains: the result is an intimate and welcoming atmosphere. You can also choose to upholster your cushions with warm or dark hues matching the rest of the fabrics.

2. Patterns
Make room for patterns in 2020! Whether they are geometrical or fantasy patterns, the important thing is to prefer mixed drawings and colours, rather than solid colours, especially when it comes to carpets.

Materials: natural and pure
In 2020 furnishing trends, raw and natural materials will be all the rage. Materials such as wood, marble or natural stone are a must have for the new year.
Despite, at first glance, the living room is dominated by flowing curtain fabrics and soft couches, this room is perfect to add a few harder materials, like the ones mentioned above.
It doesn't matter how you want to use raw materials in your living room. Just add a coffee table with a natural wood surface to give character and style to your environment. You can create multiple atmospheres. You can pair luxury items with seemingly raw ones: the visual impact will be great!
The mix of styles created by pairing different materials creates classy and stylish rooms.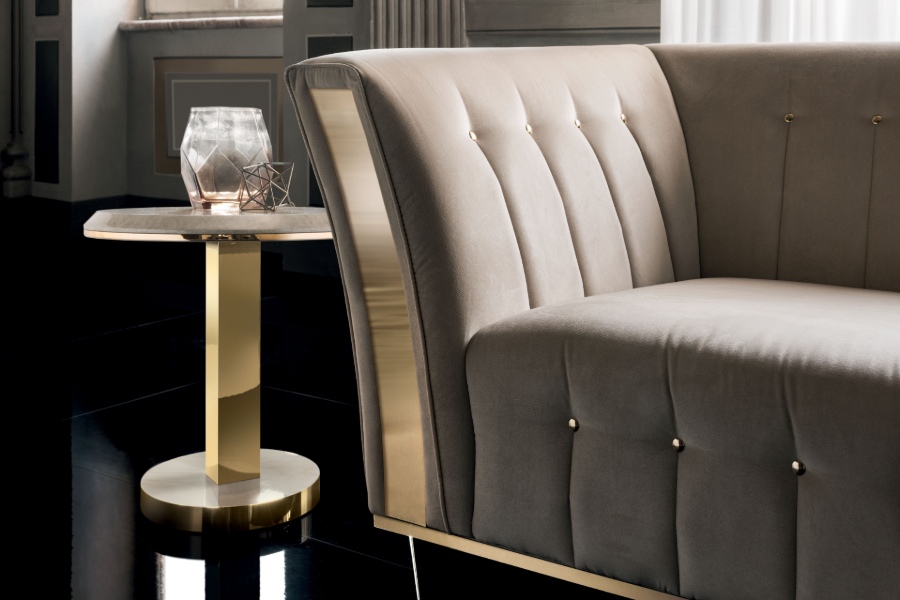 Lighting: ceiling lamps are a must
Ceiling lamps couldn't be missing in 2020 living room trends. Lighting is an integral part of interior design. If you are designing your living room interior and you want to be in tune with the new styles, choose a ceiling lamp as central light fixture of your room.
Industrial or vintage, the ceiling lamp is always a classy and central element in your living room. It makes the room seem more important and precious.
2020 ceiling lamps are flashy, versatile and with different styles and materials. Although ceiling lamps were already the stars of your living room the past years, this year they will spread in other rooms, like bathroom and kitchen.
A nice ceiling lamp frames the room and gives it the right accent.

Wall decoration: tropical patterns
Another way to renovate this room so full of suggestions and potential, in line with the new living room interior design trends, is choosing a new wallpaper. If you don't already have a wallpaper, or if you want to add a personal touch to your living room, choose a new wall decoration in line with the new styles.
In order to be ahead of times and choose the right patterns for your living room walls, opt for natural decorations.
Indeed, 2020 interior design will lean toward wild nature, with an abundance of forests and tropical plants.
Give a natural and wild look to your living room, by making this bold choice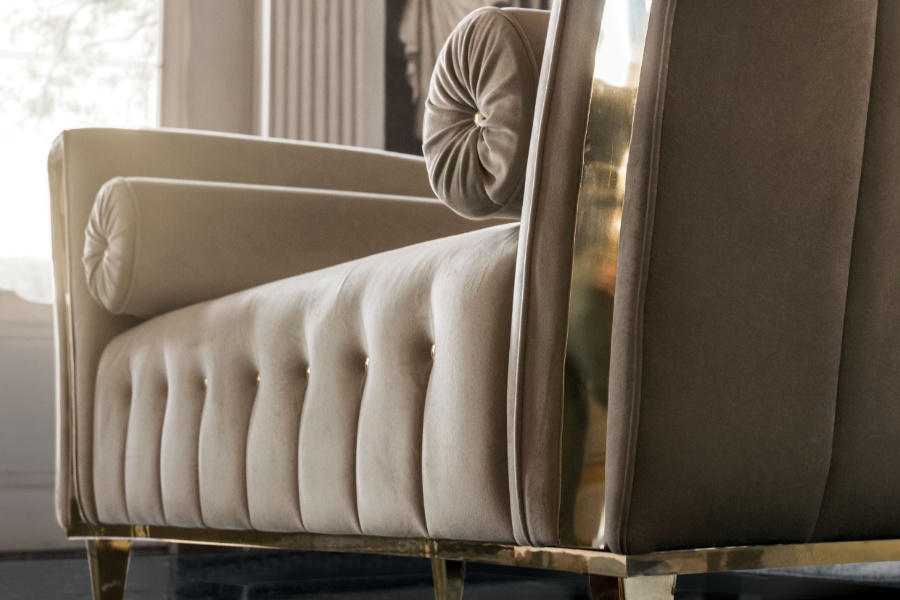 Mirrors: curved lines
Mirrors cannot be lacking in your living room. Mirrors are very classy furnishing elements, and, when they are well placed and balance out the rest of the furniture, they make the room look bigger. Even tiny living rooms can benefit from the right use of mirrors, from a style and size standpoint.
In 2020 interior design, mirrors will be mainly round or oval. Apart from their size and the wall where you will hang the mirror of your choice, remember to opt for curvy lines, rather than squared ones.
This way, you will be in step with the new trends.

Living room trends: contemporary to perfection
These guidelines on the new living room trends will be useful to renovate the most welcoming room in your home, in line with the new styles. Follow our style advice and suggestions to design a living room with the right characteristics and the contemporary mood required by an art, such as interior design.