When you are renovating or designing a space such as your dining room, the first important choice to make is the table. You must choose your dining room table carefully.
Tables are the focus of a dining room. They draw our attention and drive our first impression of the room. All the other furnishing elements of this room revolve around the table.
We often think having a favourite style in mind is enough to make a good decision. Whether modern, classic or contemporary, setting a style is not sufficient to find the best table for you.
You also need to take other parameters into consideration.
If you are looking for the right table for your dining room, read this article and analyse the suggestions made. You'll be sure to make the right choice, in line with your dining room style.
In this article, we will explore the following topics:

Let us look at each point together.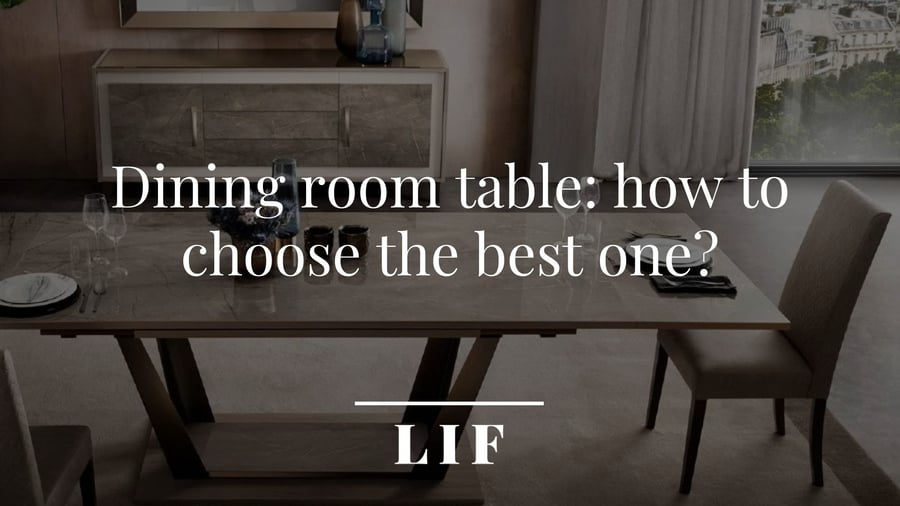 Relationship with the surrounding space
The first factor to keep into account when choosing a table is its relationship with the surrounding environment in terms of space.
You'll realize at a glance that the table takes up a good chunk of the room you are designing. As we stated above, tables are the primary element in a dining room. Therefore, they must dominate the room also in terms of footprint.
Its central position in the middle of the room will make it the undisputed protagonist. At the same time, though, our table cannot take up too much space, because it would make it too cumbersome.
When furnishing a room, always balance out each element. Make sure you leave the right quantity of empty space between the end of the table and the surrounding walls.
Do not overdo it with too many elements. Other than for practicality and comfort, the empty space is also needed to make the piece of furniture you chose stand out.


Large or small table?
Before deciding your table's colour, style or shape, get a sense of its size first. As stated above, measurements and proportions are essential criteria to take into account when designing a room.
If you have a big room, you must choose your furniture accordingly. The same applies if your dining room is smaller.
When it comes to the table size, we suggest you get it slightly bigger than the one you had in mind.
While it is true that a slightly bigger table can be perceived as bulky in a small room, it is far worse to have a large room with a table that is too small. If you chose a table that is too small compared to the surrounding environment, it will lose its importance and central position compared to the rest of the room.
A small table in a large room can give a sense of bewilderment when experiencing the space, and it may lessen the importance and care you put in choosing each single furnishing item.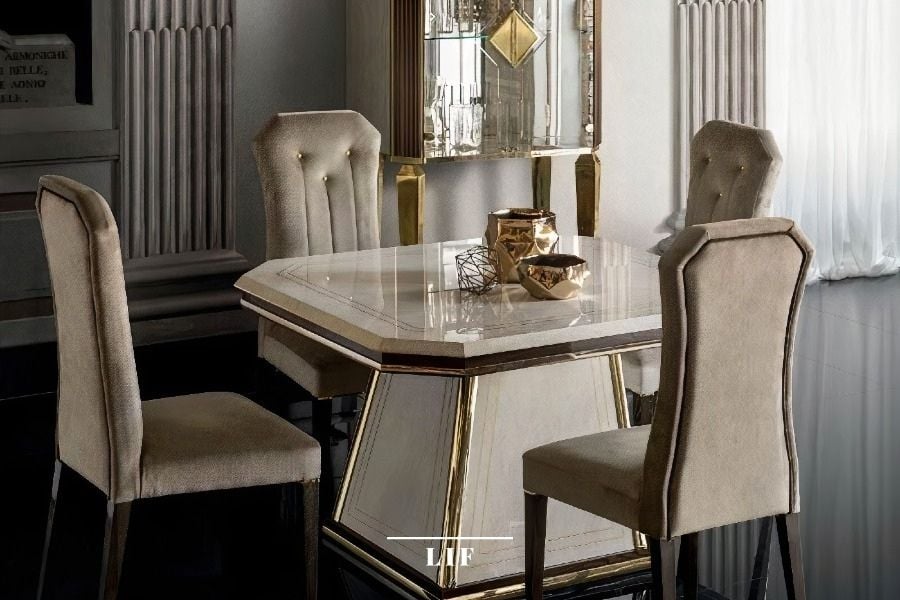 Dining room table: what is the best shape?
Let's dig into the heart of the matter. The most common question when it comes to buying a dining room table is: should I opt for a round/oval table or a square/rectangular one?
Many people think it's just a matter of personal taste. Actually, in this case too, there are many other factors to keep in mind when making this choice.
Here is three of them.


1. The room size
The first criteria to decide whether to get a round or square table, is how big your room is.
If you have a big and long room, choose a rectangular table. Place it consistently with the walls length, so that its size is proportionate with the room's.
If your dining room is more on the small side, we suggest you opt for a round table. Apart from a better visual impact, round dining tables allow an easier transit in the room, since they have no edges or sides.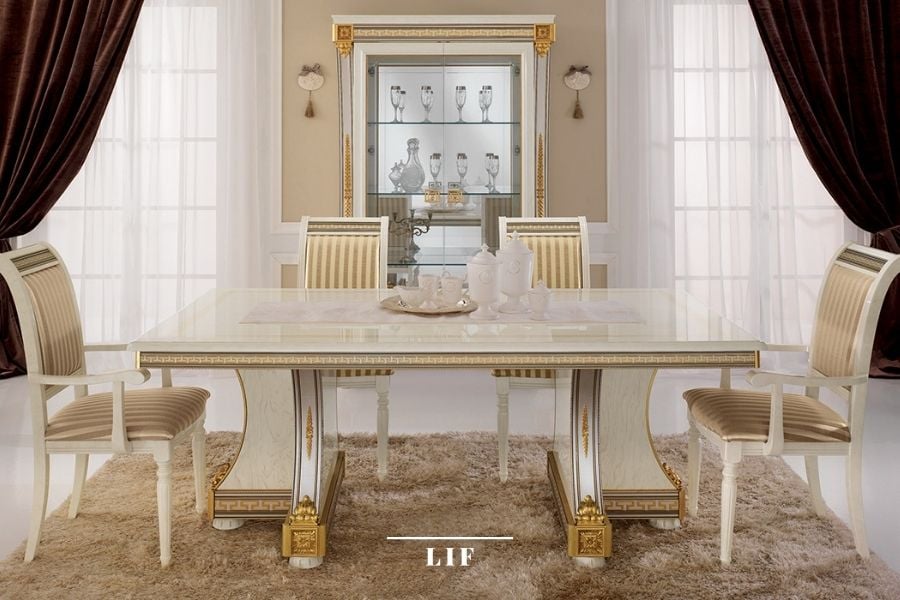 2. The room layout
Then, take into account also your dining room layout. If it has a long shape, then choose a rectangular table. It will become the focus of the room, making it more harmonious.
If the room has a square layout, you can opt for a round table. Be sure to place it right in the middle of the square. It will make the room balanced and elegant.
3. Practicality
The last - but not least - factor to keep in mind is practicality. A dining table will be the cornerstone of your day-to-day and special lunches and dinners.
If you have a fast paced lifestyle and you often dine outside your home, your table practicality will be just the icing on the cake, and it will affect your choice much less than your personal taste or the room's style.
In this case, the table shape will solely be based on style, rather than on the fact that you will use it to invite your guests to dinner.
For instance, if you love square shapes, a square table - or a rectangular one, depending on your dining room length - will do the trick.
If you, on the other hand, live your home first hand, in each and every corner, like a place to love and showcase to your guests, things are quite different. In this case, you'll need to take into account also the table's practical aspects.
To this end, remember that a round table can generally sit more people and it could be useful, if you often entertain a lot of guests, and if you have enough space available.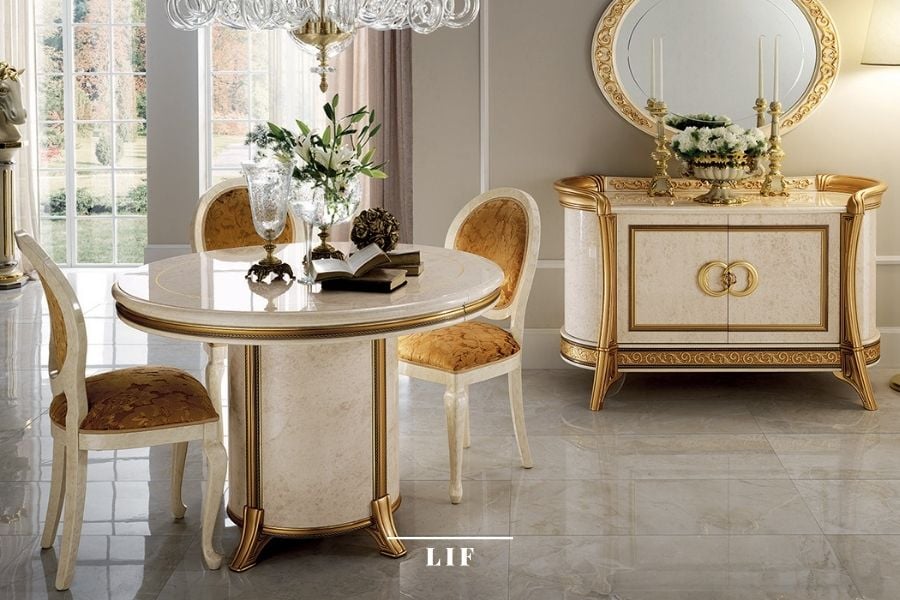 Choosing the style
Now, you can finally focus on the most exciting part of interior design: choosing the style.
After pointing out that style is strictly related to the designer and home-owner's personal taste, you should also reckon that interior design has its own rules. Like any other art, interior design is constantly evolving.
When deciding the table for your dining room, let yourself be inspired by new trends. For instance, opting for a contemporary table is an excellent way to stay ahead of current trends.
Generally, contemporary style features simple profiles and attention to design. A table with these characteristics will surely draw your guests' attention, giving a touch of style and avant-garde to your dining room.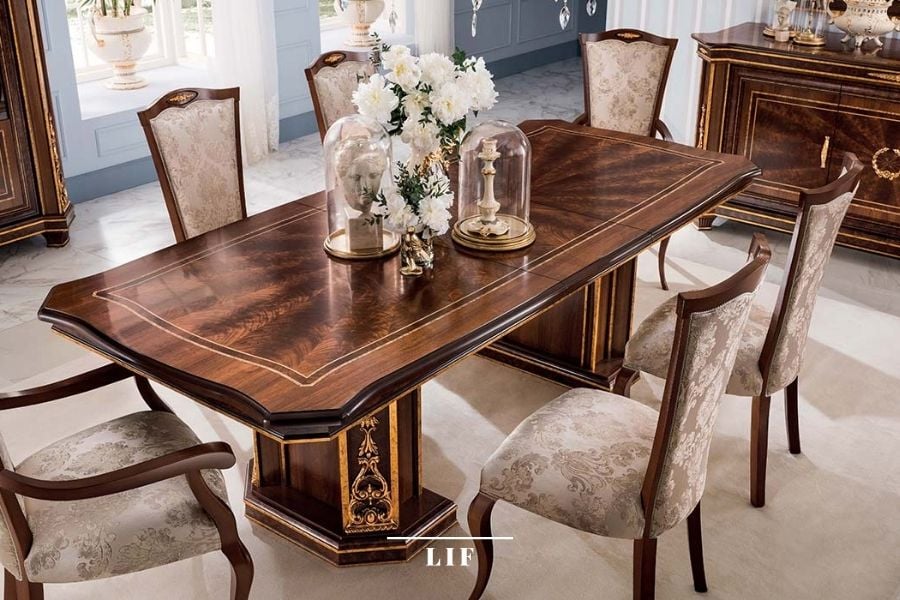 Do not forget the harmony of the ensemble
Your dining room is the place where you welcome your guests. The dining table is the cornerstone of this intimate and convivial environment.
When choosing your dining table, take into account the advice we gave you in this short guide, without forgetting the style you love. If you chose an elegant and polished style for your home, the dining table too should be inspired by this style.
Whether it is contemporary or classic, your interior design should be an harmonious pattern of choices. And the new table will fit in perfectly.
While remaining the star of the scene, it will fit in well with the other furniture in your dining room.


Are you finally ready to create the perfect dining room for you?