Discover living room interior design trends 2024. From bold colors to curvy shapes, explore what's new to make the living room a jewel of contemporary elegance.
In 2024, when designing the layout of the contemporary living room, we will still be bound by the concepts of openness and sharing, but with some fundamental changes. It is increasingly important to carve out corners of privacy in our homes in which to work or study.
So, living room trends for 2024 will be poised between two requirements: on the one hand, fluid and communicating environments, and on the other, the need to create micro-divisions to multiply the spaces and make them flexible, multifunctional, and adaptable as needed.
Let's see what is the style for a living room for 2024, with a focus on contemporary layout.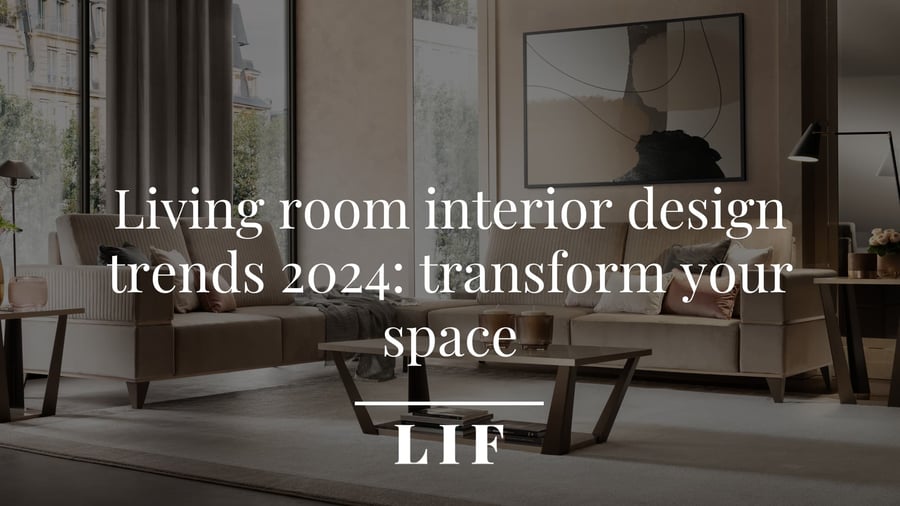 Living room interior design trends 2024: focus on contemporary style
If you like contemporary atmospheres, you will certainly want to know what the living room interior design trends for 2024 are.
In an increasingly hectic society, living quarters and other residential spaces have had to adapt to the key concepts of contemporary living room furniture: multifunctionality and flexibility.
Top contemporary furniture companies, such as Adora, offer versatile furnishings that combine luxury, value and Made in Italy design solutions, with the need for multifunctionality and flexibility that will drive interior design in 2024.
In a contemporary living room, multifunctionality translates into the introduction of "interchangeable" elements, such as the console table from Adora's Luce collection, a wild card piece of furniture that can serve as a convenient and elegant countertop in the living room, and/or a desk or dressing table cabinet in the bedroom.
Flexibility is also essential in contemporary environments. Sectional cabinets, integrated drawers, TV sets and modular furniture allow different needs to be modulated according to the space available.
Another trend for 2024 is the use of lightweight yet durable materials, such as glass, which promotes greater permeability of natural light, giving spaces an open and bright atmosphere.
The most popular configurations in 2024 will be precisely those that reward the two key aspects - flexibility and multifunctionality- that we have just seen.
Let's find out!
"Fragmented" layout is one of the latest living room trends
Among the main trends for living room in 2024 there is the so-called 'fragmented' layout.
Basically, when there is a need to divide one large room into several smaller rooms, the space can be split, even with temporary solutions, to create separate areas.
This need - which can be achieved through plasterboard walls or by installing glass doors - is especially felt when living and kitchen coexist in a large open space.
In this configuration, typical of contemporary homes, on the one hand, we have a kind of 'dialogue' between the relaxation area, consisting of sofas and armchairs, and the entertainment area with the TV and bookshelves. On the other, we find the kitchenette and dining area.
The latter, depending on the kitchen layout, can have a practical and easy configuration, with a snack counter and stools, or a more traditional one, with a large dining table which perfectly embodies the diktat of functional interchangeability.
The choice of either layouts in this case must also take into account personal lifestyle choices and needs, as well as living room interior design trends for 2024.
Those who opt for the snack counter solution generally prefer to create an informal, convivial atmosphere in which any time is a good time to eat a quick snack or breakfast on the fly together.
Others, however, prefer a more classical approach. In this case, the dining table becomes the centerpiece of the room. Ideally, choose it in an imposing size and with an attractive design.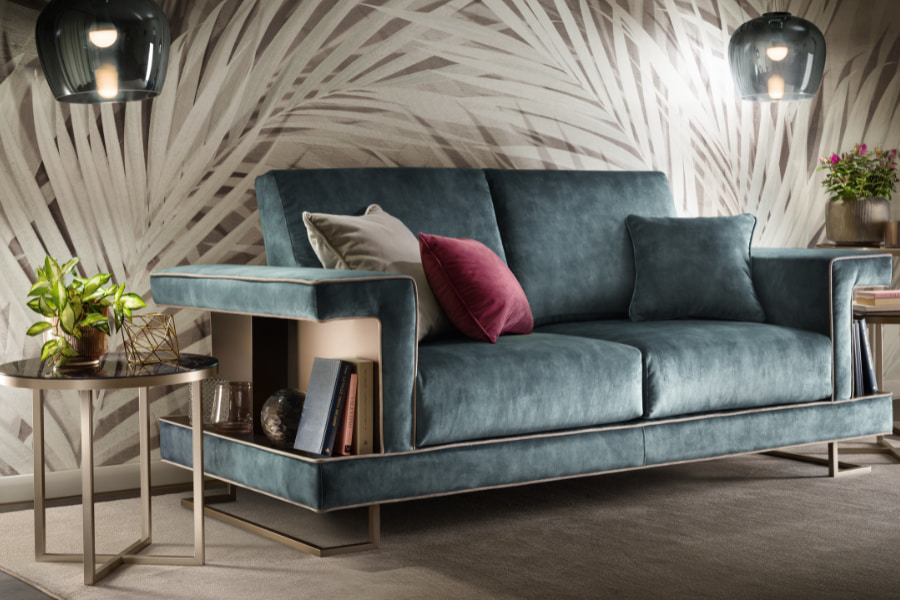 Contemporary living room: the key is feeling at ease
As always, in 2024 people's predominant desire will be to feel comfortable and happy in their homes. This trend reflects the importance of listening to our state of mind and influences interior design, especially in those rooms where we spend the most time, such as the living room, and those where the private and intimate dimension predominates, such as bedrooms and bathrooms.
Architects and interior designers are tasked with creating spaces in which we can feel 'pampered', environments that visually and emotionally convey a sense of well-being.
This feeling emerges very well, for example, in the Atmosfera collection by Adora, in which design is a perfect match for the sensory experience. The warm nuances of the dark marble effect of the coffee tables, the wide and cozy shapes of the sofas, the golden details... Every element in the Atmosfera Collection exudes positive vibes.
So, it is no wonder that even in 2024 people's desire will be to feel good and comfortable at home.
How does this translate into interior design and contemporary living room sets for 2024?
To talk about this, we have to move to the design level and find out what the dominant colors, shapes and materials in our homes are and will be for the coming months.


What are interior design trends living room 2024? Find out the new colors, materials and furniture
What does 2024 hold for contemporary living room sets? What are living room colour trends?
To begin with, there is a rise of warm, soft nuances in place of the total white minimalism that reigned in past years.
On the same wavelength, sofas with enveloping and sinuous lines, such as those in the Allure collection, which have effectively ousted the square shapes.
2024 contemporary living rooms also feature hints of luxury and Made in Italy designer furniture with timeless elegance and a warm and welcoming atmosphere.
The cozy atmosphere is created through the inclusion of natural materials and nature-inspired textures, and fine fabrics to be used for sofas, curtains, rugs, ottomans and other accessories. In particular, leather and velvet are the fabrics that best convey both a pleasant sense of warmth and a refined aesthetic.
As described in the next section, the colors (not just the shapes or fabrics) of sofas and accessories also help break up the strict minimalism that was so popular in the last years.
The correct combination of the various elements will allow the creation of a contemporary living room that is both elegant and luxurious, while still in line with the trend to surround ourselves with everything that inspires coziness, with softened shapes that 'hold us', like a warm embrace.
Let's find out more!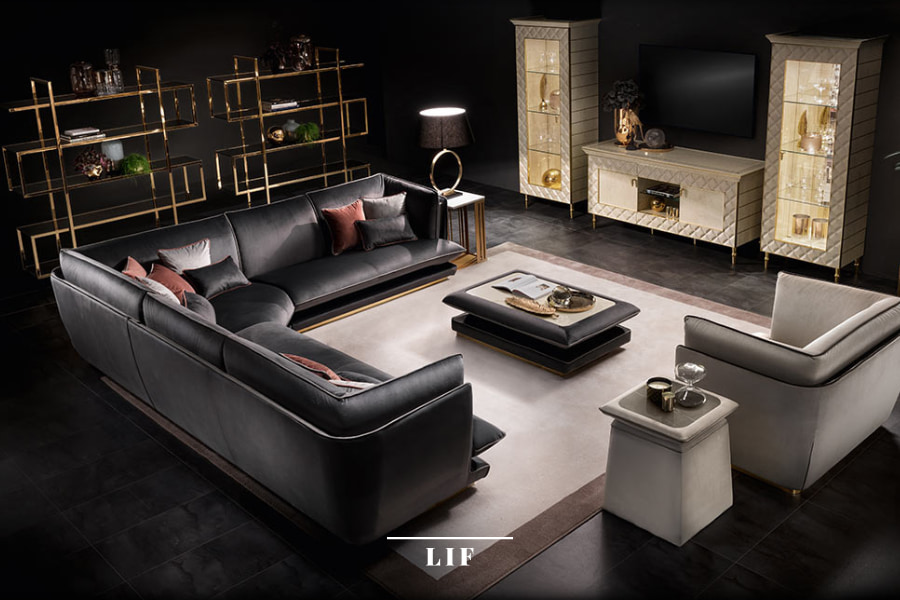 The reassuring colors of the earth
Among the 2024 living room interior design trends, nuances from cognac to burnt amber are making a strong comeback.
With a nod to vintage, this 'chocolate' palette dialogues well with energetic orange tones and other deep, welcoming colors to create modern yet chic and sophisticated contemporary-classic settings.
If the bold and vibrant shades, such as, for example, those of the Atmosfera sofa, add personality and vitality to contemporary living spaces, earth tones and neutral shades of beige remain central among 2024 living room trends. Trends also confirmed by the preference for natural and sustainable materials.
The use of wood, natural stone, and organic textiles is increasingly popular, because, in addition to offering a connection to the color palette, they evoke contact with nature and the growing desire to create harmonious, environmentally friendly spaces where a sense of calm and well-being can be found.
Winning combinations are also those with yellow ochre, one of the most versatile colors in interior design, with shades of pink and terracotta, and with Viva Magenta, proclaimed color of the year 2023.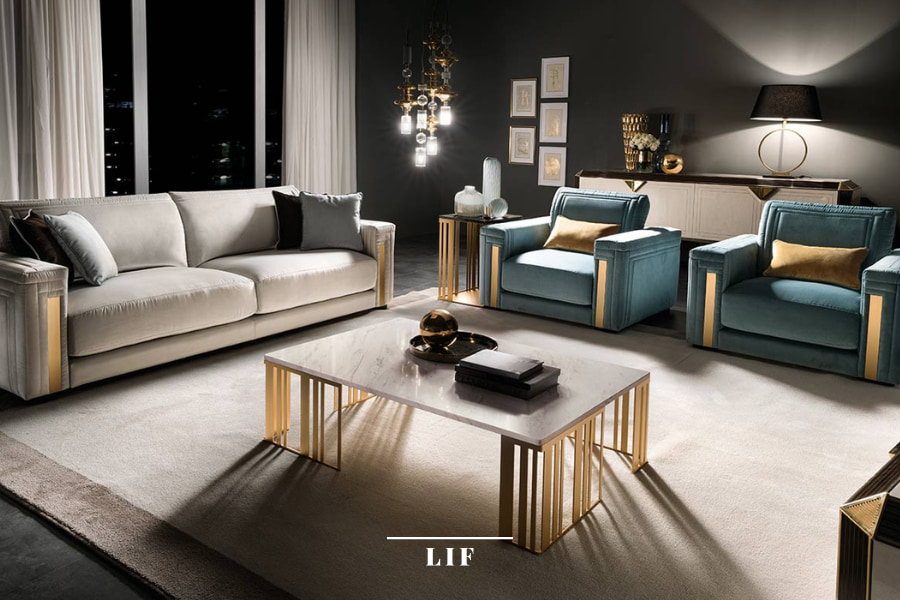 The energy of bright colors
If earthy nuances respond to the need for warmth we have mentioned earlier, there is also a color trend in 2024 that pushes towards strong and bright colors, such as scarlet red, magenta, deep blue, violet - always declined in the warmest and most enveloping shades.
Such a bold palette must be handled sparingly to prevent a patchwork effect.
How is color harmony achieved? Through the balance of the composition and the interplay of light and dark, juxtaposing bright colors with light and neutral shades (or an elegant concrete grey), playing with tone on tone and gradual nuances.
Adora's latest contemporary collections, Luce Light and Luce Dark, know a thing or two about harmonious color combinations, and to balance the visual and stylistic composition of the living room, dining room and bedroom, they focus on modulating brightness and creating different atmospheres based on the combination of colors and finishes.
Luce Light focuses on the ethereal and sophisticated atmospheres of light colors. Here, tone-on-tone continuity prevails. There are no strong color contrasts, only overlapping shades. Making the collection dynamic, however, are the textural contrasts between the zebrano wood effect of the doors and the onyx polished marble effect of the tops and sides, as well as the asymmetrical design of the furniture.
Luce Dark, on the other hand, focuses on the interaction between light and dark. The light base of Luce Light's onyx marble is replaced by a mysterious and scratchy dark Portoro Gold marble effect, which, together with the light wooden finish and elegant champagne-colored satin details, gives life to a contemporary living room set chic and gritty.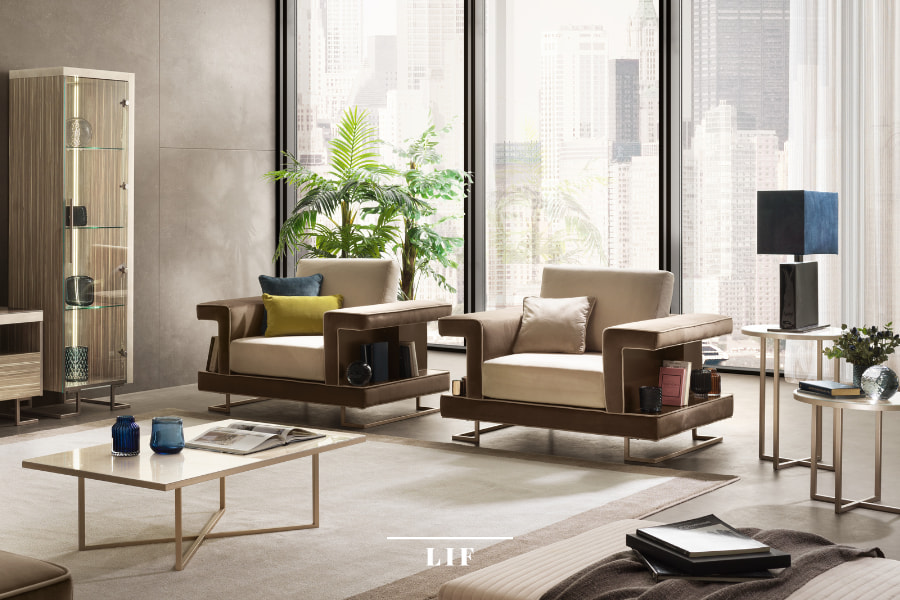 Curvilinear design
As noted above, 2024 living room interior design trends see a decline of the pure minimalist philosophy of "less is more", and an opening toward styles that offer environments somewhere between luxury and simplicity, elegance and informality.
In essence, the living room in 2024 does not abandon minimalism altogether, but neither does it fully embrace the maximalist idea of "more is more" typical of classical renaissance or baroque interiors.
This trend confirms that the contemporary atmosphere is built on balances, avoiding extremes.
Imperfect textures, such as rattan and jute's, will continue to be popular, as will raw wood (very close to contemporary-industrial style).
When it comes to furniture shapes, the emphasis will continue to be on creating cozy, warm and familiar environments, abandoning the sterile style imposed by modern design until recently.
This is where the latest living room trends are headed, with furniture with sinuous, rounded and suspended shapes making a comeback.
A curved shape is unconsciously perceived as safe, friendly and welcoming. This applies in interior design as well as in other fields. Even for the contemporary living room, 2024 envisages a prevalence of furniture with rounded lines and deep, enveloping seating, such as the sofas from the Sipario collection by Adora.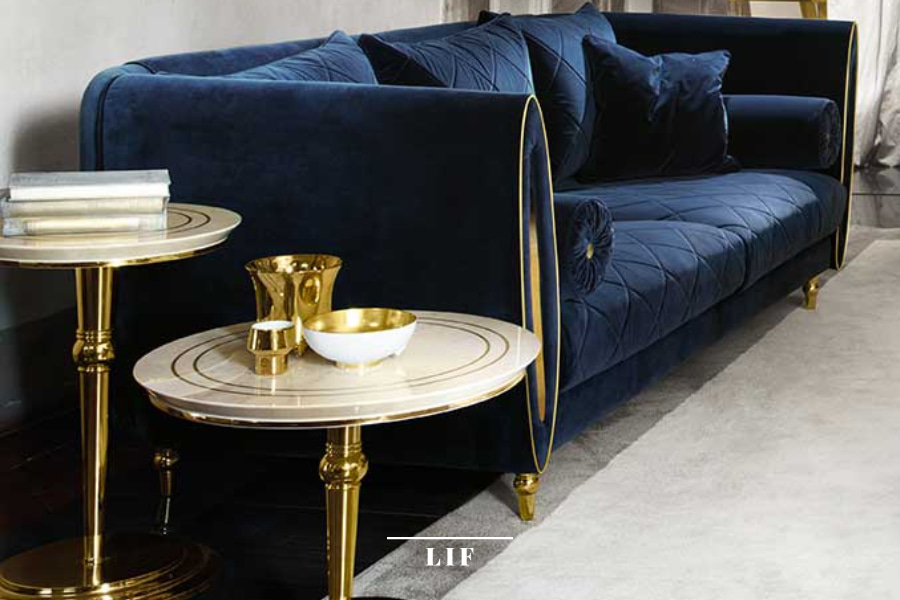 2024 living room trends: soft shapes and cozy atmospheres
When designing contemporary spaces, it is important to keep up to date with living room interior design trends 2024, which are a kind of a 'base' on which one can build a unique and personal style.
In this article, we take a look at 2024 living room trends, focusing on the dominant colors and materials, and the different inspirations that intersect with pure contemporary style.
We have seen how 2024 marked a return to warm and cozy atmospheres, with darker and deeper tones than in the past, soft and enveloping shapes for seating, and details that add luxurious atmospheres.
If you want to know more about the main interior design 2024 trends, take a look at Adora collections: you will discover many luxurious and cozy Made in Italy furniture solutions you can take inspiration from, to create unique classic-contemporary style environments.