The living room is the perfect place to make a style statement.
It is the space where a moment of sharing with family or friends may turn into an exclusive visual and emotional experience.
In fact, when it comes to welcoming relatives and visitors into your home, the living room becomes your visiting card, a place where you can recognise yourself and be recognised, by creating a classy and refined furnishing atmosphere.
Creating a contemporary furnishing scenario will allow you to give new character and personality to this environment, achieving a final result with high stylistic content.
You need to follow certain rules regarding style, functionality, decoration and furniture arrangement, in order to create a warm and cosy atmosphere in the living room.
Below you will find out what we are talking about!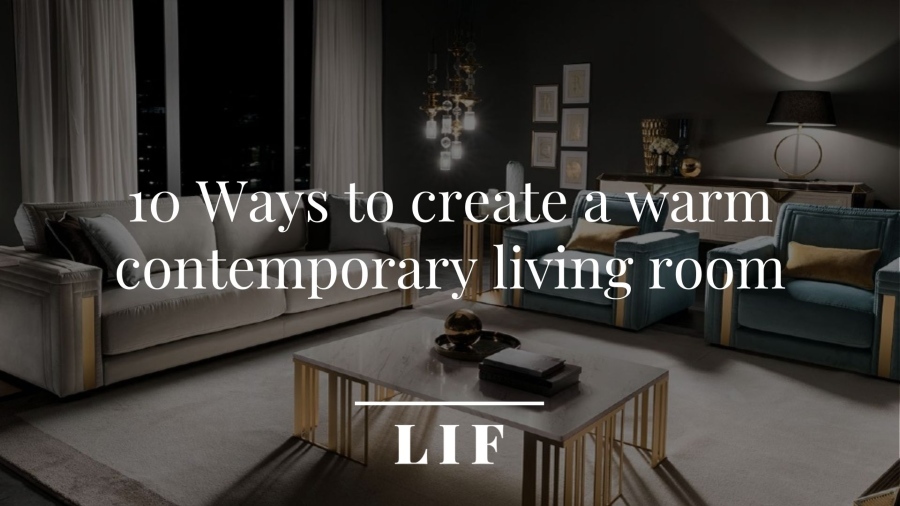 10 Tips to make your contemporary living room look warm and comfortable
In a well-kept and relaxed atmosphere, are the details that make the difference.
Here we offer some useful suggestions to furnishing your living room tastefully and make it luxurious and comfortable.
Below are the 10 guidelines, specifically:
Let's take a closer look.
1. Opting for parquet, tile, carpet or rug flooring
The floors of a contemporary style living room must convey a sense of lightness and total cleanliness.
To select the best solution for your furnishing context, you could choose from:
Parquet
Tiles, preferably white or ivory in colour;
Carpet
Decorative rugs to be placed wherever you wish
To make the right decision that meets your aesthetic and comfort needs, it is necessary to know which types of carpets and rugs are suitable for the different varieties of classic style.
The most valuable carpet coverings are listed below:
Bouclé: this is a type of carpet with a soft and comfortable texture suitable for living and transition areas in the home.


Velour: soft and velvety, it is the most valuable type of carpet. Suitable for open spaces and reception areas of the house.
Whereas the most suitable carpets for a contemporary interior are:
I. Tufted carpets
They are made from a fabric base to which natural or artificial textile fibres are then knotted.
Depending on the type of processing, we can categorise the characteristic types of carpets and rugs.
II. Persian rugs
The nomenclature of Persian rugs is coming from the names of some of the most important cities for production. For example, Hamadan rugs and Nain rugs, to name a few.
The main characteristic that distinguishes Persian carpets from other types is the hand-knotting process and the large number of knots.
The central medallion is the distinctive feature in the middle of Persian rugs.
III. Pakistani rugs
The result of wool processing and characterised by a high knot density, Pakistani rugs are made with an open knot, a special technique that favours the visual change of colour tones. The typical colour of Pakistani rugs is red.
IV. Modern Chinese rugs
Knotted using an asymmetrical technique, they have floral decorations and inlays that give three-dimensionality to the entire piece.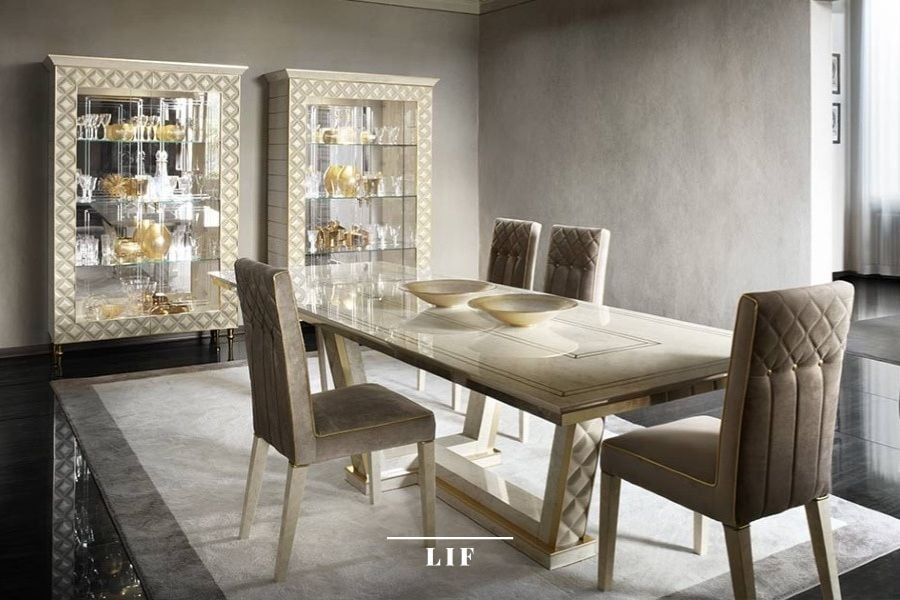 2. Setting up a basic, dark or bright colour palette
The colour scheme of contemporary interiors presents a kaleidoscope of variety, leaving plenty of freedom to select between basic, dark and bright colours.
From the light nuances of white or soft pink to the more flamboyant accents of purple or dark green. The choice is yours!
If you want to add a touch of striking colour to the palette of your living room, opt for a bold combination: combine a wallpaper with a bold and lively pattern with a basic, dark or bright colour.
3. Opting for designer lighting with understated, minimalist appeal
In any interior design project, lighting plays a central role in terms of style and functionality.
In order to ensure maximum visibility and comfort without compromising on aesthetics, opt for lighting solutions that have a high technical performance, such as
Pendant fixtures
Recessed lamps
Wall lights
Floor lamps
Made from materials in total accordance with the dictates of the contemporary genre: glass, metal, crystal or copper.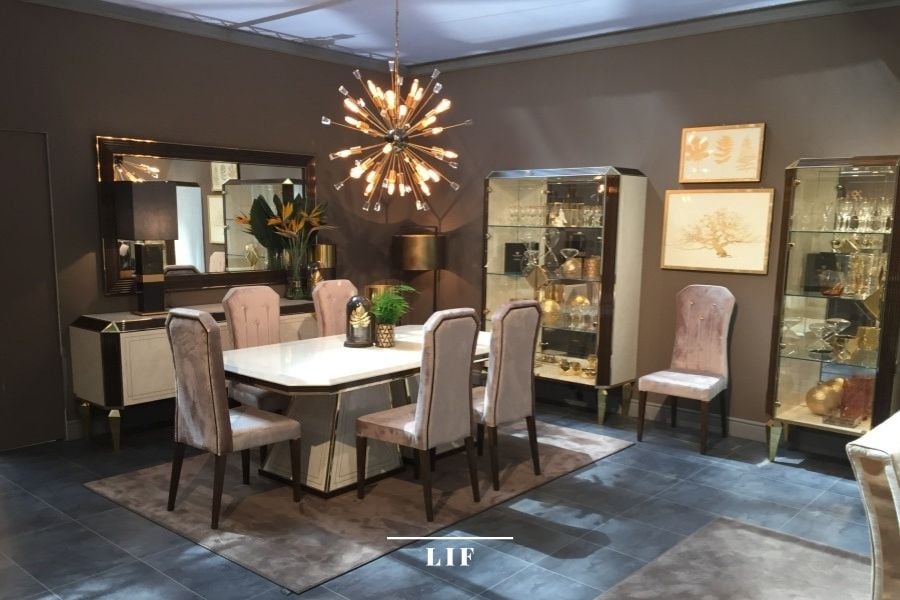 4. Arranging a well-defined layout with balanced spaces
The most important elements in contemporary interior design are the lines and the balancing of spaces.
Vertical and horizontal lines, strong and elegant, can be found in the architectural details, in high ceilings, in wide and bare window profiles of every ornamental element, in geometric shapes of pieces of art and in sculpture.
In a living room with a contemporary taste, the naked space between the walls, on the floor and between the furniture has a meaning.
It gives the setting a fresher and cleaner look, and also makes each decoration or furnishing accessory stand out as a single piece.
5. Choose furniture and seating in line with the concept
The furniture of your living room composition should be an expression of a glamorous and contemporary style statement. We therefore suggest that you select furniture and seating with clean, essential forms.
Let yourself be guided by your aesthetic sense: evaluate which of the furniture proposals can best match your aesthetic preferences and reflect your lifestyle.
You could choose a collection with a geometric cut, at times softened by soft lines and curved flares, all embellished by shiny gold metal inserts.
Or opt for a line of furniture with more sophisticated, decisive profiles, made bolder and more sought-after by a contrast of textures played out in the lozenge quilting and the gold finish of the metal inserts.
Tip: Last but not least - to create an extraordinary furnishing scenario - choose sofas, armchairs, chaises longues and ottomans upholstered in quality fabrics with different textures, preferring the shades of the colour scheme suitable for a contemporary furnishing style.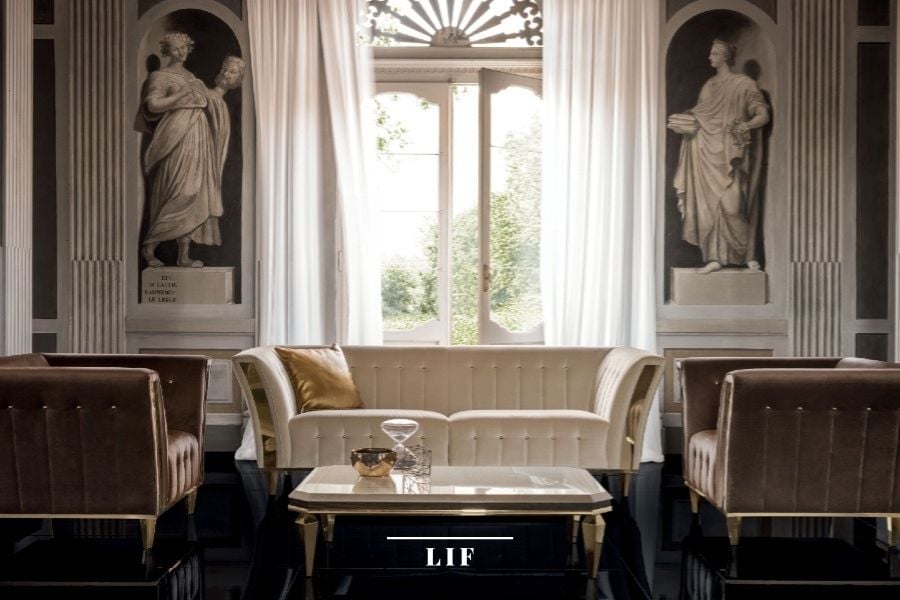 6. Upholstering sofas and armchairs with precious fabrics
In order to create a cosy and sophisticated atmosphere right from the start, you can upholster sofas and armchairs with precious fabrics to match the concept. Ultra softness, rich consistencies and different textures will lend a new image to your seating.
Here are the most suitable fabrics to create a unique and luxurious atmosphere in your living room:
Satin: this is a fabric with a uniform weave, extremely shiny to the eye and smooth to the touch. Satin, embellished with gold embroidery brings back the eternal elegance of the neoclassical style


Velvet

:

a soft caress on the palm of the hand, iridescent reflections and intense colours. This is the sensation that velvet gives , one of the fabrics that most represents the essence of contemporary design.
7. Adding accent cushions made of high-quality materials
Complete the furnishing composition of sofas and armchairs by adding accent cushions.
For your cushions, make choices in line with the dictates of contemporary style. First of all, we recommend you start with the colour, favouring white, beige and brown shades.
Secondly, identify cushions with elegant shapes and refined silhouettes. Finally, be sure to select fine, well-made fabrics to cover each cushion.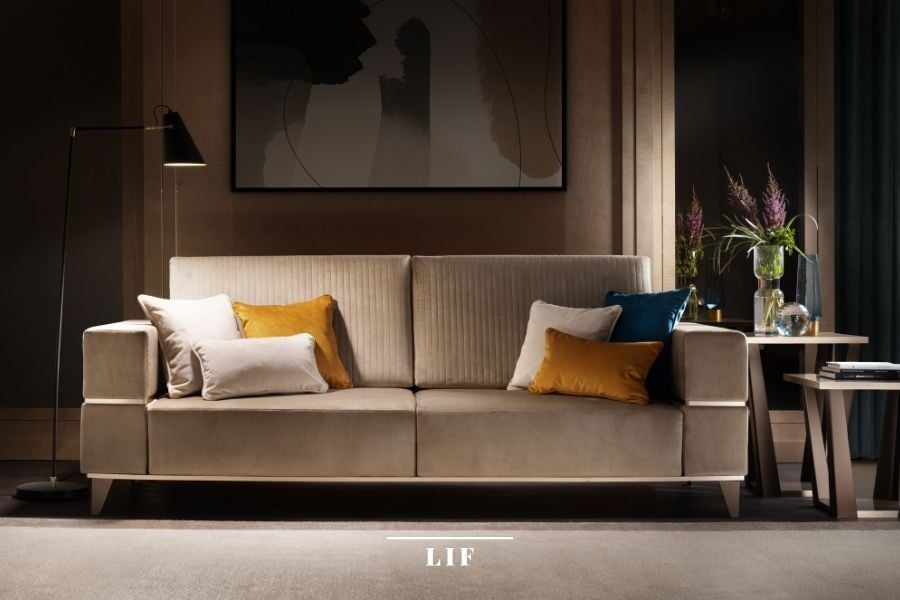 8. Completing empty spaces with handmade poufs or ottomans
To fill in the empty spaces in your living room and at the same time make the whole room more cosy and luxurious, place handmade poufs or ottomans wherever you like.
Prefer comfortable seats that also lend an elegant visual appeal, therefore upholstered in satin, velvet or silk finished with capitonné or quilted fabric, with cords, tassels and gold or silver embroidery.
9. Decorating windows with elegant curtains
To make the whole room aesthetically appealing, attention must also be paid to the windows.
So why not decorate them with elegant, decorative curtains?
Choose elaborate fabrics and fine fabrics for their production, such as: linen, cotton, brocade, damask velvet, lampas etc.
Curtains complete the look of the living room as they enhance the overall image.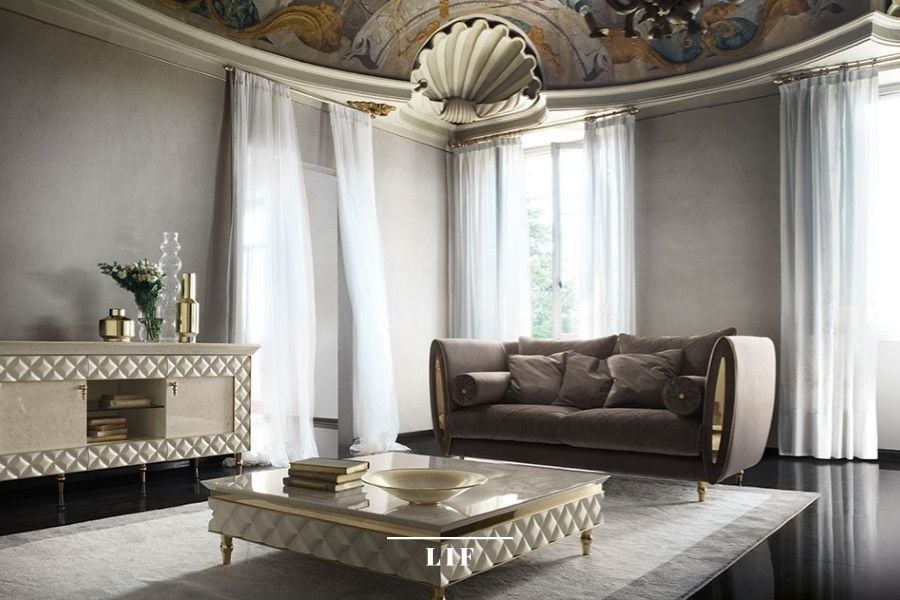 10. Introducing decorations and artistic elements
You could place contemporary-style sculptures or framed abstract artworks at eye level, perhaps on a column or an elegant.
As far as wall decoration is concerned, we advise you to choose frames with a modern design, preferring models in shades of black (glossy and matt), natural wood or metal: in every solution they will be perfect for containing paintings and pictures.
Make your contemporary living room design look appealing and relaxing
In this article, we have given you a few pointers on how to make your living room furniture beautiful to look at and live in, as well as comfortable and functional.
Choose the contemporary furniture collection and make this room a welcoming space with attention to every detail.