In popular imagination, the word home evokes pleasant feelings of well-being, tranquility and security.
Your own home is the perfect refuge where you can relax in the company of your family and friends, regain the energy you have spent during the day, and get away from the chaotic pace of everyday life.
This search for serenity inevitably leads us towards the design of a hospitable home, with welcoming environments.
This is a complex process, in which a good amount of time, effort and attention must be invested choosing every detail to get it right: lighting, furnishings, arrangement of objects, selection of the most suitable materials for floors and walls, colors to be applied to walls.
A set of apparently unrelated elements, at least initially, which takes shape day after day and, during the restyling phases, reveals a very precise stylistic direction.
In an analytical process aimed at defining environments, color choices certainly play a fundamental role.
For this reason, it is always a good idea to think carefully before assigning a certain hue to each space, asking the question: which colors give warmth to a room?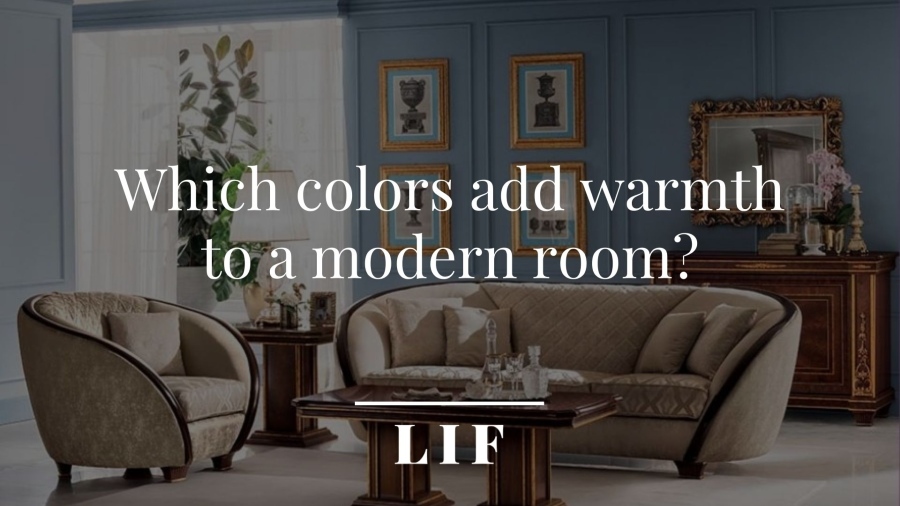 Color matching beyond the standards
Whatever our purpose, we should bear in mind that the choice of colors to make a room welcoming is vitally important: this aspect can create a continuum between rooms or completely break up the visual homogeneity.
We decide on the final effect, us beyond any seasonal trend.
Would you like to create an elegant bedroom? Do we want our living room to communicate a more classic vibe? Do we feel like giving contemporary energy to the living area?
Once we have clarified what we want to achieve, how can we navigate our way through a palette of colors that offers us endless possibilities?
The canonical names of colors, which we learn at school from the earliest years of life, suggests the standard binomials: warm colors meaning warmth and positivity, cold colors meaning detachment. But is this interpretation always true when we talk about painting?
Let's move away, just for a moment, from this vision and become aware of the fact that the use of colors which, on paper, are catalogued as warm or cold, do not always produce the same effect in a given environment: some colors can give warmth to a room even though they are labelled as cold, and vice versa.
This result of peaceful complementarity is achieved through special color combinations, which are able to enhance each other's qualities.
Colors, pairs that work
But what are the color combinations that make a modern room cozy?
Let's take a closer look at the color pairs that work best together to create a warm and relaxing ambience.
1. White-brown: the power of earthy tones
Frequently chosen to furnish luxury accommodation facilities, the white-brown union is an evergreen choice synonymous with undisputed refinement and elegance.
White, while apparently aseptic and flat, is instead an excellent base from which to start, thanks also to an extensive palette - cream, butter, ivory, milk, off white - which broadens the freedom of choice, facilitating the achievement of satisfying and not boring results even in the long term.
Its purity lends itself to fusion with earthy shades of brown, which are among the 2021 color trends dove grey, chocolate, terracotta, hazelnut, caramel, rust are just some of the options available on a very rich color scale.
To add to the welcoming effect obtained by this combination, it is advisable to include some furnishing accessories in tone with the palette velvet chairs, armchairs in light colors but also side tables in delicate nuances.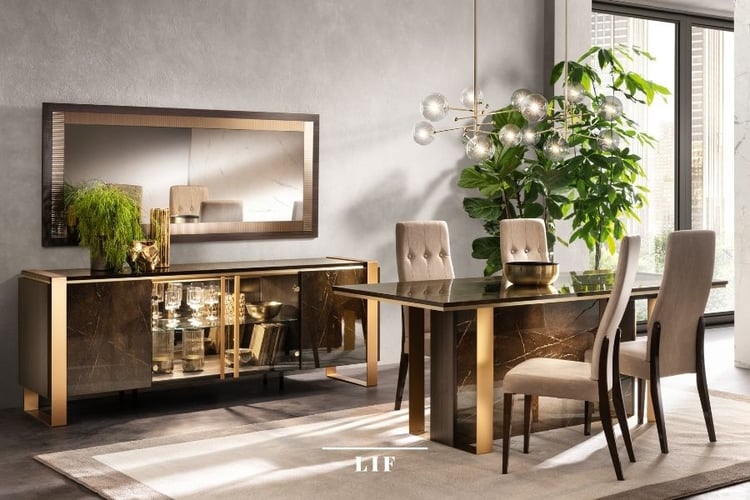 2. Grey-mustard: the elegance of opposites
Especially when it comes to bedroom pure grey is an absolute protagonist, providing a relaxing and classy atmosphere.
Its versatility makes it an excellent ally in color schemes: it never overpowers, rather, its presence creates a pleasant balance with the surrounding colors.
Among the many winning combinations, the grey-mustard combination is certainly a must for those who wish to design a visually balanced space where the shades blend, enhancing each other's qualities: the discretion of grey counterbalances the energy of mustard, vital and positive but never excessive.
These colors make any room feel cozy and are particularly suitable for creating a sophisticated, sober yet relaxing bedroom.
The success of both shades was recently made official with the title of Pantone Colors 2021: Ultimate Grey and Illuminating Yellow, respectively a solid, reassuring grey and a bright yellow, symbolizing strength and optimism, made it onto the podium.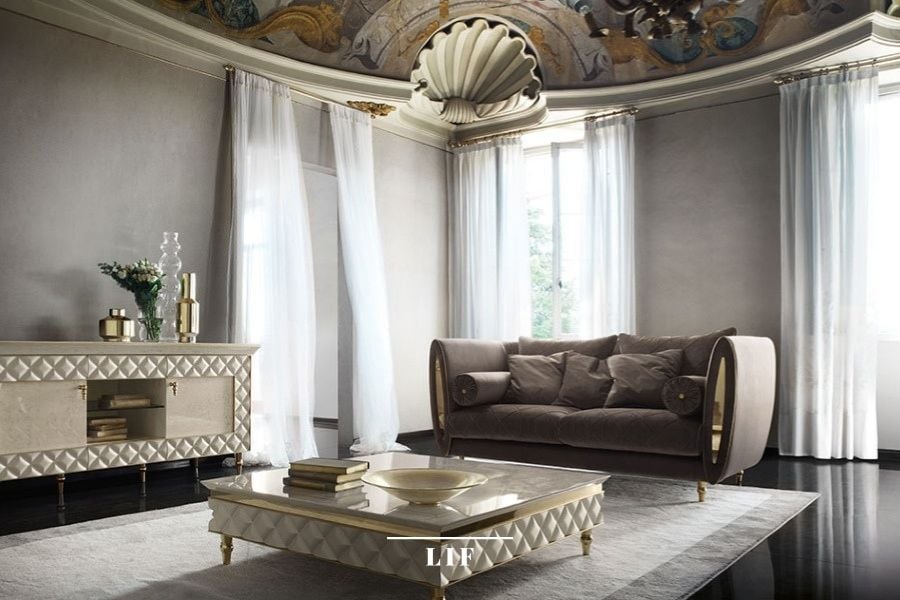 3. Blue-beige: evergreen with a Mediterranean flavor
For a clearly Mediterranean-inspired effect, we dive into naturally cool shades of blue, which envelop us when combined with beige.
A combination suitable for every room, from the dining room to the living area, in a chromatic restyling process that rewards the sobriety of an intense shade, blue, warmed up by a chic and always up-to-date nuance, beige.
If we decide to use beige to paint the walls, we can liven up the spaces by inserting blue accessories, such as sofa enriched with golden details.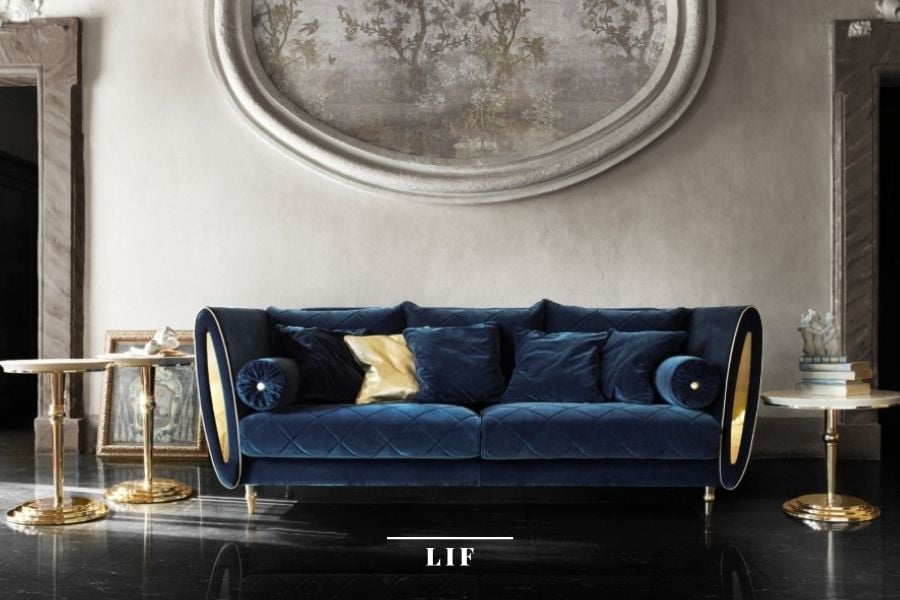 4. Sage green-cream: timeless romance
A far cry from the bright and vivid shades of grass green and very close to the discretion of olive tones, sage green is experiencing a moment of great success within the home decoration sector.
Widely used in the 1970s and then left on standby for some time, it is back in the limelight thanks to the versatility of being a light and never overpowering shade. Matt but not dull, low profile but not anonymous, this color makes every room in the house welcoming.
The overlapping with the delicate hue of cream creates an evocative and totally immersive atmosphere, suitable for the creation of both contemporary and classic environments spaces with a more classic flavor.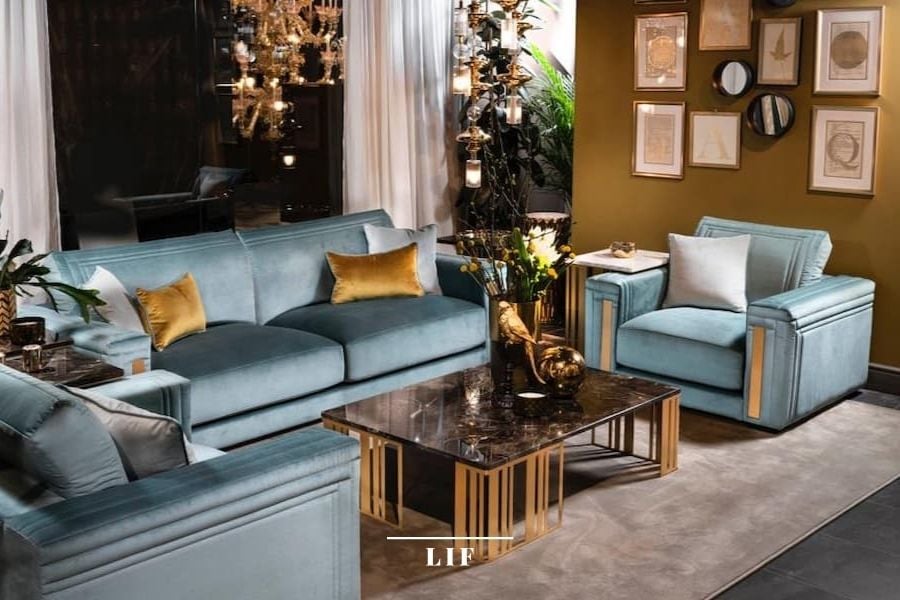 5. Pink/caramel: luminous harmony
Once destined exclusively for the girls' bedroom, pink has now finally been let loose, returning to fill all the rooms of the house, without exception. In pastel and powder tones, this shade creates a serene and harmonious atmosphere.
Let's forget the baby effect and imagine the calmness of an enveloping and discreet palette, suitable for spaces with generous dimensions but, above all, for smaller areas: the brightness of light pink gives luminosity even to the most hidden points.
If we want to choose colors that make every room feel cozy, we opt for a combination of soft shades of pink and caramel, which is more intense than beige and less impactful than brown, and gives the color involvement typical of shades close to a natural dimension.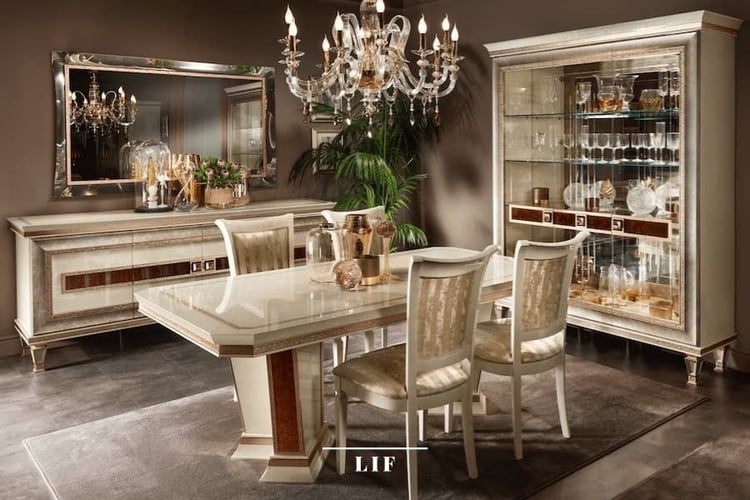 In search of chromatic harmony
Starting the search for colors to make a room cozy means embarking on an interesting journey through a rich and constantly changing color palette.
Selecting the colors to apply to the walls of your home is part of a process that includes studying the space and the style you want to achieve.
By carefully and thoroughly analyzing and taking into account both trends and our personal tastes, we will be able to achieve optimal color harmony.