Getting tired of your living area is not unusual.
We actually spend a lot of time there and it is an area in our home that is seen over and over, both by us and our guests. It is not uncommon therefore, if you decide to do some restyling in your home - perhaps in a contemporary style - to start from the living room. And, with this in mind, the first element on which to focus our attention will no doubt be the contemporary sofa.
A sofa is a very important piece of furniture in the living area. It certainly has a role linked to its functionality - a sofa should be comfortable and must occupy the right space in a room - but it also has an aesthetic role which is just as important.
The design of a space, like the living room, depends a lot on the choice of a sofa. And, if we are thinking of redesigning the living area in a contemporary perspective, we cannot ignore some rules when choosing this precious furnishing accessory.
Looking for a sofa that will be the protagonist of our living area is not that easy. You have to decide on the right size, shape, upholstery and colour. If your aim is to obtain a quality result, we suggest you opt for an elegant and 'Made in Italy' solution.
There are quite a few proposals in the interior design sector. And it is not easy to choose, among the various pieces of furniture, the one that is most suitable for your home.
But, don't worry. We're here to help. Throughout this article we'll be proposing 4 models of contemporary sofas so that your choice is easier to make and sounder, focused on high standards of quality and beauty.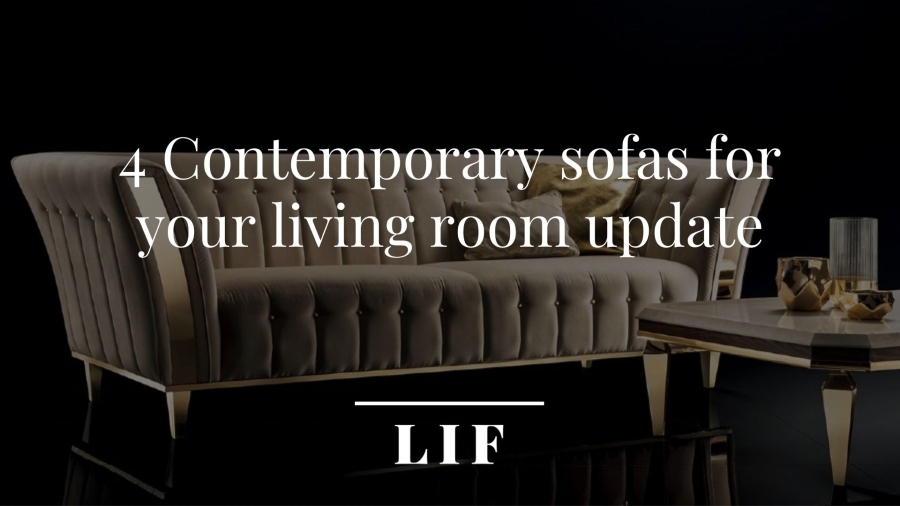 A contemporary style living room: what are the musts
If you're thinking of placing your contemporary sofa in a well harmonized context, we recommend you keep in mind some general suggestions with regard to furnishing a living room in a contemporary style.
Soft colours
Walls, fabrics and furniture in contemporary furnishing will generally favour soft colours (beige, turtledove, white). This will not prevent a few touches of colour (green or blue, or some other bright colour) - even on the sofa), which will be substantiated by one or a few furnishing elements with respect to the more basic set as a whole.
Soft fabrics
Linen, cotton and velvet are just three of the types of fabric that adorn contemporary living rooms. Pillows, curtains, carpets; all fabrics that will recall an idea of softness.
The upholstery of sofas can also range towards materials such as eco-leather, which is always quite soft and well harmonized with the rest of the furniture, from a chromatic point of view.


Contemporary sofa: 4 models to restyle your living room
Let's now see below four concrete proposals for contemporary sofas. You can choose the one that best suits your taste and your needs for comfort and space, while remaining faithful to your chosen style.
1. Two-seater eco-leather sofa (with metallic finishes)
Let's start with a rather basic model, from a functionality point of view. A moderate sized, two-seater sofa can be a good choice for a metropolitan loft for a young couple who want to freshen up their living area.
Eco-leather upholstery adapts perfectly to the contemporary style, if well matched with the colours and fabrics of the rest of the setting. You can opt for a light beige, tending to grey - a shade that generally is not difficult to pair, in case you are not yet determined to rethink the entire decor and have to place the sofa in an already existing context.
If the sofa is then equipped with side finishes - such as metallic finishes - it will embellish the room even more, and will no doubt attract the attention of those who see your new piece of furniture.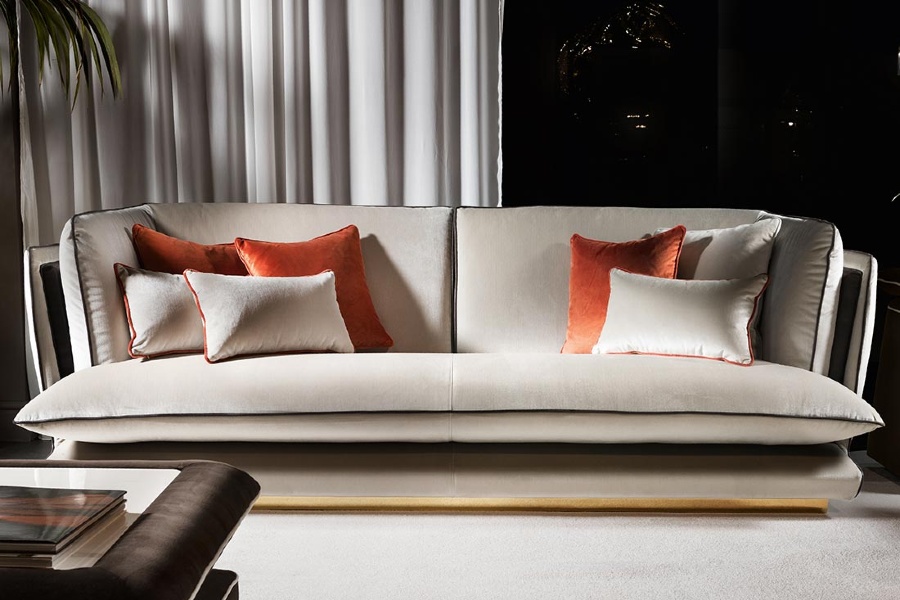 2. Three-seater velvet sofa
If the apartment size is larger you can opt for a slightly longer sofa. In this case a three-seater size is ideal. What also differentiates the characterization of a sofa, as mentioned, is the fabric. If you love the contemporary genre and want to give a touch of elegance to your living room, we recommend you opt for a contemporary three-seater velvet sofa. It is both comfortable and elegant.
You can then try being daring with colours, perhaps choosing a blue velvet colour, if the furniture in the rest of the room allows it. In any case, you simply need to rethink the colour of the curtains or carpets, so as to get the harmony you need in a short time, without necessarily having to redo the entire room.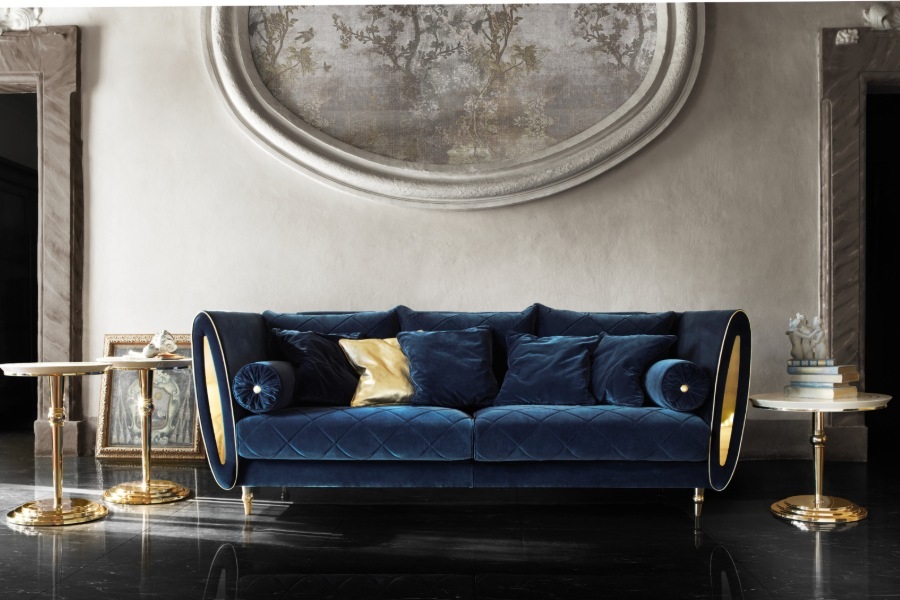 3. Quilted fabric sofa
A similar option to the previous one may be to choose a medium-sized sofa, once again being daring with the finishes and fabrics.
A fabric sofa with quilted finishes can give your living area a certain touch of elegance, and can add geometric and decorative details, without necessarily having to opt for colours that are too bright.
For example, in this case, you can opt for a light brown. The finishes and stitching lines alone will be enough to draw the right attention to the sofa, the undisputed protagonist of your living room.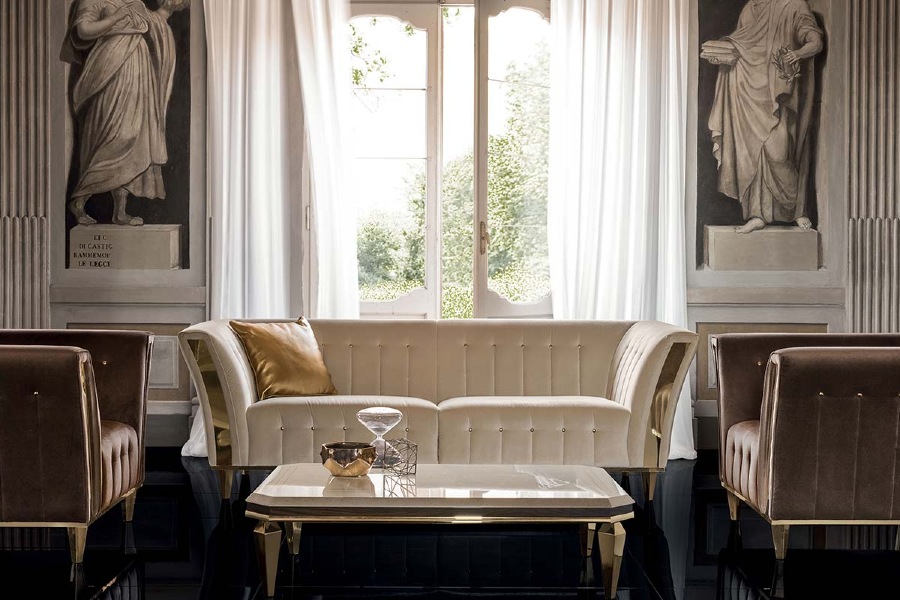 4. Eco-leather corner sofa
If you're thinking of completely revolutionizing your entire living area, then it's worth venturing when choosing a sofa. Who doesn't want a home with large spaces where you can place a huge and scenic corner sofa, so you can amaze guests and treat yourself to moments of complete relaxation?
You don't necessarily need a lot of space to afford a corner sofa. If the size allows it, you can place an important piece of furniture like this in a more moderately sized living area. Generally, we are more inclined to choose a corner sofa when thinking of an open-space design, where the sofa also becomes a useful element to separate spaces - for example - the living room and kitchen.
A decisive choice in size can make it easier to opt for fabric that isn't too ostentatious. The shape and structure of a corner sofa is already enough to make it the protagonist of a room. In this case, we suggest you opt for soft and comfortable eco-leather fabric; suitable for every situation of use.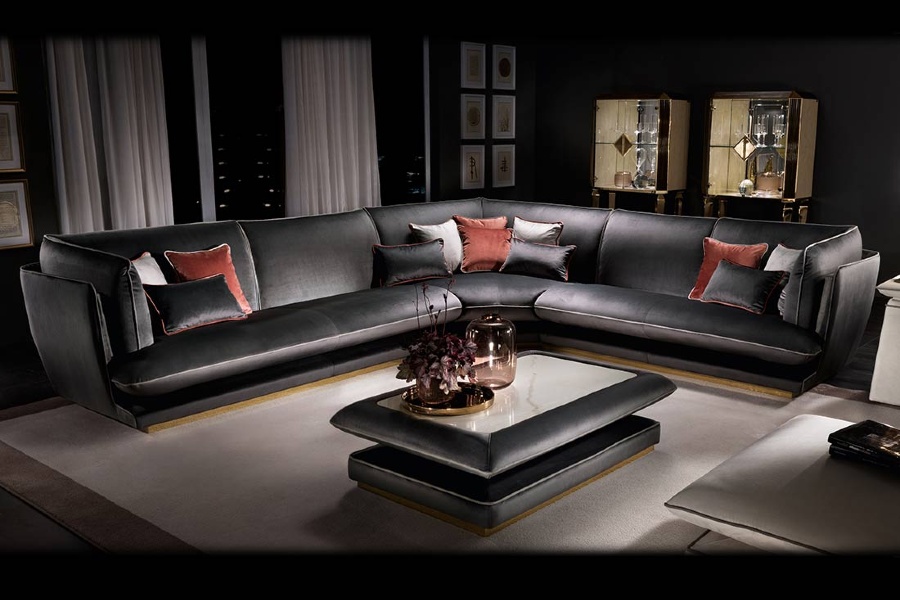 Elegance and comfort that make all the difference
Many people think that contemporary is synonymous with cold and unwelcoming. If you're thinking along the same lines, allow me to say that this is not entirely accurate.
The clean lines and the airy and often empty spaces, typical of the contemporary style, do not necessarily lead us to think of cold settings that lack comfort and personality. And what piece of furniture, better than a contemporary sofa,can disprove this prejudice?
Contemporary style sofas are far from being cold and uncomfortable. They favour soft, but above all, elegant fabrics. Customizing the various possible finishes - with regard to both the range of the fabrics and the metal or other material inserts - is the aspect that gives a certain elegance and refinement to the furnishing accessory, and allows the room to conquer both its glamorous soul and comfort.