Getting tired of your living area is not unusual.
We actually spend a lot of time there and it is an area in our home that is seen over and over, both by us and our guests. It is not uncommon therefore, if you decide to do some restyling in your home - perhaps in a contemporary style - to start from the living room. And, with this in mind, the first element on which to focus our attention will no doubt be the contemporary sofa.
A sofa is a very important piece of furniture in the living area. It certainly has a role linked to its functionality - a sofa should be comfortable and must occupy the right space in a room - but it also has an aesthetic role which is just as important.
The design of a space, like the living room, depends a lot on the choice of a sofa. And, if we are thinking of redesigning the living area in a contemporary perspective, we cannot ignore some rules when choosing this precious furnishing item.
Looking for a sofa that will be the protagonist of our living area is not that easy. You have to decide on the right size, shape, upholstery and colour. If your aim is to obtain a quality result, we suggest you opt for an elegant and 'Made in Italy' solution.
There are quite a few proposals in the interior design sector. And it is not easy to choose, among the various pieces of furniture, the one that is most suitable for your home.
But, don't worry. We're here to help. Throughout this article we'll be proposing 4 models of contemporary sofas so that your choice is easier to make and sounder, focused on high standards of quality and beauty.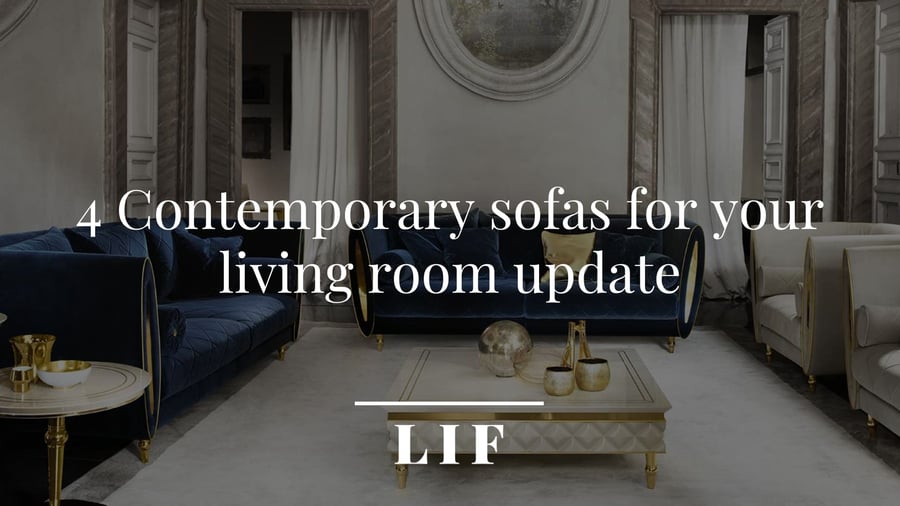 A contemporary style living room: what are the musts
The living area is devoted to conviviality - this is where a family spends most of its time together - and entertaining guests.
Consequently, the sofa cannot but be the star element, regardless of the style in which we decide to furnish our living room.
Its place of pride is linked to functionality, both of the sofa and of the environment, since in the living room, on the sofa, we make our guests feel welcome, and it is always on the sofa that the family relaxes at the end of the day, watching a film or simply chatting.
However, before focusing on the characteristics of the sofa and the elements to take into account when choosing one, let's see what the must-haves of contemporary style are.
Examining the characteristics of the contemporary mood will help us to understand how to choose individual furnishings, including the sofa, and how to create the right atmosphere by combining the various elements of our interior design project, i.e. the guiding colours, shapes, space management, the type of upholstery and materials, natural and artificial lighting, and the role played by accessories and decorations.
Apart from the exceptions, always present in any style project, a contemporary design can be recognised by certain peculiarities, such as:
Minimalist concept
Simple, clean lines
Square shapes
Smooth and homogenous surfaces
Bright environments
Neutral colours
Decorations reduced to the essentials
Moreover, contemporary style, compared to other interiors, is characterised by a greater propensity to embrace trends and developments in interior design.
While retaining a stylistic core independent of passing fashions, this style does not disdain novelty.
In short, contemporary style - as the name suggests - is constantly being updated, inspired by today's living, changes and technological innovations.
If you are considering a living room makeover, this style is best suited to achieve the goal.
The contemporary living room never gets old, because it combines comfort, ease of use and aesthetic beauty. And because it is equally attentive to trends and 'evergreen' furnishing aspects, such as the quality of materials, elegance and design.
Let's see what elements we need to create the right contemporary atmosphere in the living room.
Soft colours and chromatic contrasts
Walls, fabrics and furniture in contemporary furnishing will generally favour soft colours.
The preference for a neutral and light palette, based on the coexistence of one or two nuances in shades of beige, white or grey, can be traced back to one of the characteristics observed in the previous paragraph - brightness, which, in contemporary environments, is synonymous with lightness and minimalism, order and visual cleanliness.
This is achieved not only through the design of large or French windows, and open spaces without visual barriers for the living areas, but also through the choice of light and bright colours for the walls and most of the furniture.
This will not prevent a few touches of colour (green or blue, or some other bright colour) - even on the sofa).
Colour contrasts, if well dosed, contribute to the dynamism of the contemporary living room composition and give it an evocative and sophisticated appeal.
By choosing warm shades of brown, set against neutral colours, such as beige, as in the case of the Poesia living room, you also gain another advantage: warming up the room, making it more cosy and convivial.
With only neutral nuances, without contrasts and colour accents, the risk would be to create an algid and unwelcoming living room.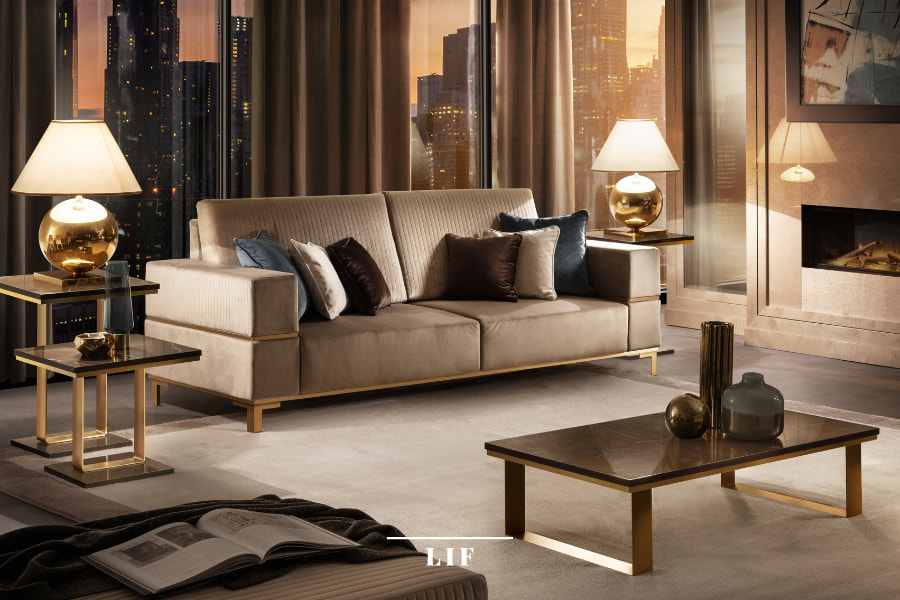 Soft, comfortable fabrics
Linen, cotton and velvet are just three of the types of fabric that adorn contemporary living rooms. Pillows, curtains, carpets; all fabrics that will recall an idea of softness.
The upholstery of sofas can also range towards materials such as eco-leather, which is always quite soft and well harmonized with the rest of the furniture, from a chromatic point of view.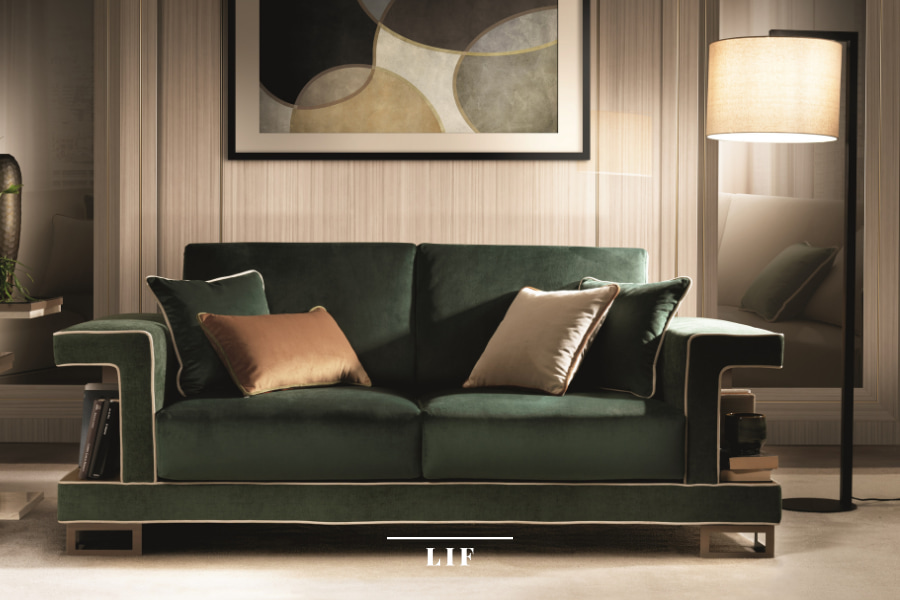 Elegant and refined materials
The clean, rational lines of contemporary design go hand in hand with the smooth, homogeneous materials on upholstering and furniture.
For the latter, the contemporary style relies on lacquered surfaces (both glossy and matt), screen-printed surfaces, MDF and wood finishes.
Seamless materials such as resin, micro-cement and rectified porcelain stoneware are generally preferred for wall coverings and floors, because they contribute to enhancing the minimalism, lightness and visual continuity typical of the contemporary atmosphere. And, at the same time, they are also functional and easy to clean.
However, in a contemporary living room, more conventional choices such as porcelain stoneware (also in versions imitating other materials, like wood- or stone-effect stoneware) and parquet floors also fit well. The latter, in particular, is always very popular, beyond the stylistic connotation.
While it is true that wooden floors need more care than stoneware or resin, it is equally true that they are extremely versatile solutions (just changing the wood species, pattern or colour can completely transform the face of a room) and can make rooms warm, cosy and incredibly chic.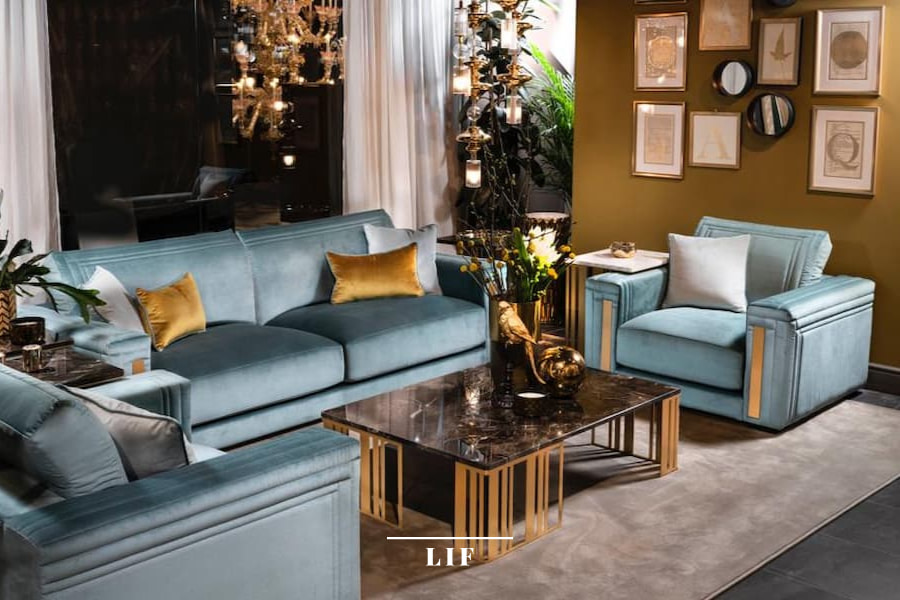 Minimalism
Basically, the contemporary concept is minimal. You will hardly find a contemporary living room overflowing with furniture, accessories and decorations. On the contrary, the trend is to create large, liveable spaces.
In contemporary interiors, there is great attention to compositional balance, to overall harmony, to the proportion between empty and full spaces. Minimalism means little furniture, but well thought out and functionally positioned within the room.
The watchword is balance: essential lines, rational forms, harmony between design and functionality, between simplicity and aesthetic refinement.
This does not mean creating environments that look bare or too essential. As we said earlier, we need to aim for the right balance. Even in a contemporary living room, we can introduce precious details, sophisticated materials and lavish decorations, without detracting from the functional and minimalist approach of the modern style.
In the Adora collections, for example, the contemporary soul is mixed with classics, in a result of great charm and elegance.
Adora living rooms are fresh and contemporary, while retaining a refined and luxurious side that makes them unique.
The brand focuses on a luxury design in which the classic tradition of the finest Made in Italy is brought up to date with today's technologies, materials and tastes, resulting in refined and classy yet dynamic and versatile environments.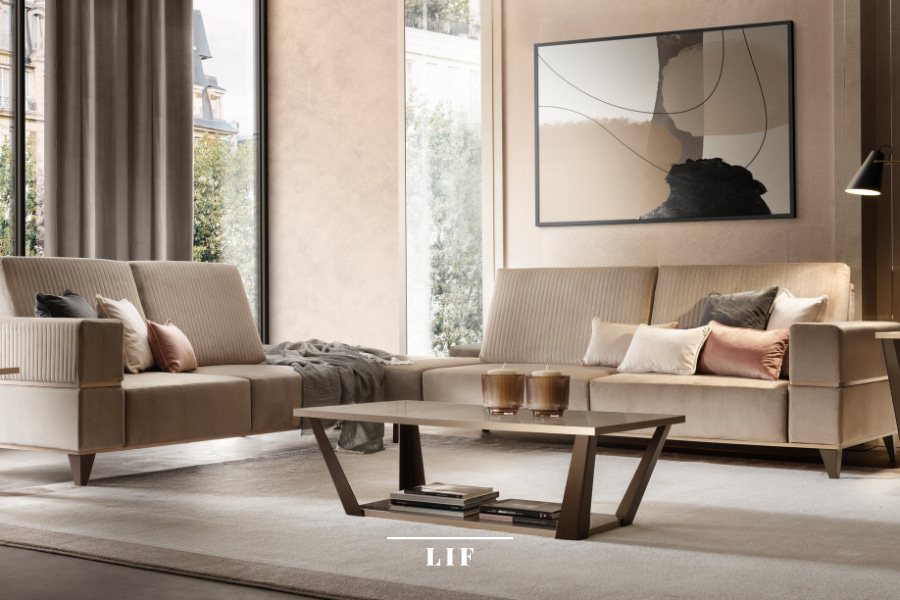 Essential furnishing accessories for the living area
A contemporary style is all about creating a harmonious, elegant and refined ambience, without ever overdoing it.
If you decide to furnish your living room in this style, you will need to create a space that is functional and practical, without sacrificing the aesthetic factor.
In order to create a minimalist and balanced interior project, you should choose the furniture that will form the living room composition carefully. What should we include? What is needed? What is superfluous?
Asking yourself these questions can help to avoid the chaotic and 'overcrowding' effect that clashes with a contemporary interior. Less is more is an ever-valid diktat: little yet functional furniture to combine design and comfort.
And be careful to avoid borderline solutions, either in one direction or the other: for example, purely decorative but useless or non-functional furniture elements, or, on the contrary, useful and comfortable but unattractive furniture.
So let's see which furnishing elements should not be missing in a contemporary inspired living room.
Sofa
As mentioned earlier, the sofa is the main element of the living room. Much of the success of living room furniture will depend on the choice of sofa in terms of style, colour, fabric and shape.
The layout within the room also has a great influence. Where to place the sofa depends on the characteristics of the room, the space available, the relationship with other furnishings and the orientation of natural light.
The typical style, as already noted, involves mostly geometric and rational shapes, with wide backrests and square cushions.
There are, however, examples of contemporary sofas with softer shapes, such as those in the Diamante collection, which feature an enveloping and elegant design, embellished with refined quilting, gold inserts and precious finishes.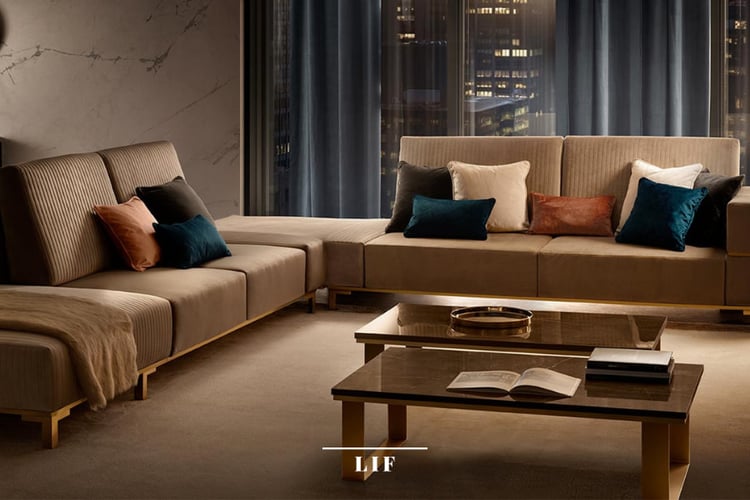 Armchairs and ottomans
To complete the conversation corner, you can add comfortable ottomans and armchairs, such as those from the Atmosfera collection, characterised by an enveloping three-dimensional quilting, or a sophisticated chaise longue depending on the space available. In this way, the décor will be more harmonious than if only the sofa were present.
Wall system
The wall system is a must-have piece of furniture in the contemporary living room. It can combine several functions in a single solution, as the wall system alternates storage space and open shelves, and can incorporate TV stands, display cabinets and bookcases.
In essence, this piece of furniture condenses the key principles of contemporary style: optimisation of space, multifunctionality, and compact and essential design.
For a more elegant, and equally functional solution, you can choose a composition like the one in the Ambra collection, with the two bookcases/side cabinets framing the TV cabinet in an elm finish.
Accessories
Even a minimal environment needs accessories, decorative objects and decorations: from sculptures to paintings, from designer lamps to rugs, each element will enrich the living room, making it more cosy and personal.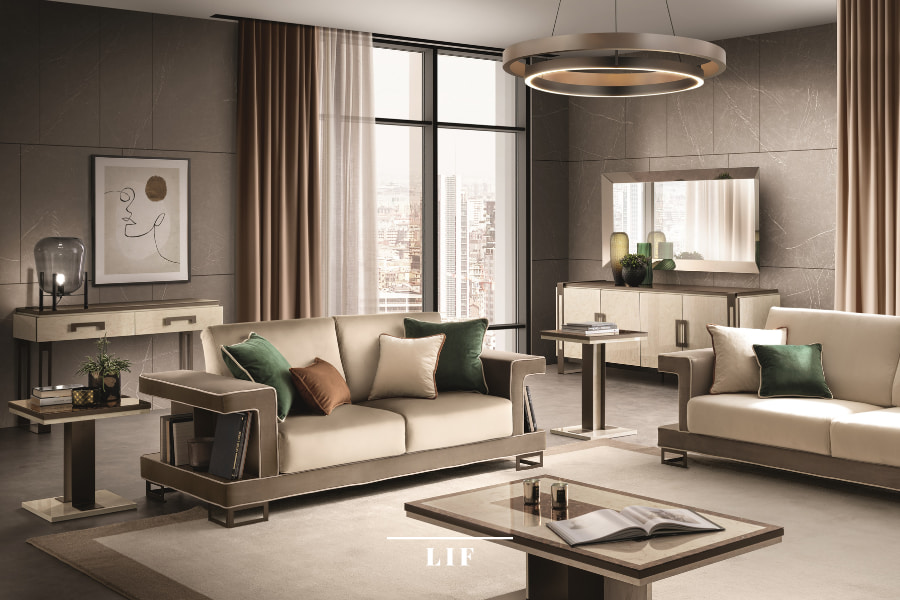 How to choose a contemporary sofa
The choice of sofa for the living area cannot be left to chance, nor can it be tied solely to your own taste. There are certain rules to be observed and elements to take into account.
Let's see them together.
Pay attention to the space available
The sofa is the pivot around which the entire living area revolves. A large model with a peninsula, or even a corner sofa to accommodate the largest number of people would be perfect.
However, this is not always possible.
When choosing the shape and size, you should take into account the square footage of the room and the fact that, in addition to the sofa, the relaxation corner will consist of other furnishing pieces, including an armchair, a floor lamp or a coffee table.
Be careful, therefore, to respect the proportions by including a sofa that does not completely occupy all the space available, and leaves a good margin for movement.
Functionality and durability
When choosing a sofa for your contemporary living room, you should try to combine design and comfort.
The ideal sofa is comfortable, functional to one's needs and lifestyle, made of quality materials, easy to clean and to keep beautiful and efficient over time.
In order to ensure all these aspects, we recommend you opt for Made in Italy upholstery.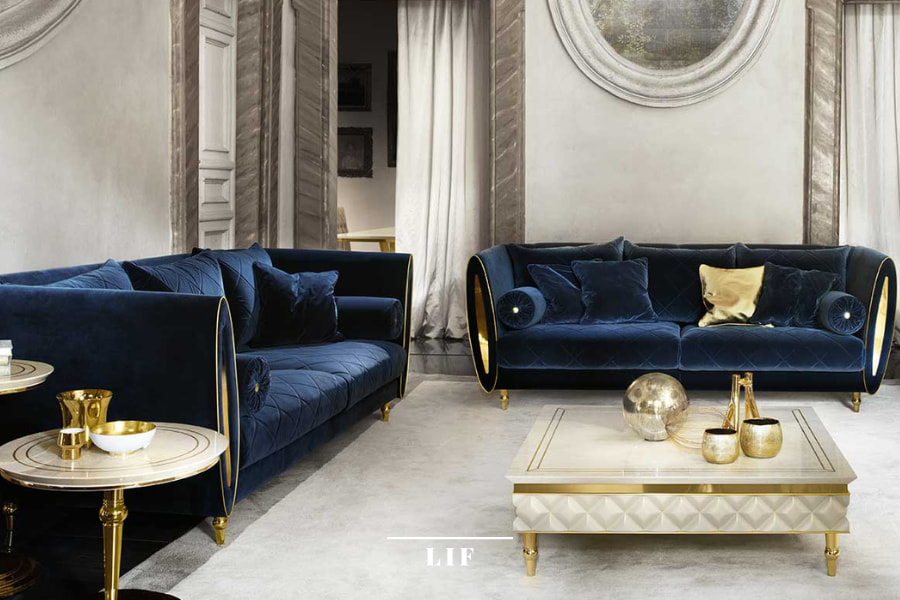 Contemporary sofa: 4 models to restyle your living room
Now that you know the peculiarities of contemporary style and what aspects to take into account when finding a sofa that fits your living area, it is time to choose.
Let's now see below four concrete proposals for contemporary sofas. You can choose the one that best suits your taste and your needs for comfort and space, while remaining faithful to your chosen style.
imm
1. Two-seater sofa (with metallic finishes)
The first solution showcased - the two-seater sofa- is perfect for smaller rooms.
You can opt for a light beige, tending to grey - a shade that generally is not difficult to pair, in case you are not yet determined to rethink the entire decor and have to place the sofa in an already existing context.
If the sofa is then equipped with side finishes - such as metallic finishes - it will embellish the room even more, and will no doubt attract the attention of those who see your new piece of furniture.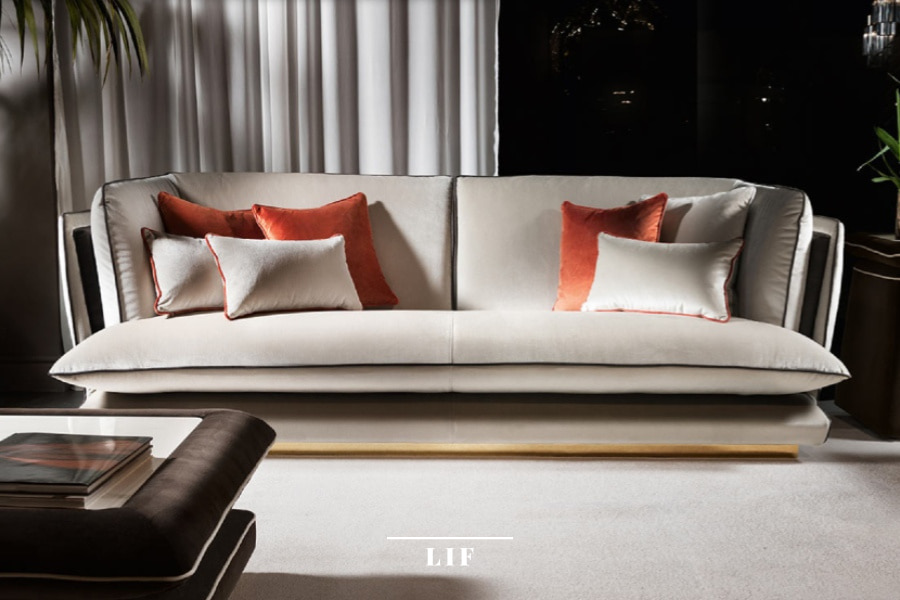 2. Three-seater velvet sofa
If the apartment size is larger you can opt for a slightly longer sofa. In this case a three-seater size is ideal. What also differentiates the characterization of a sofa, as mentioned, is the fabric. If you love the contemporary genre and want to give a touch of elegance to your living room, we recommend you opt for a contemporary three-seater velvet sofa. It is both comfortable and elegant.
You can then try being daring with colours, perhaps choosing a blue velvet colour, if the furniture in the rest of the room allows it. In any case, you simply need to rethink the colour of the curtains or carpets, so as to get the harmony you need in a short time, without necessarily having to redo the entire room.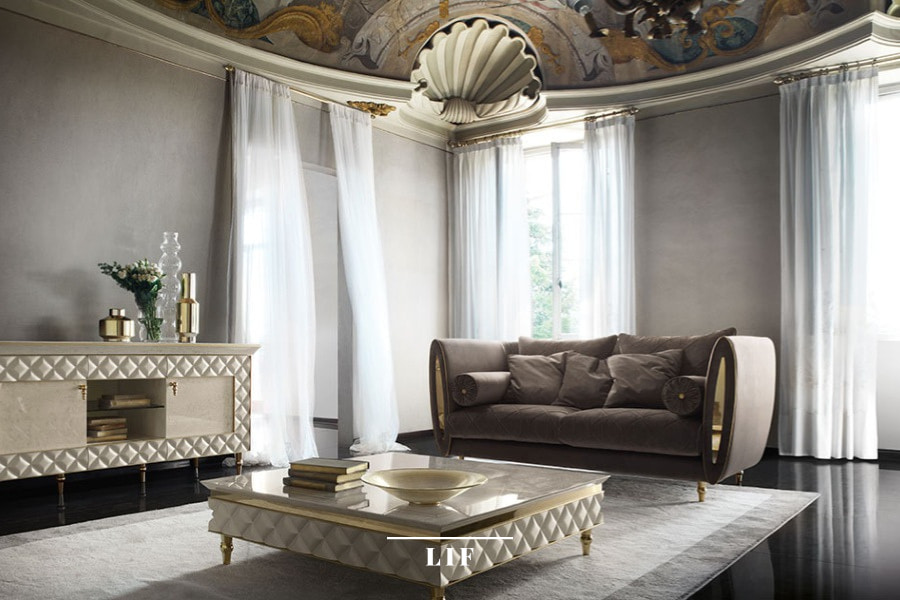 3. Quilted fabric sofa
A similar option to the previous one may be to choose a medium-sized sofa, once again being daring with the finishes and fabrics.
A fabric sofa with quilted finishes can give your living area a certain touch of elegance, and can add geometric and decorative details, without necessarily having to opt for colours that are too bright.
For example, in this case, you can opt for a light brown. The finishes and stitching lines alone will be enough to draw the right attention to the sofa, the undisputed protagonist of your living room.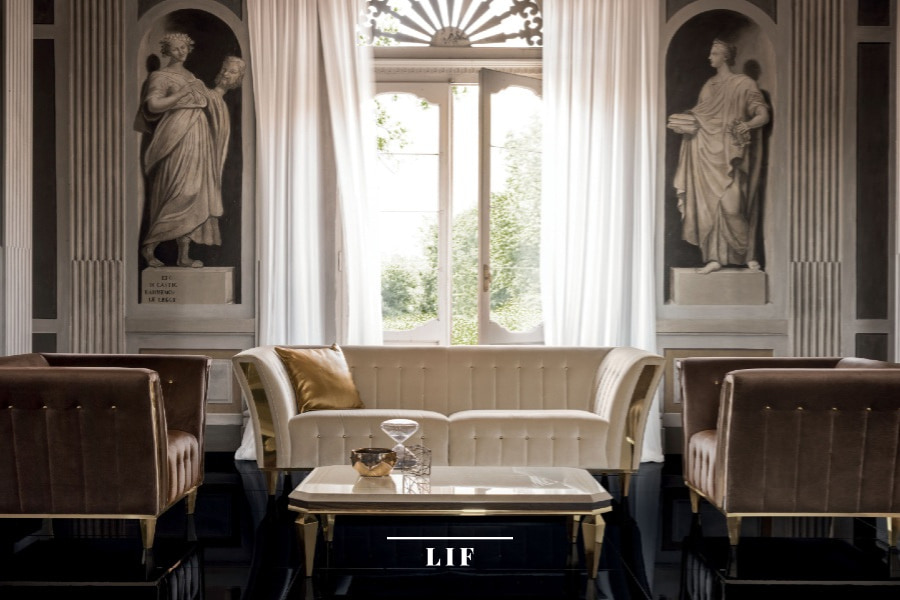 4. Corner sofa
If you're thinking of completely revolutionizing your entire living area, then it's worth venturing when choosing a sofa. Who doesn't want a home with large spaces where you can place a huge and scenic corner sofa, so you can amaze guests and treat yourself to moments of complete relaxation?
You don't necessarily need a lot of space to afford a corner sofa. If the size allows it, you can place an important piece of furniture like this in a more moderately sized living area.
Generally, we are more inclined to choose a corner sofa when thinking of an open-space design, where the sofa also becomes a useful element to separate spaces - for example - the living room and kitchen.
A decisive choice in size can make it easier to opt for fabric that isn't too ostentatious. The shape and structure of a corner sofa is already enough to make it the protagonist of a room.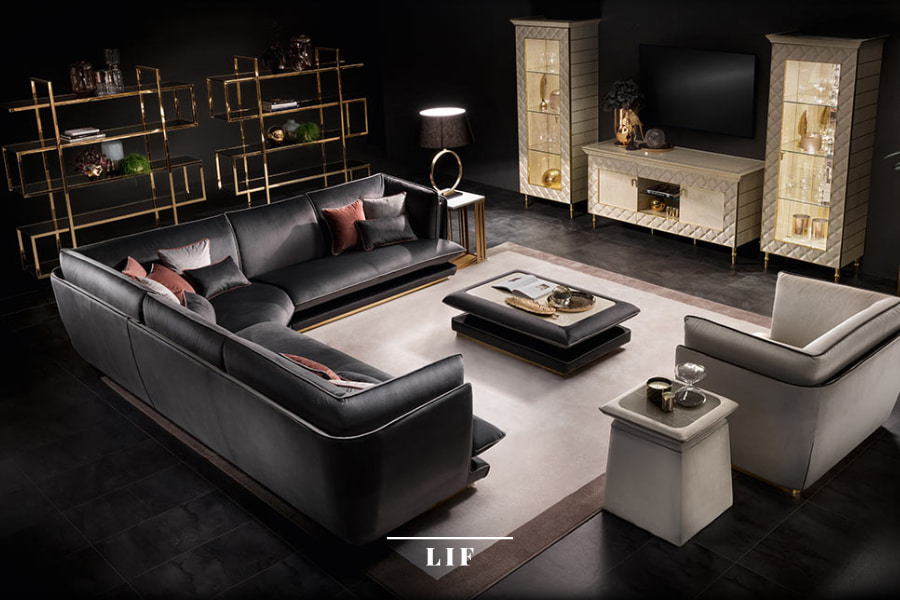 Contemporary sofa: elegance and comfort
One of the most widespread false beliefs in interior design is that contemporary furniture tends to be cold.
Actually, we know that it is not only the design of the furniture that determines the style, but also - and above all - the general atmosphere, the mood, the soul of a room.
An interior can be cold or warm, cosy or antiseptic, or many other things, regardless of the style of furniture.
Thus, for example, a country living room (a notoriously warm style) may turn out to be colder and more anonymous than an ultra-modern living room.
It all depends on how the various elements of the interior design blend in together: the colour palette, the lighting system, the materials, the accessories. If they are consistent and in harmony with each other, the environment will be liveable and cosy. If they are not, the overall picture will be flat, anonymous and, consequently, unfriendly and 'cold'.
In this article, we have seen the cornerstones for creating a functional and aesthetically refined contemporary décor, and how to choose the sofa best suited to the characteristics of the room.
Adora offers collections full of charm and personality with which you can create a living room that combines the aesthetic canons of classical beauty, while adapting to adapt to changes, trends and the evolution of society.
Adora consultants are ready to welcome you into their world. A world in which luxury dialogues with functionality, and the great Made in Italy tradition is combined with innovation and contemporary taste.
What are you waiting for? Choose the sofa that best suits your personality.
Are you looking for an elegant and exclusive design for your interiors?