Details make the difference: discover the best upholstery fabrics for dining chairs to enhance the luxury rate of your dining room and impress your guests.
When designing a dining room, we should not only consider the choice of each piece of furniture and their arrangement in the space. It is about creating an atmosphere that reflects as much as possible the style of the room and the personality of the people living there.
And how can you create the right atmosphere? Through details, of course!
In a classic-style dining room, where every element must convey elegance and refinement, details are even more important. There are so many that can help to create a certain atmosphere: from giftware to wall decor and chandeliers to the choice of a harmonious and style-consistent color palette. But more than anything else, it is the fabrics that catch the attention make the all the difference in setting the "mood" of the dining room.
Choosing the best upholstery fabrics for the dining table chairs, as well as for sofas, cushions, rugs, and curtains, is as important as choosing the furniture materials.
Would you ever choose poor quality materials for a luxury classic dining room? Of course not, and the same applies to fabric for dining chairs. They elevate the overall aesthetics of the room (as well as the individual piece of furniture), add a touch of class, and make the room immediately more sophisticated and welcoming.
That is why it is so important to choose the best upholstery fabrics, regardless of whether the style is classic or "hybrid." Indeed, remember that the dining room is the room in the house where we guests are welcomed. It is a "representative" room, and to furnish it in the best way possible, it is necessary to select the elements that define the design: colors, shapes, decorative details, materials, and, of course, fabrics for upholstery for the dining room chairs. In this article, we will focus on the latter aspect. We will explore the "power" of fabrics for the dining room and take a look at the most suitable materials for dressing chairs.
In particular, we will review:
Let us look at each point together.
How to choose the best upholstery fabrics for your dining chairs: 3 useful tips
As noted above, for dining chairs, the right upholstery fabric can make all the difference in comfort, style, and quality/durability.
Regardless of the intention - performing a complete makeover of the dining room choosing a style more in line with your new needs or just changing the chairs - choosing the best upholstery fabrics is still a crucial point.
In the first case, you may want to take a look at the Arredoclassic collections, which interpret luxury classic style and Made in Italy design in different versions (Art Deco, Empire style, neoclassical, Renaissance classical inspired by Greek and Roman architecture etc.).
Or you could opt for the Adora collections, where the dining room is chic and elegant while at the same time functional and in line with minimalist trends in the contemporary world.
If, on the other hand, your goal right now is to change the look of the dining chairs, below are three useful tips to help you choose the right fabrics.
This will give you a better overall picture and allow you to make an informed decision regarding the choice of fabrics that not only provide comfort, but also enhance the aesthetics of the dining table.
Choosing the best upholstery fabric for the dining room chairs requires considering several factors, including lifestyle and how often the chairs are used. Therefore, it is necessary to assess the quality of the fabric, that is, its ability to last and resist the wear and tear of time, and to take into consideration the style and color to match the existing furniture.
Let's take a look at each tip in more detail.
1. Evaluate the furnishing concept of your dining room
This first step is fairly decisive when selecting the best upholstery fabrics for your dining room chairs.
Certain fabrics are more suited to classic furnishings, while other materials, patterns and prints are more suited to a contemporary look.
In addition to upholstering and decorating your dining room chairs, the fabrics you choose should captivate the senses. High-quality fabrics stimulate both sight and touch, offering a visually striking and tactilely pleasing experience. That is why they are perfect for luxurious and elegant dining rooms, where impressing guests is of utmost importance.
On the other hand, if your dining room is more contemporary in style, you could use bolder upholstery fabrics, such as leather and eco-leather. But velvet, cotton and linen are also perfect.
The important thing is that the choices are reasoned according to the overall visual appeal one wants to achieve.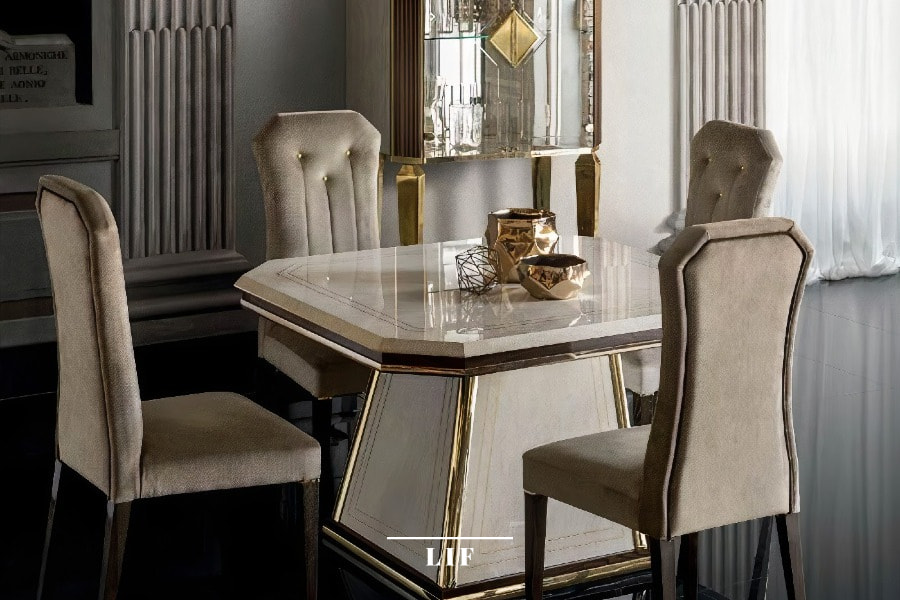 2. Choosing upholstery fabric for dining chairs based on lifestyle: decoding durability and elegance
Another useful tip for choosing the best upholstery fabric for dining room chairs is to take into account the family's lifestyle.
Those who have small children or pets in the home may be more limited in their choice of fabric for the dining chairs. In this case, logic and practicality must come before personal taste. The ideal fabrics are those that are easier to clean, stain-resistant and, in general, those that can withstand various sources of stress.
A similar argument can be made for those who use the dining room every day: even if there are no children or pets, repeated use results in greater wear and tear on the fabric. Therefore, it is advisable to choose materials that are beautiful, elegant, but also durable and practical to wash. Materials such as cotton, linen, and blended fabrics are considered reliable choices in terms of strength and durability.
Quite another scenario is that of those who choose to receive guests in the dining room only on special occasions. In this case, you can also choose delicate and precious fabrics, such as silk, damask and the others described below.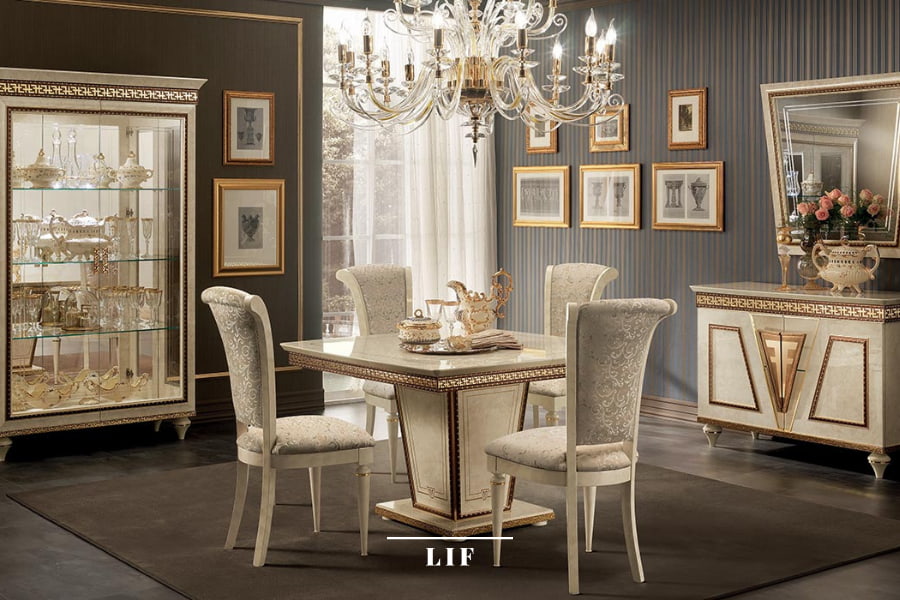 3. Choosing the fabric color based on the dominant style of the dining room
When choosing a fabric to upholster dining room chairs, it is also important to consider the combinations and juxtapositions of colors, textures, and patterns.
Regarding colors, you will first have to take into account the existing furnishings and decide whether you want to create a stylistic and chromatic theme or whether you prefer to use fabric for upholstering dining room chairs to create a sharp contrast.
As a general rule, "cool" neutrals such as white, black and gray are perfect for a contemporary style, but nothing prevents you from opting for less usual shades such as navy blue, forest green, burgundy or even gold. These warmer, more vibrant shades can soften the feeling of formality and create a more welcoming environment.
On the other hand, if you want to create a straightforward and elegant atmosphere, warm neutral tones (especially beige, in its various shades) are preferable because they are well suited to fit in refined settings. Also, you could focus on the contrast between the light and bright fabrics of the chairs and the dark wood finishes of the dining table and other furnishings.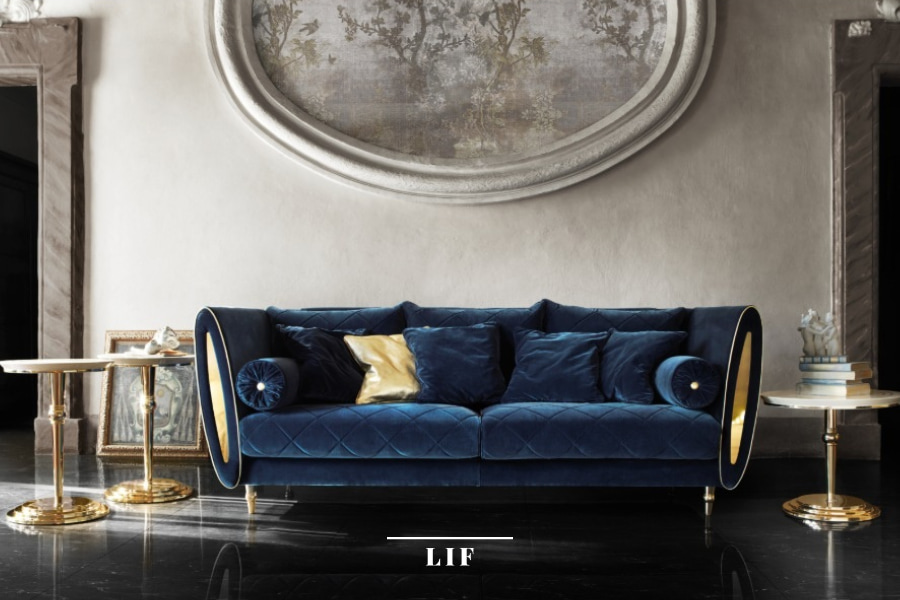 Select your luxurious upholstery fabrics for dining room chairs
By following our advice you can select the finest fabrics and make the chairs the true protagonists of the dining room. From rich and ornate textures to simpler patterns, eye-catching colors, textures that stimulate the senses are the upholstery fabric options for dining room chairs.
Below we review the best choices of quality fabrics for elegant and sophisticated chairs. Your dining room will enhance its style and hospitality!
Velvet
A soft and inviting texture that envelops the hand and excites the senses.

Incidentally, the latest edition of the Salone del Mobile

showed

a definite turnaround toward velvet, which will be one of the trend fabrics for 2024 along with other soft and smooth textures.

In addition to giving your chairs a luxurious and refined appearance, velvet catches the eye thanks to its shimmery reflections and deep, rich colours.

Try to imagine your dining room furnished with damask velvet chairs

, adorned with precious golden or silver embroidery. The entire look is guaranteed to be extremely elegant and luxurious.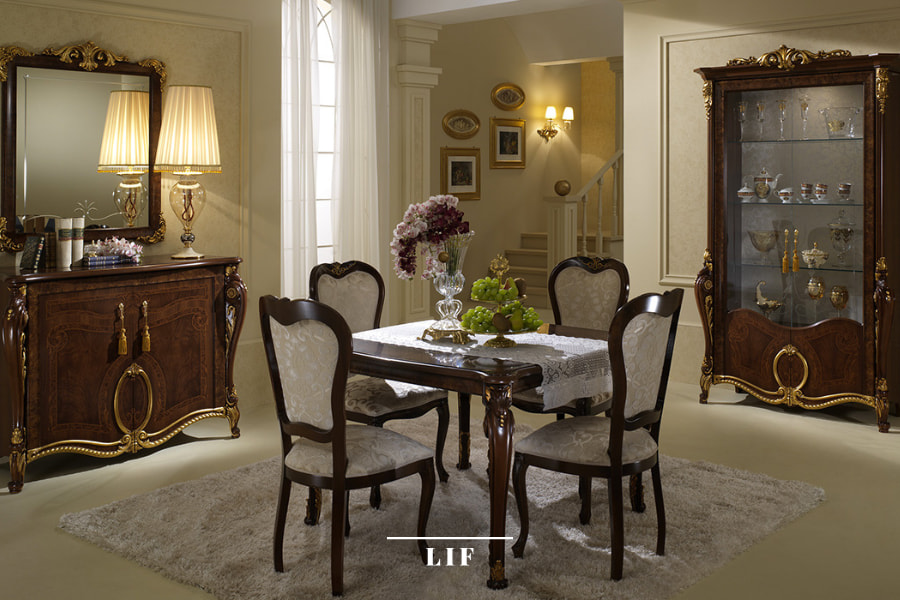 Brocade
Brocade is a fabric of unquestionable value. It tends to have a smooth or textured surface with an intricate texture that includes inlays and threads that create curved golden or silver designs, or embroidery in relief.

These designs include arabesques, swirls, floral patterns and even linear patterns suitable for contemporary furniture


Lampas
Similar to brocade, lampas can give upholstered furnishings a fresh look, emphasising their aesthetic appeal.

Two warps and numerous wefts are used to process this particular fabric, which means that its unembroidered side, covered in a tangled web of threads, makes it instantly recognisable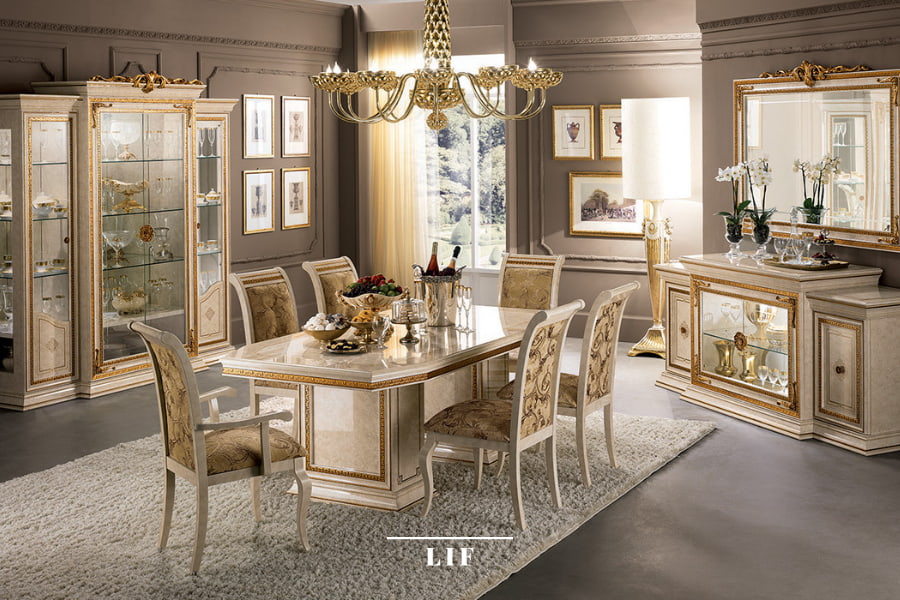 Linen
This natural material gives chairs an understated yet elegant appearance, as well as a certain lightness and elegance


Cotton
A natural fibre suitable for upholstering dining room chairs: high-quality, "fresh" and soft to the touch. The most valuable cotton is called 'Sea Island' cotton, due to its long silky fibres, which are used to make incredibly refined fabrics.

Available in block colours or a variety of different patterns, cotton is stylistically versatile, as well as understated and essential


Satin
Chairs upholstered in satin sparkle with a refined lustre and seductive shimmer. Satin is a uniformly woven fabric that is extremely shiny and smooth to the touch.

Available in block colours or in a range of precious, embroidered prints, satin can adapt to any look: from classic style to contemporary charm


Damask
Bewitching shine and a unique texture: two distinctive features that really set damask apart from satin.

The main difference between these two fabrics is that only the brightest side of satin can be displayed, while both sides of damask fabric are processed equally.

Chairs upholstered in damask fabrics are guaranteed to give a refined and opulent touch to your entire dining set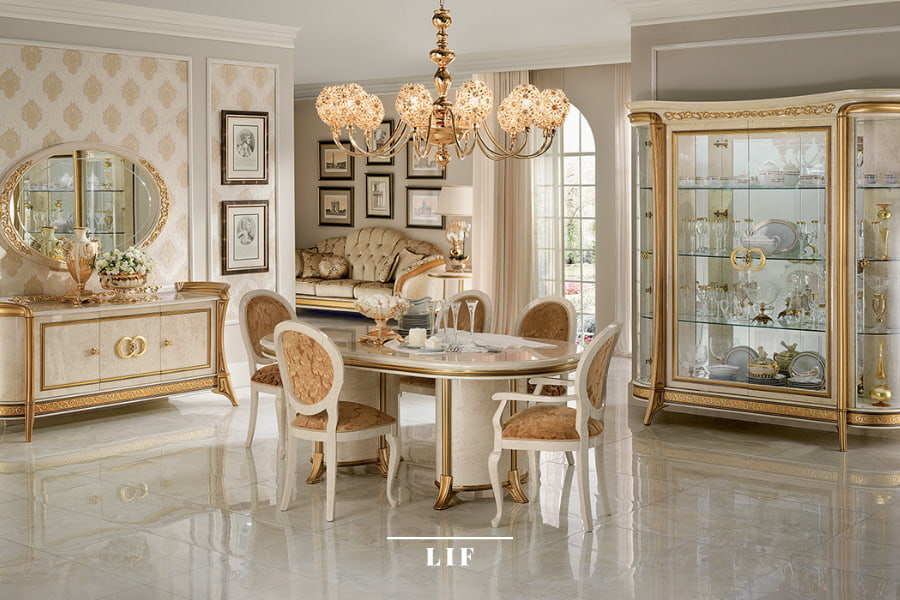 Leather and faux leather
Leather is one of the most valuable and first choice materials in contemporary Italian furniture.

Because of its versatility and elegance, it is perfect for upholstering contemporary style seating. Extremely durable, versatile and visually and tactilely pleasing.

Faux leather, which can be defined as the eco-friendly version of leather, is also part of the range of materials and fabrics used for this manufacture. Pleasing to the eye and to the touch, faux leather offers textures and consistencies of great sensory impact.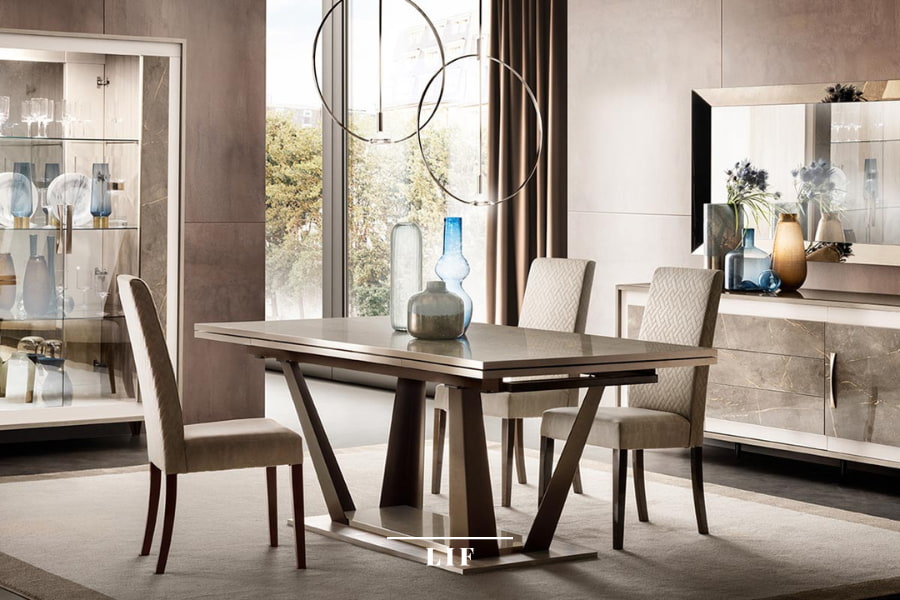 What is the best upholstery fabric for dining room chairs? Choose the timeless elegance of Arredoclassic and Adora
In this brief overview, we've taken a closer look at the aesthetic characteristics of the best upholstery fabrics, which are perfect for adding a touch of class to your dining room chairs.
We have provided you with suggestions, ideas, insights, and inspiration for choosing the chairs that best suit your lifestyle, the stylistic context of your dining room or the atmosphere you wish to create in a makeover.
As we said at the beginning of the article, it is more important (but also more complicated!) to create an atmosphere rather than a specific style.
In fact, each style can be created in different ways. A classic style dining room, for example, can be opulent, cozy and familiar; while a contemporary style can be both informal and luxurious.
To impart a certain mood to the room it is possible to act on the accessories, color combinations and attention to detail, starting with the choice of upholstery fabrics for the chairs in the room, carpets, curtains, and other fabrics that will complement the style.
Now all you have to do is put our advice into practice and make your choice.
For an atmosphere of timeless elegance, we recommend the fine fabrics offered by Arredoclassic and Adora for the collections in classic and contemporary styles, respectively.
Arredoclassic and Adora guarantee quality fabrics, craftsmanship care, Made in Italy design, innovation and a wide selection of fabrics to transform a simple piece of furniture into the centerpiece of the room that can impress and attract the eye of everyone present.