The contemporary design combines style and comfort: both are essential requirements to ensure that every interior of your home can enjoy a furnishing atmosphere that is beautiful to look at, yet without sacrificing comfort.
Sitting room, living room and bedroom - being the most important rooms in your home - need agile and functional furniture, designed according to the same furnishing concept, so as to maintain a certain aesthetic continuity throughout the entire home.
Would you like useful tips to ensure that your home is entirely embraced by elegance and can offer a warm welcome and comfort to both you and your guests in every room? Then this article is for you.
Below you will find the main steps to follow in order to furnish your home with Adora: in this way you will achieve a satisfactory final result both in terms of style and functionality.
Contemporary interior design: 7 tips to furnish your home and make it look beautiful and cozy.
Here is the list of 7 useful tips on how to set up the main rooms in your home and make them sophisticated and comfortable.
Specifically:
Let's continue by analyzing each step individually.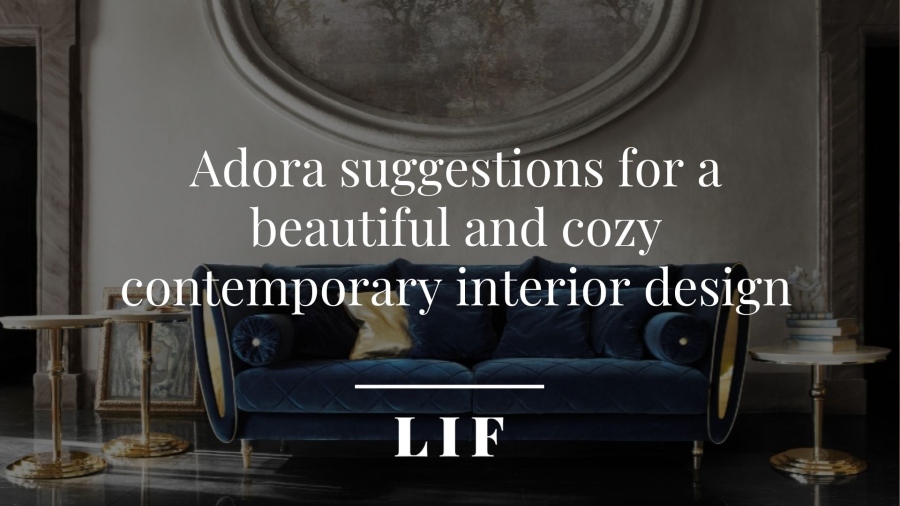 1. Prefer neutral colour palettes for both paint and wallpaper and complement with bold accents
Start with the background of your furnishing scenarios: with the help of an interior designer, create a mood board specifically designed for each room and establish a palette of colours with neutral base shades.
If you wish to add bright touches of colour you can do so later without any problems. This is made possible as contemporary interior design offers a wide choice of colours and shades.
Once you have chosen the shades that will colour the walls of the various interiors, we recommend you choose from the various proposals of wallpaper to be applied as a combination. This type of wall decoration refines walls with more finesse and acts as a chromatic breakpoint.
To make the visual impact more seductive, for example, you could try combining basic colours with dark shades, such as gray or dark green, or even brighter colours, such as purple and blue, to name a few.
To add a further touch of colour and decoration to your rooms, choose wallpaper with geometric patterns, attractive motifs and contrasting textures.
2. Create a furniture arrangement that provides space and comfort
In the rooms, which have been set up according to contemporary interior design, we find a cozy atmosphere, balanced in space and harmonious in form.
These are comforting visual and perceptive sensations that can be experienced only if you manage to create a layout devoid of any ornamental excess and that can give maximum comfort, order and rationality to the environment, making each piece of furniture and decorative object the protagonist of the set-up that has been created in each room.
3. Dedicate yourself to the living room and compose your dining set
The first step in furnishing your living room to perfection is to design the composition of your dining set: the real protagonist of this furnishing scenario.
Your aim is to reproduce the contemporary design in every room: this is why we suggest you select a dining set made according to the criterion of this sophisticated concept.
You can choose between the Diamante Collection or the Sipario Collection: the choice is up to you and should reflect your stylistic preferences.
Do not forget to complete the entire unit with showcases, buffet furniture and mirrors, other integral parts of the living room furniture.
Choose each element with the same concept as the dining set or in any case select furniture that can tastefully match the furniture already chosen.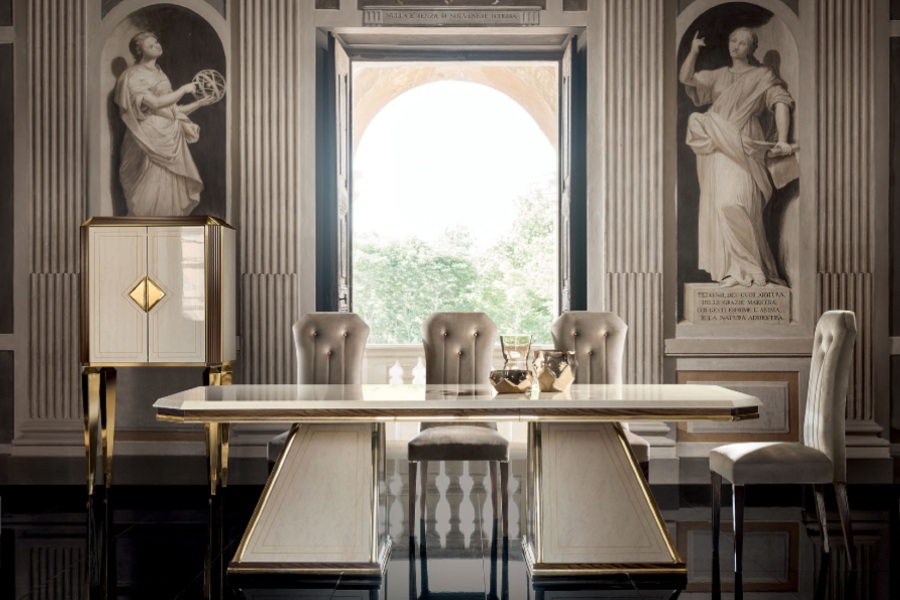 4. Move on to the sitting room: choose comfortable furniture with a sophisticated design
Sitting room furniture should be the perfect reflection of comfort and glamorous contemporary aesthetics. Therefore, prefer fine, comfortable furniture and a sophisticated stage presence: coffee tables, sofas, armchairs and chaise longue.
Here too, you have a wide selection of furniture available. You can choose between the: Diamante Collection, Sipario Collection, Atmosfera and Allure.
We always recommend you choose elements from the same collection in order to remain faithful to the stylistic concept established initially to furnish each room.
5. Finally, the bedroom: opt for highly comfortable furniture, but without sacrificing style
For your bedroom choose the Diamante Collection: perfect to make your personal oasis of relaxation and intimacy warm and welcoming, and it is ideal to be combined with the collections chosen to furnish the living and dining areas.
A large and comfortable bed with a wide headboard and with a uniform marble surface and contrasting colours; bedside tables that take on the features of the bed and offer the same precious details; mirror and dressing table en pendant.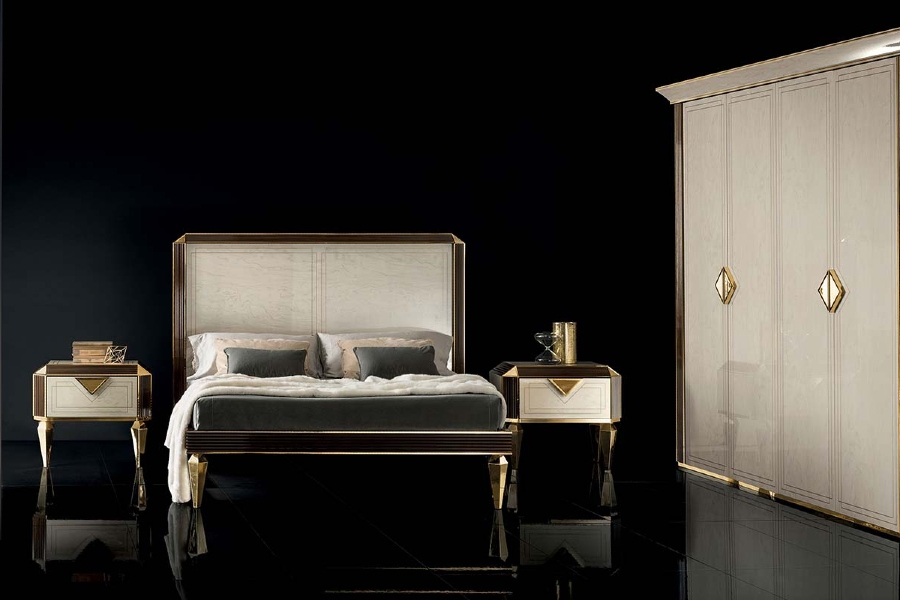 6. Dedicate time to the lighting: select designer lamps with a minimalist taste
For a final touch of style, choose lamps with a contemporary concept, such as:
Chandeliers;
Pendant fixtures;
Recessed lamps;
Wall lights;
Floor lamps.
By installing each solution in the various rooms of your home, you will introduce functional lighting points that ensure maximum visibility and complete the interiors with actual decorative elements.
Contemporary design requires materials that are solid and durable, but also malleable, capable of creating decisive and attractive profiles, such as:
7. Complete each composition with contemporary art pieces
The furniture is the protagonist of every room in your home, yet it is the details that make the difference.
Therefore, in order to complete the furniture composition of your living room, sitting room and bedroom, we suggest you choose contemporary art pieces or design accessories in accordance with the chosen concept, such as:
Frames with a refined profile in polished wood or metal;
Contemporary sculptures,
Abstract, cubist and modern art paintings;
Decorative mirrors, vases and contemporary style accessories.
Style and comfort: the perfect formula to furnish your home in a perfect contemporary interior design
In this article, we have provided you with some key tips to create a contemporary design furniture composition in your home's main rooms.
Following our suggestions, and choosing the Adora line, you will obtain a final result worthy of note: every atmosphere will be warm and welcoming and each furnishing scenario will stand out for its inimitable elegance and value.