Classic furnishing style and contemporary taste are becoming increasingly popular in the latest interior design trends.
Their refined charm never goes out of fashion and is appreciated by all because it manages to offer aesthetics and functionality in every furnishing composition, especially in the living area.
It is often thought that designer interiors of both types can be either too opulent, or cold and sterile.
In both cases, however, it is possible to create an atmosphere of elegance and comfort for those who live in the space.
In this respect, below you will find some key tips on how to make your living room warmer and cozier.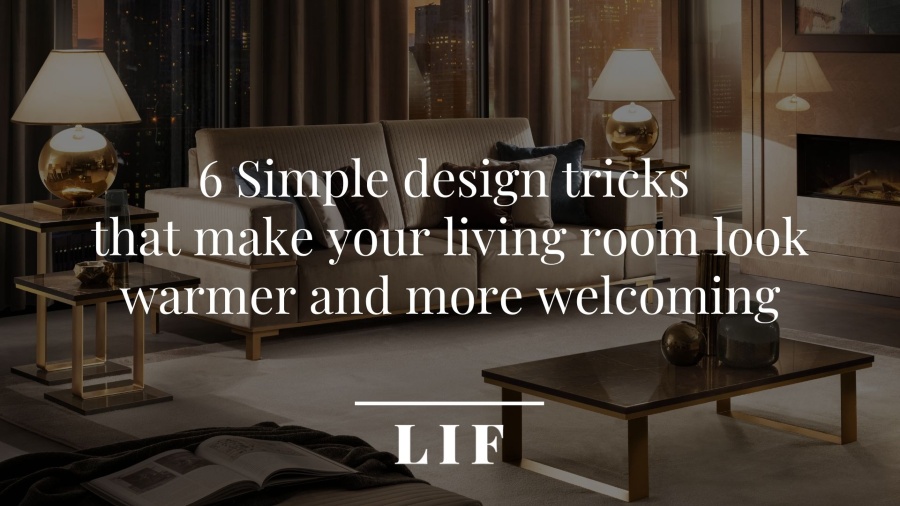 6 Tips to make your living room look warmer and more comfortable
Ornamental care, balanced shapes, comfortable softness and simple lines are the factors that make contemporary aesthetics and classical style two of the most popular furnishing trends in the world.
If you are looking to create a furnishing atmosphere with a bold yet welcoming character, we recommend reading the list of 6 tricks of style and functionality below.
To make your living room cozy, it is necessary to take care of the functional and stylistic side, as well as the decoration and correct arrangement of the furniture.
Here are some specific tips:
Let's find out together which elements are needed to create a perfect classic or contemporary design furniture scene.
1. Taking care of wall color
The color scheme of classic and contemporary interiors presents a wide range of choices, giving you total freedom to select between basic, understated colors, bolder, more vibrant colors and bright shades.
Colors have a strong influence on our perception of space, so it is important to choose which color will adorn the walls of your living room carefully.
Your aim is to create a warm atmosphere, so in this case we suggest you opt for light shades such as:
2. Creating a layout that respects the balance of spaces
In a classic or contemporary living room, it is essential to create a relaxing and cozy atmosphere. For this reason, you should create a layout that respects the balance of spaces.
Opt for an uncluttered layout, where the empty space on the floor and between cabinets, makes sense and offers a feeling of order and cleanliness.
Such a layout will give the room a fresher look, and will also allow each piece of furniture to stand out in its uniqueness.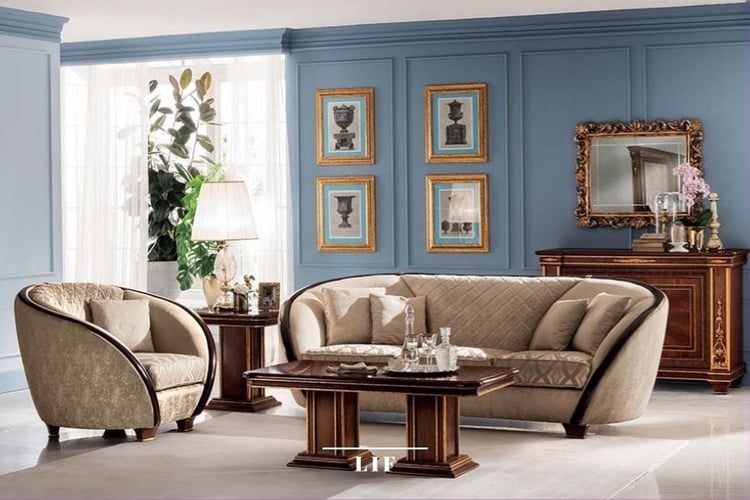 3. Choosing comfortable seating
The seating in your living room should be an authentic expression of made in Italy style and quality and at the same time offer a comfortable and cozy stay.
Therefore, we recommend selecting sofas and armchairs with essential profiles and enveloping softness. In addition to the comfort factor - which is absolutely essential - you will have to consider which furnishing options best suit your aesthetic taste.
You could choose a collection with a square cut, with a more assertive profile, emphasized by vertical quilting along the back and armrests, and shiny gold-colored metal inserts.
Or opt for a furniture family with classic lines made even more elegant by sinuous shapes and enriched by bases with Greek frames in gold finish.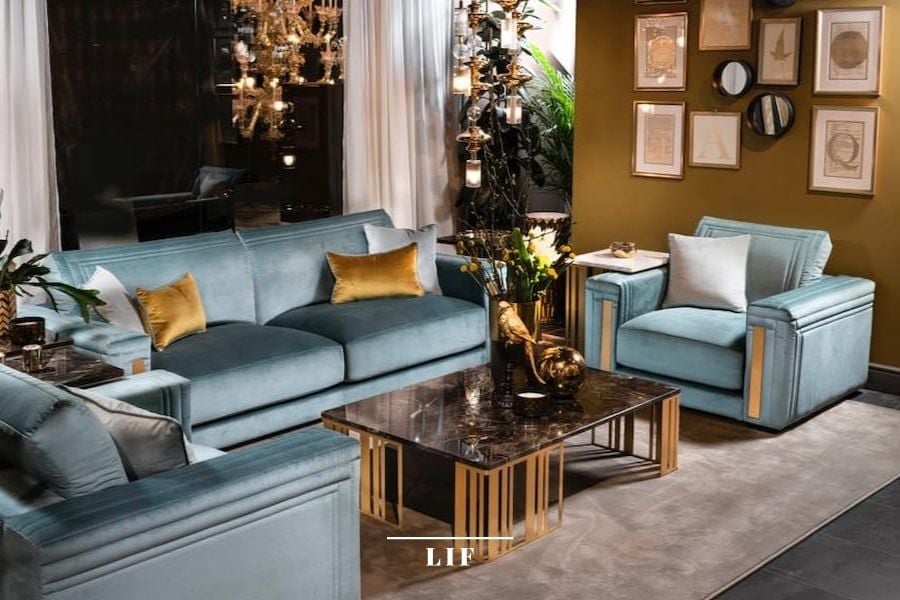 4. Adding accent cushions on sofas and armchairs
Finally, don't forget add accent pillows soft and caressing textures.
Choose the shapes you think best match the design of your sofas and armchairs and, of course, opt for high-quality fabrics and covers.
In this way, you will not only attend to the visual aspect of the entire composition in detail - whether classic or contemporary - but by playing with refined textures and softness you will lend a greater sense of comfort to the seating in the living room.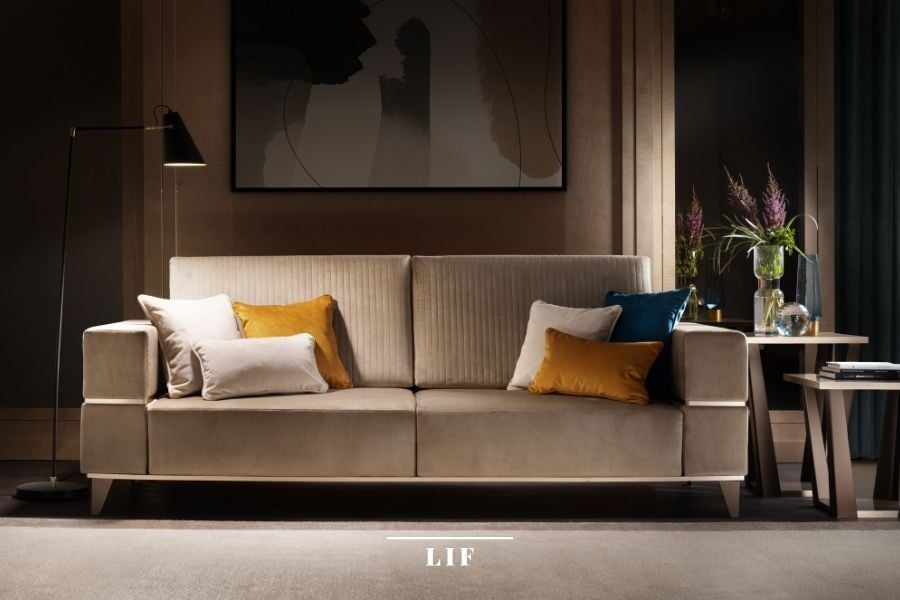 5. Ensuring decorative and functional lighting sources
In any interior design project, lighting plays a central role in terms of style and functionality.
In order to ensure maximum visibility and comfort, without sacrificing aesthetics, it is best to opt for specific models with remarkable technical-stylistic performance, such as:
Pendant fixtures
Recessed lamps
Wall lights
Floor lamps
Made from materials in total accordance with the dictates of the contemporary genre: glass, metal, crystal or copper.
The first two types will act as decorative lighting sources denoting a cozy atmosphere in the room.
While the last three, in addition to functioning as lighting points, will provide task lighting for all kinds of activities in the living room (reading, resting, chatting with friends and guests, etc.).
A final tip: don't rely solely on lamps!
If you like, you could place scented candles on the tables and light them whenever you like. Candles always give a sense of intimacy and warmth that makes any atmosphere magical.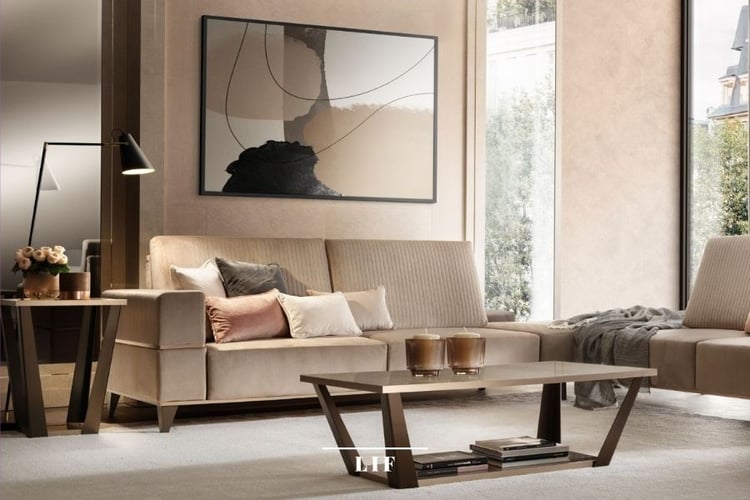 6. Placing decorative curtains at the sides of the windows
Curtains of various lengths, combined with elegant matching valances, will give the windows a more refined and sophisticated look.
They will also come in handy if you want to make the atmosphere more intimate and comfortable. You can then pull them together or close them and alter the amount of light entering the room to your liking.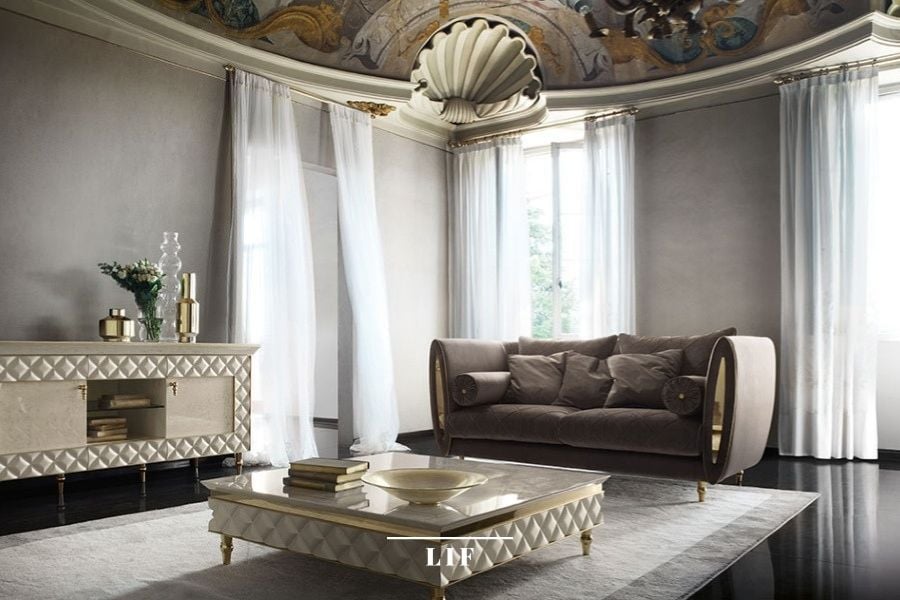 Elegance and comfort: that's what makes a living room warm and welcoming
In this article, we have given you some tips on how to make your living room a warm, comfortable oasis.
Follow our advice and pay attention to every detail, integrating aesthetics with comfort: this is the only way to achieve a satisfactory result in terms of both aesthetics and function.