Rely on luxury bedroom furniture to revamp the design of your room. Find out how to combine the princely atmosphere of classic style with 2023 trends.
Renovating your home's most intimate place with luxury bedroom furniture is never an easy task. Indeed, if you are trying to create a cozy bedroom, you need to include some functional elements to "warm up" the room (such as, warm colors, soft fabrics, personal touches, wall decorations), and combine them with luxury furniture, which, on the other hand, have the specific purpose of creating princely and sumptuous atmospheres. Carefully mixing luxury bedroom trends and stylistic elements aimed at instilling a cozy atmosphere is the secret to achieving a comfortable environment, pleasant to live in and beautiful to look at.
But where should you start from?
A good way to find luxury modern bedroom ideas is to browse interior design magazines, visit industry websites or be inspired by the best Made in Italy interior design collections, such as Arredoclassic and Adora. Two brands that offer dreamy bedrooms, with attention to the smallest details and focused on blending stylistic elements that can create a welcoming feeling and a luxurious atmosphere, all without ever losing sight of 2023 bedroom trends.
In particular, bedroom furniture trends are constantly evolving. In this article, we will see the dominating trends for the second half of 2023 (and also in 2024) for luxury bedrooms. At the same time, we will see that true design is not that which remains "imprisoned" in momentary trends, but rather the one that succeeds in integrating trends within a style based on canons of objective elegance and timeless beauty.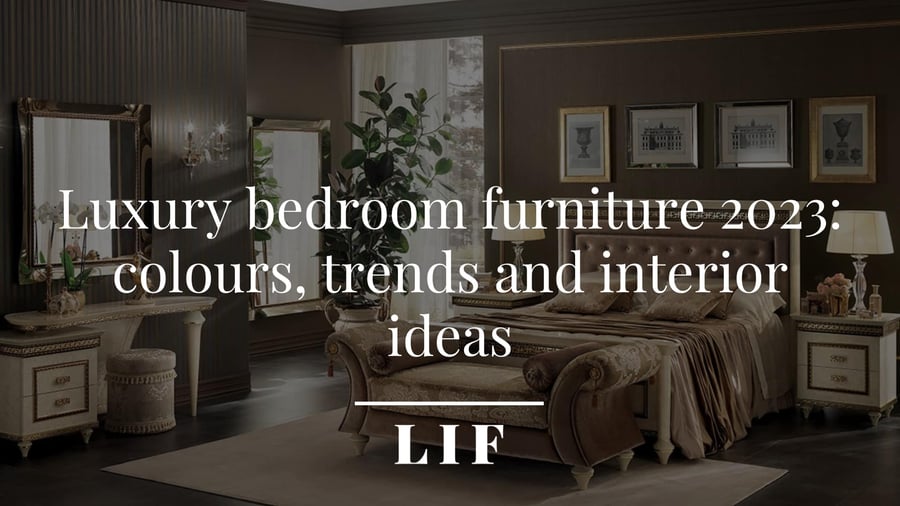 All you have to know about the luxury bedroom furniture trends 2023
Have you decided to renovate your bedroom? Whether it's a small makeover or a structural and stylistic renovation, you're in the right place. Below you will find valuable advice on 2023 key bedroom trends. We will see how to focus on the styles, shapes and colors best suited to shape your sleeping area by integrating typical contemporary functions with the elegant design of classic luxury style.
As mentioned above, if your goal is to "shape" a sleeping area using luxury bedroom furniture, there is no point in spasmodically chasing after passing trends. Instead, it will be crucial to create an alchemy of atmospheres by interpreting trends as starting points for building a more long-term furniture project.
In essence, it is about adapting bedroom furniture trends to aesthetic canons based on quality materials, refined details, and luxury finishes capable of standing out from standardized solutions and lasting as examples of universal beauty.
You could opt for fine fabrics and materials, such as velvet, satin, marble, and wood, and even mix them together to blend warmth with opulence, a sense of coziness with luxurious atmospheres.
All that remains is to find out how to transform your bedroom into a design gem by relying on Adora and Arredoclassic collections.
Bedroom trends 2023: what do luxury bedrooms have?
Luxury bedroom furniture design embodies a perfect synergy between:
Functionality
Aesthetics
Comfort
Of the three, functionality is the most important, as bedroom furniture serves different purposes (such as storage, display and tidying space). But style and comfort are also essential for a good night's sleep.
The only way to combine these 3 key factors is to use fine materials for the various bedroom furniture elements.
If, for example, you choose an upholstered bed, a velvet headboard is a good compromise, as it is a durable material (less delicate than satin or silk) but at the same time very chic and elegant.
For nightstands, dressers and cabinets, you could opt for polished marble-effect finishes or lacquered surfaces, which combine aesthetics and practicality.
Regarding the color palette, colors that are close to natural elements and delicate pastel shades, create a relaxing atmosphere and promote rest, are all the rage in 2023.
Among the most eye-catching luxury modern bedroom ideas for 2023 is to combine ivory-colored luxury furniture with sophisticated gold finishes, as in the Liberty bedroom by Arredoclassic, in which the linearity of geometric shapes (echoing Greek- and Roman-inspired neoclassical design) is enriched with precious 24K gold leaf frames and silk-screening.
Let's see what furnishings and elements are essential when designing a luxury bedroom.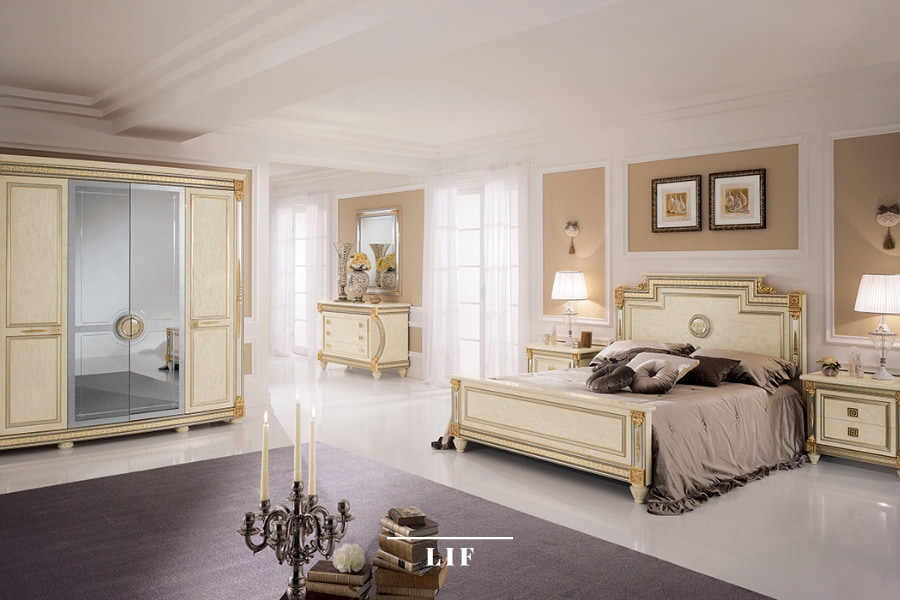 1. Spacious, comfortable and luxury bed
If in the living area the starring role belongs to the sofa (for the living room) and the table (for the dining room), in the sleeping room the star can only be the bed.
'His majesty the bed' will be the starting point in designing with luxury bedroom furniture, because it is central both from a functional and design standpoint.
In a luxury environment, comfort and quality of rest are the priority; however, visual impact cannot be neglected. That is why, regardless of the style adopted, it is essential to opt for a star bed, in size and comfort, design, style and materials.
Choosing a contemporary bed such as Essenza by Adora, embellished with feet and frame in a satin gold finish, or in a classic style, such as the sumptuous Leonardo bed by Arredoclassic, on whose headboard towers a large gilded molding, means that you are already (more than) halfway through when it comes to creating a dream bedroom!
An extra treat could be a LED strip behind the headboard to provide light instead of the classic bedside lamp.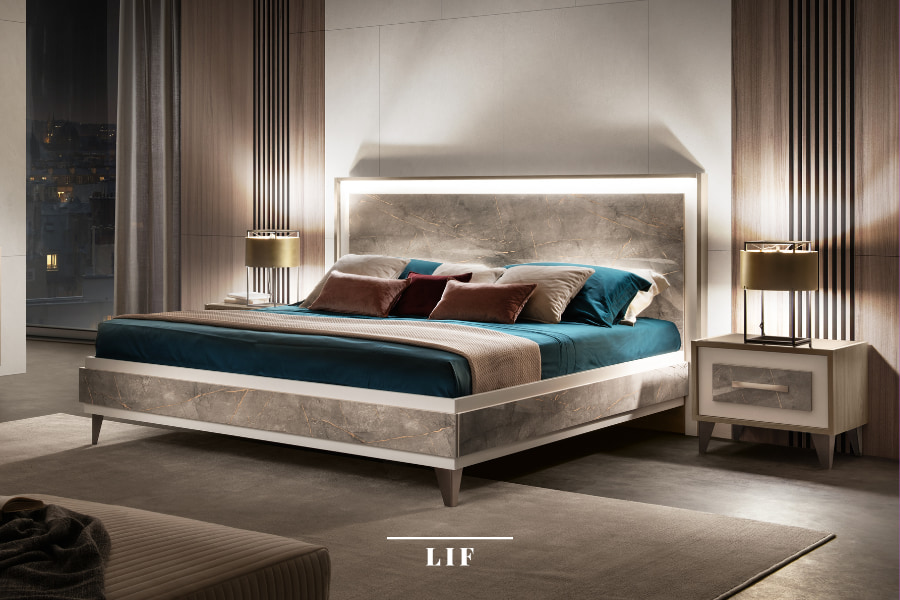 2. Closets and wardrobes: luxury at your fingertips
Growing trends for the 2023 bedroom include furniture designed especially to fit the space and meet the customer's needs.
Although function isn't all. Indeed, 2023 and 2024 trends include a renewed focus on luxury and opulent looks. The so-called "fast furniture", characterized by cheap and standardized furnishings, will be abandoned in favor of a type of furniture that is more polished and of higher quality, and above all, more durable.
Adora offers two new closets in line with the trend of luxury and quality, and featured in the Moderna collection and in the Luce collection. They are both an emblem of functional luxury with a contemporary flair, because they combine compact design with refined and luxurious details.
Moderna sliding closets can be arranged with elegant mirrored doors in silver, bronze or smoked finish, to be combined with a central element in the same finish (for a homogeneous and continuous visual effect) or in a different finish (to create a striking contrast).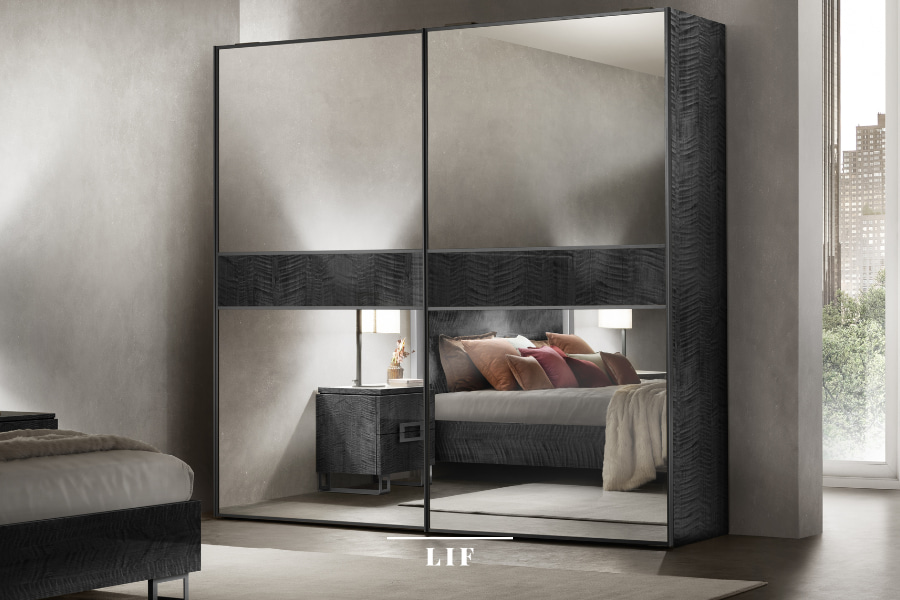 The same goes for Luce sliding closets, with doors available in 3 different shades and central insert in 4 variations.
In addition, contemporary closets by Adora are designed to ensure maximum convenience in organizing the wardrobe, thanks to internal drawers, shelves and functional accessories.
3. Bold decorations and designer lighting
Another luxury modern bedroom trend for 2023 is to add bold decorations, touches of color and designer lighting as part of luxury classic Italian-style bedrooms, dominated by an overall atmosphere of elegance and understatement.
For example, character can be added by incorporating accent cushions in contrasting colours with the linen that will stand out in the decor.
Don't forget the lighting: metal and glass wall lamps with a minimalist design for a contemporary feel, or table lamps with a linen shade, brass frame and tassels for classic luxury bedroom furniture.
As far as light intensity is concerned, it is advisable to opt for warm, soft lighting, whether it illuminates the whole room or just the bedside tables and vanity unit.
If you'd like to find out more about the best lighting for your bedroom this year, take a look at our newly updated guide "Bedroom lighting design guide".
4. Plain curtains
For more privacy and to modulate the brightness in the room, add long solid-coloured curtains that are flush with the floor.
If you want the room to be bright, opt for sheer fabrics and soft colours. In this case, the fabric palette varies according to the furnishing style, but we will go over this aspect in the next paragraph.
What is the perfect colour palette for a luxury bedroom?
The bedroom is a true oasis of rest and, as you can imagine, the choice of colours for both walls and luxury bedroom furniture plays a decisive role in creating the right mood for this room.
Both stylistically and perceptually, it is important to find the right colour palette for your bedroom.
If you want to restyle your room in line with the dictates of contemporary style we recommend dynamic, cool and energetic colours: midnight blue, anthracite, vermillion, forest green or the brand new Viva Magenta or Pantone colour of 2023.
For a colour palette more in keeping with the classic concept, we recommend the neutral tones of grey, white and brown combined with pastel shades such as pink, light blue and dove grey. These shades create a refined and cozy interior, perfect for a timeless and classic atmosphere.
Remember, the choice of colors is not limited only to walls, but can and should be extended to fabrics, carpets and decorative accessories as well. It is important to find a consistent and harmonious color palette to create a room that is both elegant and relaxing.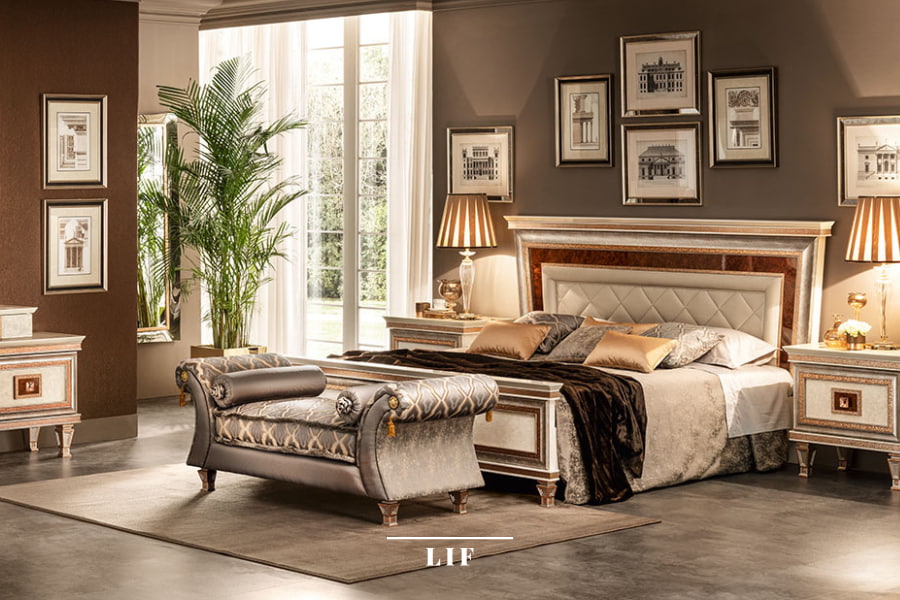 Wallpapers and painting: their roles in luxury bedroom trends 2023
Designing your bedroom means that you have to pay attention to every detail, including wall decoration.
If your room is rather on the small size, compared to luxury master rooms, you could opt for wallpaper or paint to create the illusion of more space. Patterns and mirrors are perfect for this purpose.
Wallpaper is a simple and inexpensive way to revolutionise any room, as it can instantly add colour and depth.
Wallpaper designs have evolved from classic prints to more modern styles, to ensure that everyone can have a luxurious bedroom in line with their aesthetic taste.
On the one hand, we have linear and clean patterns, perfect for contemporary atmospheres, and on the other hand, more sophisticated prints, with acanthus leaves and twirls, in perfect classical spirit.
Topping the list of luxury bedroom trends for 2023 is wallpaper with a shading effect. This nuanced coloring style will help you bring bold color to your bedroom walls without being overdone. Classy shades of pink, embellished with gold-colored bands that add a touch of luxury without weighing down the room. Shading is a perfect choice for those who want to use more than one wall color in an elegant and subtle way.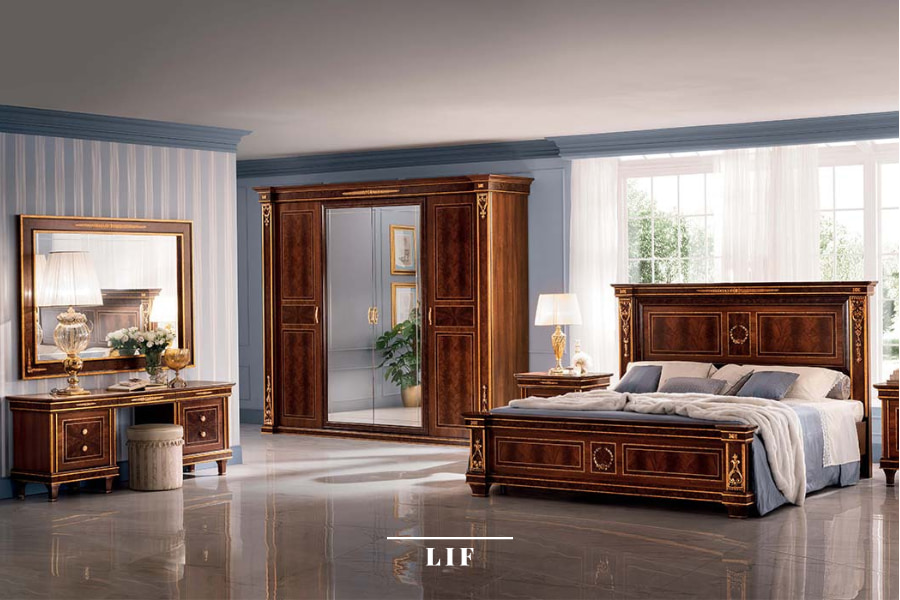 Luxury bedroom trends 2023: comfort and style come together once again
Fashion transforms and renews itself, giving us each time wonderful luxury modern and classic bedroom ideas and inspirations to enrich our home and make it a unique place.
In particular, in this article, we went over how to furnish with luxury bedroom furniture by looking at the main stylistic trends of 2023, but without losing sight of elegance, quality of materials, design and personal imprint, an ingredient that should never be lacking in an intimate and private place like the bedroom, even when the stylistic orientation tends more toward luxury than simplicity.
Keeping a balance between comfort and style is not easy. The best way to do this is to rely on companies such as Arredoclassic and Adora, whose concept has always focused on luxury design, attention to detail, and the ability to modulate classic and contemporary stylistic declinations through a wide range of solutions and collections.
Browse the classic and contemporary catalog and discover the style that best suits your taste and personality.