In the history of art, the neoclassical style spread between the 18th and 19th centuries, finding its place mainly in the European and U.S. culture. From the artistic world, the style slowly expanded to other fields of daily living, including interior design.
Houses of the period began to move away from the curvilinear forms typical of earlier styles - Baroque and Rococo - to move toward greater balance and geometric rigor, with a predominance of smooth surfaces, sober colors, and straight lines.
In nineteenth-century aristocratic houses, however, there was no shortage of luxurious inserts and lavish decorations, which also served the purpose of emphasizing the social rank of their inhabitants.
It is from this mixture - understatement and luxury - that the neoclassical style as we know it today in interior design was born.
Just look at Arredoclassic Fantasy Collection to realize the various influences that have passed through the neoclassical style over time, culminating in the exploit of the Empire style, characterized by a taste for balance and proportion, combined with a passion for art, luxury, and beauty typical of classical culture.
All that remains is to discover how to apply the aesthetic pillars of the neoclassical style to today's homes.
Let's see how to create elegant and sophisticated environments with the key elements of luxury neoclassical interior design, without losing sight of modern functional requirements.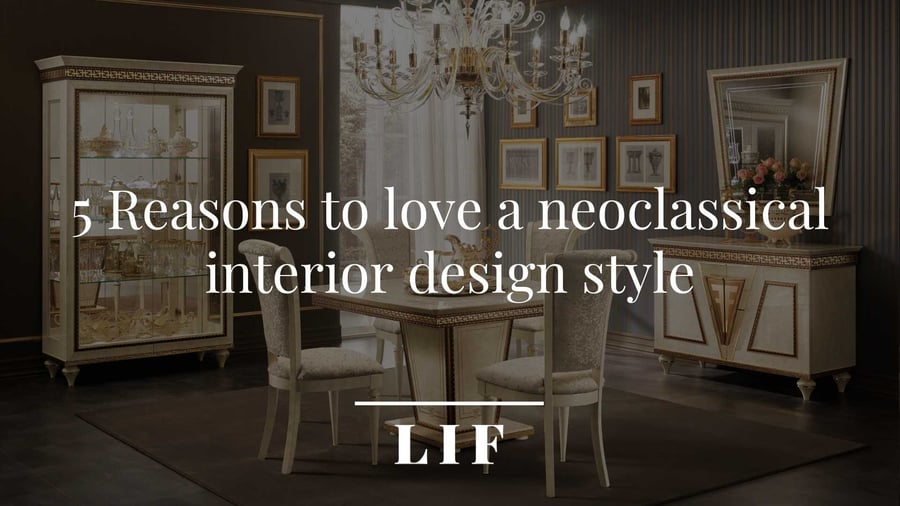 What are the main characteristics of the neoclassical style?
The term "neoclassical," combining two seemingly opposite concepts, suggests a fascinating blend of atmospheres and stylistic figures: on the one hand, the great tradition of the Italian classical style, based on elegance, fine details, quality materials and luxurious decorations; on the other, openness to the new, understood as acceptance of change and stylistic evolutions.
In essence, the neoclassical style retains the basic classical characteristics, but is more flexible and manages to fit naturally into the reality of today's homes, finding the right balance between comfort and beauty, between pragmatism and aesthetic purity.
Integrating classicist taste with modern comfort needs is no easy task!
That is why it is essential to start from a few fixed points. Following them is the only way to create neoclassical-style furniture that is as true to the aesthetic canons of its origins as possible, but also comfortable for everyday living.
Let's see them in detail.
Classical architectural details
As mentioned, the neoclassical style moved away from the opulent, rounded forms of Baroque, in favor of a more orderly and symmetrical design. Neoclassical environments are dominated by clean lines, geometric rigor, and simple forms.
There is no shortage of references to classical art architectural elements, including:
Elegant paneling
Greek frets, stuccoes and decorative frames
Columns, arches and sculptural elements made of marble or stone
Trim strips
Antique fireplaces
Parquet or marble floors
Large windows
Large windows, in particular, serve to encourage natural light to seep in, enhancing the elegance and value of the interiors, and giving depth to the rooms.
Mirrors - a symbolic element of luxurious neoclassical furniture - and glossy surfaces - such as lacquered woods, glass, marble, and metals - also provide depth.
Other elements we often find in neoclassical settings are upholstered furniture with tufted effect, deluxe draperies (damask, velvet, satin, linen), candelabra and crystal chandeliers with gold or bronze decorations.
Coexistence of luxury and minimalism
One of the peculiarities of neoclassical rooms is the ability to harmoniously combine minimal furnishings and refined details, essential lines and luxurious decorations, all without ever losing sight of the overall harmony of the interior design.
An example of this is the Fantasia living room, where the square shapes and geometric decorations of furniture and coffee tables are softened by the soft lines of luxurious sofas.
Another example of the coexistence of luxury and minimalism is found in the Fantasia bed headboard, where the geometric rigor of the design coexists with the richness of the decorations - the gilded trim, the frames -giving rise to a piece of furniture that is luxurious in its extraordinary simplicity.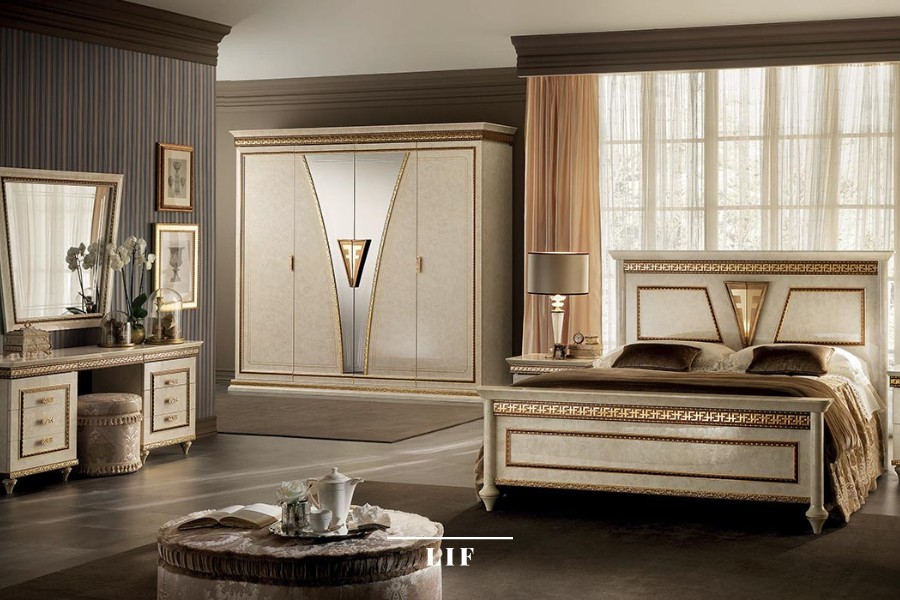 High-impact furniture
In the nineteenth century, the decor of living rooms, dining rooms and neoclassical style master bedrooms revolved around one or two central elements, capable of dominating the scene with taste and elegance.
Even today, the neoclassical style is characterized by the presence of visually strikingfurniture around which the entire interior design is "built."
For instance, in the dining room, the focal point might be an imposing and luxurious display case, like the one in the Melodia collection, while in the living room the eye-catcher could be a large corner sofa with tufted upholstery and fine fabrics.
5 Reasons to decorate your home in a neoclassical style
Those who choose the neoclassical style to furnish their interiors like to take care of every detail of the furnishing project, looking for solutions that will last over time, and combining luxury and functionality.
Those who choose it also appreciate the fusion of classic Italian style and its contemporary re-interpretation, well aware that, with the right arrangements, the two dimensions can not only coexist in harmony, but also enrich and enhance each other.
Let's look into 5 more reasons to decorate with a neoclassical style.
1. Symmetrical and balanced layout scenarios
Neoclassical furniture compositions are characterised by an elegant and balanced arrangement of furniture,which occur in a variety of shapes arranged symmetrically and harmoniously.
An example of symmetrical layout can be found in the Modigliani living room, where furniture - the two glass cabinets/side columns and the TV cabinet in the middle, with the large frame acting as a connector - creates an atmosphere based on balance and visual order.
No less sophisticated is the design of the Leonardo sideboard, in which the two side elements, in their perfect symmetry, enhance the prominence of the central part, embellished by the glass on the doors, the double golden edging and the jewel handles.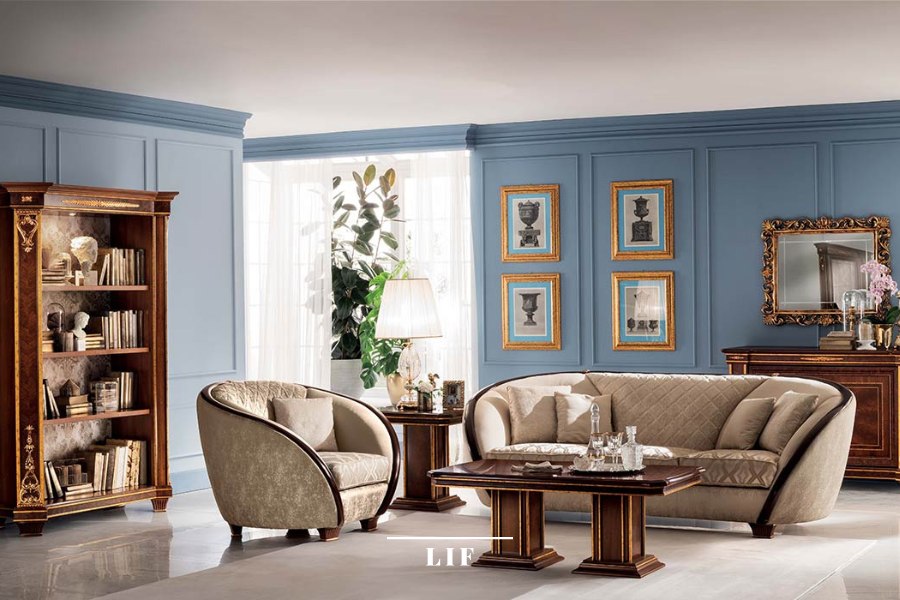 2. Quality materials and rich finishes
Neoclassic is synonymous with value and quality: characteristics we find in the materials and in the finishes chosen to make the various accessories and items of furniture designed to furnish the living and sleeping areas.
Some of the most commonly used materials include:
Oak, mahogany, cherry or beech wood for furniture and flooring, including lighter shades such as ivory and beige nuances
The refined and textural texture of ceramics
Bronze
Marble
Precious fabrics for upholstering seats or making fine curtains and carpets
The luxurious atmosphere of a neoclassical-style home is characterized by a mixture of eclectic details and refined finishes in flooring, furniture, fixtures, and plasterwork, giving the space a strong yet refined personality.
3. Furniture and furnishing accessories with a classic feel
Neoclassical interior design scenarios offer the possibility of enjoying a regal, opulent, yet balanced atmosphere thanks to the presence of furniture and items with an unmistakable, classic and austere spirit.
Once again it is the details that make the difference and above all will make your neoclassical rooms even richer.
We are talking about decorative details finished with gold leaf and silver leaf, such as:
Columns or half-columns
Friezes and coping
Ceiling cornices and rosettes
All refined and elegant decorative features reminiscent of antiquity.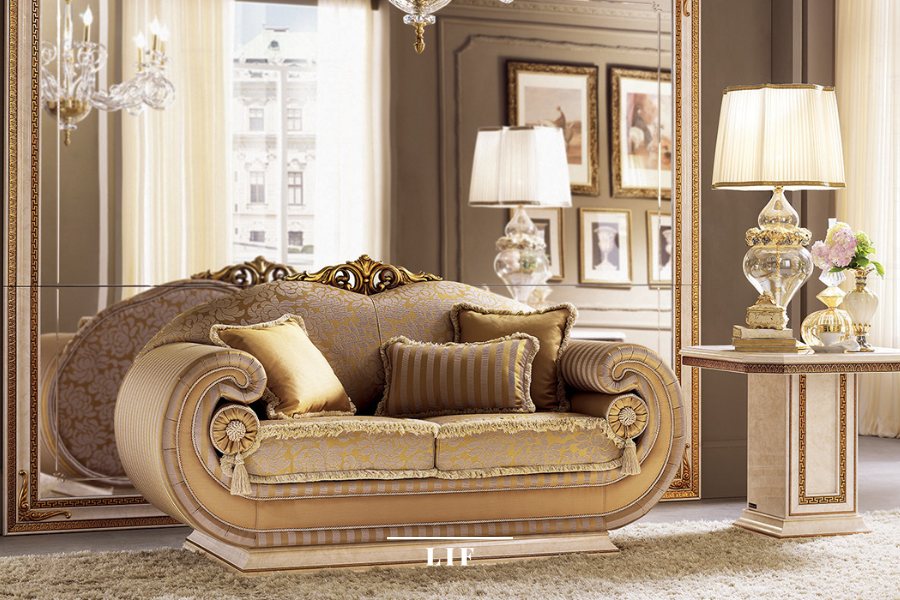 4. Palette of soft shades for a relaxing and cozy atmosphere
The use of palettes of soft, light shades dates back to antiquity and is still in vogue in neoclassical interior design.
Colours like:
White and ivory
Cream and the palest yellow
Beige and dove grey
They are still used today for decorating walls and are often combined with precious patterned wallpapers and classical motifs.
Light palettes bring light to rooms and evoke elegant and sophisticated atmospheres; however, in some rooms where more warmth and coziness is needed - such as living rooms or bedrooms - they could be too cold.
To create a balanced atmosphere, it is important to play on contrasts, incorporating complements and accessories in warmer shades, or alternating cold, shiny surfaces - such as marble, and natural materials (e.g. wood) - in warm, deep essences.
5. Cozy and comfortable decorative lighting
Neoclassical decorative lighting includes floor lamps and pendants made of glass, iron, copper and brass, as well as crystal chandeliers and solutions with brass poles.
These solutions are mainly chosen to create an atmosphere full of decorative potential, without sacrificing the visual comfort of a well-lit environment.
It is important to enjoy a space characterised by classic lamps made from luxury materials that diffuse and distribute light evenly and reinforce a sense of elegance and hospitality.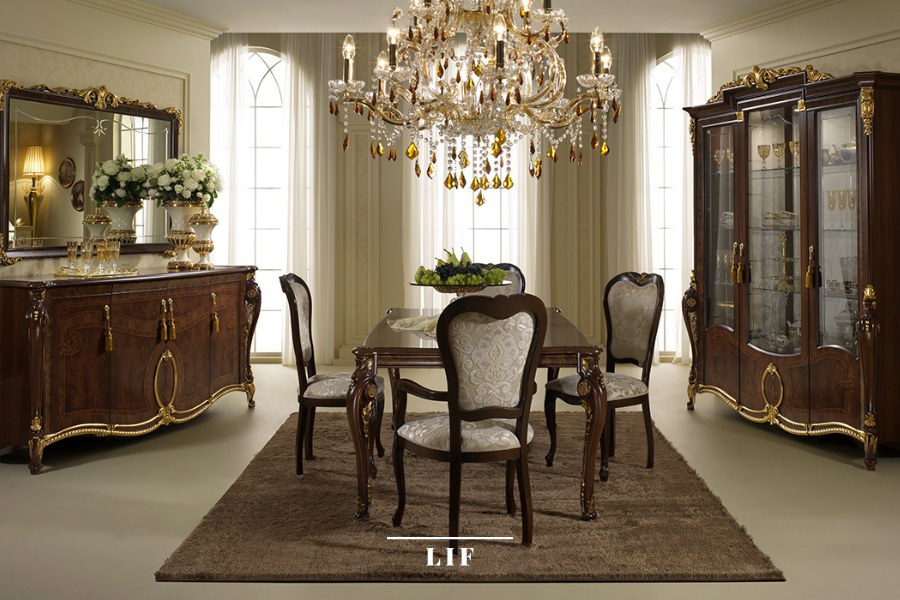 Do you want to furnish your home in perfect neoclassical style? Choose Arredoclassic
In this article, we have seen the peculiarities of neoclassical furniture and how it is possible to adapt classical canons to contemporary homes, resulting in designs that are refined and luxurious, but also functional and balanced.
Indeed, designing your home furniture in a neoclassical style will give you the freedom not to give up on anything: neither the elegance and luxury of the classical style, nor the functionality that the modern concept of living demands.
Download the Arredoclassic catalogue and find out which is the best fit for you, among our neoclassical collections.
Get inspired by our latest interior design project