Neoclassical design emerged in the 18th and 19th centuries - after Baroque and Rococo - and since then, spreading from Europe to America, it has become one of the most appreciated and popular styles.
Refined taste, timeless aesthetics and hospitality are the cornerstones of this style trend, which is still elegantly adorning homes around the world.
Nowadays, thanks to the innate versatility of neoclassicism, the most skilled interior designers are able to create all kinds of furnishing contexts: from the most contemporary to those with a more classic flavour.
It is impossible not to fall in love with this sophisticated interior design. In this article, we will give you 5 reasons to love the neoclassical style.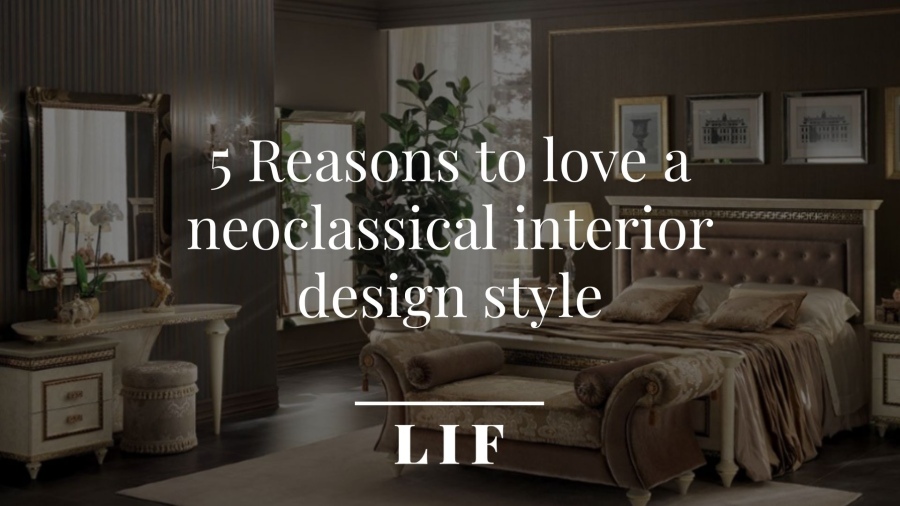 Fall in love with neoclassical interior design style
The neoclassical interior design style is a perfect choice of furniture for your home and we are here to tell you why.
Here are 5 reasons why you should choose the neoclassical style:
Let's take a closer look.


1. Symmetrical and balanced layout scenarios
Neoclassical furniture compositions are characterised by an elegant and balanced arrangement of furniture.
In fact, furniture comes in a variety of forms arranged symmetrically and harmoniously, two essential factors in defining an spacious and welcoming space in accordance with the dictates of this aesthetic trend.
2. Quality materials and rich finishes
Neoclassico is synonymous with value and quality: characteristics we find in the materials and in the finishes chosen to make the various accessories and items of furniture designed to furnish the living and sleeping areas.
Oak, mahogany, cherry or beech wood; the refined, textured texture of ceramics, bronze and marble, finely embroidered precious fabrics to cover seats and to make top-quality curtains and carpets.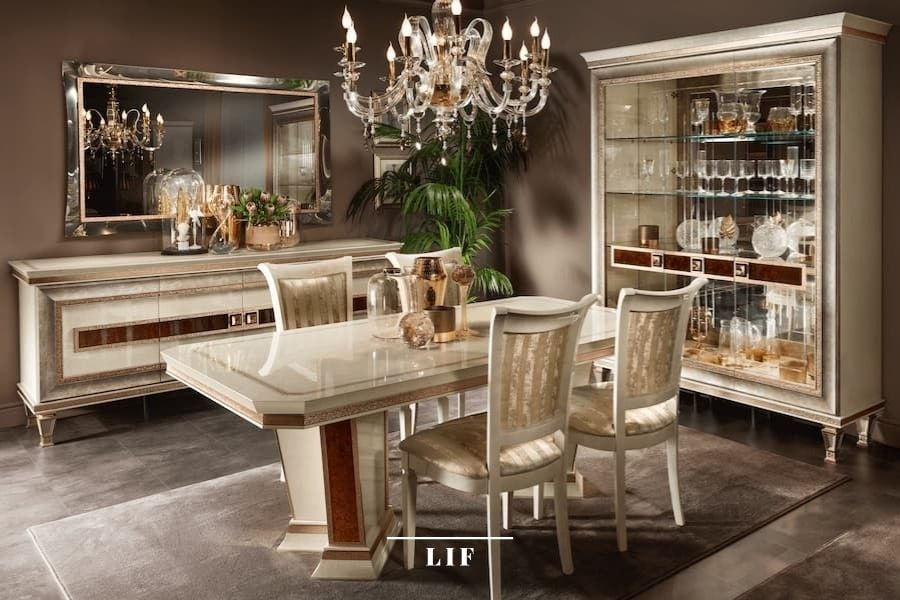 3. Furniture and furnishing accessories with a classic feel
Neoclassical interior design scenarios offer the possibility of enjoying a regal, opulent, yet balanced atmosphere thanks to the presence of furniture and items with an unmistakable, classic and austere spirit.
Once again it is the details that make the difference and above all will make your neoclassical rooms even richer.
We are talking about decorative details finished with gold leaf and silver leaf, such as:
Columns or half-columns
Friezes and coping
Ceiling cornices and rosettes
All refined and elegant decorative features reminiscent of antiquity.
4. Palette of soft shades for a relaxing and cosy atmosphere
The use of palettes of soft, light shades dates back to antiquity and is still in vogue in neoclassical interior design.
Colours like:
White and ivory
Cream and the palest yellow
Beige and dove grey
They are still used today for decorating walls and are often combined with precious patterned wallpapers and classical motifs.
5. Cosy and comfortable decorative lighting
Neoclassical decorative lighting includes floor lamps and pendants made of glass, iron, copper and brass, as well as crystal chandeliers and solutions with brass poles.
These solutions are mainly chosen to create an atmosphere full of decorative potential, without sacrificing the visual comfort of a well-lit environment.
It is important to enjoy a space characterised by classic lamps made from luxury materials that diffuse and distribute light evenly and reinforce a sense of elegance and hospitality.
Neoclassical interior design style: the preciousness you need to furnish your home
In a neoclassical design environment, one cannot fail to be impressed by the quality and elegance of each individual element.
We've given you 5 good reasons to love this timeless, refined style. All you have to do is immerse yourself in a neoclassical atmosphere to fully grasp its essence and let yourself be carried away.