Your living room is the perfect place to make a style statement.

Living rooms are often where we choose to host friends and family, which is why creating a stylish, yet welcoming atmosphere is vital. Furnishing your home in a classic style is all about creating luxurious and elegant living spaces with a highly stylised finish.
Check out a few of our luxury living room ideas in order to make sure you really opt for the best refined, yet elegant furniture options.

14 luxury living room ideas to furnish your home in a unique style
Check out our 14 classic decorative ideas, perfect if you're looking to kit out your living room in luxury style, while reflecting your own personal tastes, and satisfying your individual and functional needs:
1. Furniture with a walnut finish and gold accents
2. Sofas and armchairs upholstered in fine fabrics
3. Accent cushions made from quality materials
4. Coffered ceilings
5. Wall and table lamps made from clear, frosted or satin glass
6. Ivory furniture with silver accents
7. Gold-leaf accessories that reflect the light
8. Decorative rugs and soft carpet
9. Bejewelled chandeliers
10. Large decorative curtains
11. Paintings and fine art
12. Ornate mirrors
13. Upholstered ottomans/poufs
14. Classic patterned wallpaper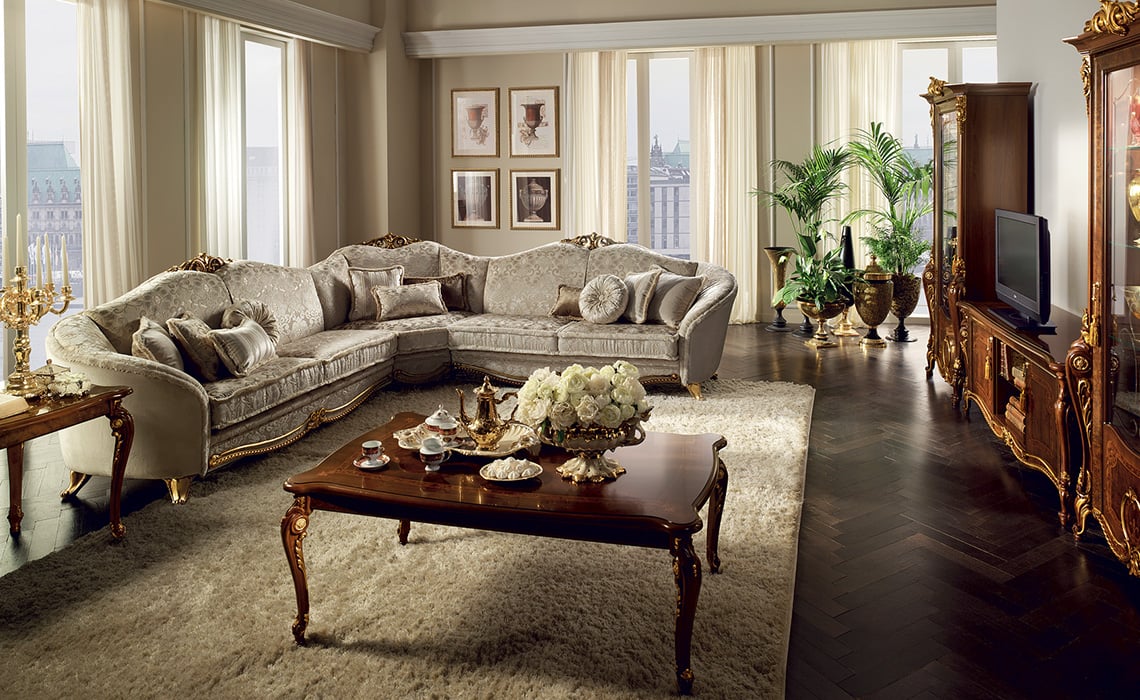 1. Walnut furniture with gold accents
If you're looking for an elegant, mellow colour palette with a few precious accents here and there, why not opt for walnut-finished furniture with a touch of gold.

Adopting a varied colour palette creates contrasting shades and tones that generate great visual appeal.

2. Sofas and armchairs upholstered in fine fabrics
Transform your living room into an elegant space with sofas and armchairs upholstered in fine fabrics, such as velvet, satin and silk.

Different textures, rich fabrics and luxuriously shiny materials – all blending together to create depth and nuance – will catch the eye and stimulate the senses, allowing guests to enjoy a pleasant tactile experience.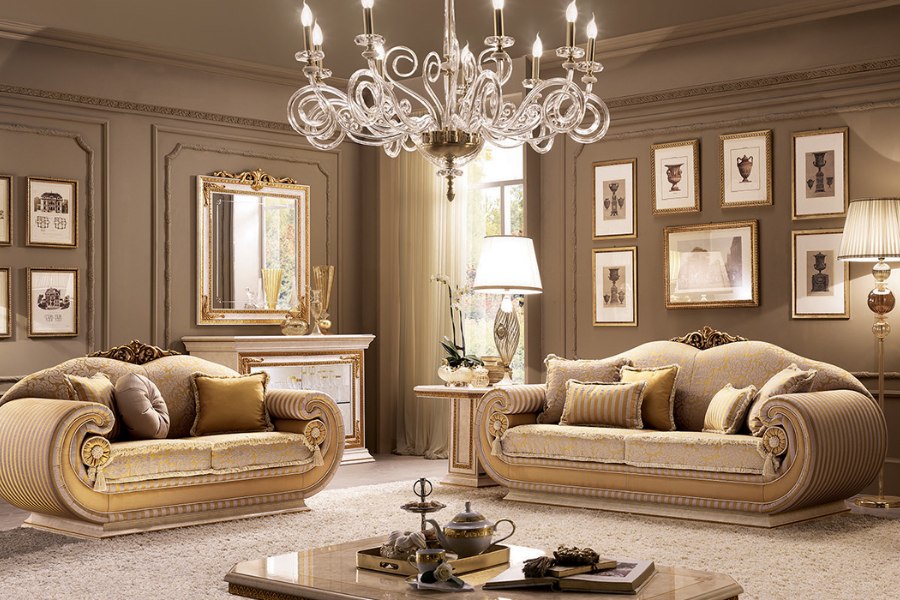 3. Accent cushions made from quality materials
Complete the look by choosing a few different sized and shaped accent cushions made from linen, silk, satin, brocade, lampas and velvet. Cushions made from quality materials can also be jazzed up with a few decorative details such as ruffles, fringes, double frills and cord.



4. Coffered ceilings
In order to really define your living room's style, it's a good idea to pay attention to the ceiling. If you want the space to really ooze classic style, we recommend installing a coffered ceiling: this particular feature will give charm and elegance to any space.

5. Wall and table lamps made from clear, frosted or satin glass
Decorative lighting plays a key role in any interior space, including the living room. Opt for wall and table lamps made from clear, frosted or satin glass, finished with gold or silver details that complement the surrounding furniture.

Glass filters light, giving spaces an intimate and peaceful feel, in perfect combination with a few accented areas.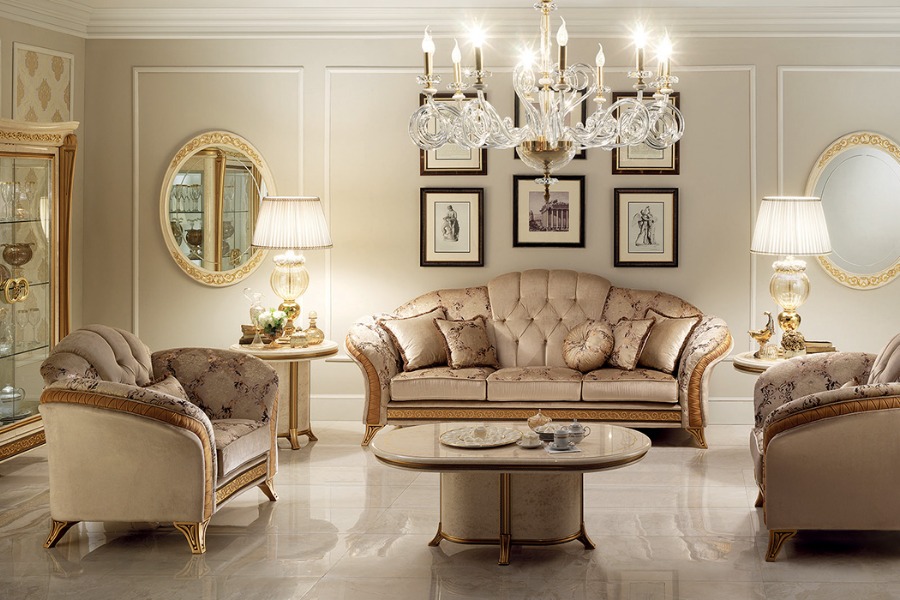 6. Ivory furniture with silver accents
If you're interested in a colour combination other than walnut and gold, it might be a good idea to consider purchasing a few ivory and silver items of furniture. A perfect combination for those looking to furnish their living room with unmistakable class.

The subtle contrast between opaque, bright silver leaf and ivory tones will guarantee a romantic and refined space.

7. Gold and silver-leaf accessories that reflect the light
Let gold and silver shine! For a few small but striking details in your living room, add a few gold and silver leaf decorations to tables, furniture and along the walls.

Lavish picture frames, clocks, ornaments and decorative objects will seduce any visiting guest.

8. Decorative rugs and soft carpet
If you want to make sure your living room is elegant but cosy, add a few decorative rugs or a soft carpet.

Go for rugs (tufted, Persian, hand-knotted, etc.) and/or carpets (bouclé, velour or needle-punched) that best suit your style and comfort needs.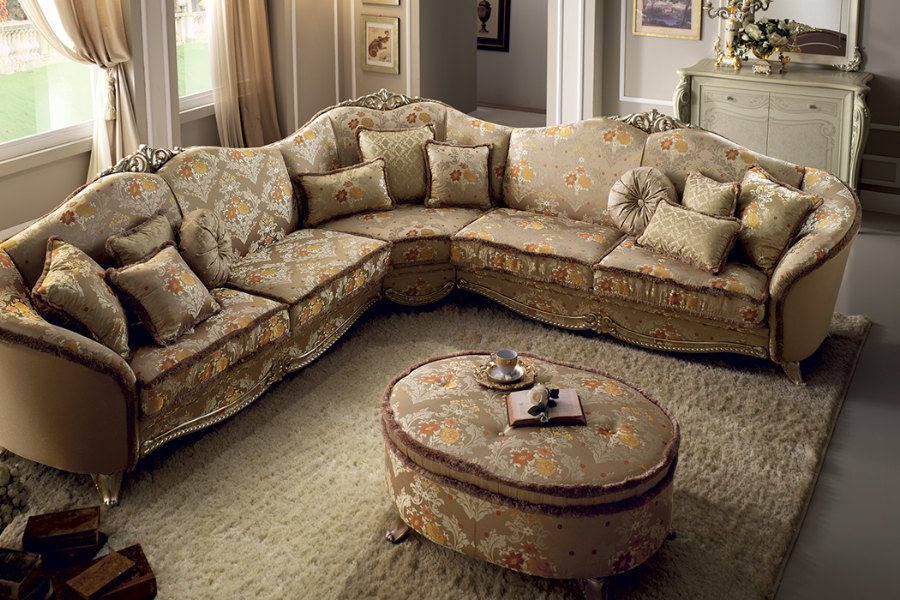 9. Bejewelled chandeliers
Make light a real focal point: place a chandelier with curved decorative arms in the middle of the ceiling.

Bejewelled chandeliers are the best way to give your living room a luxury feel, as they tend to majestically dominate spaces, shining like precious gems.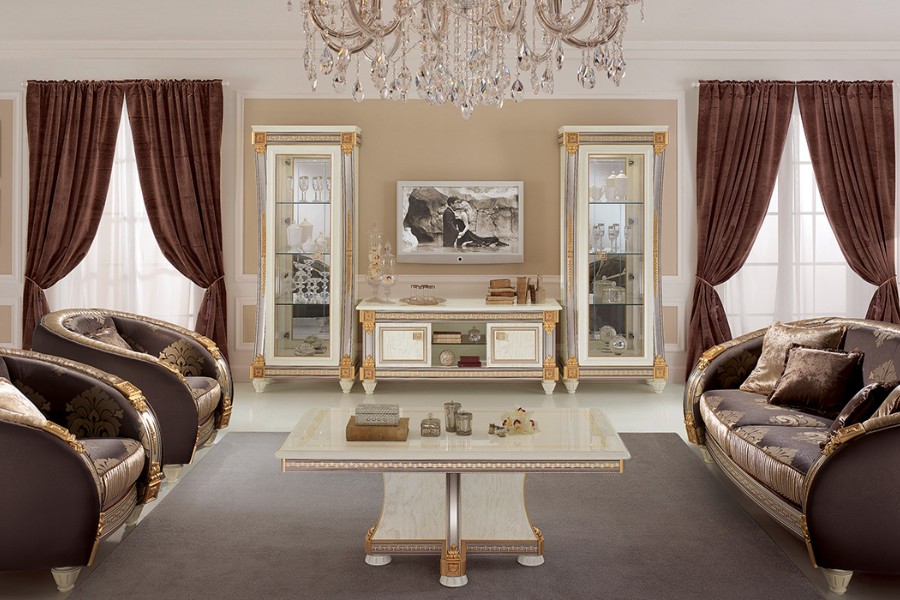 10. Large decorative curtains
Hang large decorative curtains made from precious fabrics such as linen, cotton, brocade, damask velvet and lampas.
Curtains will complete the space by really emphasising aesthetic beauty.

11. Paintings and fine art
Landscapes, portraits, tempera paintings and classic statuettes.

These artistic features are guaranteed to create classic, luxury and opulent spaces.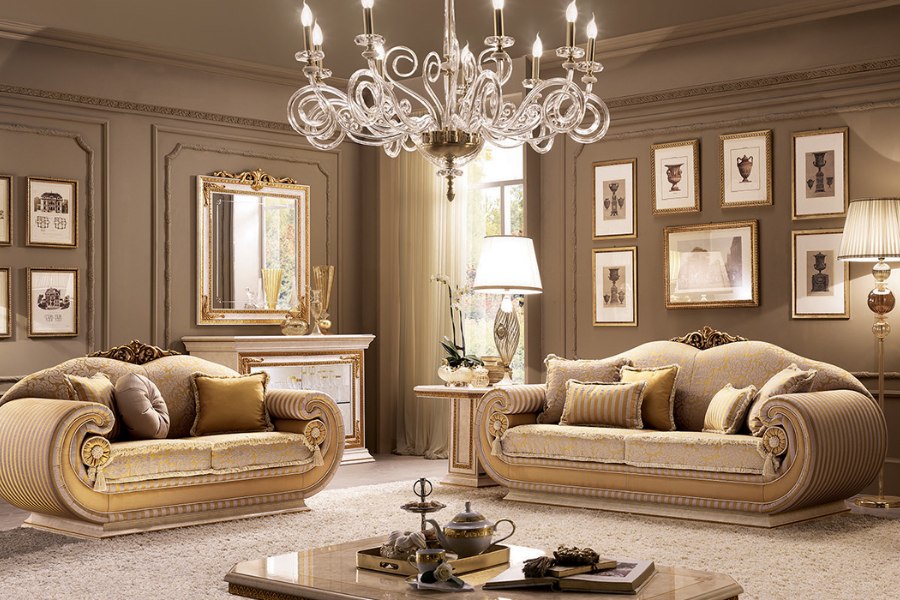 12. Ornate mirrors
When it comes to classic furniture, finesse is the key.
That's why ornate mirrors are a must-have for any living room, as well as other sophisticated reflective surfaces. Opt for wall mirrors with antique gold-leaf frames made from walnut or with a walnut finish.

13. Upholstered ottomans and poufs
Ensure your living room is both welcoming and appealing by adding a few upholstered ottomans and poufs.

Opt for quilted satin, velvet or silk with tassels and cord to complete the look.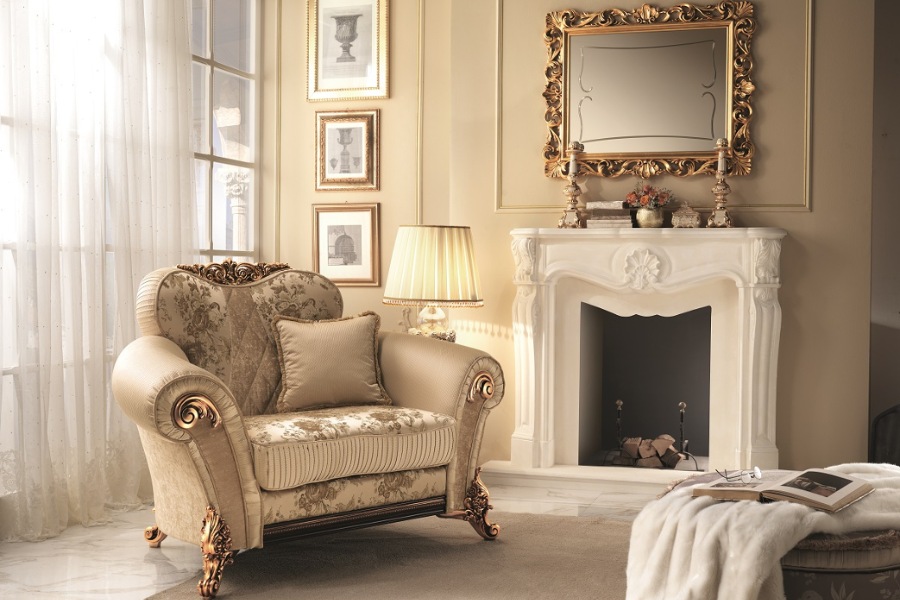 14. Classic wallpaper patterns
The atmosphere in a room is often primarily determined by the walls, and more specifically, by accessories that tend to enhance its lavish feel.

That's why it's important to opt for decorative elements with an elegant, visual appeal. Why not give your living room a new look with some classic wallpaper? Choose the theme that best matches your furniture in terms of style (geometric and linear patterns, or a decorative style with a baroque feel).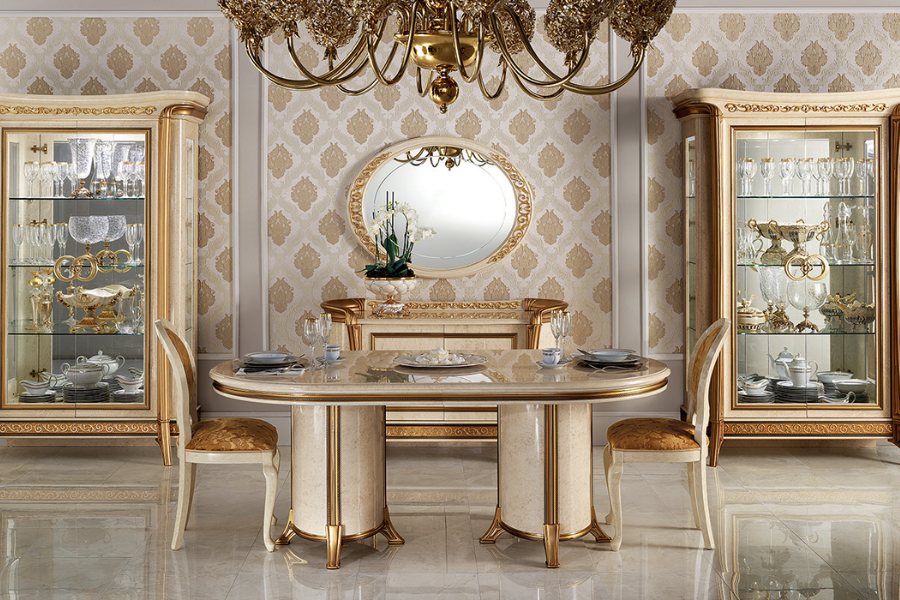 Luxury living room ideas for the perfect look
Living rooms are where furniture and welcoming atmospheres come together to give life to harmonious spaces, bustling with energy.

Our luxury living room ideas can help you find inspiration when furnishing your home in a classic Italian style, creating a perfectly furnished and elegant space.