In every single piece of furniture in Arredoclassic collections, classic Italian style finds full expression through its refined and timeless spirit.
The furniture lines reflect the different variants of the classic concept, combining elegance and opulence in perfect balance: this is what makes them perfect for furnishing your living spaces.
Comfort is a key factor when it comes to furnishing a home, but style cannot be overlooked either. Indeed, functionality finds its perfect half in aesthetics, making each piece of furniture unique and useful.
In this article we will focus on the following topics: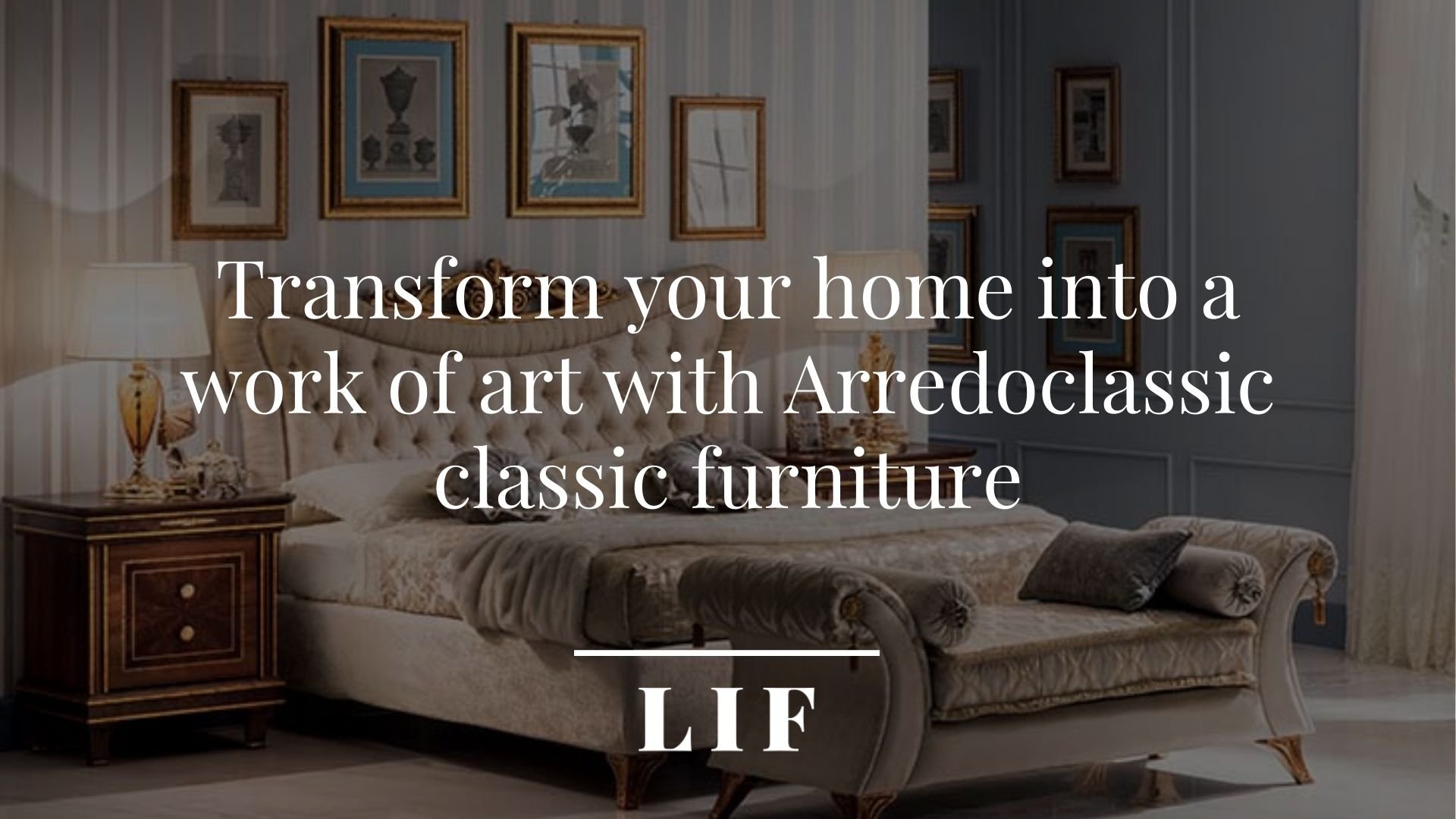 Arredoclassic: classic furniture 100% Made in Italy
Italian tradition demands that each piece of furniture is made with special attention to detail and design.
This explains why in the Made in Italy furnishing scenarios balance reigns supreme.
Therefore, the sum of attention to detail, the use of noble materials and the development of refined designs make Italian-made furniture items true gems.
And what makes Made in Italy furniture so popular all over the world? Definitely the concept and the use of fine details and materials. Specifically:
Mahogany, elm, cherry, walnut, etc.: to ensure that furnishing atmospheres are classy and can 'wear' the noblest materials
Gold and silver leaf

: meticulous work that shows the skill and care of craftsmen's hands and makes each element an authentic jewel

Silkscreens, friezes, cornices, etc.

: timeless decorations that bring back the opulence and splendor of times gone by

Marble, granite, quartz, etc.

: for finishing furniture and accessories with value and refinement

Precious fabrics and meticulously hand-embroidered textiles

: another unmistakable sign of Italian furniture making that aims to provide sensory comfort and bodily relaxation, as well as aesthetic appeal to the individual piece of furniture
In furniture scenarios in perfect classic Italian style, it is the design that gives character to each piece of furniture, while the details add a stamp of uniqueness.
In this sense, the attention to detail and the use of materials can be seen in the furnishings designed by Arredoclassic: an Italian brand that exports Made in Italy all over the world.
Choose your favorite classic Italian furniture line to transform your house
Arredoclassic collections have been specifically designed to showcase the value and variety of classic charm and, at the same time, to meet everyone's needs.
Arredoclassic added value lies in its desire to export the inimitable charm of Made in Italy furniture throughout the world. This explains why the furniture lines show the care and attention taken in the realization of each element, as well as the innovation of large-scale production technologies.
Let us take a closer look at the details and features that distinguish each collection.
Dolce Vita
Dolce Vita shows the boldness and elegance typical of art deco. The furniture elements evoke the geometric lines and rich details of a concept known for its unmistakable sophistication and rigor.
Living room, bedroom and living room are characterized by a new light, with total cleanliness of graceful forms and the refinement of material details and precious finishes.
Dolce Vita is the perfect mix of modern design and classic Italian style, making it extremely versatile and ideal for fitting out all spaces in your home.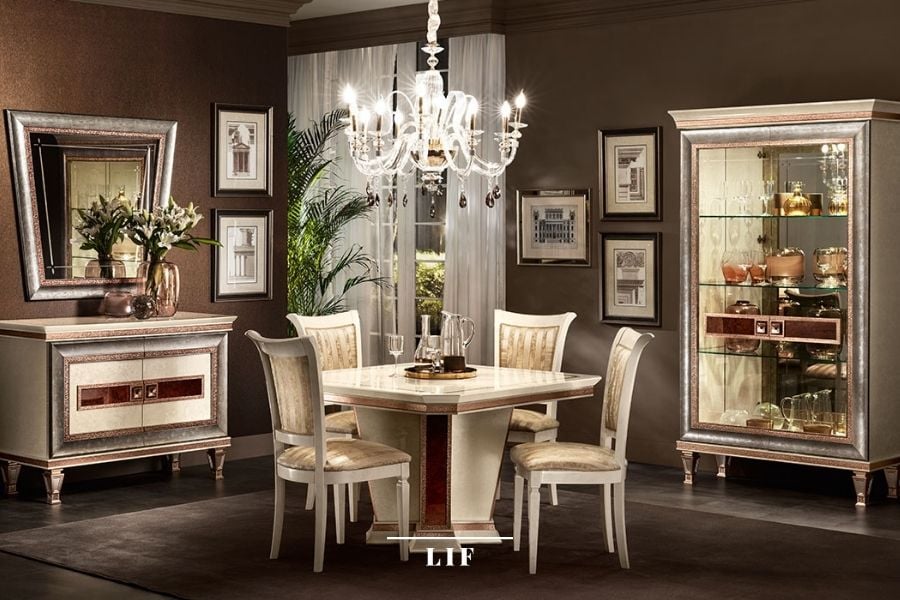 Modigliani
Modigliani is an authentic homage to the sumptuousness of the neoclassical style.
The furnishings in this collection enrich home interiors by creating rich and sophisticated furnishing atmospheres.
The play of colors on the walnut finish and elm burl, the combination of bold lines and defined profiles, uniquely textured serigraphs and precious gold leaf decorations.
Modigliani offers the chance to recreate tastefully and elegantly furnished rooms while remaining faithful to the dictates of classic Italian taste.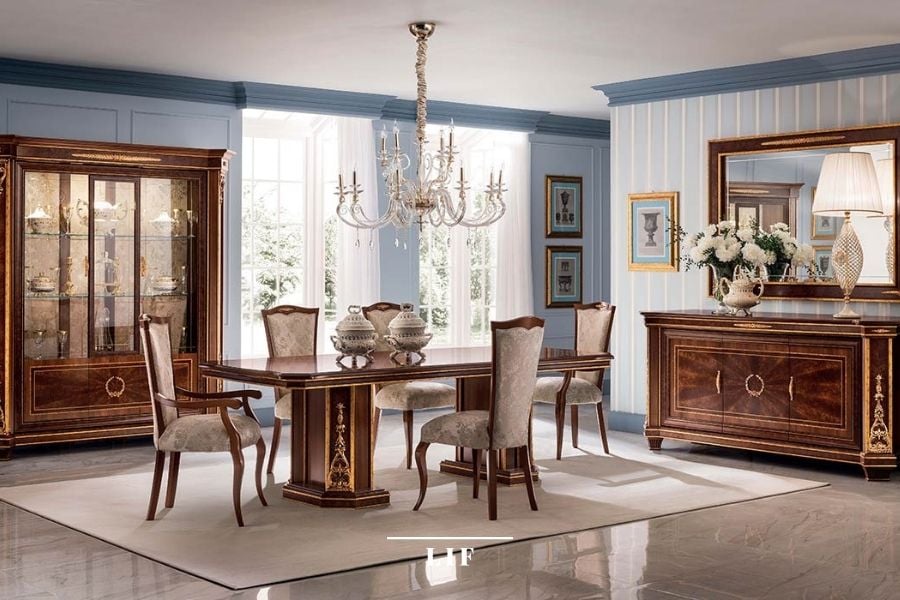 Fantasia
Rooms furnished with Fantasia items infuse harmony and comfort. It is impossible not to recognize its majestic Empire-style atmosphere rich in references to Greek and Roman decorations.
Generous but nevertheless balanced volumes, marble surfaces and elegantly gilded frames: a refined composition of great class.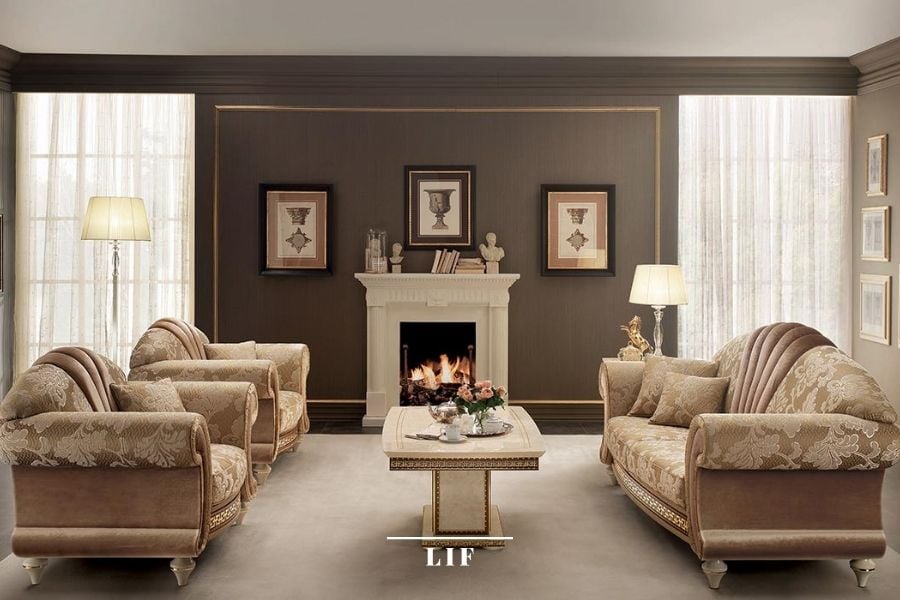 Melodia
Melody, a collection with soft, romantic lines somewhere between neoclassical and art deco.
The furniture in this line is not lacking in aesthetics, nor is it lacking in functionality, as it exhibits great stylistic value and unparalleled comfort.
Indispensable factors if you want to make your home cozy and beautiful in every corner.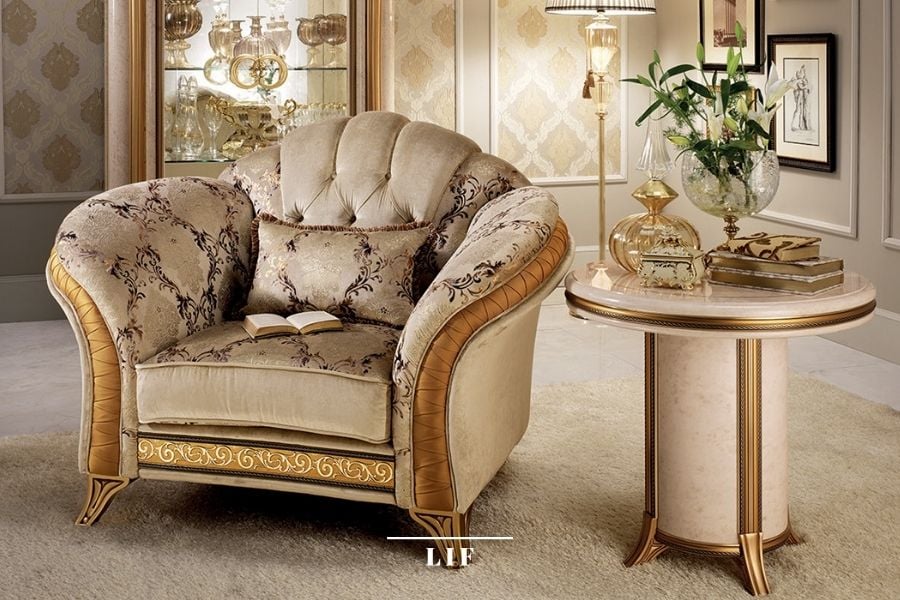 Leonardo
What makes the Leonardo collection unique and inimitable is its stylistic signature, given by the numerous references to neoclassicism and its typical decorations. Marble surfaces and bewitching textures, ivory and gold reflections in perfect combination, square and agile shapes.
Furniture that dresses the interior of your home in pure light, flooding the space with preciousness and sophisticated charm: a precious area that only Neoclassical style is capable of infusing.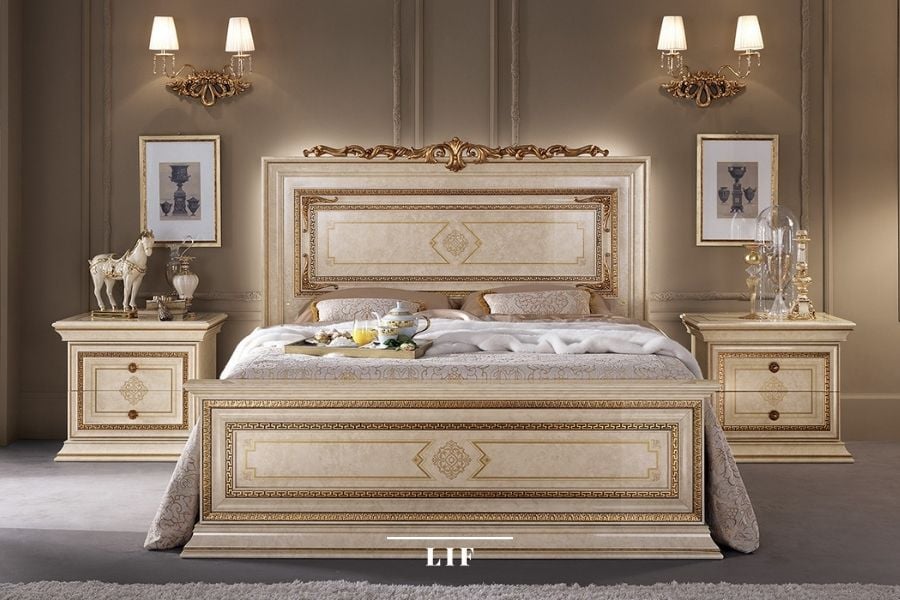 Donatello
How not to recognize the warm and embracing shades of the Donatello furniture? This collection is inspired by both neoclassical atmospheres and Renaissance settings, which is why it expresses a strong balance between sumptuousness and refinement.
The furniture wears the finish of dark walnut and gold leaf: a combination that never goes out of fashion and enriches the corners of your living room, lounge and bedroom.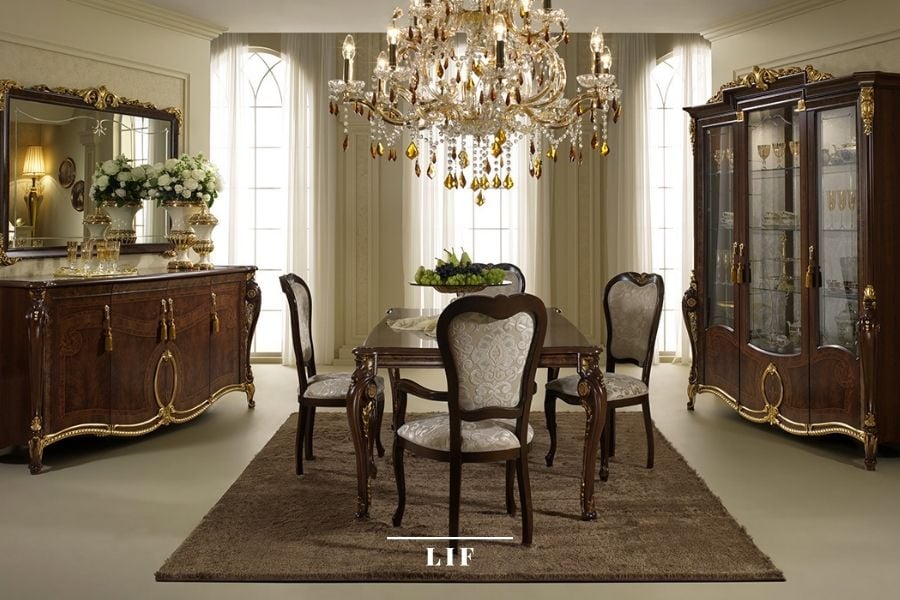 Liberty
The Liberty furniture items enliven your home with ivory brightness and golden reflections.
Generous shapes in perfect harmony with the sharp cut of the gilded frets, marbled finish in cream tones perfectly matching the silver frames.
A decorative harmony that warms the atmosphere and the hearts of those who enjoy its elegance and refinement.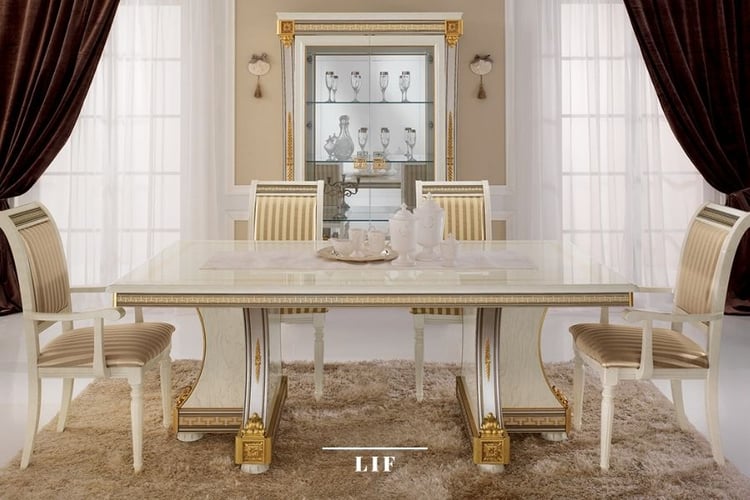 Arredoclassic classic furniture: be inspired by our beautiful collections
Classic collections express a charm that belongs to the past, but is always current and ideal for furnishing the home.
If you want to give your home a new image and infuse your interior with a sense of prestige and sophisticated style, create your own interior design project, by choosing your favorite furnishings from the Arredoclassic collections. You will transform the entire atmosphere and make it undeniably refined!
Do you want to furnish your home in a traditional style?