Discover the finest concepts for a classic dining room that provides a captivating and elegant atmosphere for hosting events and dinners.
Furnishing the dining room in the classic style is a modern choice because, as the name suggests, it is a "classic" that is, a style that stands above time and trends, from which it is neither affected nor influenced.
But why is the classic style always in fashion? The answer is simpler than you might imagine: people like to surround themselves with beauty and quality.
And both - beauty and quality - are cornerstones of the elegant and sophisticated mood of the classical world.
Of course, not all classic dining room sets are suitable for creating a "princely" environment in which to hold events, banquets, and parties.
To create such a room, it is necessary to opt for Made in Italy design collections, capable of offering a furnishing concept based on fine materials, luxury finishes, precious fabrics and details that can create atmospheres so sumptuous that they leave guests amazed.
In this sense, the Arredoclassic collections are the ideal choice because they combine the timeless appeal of the classic style, in its various forms, with current trends, without sacrificing functionality and convenience.
In this article we will take a look at these collections to offer design ideas for bringing a dream dining room to life.
Specifically: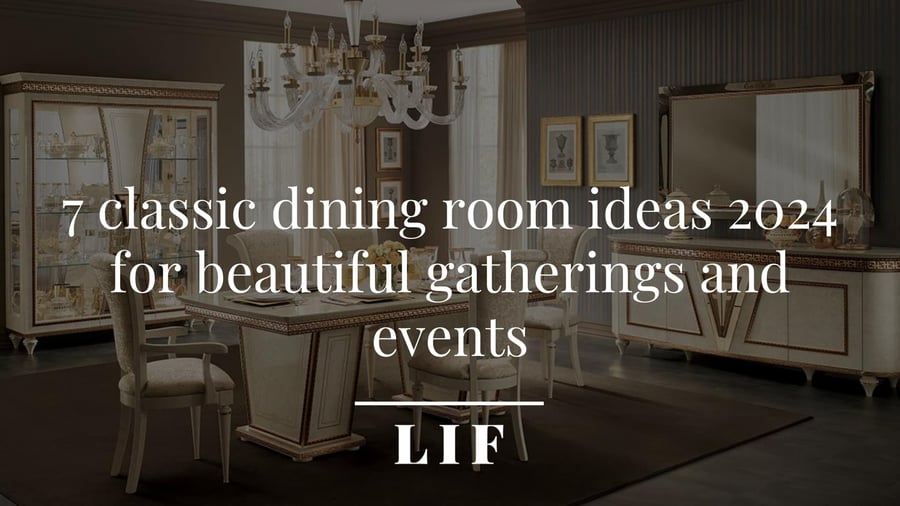 Classical dining room: how to create an authentic and luxury environment
So many people love the classic style and would like to have a classic dining room for their home, but not all of them succeed in doing so. The problem is often based on the fact that there are few truly prestigious and quality solutions, which makes it more difficult to catch them.
In most cases, these are collections that "imitate" classic dining room design ideas, trying to replicate the atmosphere of the neoclassical style, the bright and refined atmosphere of art deco, or those emphatic ones of the classic renaissance style, but without capturing their true essence. The risk in such cases is to have to settle for "fetish" collections. Thus, many admirers of the classic style end up veering toward styles that are easier to achieve.
However, some companies, such as Arredoclassic, have focused on the quality of materials and great Made in Italy design to create authentic collections in which the classical air can be felt in every detail: from the shapes of the furniture to the finishes of the surfaces, nuances and decorations.
In fact, let's not forget that the dining room is the heart of the home: it is unthinkable to furnish it with poor furniture!
The dining room should evoke luxury and noble atmospheres while also conveying warmth and coziness because it is the place where people gather with family and friends to share moments of conviviality and good food. Therefore, it is essential that the space be furnished with style and taste, but without sacrificing functionality and convenience.
To furnish a classic dining room it is important to pay attention to every detail, from the choice of furniture and lighting to the arrangement of elements within the space. One of the first pieces of furniture to choose is the dining table, the star of the room, which also often dictates the style of other furnishings.
Furnishing accessories, such as crystal chandeliers or jewel lamps, both floor and table lamps, can also be used to embellish a classic dining room. Walls can be decorated with paneling, elegant wallpapers, carved wooden frames or artistic paintings.
Arredoclassic collections are perfect because they offer the classic style in many facets, differing in colors, materials, shapes and atmospheres, but keeping an aura of timeless beauty and elegance.
So, all that's left to do is to take inspiration from the Pesaro-based company's collections to recommend some beautiful dining room ideas.
Trending dining rooms: the best 2024 design ideas to create beautiful spaces
The year 2024 is witnessing, and will continue to do so in the coming months, a return to a classic-contemporary, or minimal-chic taste, both for the more intimate areas of the home, such as bedrooms, and for more lived-in areas, such as the living and dining rooms.
What does this mean in practical terms?
Interior designers have no doubt about it: living and dining room ideas are focused on refined materials, luxurious details, sinuous lines and other "precious" trends that will give these rooms the timeless elegance, typical of classic and neoclassical styles.
Be careful, though. The key concepts of our time will once again orchestrate a classic furnishing project: compositional flexibility, stylistic mixes and the ability to blend different atmospheres in a sophisticated Mix & Match.
The latter characteristic - the ability to blend different atmospheres- is crucial, but it should be handled with caution: to bring beautiful dining room ideas to life, it is necessary to maintain a certain formal balance and not overdo in an attempt to create original environments at all costs.
Classic style luxury dining rooms never lose sight of elegance and harmony, and can restore atmospheres that are cozy and familiar, or more formal and sophisticated, depending on the occasion, by adjusting the various stylistic elements, from lighting to color combinations, furnishings, fabrics and decorations.
All that remains for us to do is to discover the 7 main trends for creating dining rooms worthy of the most luxurious receptions.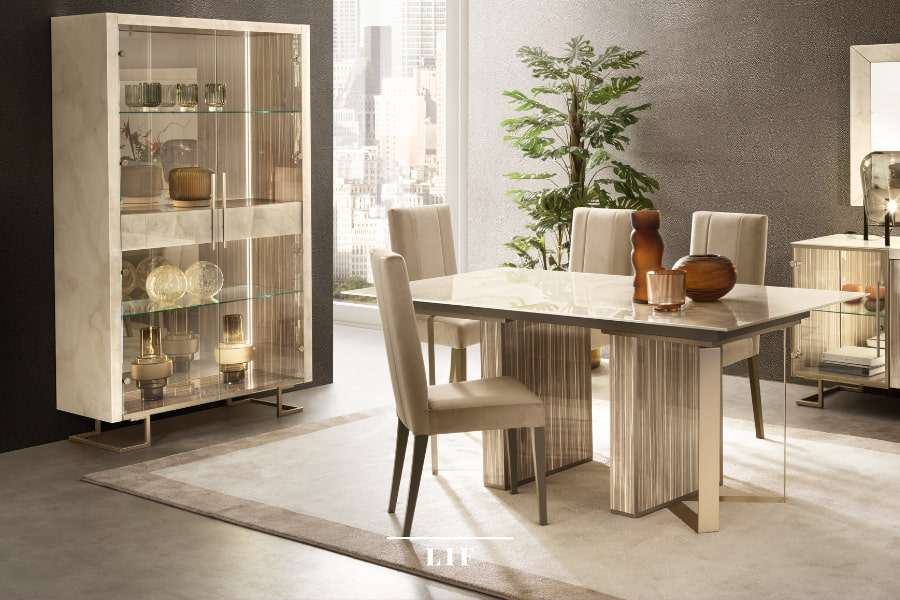 1. Sinuous lines for the dining area
If in recent years fashion shows have seen a predominance of large, oversized garments, in interior design the counterpart to this trend is furniture, sofas and accessories with soft, rounded shapes.
In the living room, square sofas disappear and make way for sensual, enveloping seating which invite you to relax and warm you up like a hug.
Even in the classic style dining room, 2024 sees a prevalence of curved and rounded lines, as in the Melodia collection by Arredoclassic, in which the large oval table stands out, supported by two semi-circular legs and surrounded by chairs with rounded backrests.
The elegant and sophisticated look is completed by a splendid glass cabinet and a spacious sideboard, both of which are characterized by the absence of edges.
"Maximalism" one of the major furniture trends of 2023, which will be riding the wave in 2024 as well, shows off not only through the preference for curvy and rounded shapes, but also through the typical elements of the classic renaissance style, dominated by luxury and shiny surfaces, eye-catching textures, elaborate decorations, and precious gilded and marble finishes.
Just take a look at the lacquered surfaces of the Arredoclassic collections to understand how much the company's reliability also counts in the process of enhancing the aesthetics of furniture. For its "high-glossy" finishes, Arredoclassic uses the most advanced technologies to ensure that the lacquer finish is as stable and durable as possible.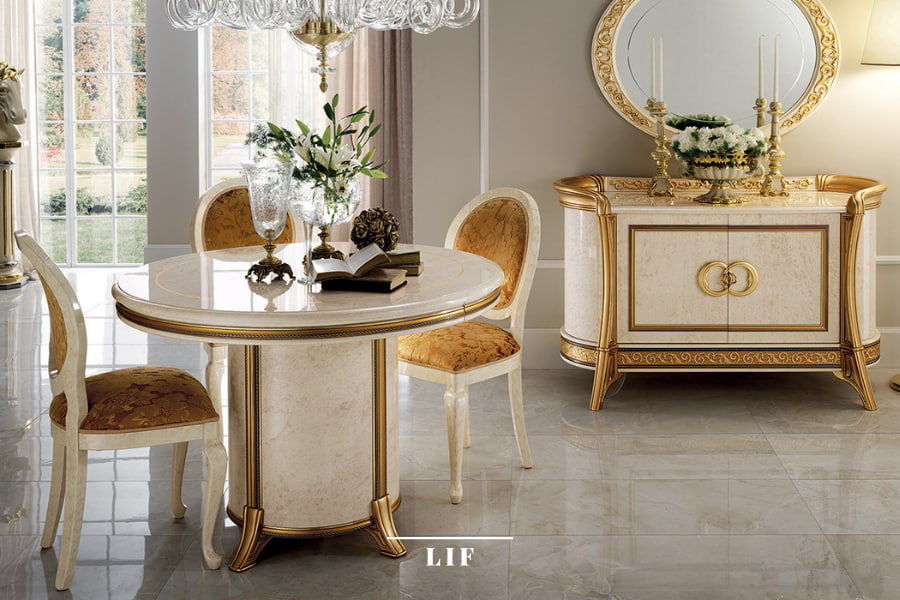 2. Quality furniture
We continue our roundup of ideas for the 2024 classic dining room, by pointing out, even for the new generations, a return to quality furniture, designed to last over time, in clear contrast to mass-produced products that make all rooms look the same and impersonal.
"Fast" furniture will not disappear from our homes, also because it has the merit of being versatile, dynamic and affordable, but it will be completed and enhanced by combining it with higher quality, more valuable and expensive furniture, which represent a sort of investment.
Such furniture will last much longer than standardised low-cost furniture.
In 2024, design ideas for classic dining room aim precisely at the coexistence of these two trends: on the one hand, the need for dynamic, informal and not too demanding furniture, which satisfies the typically modern need for frequent changes of style; on the other hand, the desire to create unique rooms with a timeless elegance, with a high level of comfort, through living and dining room ideas, featuring luxurious details and precious materials.
As already mentioned, the way forward is a mixture of styles - modern, classic, vintage - and the combination of contemporary furniture and sumptuous furnishings that are reminiscent of the event and banquet halls.
3. Which colors and color combinations to choose for a classic-style dining room
The classic dining room, at least in its Greek and Roman inspired architecture version, is characterized by sharp, geometric, and clean lines, and by a decorative maximalism that can freely manifest itself through friezes and decorations that express elegance and luxury.
When choosing the color scheme for such a distinctive environment, it is important to take this atmosphere into consideration and choose colors that can recreate it.
One of the most common colors for a classic style dining room is ivory, which gives light and sophistication.
Creamy white and beige are light but warmer shades than ivory. That is why they can be used to add a note of warmth, which is necessary in rooms designated for hospitality.
Light shades are also very versatile because they coexist harmoniously both with dark woods, typical of the Renaissance and Empire styles, and with more contemporary hues, such as taupe and dark blue, with which they create an elegant and sophisticated combination.
In the Modigliani dining room, for example, the color contrast with the dark brown of the empire-style furniture is offered by the light-colored fabrics of the dining rug and chairs and the furnishings (chandeliers, table lamps, and centerpieces). Decorative friezes in gilded finish, the sideboard cabinets and the large mirror above the buffet cabinet add to the charm, elegance and brightness.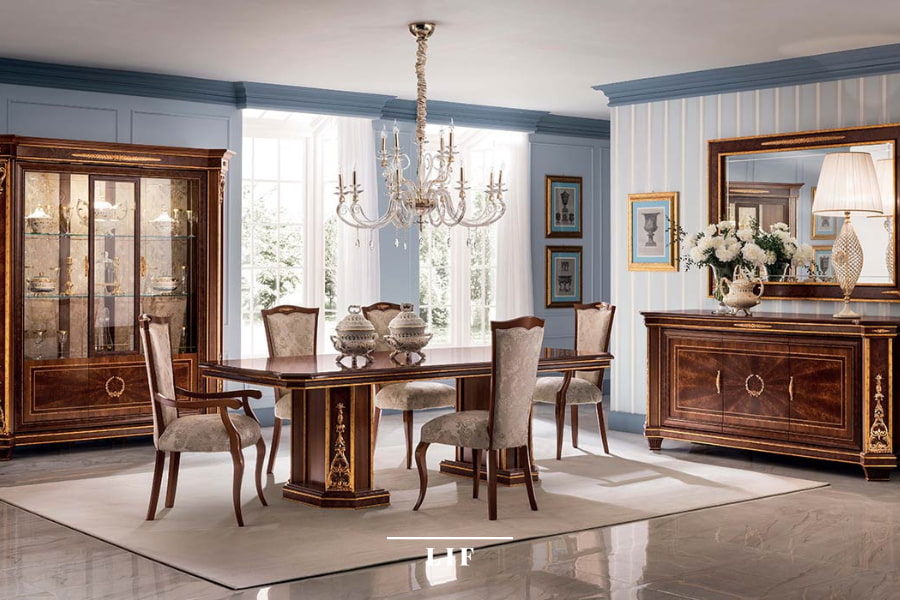 4. Art Deco dining room
In the last years, we have rediscovered the importance of surrounding ourselves with beautiful things, which make us feel good and improve our mood.
The dining room and the living room - devoted to hospitality and entertaining - are the places where we can show off our taste in furnishing and where we can amaze our guests with a class that comes from the desire to enhance the handcrafted decorations and the quality of Made in Italy that the whole world envies us.
Green light, then, to chairs and sofas made of precious fabrics.
In 2024, soft fabrics that convey a sense of security and coziness, such as bouclé, tweed and crushed velvets, are back in vogue, as well as precious fabrics, such as lampas, satin, brocade and damask, which are used for upholstering dining room seating, and also for cushions, carpets, curtains and accessories.
Also on trend are "glittering" materials, contrasting colors, decorative details and furniture with the unmistakable elegance of the Art Deco style, such as those of the Dolce Vita collection by Arredoclassic, in which every element, from the table to the sideboard, evokes clean lines, graceful shapes, prestigious finishes and chic atmospheres.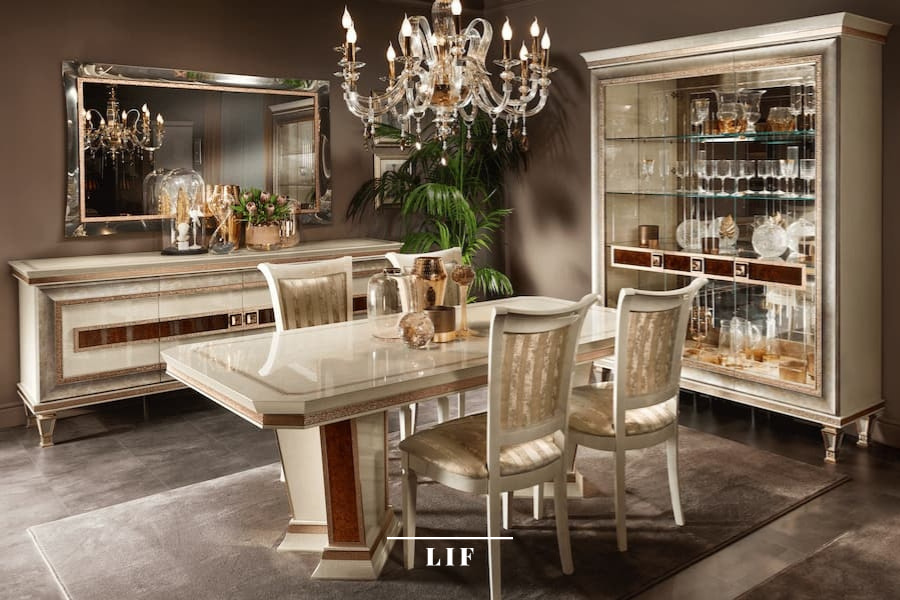 5. Goodbye tiles, welcome wall panels!
There is yet another classic dining room design idea that has found its definitive consecration in 2024: say goodbye to tiles to cover and protect the kitchen and dining area, and make way for wall panelling.
With one important variation, however: no wooden walls, a material that is definitely not suitable for these rooms, but atypical wall paneling, i.e. made from the same material as the worktops or the dining table (in the case of the lounge as a separate room), or in "unusual" materials, but trendy in 2024 even for dining area paneling, as long as they are easily manageable (even more so than tiles) and quick to clean.
One of these is glass, which, in addition to being easy to clean (because it is nonporous and waterproof) gives a bright atmosphere and lends lightness and elegance. It is also perfect for tables, sideboards and wall furniture.
Timeless paneling can also find a place in a classic-style luxury dining room, an element that adds a touch of class to the room, but is also versatile and functional. It can be made of different materials such as plasterboard, marble, stone-and embellished with carvings, gilding and relief decorations.
6. Mirrors and reflective materials
The use of glass as an alternative covering for the dining area ties in with another trending dining room idea: in addition to real mirrors, mirrored surfaces will go crazy in 2024.
In short, the shinier and more reflective they are, the more suitable they will be for a chic and sophisticated dining room, which combines the elegance of fine materials (marble, gold, copper, brass, silver, bronze) with the gritty look of contemporary metals, such as steel, aluminium and nickel.
A typical example of combining the elegance of the classical world with the pragmatism of the modern world is Adora, the contemporary furniture brand of Arredoclassic.
With its luxury à porter collections, Adora furnishes every room in the home, including the dining room, combining essential contemporary design with the rich, sophisticated details that distinguish classic atmospheres.
To the shiny metallic finishes, square lines of furniture and sofas, simple decorations, and sober, neutral colors, Adora adds contrasting gilded details and shimmering surfaces (including marble finishes, used for the tables from dining, cupboard tops, sideboards with display cabinets, etc.) that enhance the great Made in Italy design and fine materials.
7. Dream floors
To complete the look of the classic dining room sets, dream floors were a must.
Marble and wood are undoubtedly the most suitable coverings for the elegant and refined ambience of reception rooms, and both are found in nature in infinite chromatic and stylistic variations.
Among wooden floors, the traditional Italian herringbone parquet will be a big trend in 2024, as long as it has a high-gloss finish.
This floor brings out the precious materials and mirrored surfaces we have been talking about like few others, while at the same time adding that touch of warmth and familiarity that we need more and more in these uncertain times.
Not to be outdone are the typically modern surfaces, such as resin and micro-cement, which are highly appreciated for their seamlessness and ability to create a continuous surface with a very striking visual impact.
Both floorings are ideal for those who want an understated and elegant environment where design and functionality blend seamlessly. In fact, they are very beautiful to look at and super practical to handle and maintain.
Another plus is versatility: both resin and microcement are available in a wide range of colors and textures, allowing for the creation of customized and unique environments.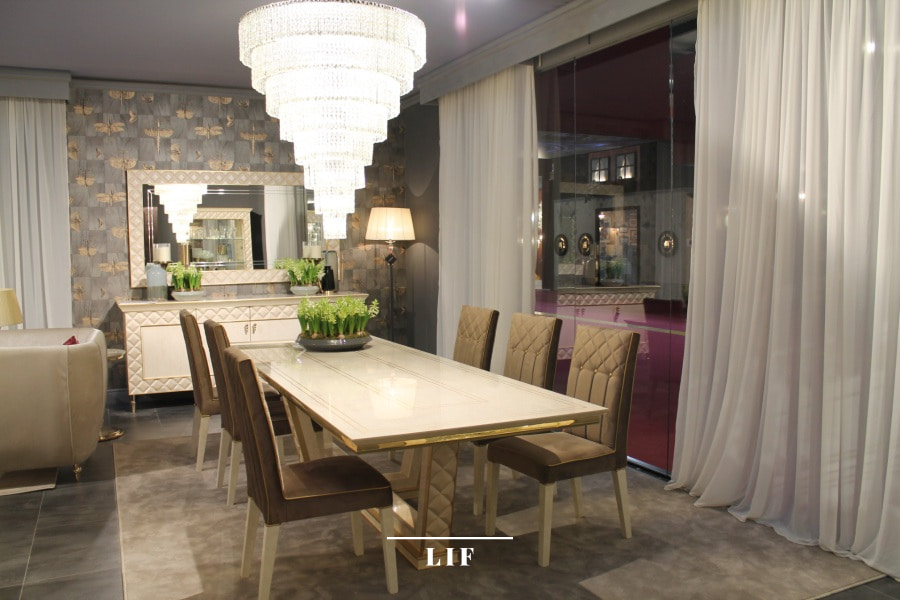 Beautiful Dining Room Ideas 2024
Those who madly love classic style and the tradition of quality Made in Italy design furniture, will have "bread for their teeth" in 2024. There are several classic and neoclassical trends that will return to fill the living rooms, bedrooms and dining rooms of our homes.
In designing spaces, the difficulty - and also the inspiration - will be to be able to strike a balance between classic taste (and various declinations), and the contemporary style that inevitably affects all areas of our lives, including interior design.
The 2024 idea of a classic dining room is to create fusion environments , where the two styles (classic and contemporary) are mixed to create a surprising and original mix.
On the one hand, there is the modern need to live in a comfortable, usable home, with minimalist, transformable furnishings optimised to the centimetre, and on the other, there is the irresistible appeal of beauty, luxury, precious materials and settings that evoke the elegance of classical and neoclassical taste.
With Arredoclassic collections, it is possible to create a perfect dining room for banquets and receptions because it is designed and built to convey luxury and elegance. Every little detail heads in this direction.
You will be able to choose the style that best matches your taste and compose your dining room taking inspiration from 2024 trends and, in general, from the decorating tips we have given in this article.
Thanks to the Adora brand you can also add contemporary additions without running the risk of losing a classical "heritage." This is because the Adora collections offer a contemporary luxury style, with references to classical-style dining rooms. Most importantly, because the common denominator is the quality of the materials, the value of the design, and the quality of the finish.
Contact us! We will be happy to provide you with all the information you may need and we will help you to create an environment in your own image.