Boost the look of your home with a classic-style interior design. Discover the 5 reasons why this timeless decor trend is so beloved and popular among people.
Classicism is defined by the Britannica encyclopedia as a "complex of theoretical concepts and practical norms drawn from the ancient Greeks and Romans and applied to the composition and evaluation of works of art".
In the artistic and architectonic field the term generically defines the manifestations that present a formal language that is consistent with or inspired by the Greek or Roman classic model, adopted as the ideal model.
In this article we will focus on classic interior design style. We will explore how, by meeting criteria of balance, harmony, and proportion, it has been and continues to be a perfect example of elegance for furnishing and home decor. We will look in detail at what the classic interior design style is all about and what its characteristics are in terms of colors, materials, finishes, shapes and lines.
In particular, this article will cover the following topics:
Let us proceed by touching on each topic individually.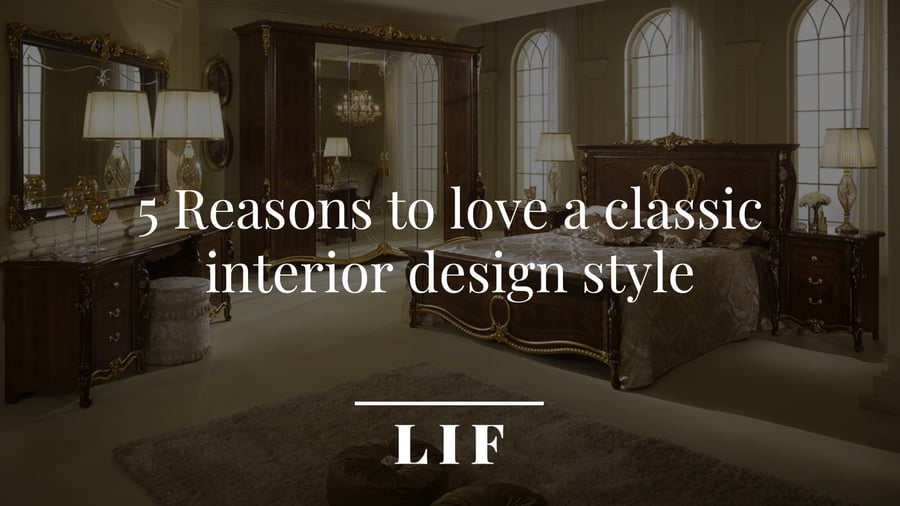 What is classic interior design style and which are its main features?
The classic interior design style is a way of furnishing the home based on the idea of creating a noble and refined atmosphere using fine furniture and quality materials that can last over time.
Other factors also contribute to the creation of the timeless elegance typical of the classic home interior, such as the addition of imposing and austere furnishings, inspired by the Greek-Roman era, as well as more luxurious and opulent friezes and decorations derived from the stylistic influences of the Renaissance, the Baroque and the Victorian era.
Before considering why the classic interior style is perfect as a furnishing choice for your home, let' answer the question: what are classic style features?
Here are some of the general features (without entering too much into an analysis of variations) that distinguishes it from the others.
First of all the furnishing elements arranged in a symmetrical and harmonious manner, two key factors in the creation of a balanced and welcoming space in keeping with the classic canons.
The use of noble and quality materials such as oak, mahogany, cherry or beech, ceramic, bronze and marble as well as high-class curtains and floor mats.
Along with the standard furniture, the classic style interiors can feature columns or half-columns, friezes, cornices, rose windows and even statues, all refined and elegant features that are reminiscent of antiquity.
The base colours are based on light and neutral tones, aimed at highlighting the "noble" materials such as marble or quality wood. They are predominately cream, beige and yellows.
The furnishing accessories are delicate and refined, almost as if not to assail the eye and to blend with the other art elements such as framed pictures or statues as mentioned above.
The illumination of the classic home interior includes the use of floor lamps, crystal or indirect lighting to create a particularly welcoming atmosphere.
In a classic style space, you can just breathe in the refined atmosphere of the ancient and noble patriarchal families, as elegance and decor come together in harmony and symmetry.
These create a feeling of grandeur, derived from the throwback to past ages, and hospitality due to the moderation and the care with which materials are selected and furniture, accessories and décor are arranged.
Typical examples of the welcoming sense of classic-style furnished rooms are the seating: both chairs around the table in the dining room as well as the sofas and armchairs in the living room feature elegant and ornate designs, and are made of fine fabrics that express luxury and sophistication.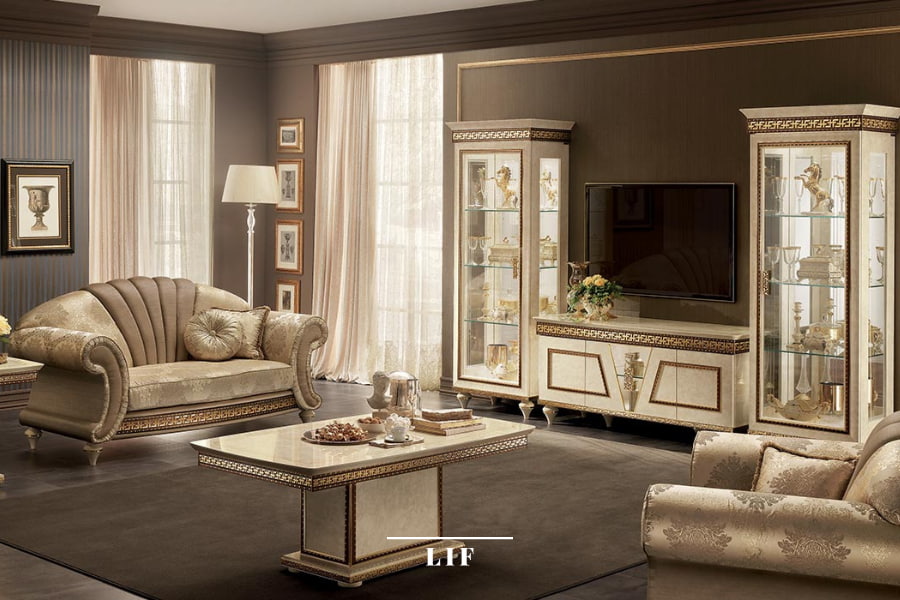 What is modern classic interior style?
Modern classic interior style can be defined as a fusion between past and present in which the typical elements of both are enhanced thanks to a skilful balance of shapes, colors and lines. This fusion gives life to environments that simultaneously express luxury, elegance, refinement, comfort and functionality.
Compared to pure classic interior, the classic-modern style is more focused on space optimization and functionality, which are two key elements of contemporary furnishing trends.
Basically, this style does not renounce elegance, but creates it according to different canons and aesthetic principles. In the modern classic style each element is "measured" and is designed to be both beautiful and functional. The sophisticated and ethereal atmosphere typical of classic environments is created not through opulence and decorative richness but through simplicity, geometry, symmetry, proportion and clean lines.
In this sense, modern classic interior style has points in common with the Neoclassical style, in which rational forms prevail over the rounded ones of the Baroque era and where the decorative elements, although present and although luxurious, are more discreet and integrate in a spontaneous to an overall more orderly and austere style.
Compared to the neoclassical furnishing style, however, the modern classic style has more contamination with the contemporary world.
One only has to look at the color palette to understand the differences in effects between the two styles. In modern classic-style rooms, bold color accents often find their place alongside a light, bright color base, used especially for sofas, curtains, rugs, and pillows. Such color notes add a touch of luxury and opulence to the overall look. Therefore, it is not uncommon to find colors such as burgundy, navy blue or forest green in living rooms furnished in the modern classic-style.
The connection with the classical world is in the materials, which are always fine and sophisticated, the beautifully crafted furniture, the fine fabrics, and the presence of elegant details that break from contemporary minimalism to approach the luxury of classic-style interiors. It is no coincidence that gilded accents are the ever-present shade in these rooms, used especially for the finishes of accessories, chandeliers and frames for mirrors, cabinets, tables and furniture.
5 reasons why everyone falls in love with classic interiors
The classic interior design style has a charming and timeless appeal. Classic-style environments embody a timeless beauty that goes beyond any era or fashion: this is perhaps the main reason for its unquestionable success.
In a world that runs faster and faster chasing trends that often last just one season, classic-style furniture represents a safe haven. And this is regardless of the many connotations the style may take (neoclassical, empire style, baroque, art deco, and more).
It is as if choosing furniture, colors and finishes typical of classic interior design style gives people the confidence to create unquestionably elegant environments.

And indeed it is so, as long as one chooses the right companies for the furnishing. Arredoclassic, for example, has made its Made in Italy design its trademark. Browsing through the collection catalog, it is possible to immediately understand the value of a company that has always based its manufacturing on quality, elegance and stylistic refinement to offer uniquely designed environments.
We have identified 5 reasons why people fall in love with classic-style furnished rooms. These reasons may explain at least in part why classic-style interiors, as opposed to other styles, know no downturn and are left unscathed by any of the trends that come and go (like passing clouds) in Interior Design.
Let's find out everything about them!
1. Fine and sophisticated materials
Quality materials and fine finishes are among the main elements that lead people to opt for a classic interior design style. There is nothing more pleasant than living in a refined environment in which every piece of furniture has been cared for down to the smallest detail.
Marble and wood finishes, while creating different effects (marble is a cold material, wood is warm and cozy), have in common their versatility, thanks to the varied veins they feature. In the classic style they are used as much for upholstery as for the surfaces of furniture, side tables and cabinets, creating an irresistible aura of elegance.
Gilded and silver finishes, both iconic elements of the classic style, are attractive because they are shimmering and bright, add a touch of glamour and luxury to rooms, and create sophisticated games of light.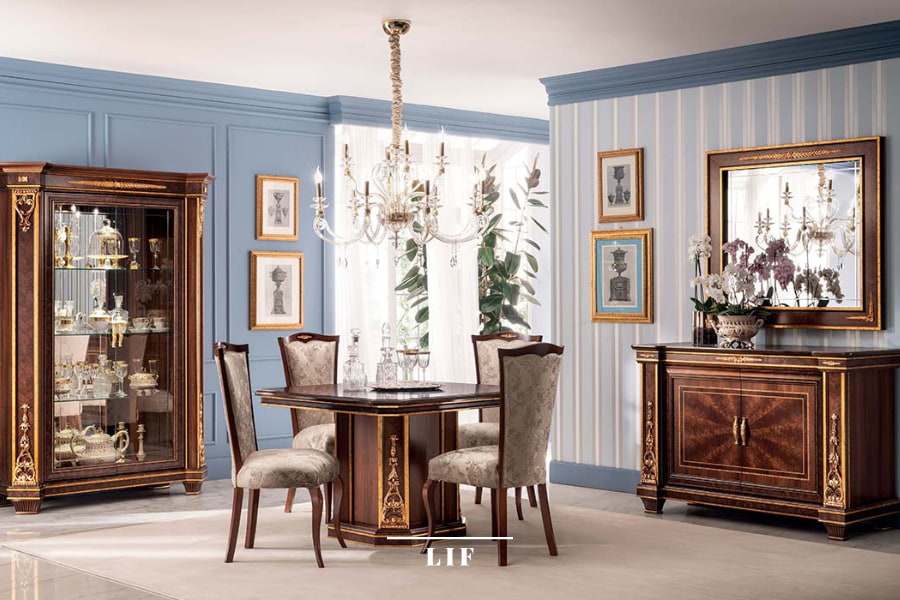 2. Antique furniture and accessories
A classic interior design offers you the chance of enjoying furniture and objects that could also be at home in a museum.
Furnishing in the classic style also means being surrounded by pieces of furniture that look like works of art, ranging from four-poster beds to luxurious chaise longues, crystal chandeliers, and jewel-toned display cases that light up the room, but with the difference that these effects are in an aseptic museum but in a warm and welcoming home.
3. Rich finishes and decorations
It must be said, the classic interior design style is not one that easily lends itself to economical solutions. This is the case for the materials, as described before, as well as for the importance of finishes and elements of decor.
A rich but always balanced approach is seen in the furnishings, walls, doors and windows. Just think of the endless possibilities of a capital sited on a half-column.
4. Soft, welcoming colors
Even though it has been widely proven that the ancient villas of the Roman and Greek age were not entirely white (unfortunately time has had its way with the beautiful mural paintings of these ages), light and tenuous colours were predominant and so it remains.
Therefore, in classic style rooms there is a tendency to create a tone-on-tone color palette with few color contrasts, to promote visual balance and a feeling of order and stylistic balance.
5. Warm and intimate lighting
You don't need to hang enormous crystal chandeliers (too fairytale like) but it must be said that classic style lighting is in keeping with the atmosphere.
The space features lamps made from luxury materials that diffuse and distribute the light in a uniform manner and reinforce the sense of elegance and hospitality.
Classic interior design style: a concept you would love to see in your home
The innate elegance, luxury atmosphere, decorative details and use of fine materials are just some of the features that make a classic-style home interior so loved and popular in Interior Design.
In this article we looked at the top 5 reasons for a classic interior design style in the home, each element then converges into one fundamental concept: decorating in a classic style never goes out of fashion.
This fact cannot be ignored: the classic style is and always will be loved because it conveys a universal and unquestionable sense of beauty, authenticity, and class.
So if you are charmed by the timeless aura of this style, don't miss the opportunity to discover the Arredoclassic's collections: they embody the elegance of the classic style.
Arredoclassic offers uniquely designed furnishing solutions for every room in the home. You can choose between the luminous Dolce Vita, in refined art deco style, and the soft, curvy lines of Melodia, between the decorative opulence of Donatello and the neoclassical straightforwardness of Liberty.
Browse our website to discover all the collections and be won over by the ethereal beauty of a timeless style.
Whatever your choice, with Arredoclassic your house becomes a dream home.
Are you looking for an elegant and exclusive design for your interiors?