About 250 years ago, the genius of Canova captured the overwhelming passion of Psyche Revived by Cupid's Kiss in a world-renowned sculpture group, impressing the definition of Neoclassicism in the minds and hearts of art lovers.
Harmonious lines, sinuous elegance, balance and sophistication: even today, this is what any artwork inspired by the Neoclassical style embodies.
And what better way to furnish a master bedroom than using furniture inspired by this timeless style?
Neoclassical style furniture features elements arranged in the room in a classy and balanced way. Its soft and tasteful shapes and colours confirm its polished and sumptuous look.
When entering a Neoclassical-style room, we have to feel the perfect balance between decorative symmetry and intimate elegance.
Neoclassical décor is never rambunctious, rowdy or excessive. Its spirit is understated, yet determined.
To create a Neoclassical room, just follow these simple rules, to create a timeless and tasteful environment, just like Psyche and Cupid's love passion, which still overwhelms anyone who gazes at it, while remaining trapped in the cold balance of its white marble.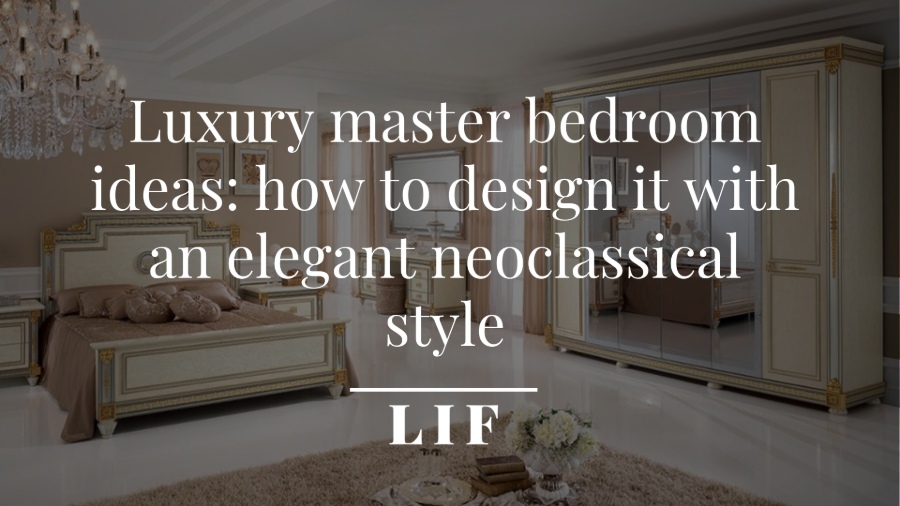 Rules for a Neoclassical-style bedroom
1. Balance between the different parts
The first rule of Neoclassicism is the concept of balance. The beauty and power of the Neoclassical style are reflected in the harmony of all its parts.
In this respect, we need to keep in mind that, in order to create a Neoclassical style master bedroom, we must avoid putting too many pieces of furniture in it.
Choose the essential furnishing for your bedroom. Here is a list of the main pieces of furniture that cannot be missing from a Neoclassical style bedroom:


King size bed: it must be elegant, massive and with soft sculpted décors


Two bed stands: they must frame the bed, without overshadowing its centrality


A closet: a must for the bedroom, in a stately and refined style


A coffee table with two armchairs: even though they are not required, they can add a touch of luxury and elegance, and they place the room in a timeless dimension


The entire room furniture must revolve around the bed. Always place the bed in the middle of the main wall (the wall that captures your gaze when you walk into the room) to attract attention to it. In Neoclassical style bedrooms, the bed must be the focal point, attracting the gaze of anyone who walks in.
Choosing the right bed and the right position is essential to create a Neoclassical style bedroom. The harmonious balance between the bedroom sections, the furniture and the décor depends on this focal point.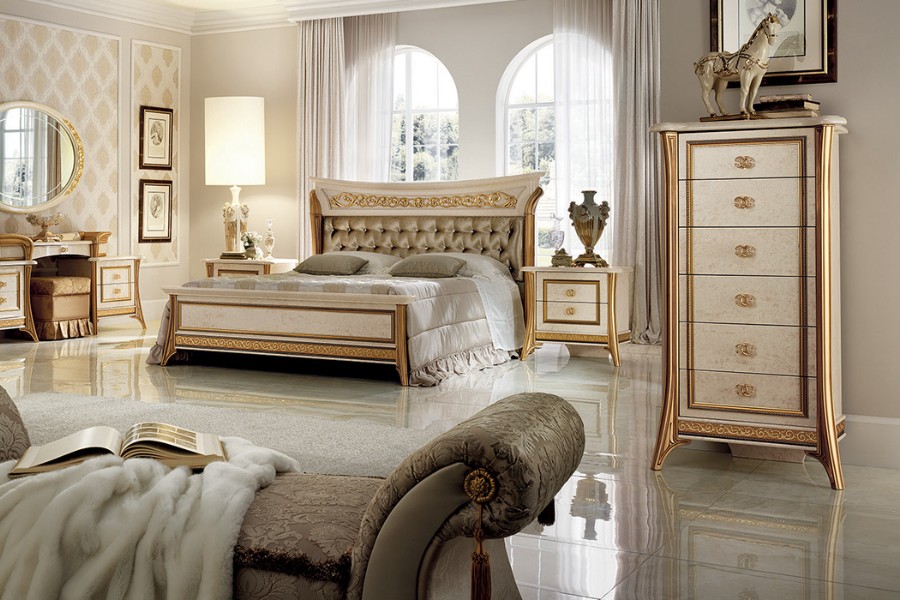 2. Framing the bed
Since the bed is the main element of your room, you could enhance it with some tasteful and non-trivial solutions.
Decorating the wall framing the bed frame, for instance, can be an essential Neoclassical style element. The curvy lines of stucco decorations or the elegant geometry of sober wallpaper can give a unique Neoclassical touch to your bedroom, without overdoing it.
Neoclassical style means precious shapes and placid spirit at the same time: don't forget this essential rule when choosing each decorative element.
This does not mean you should give up luxury: it can emerge in all its might in shapes and materials.
The bed frame is generally rectangular, massive, and often made of a soft and padded fabric. Light cream, white or beige leather is ideal for the perfect Neoclassical style bed frame.

3. Fabrics and lighting
To create a Neoclassical style bedroom, we will also use curtains, cushions, bedspreads, quilts and lamps of any kind.
Curtains must be big and they must frame the windows with plenty of heavy fabric. Choose curtains with intense colours (but not too bright). The same goes for the cushions and the bedspread. The curtains' decorative frame should not lessen the bedroom composure.
In general, curtains should be made of natural fabric. The same goes for the other decorating fabrics.
Fabrics such as velvet or cotton are ideal to cover soft cushions placed harmoniously against the bed frame. As mentioned above, the bed frame too can be made of a soft upholstered material. For both these elements, choose solid colours.
If you want to use a patterned fabric, make sure it's not too excessive or messy.
Lighting is another essential element when creating a Neoclassical style bedroom. Lighting must be suitable for sleeping quarters and it must enhance the furniture; it must be soft, yet persistent.
Lamps can be used in abundance, making sure they are placed in an intelligent and balanced way.
You can place table lamps, floor lamps, wall lights and ceiling lights strategically around the room.
When choosing the areas to illuminate, always follow common aesthetics: place your lamps to highlight central furnishing elements and unique décors.
Try to balance out the proportions even when you place the lamps in your room, and make sure that the lamp style chosen is a good match for the Neoclassical style.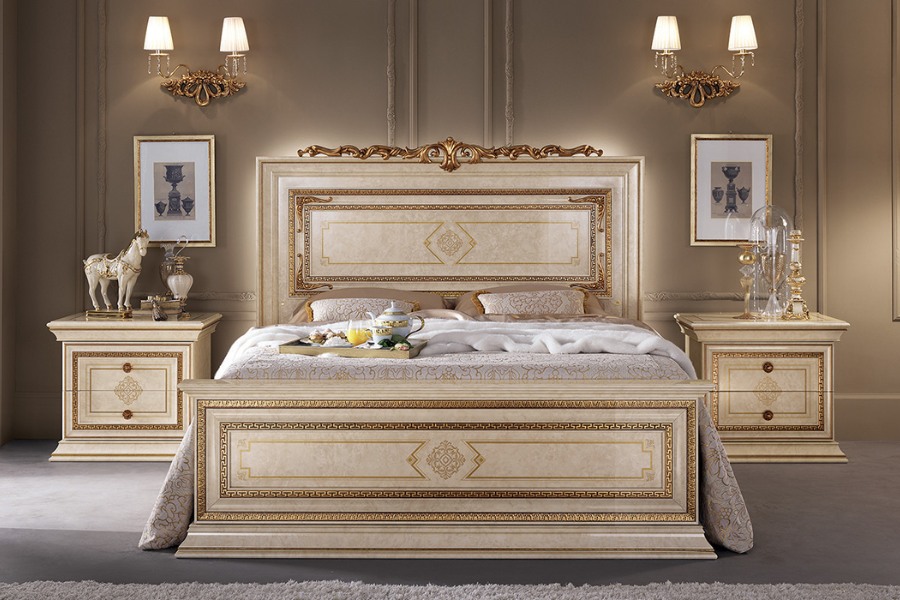 Ideas for a luxury bedroom: colour palette
The bedroom furniture visual impact is essential. Indeed, the feelings inspired by colours affect our spatial perception. The bedroom should inspire resting and relaxing sensations, and a Neoclassical style bedroom should also amaze for its sophistication and elegance.
Try to choose intense colours (but not too bright), such as:


White
Ivory
Light and dark brown
Peach or beige
Cream hues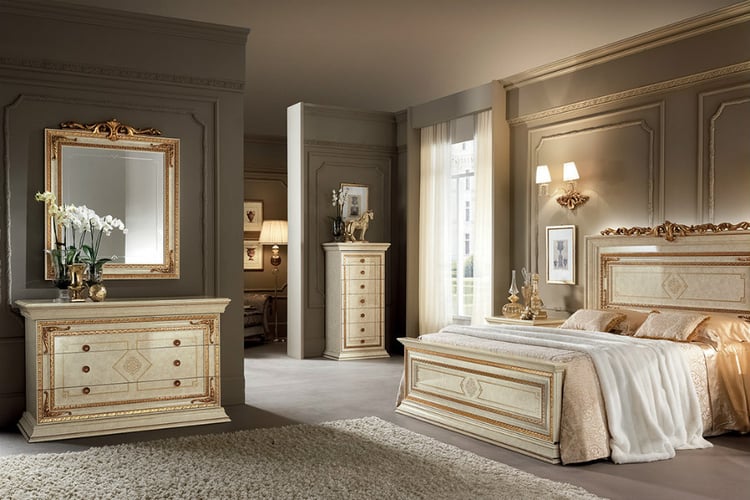 Neoclassical style bedroom: a synthesis of elegance and sobriety
While it's true that a Neoclassical style bedroom is a luxury bedroom, it must not be excessively decorated. You can have a sober room, while still being classy and refined.
Once you have furnished your Neoclassical style bedroom let yourself be carried away by the atmosphere you created in this magical environment, where you'll enjoy a luxurious privacy and relax with golden dreams.