Made in Italy interior design has always paid impeccable attention to detail and a love of refined and elegant style.
The different aesthetic trends in Italian furniture are appreciated all over the world as, thanks to the multiple colour palettes and decorative features associated with the various furnishing styles, they allow you to furnish the main areas of your home in a unique and personalised way.
Precisely because of the complexity and variety of atmospheres that Made in Italy furniture offers, made up of nuances, aesthetic contaminations, overlaps and stylistic combinations, it can sometimes be difficult to grasp the differences between one design and another and to identify the style that most belongs tous, the one most akin to our way of being and living spaces.
We should remember that a home is a sort of extension of our ego: we furnish it with care to present it at its best to our guests, just as we do when getting ready to go out, and we equip it with all the furniture, colours and accessories that make us feel good and live comfortably.
In the following article, we will define the distinctive elements of traditional and contemporary design, which include currents that are similar in concept but different in substance.
In the case of traditional design, for example, we will try to analyse the differences with the classic style with which it is often confused. We will see how the two dimensions end up influencing and enriching one another, while remaining distinct in some basic dictates.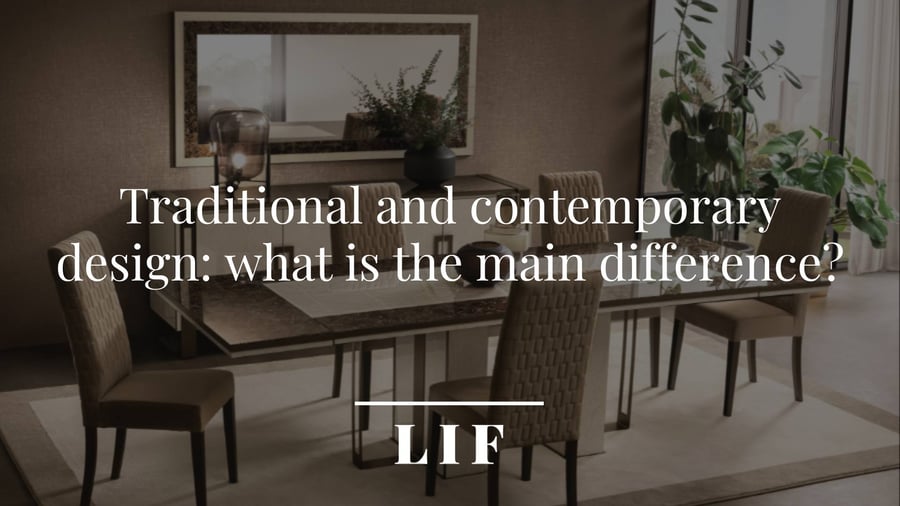 Traditional and contemporary design: a matter of details
True connoisseurs of Italian furniture can recognise the different stylistic variants at a glance.
Below, we will provide you with the key indications you need to distinguish between traditional and contemporary styles and then decide which of these two designs reflects your taste in home decoration.
More precisely, we are going to talk about:
Let us proceed by analysing them separately.


Contemporary design: functionality, aesthetics and comfort for your rooms
What distinguishes contemporary design from other styles is its moving nature and its natural propensity to mix key elements from other currents, such as borrowing characteristics from modernism, postmodernism, deconstructivism and futurism.
The concept of contemporary aesthetics in interior design began to establish itself around the 1970s, and, since then, as is only natural, it has continued to update and evolve in the wake of the times, incorporating the influences and tastes of its own era.
Contemporaneity is elusive by definition: devoted to change and progress, it follows the evolutions and fashions of the historical, social and cultural context to which it belongs.
In a way, it is the opposite of the definition of 'classic': a classic, in any field, is something that has become part of the common imagination, that is repeated like a timeless evergreen, and that, continuing to assert itself year after year without ever tiring, becomes part of a tradition.
Therefore, contemporary style furniture cannot be classified within a fixed 'fence' with static, unchanging rules. We can only analyse its characteristics at a given historical moment.
In our case, therefore, speaking of contemporary, we can refer to the stylistic trends of recent years.
For instance, one of the trends of 2022 for contemporary interior design sees a downsizing of minimalism at all costs and a move towards more opulent, luxurious atmospheres, full of details and accessories, with a greater variety of colours, softer and more rounded lines, so different from the geometric and squared shapes that contemporary style had accustomed us to.
However, this is not a rigid scheme. Contemporary style, adapting to the needs of the moment, is by nature flexible, dynamic and versatile. Its task is to respond to the stimuli of the present moment, also changing as necessary.
The best companies are those that embrace this 'philosophy of transformism' by offering varied, multifaceted furnishing solutions, capable of alternating the register of luxury with that of functional simplicity.
This is exactly what Adora does with its contemporary collections.
The Diamante collection is emblematic in this respect. With a colour palette ranging from brighter to darker tones and with a skilful alternation of enveloping shapes and sharper, more defined ones, Diamante contemporary furniture draws a balanced choreography of movements and symbolise a multifaceted design in which different stimuli intersect, depending on the atmosphere and the settings to be set.
On the other hand, contemporary style has made this coexistence between minimalist traits and sinuous and feminine silhouettes its trademark. The result is a living environment, never the same, but always balanced, welcoming and visually harmonious.
Another element that makes contemporary style recognisable is the choice of combining very different materials - glass, metals of industrial appeal (steel, iron, aluminium), natural materials such as wood and stone - and then playing with the inclusion of some elegant details in marble and glossy or satin finishes in shades of gold, silver, bronze or brass.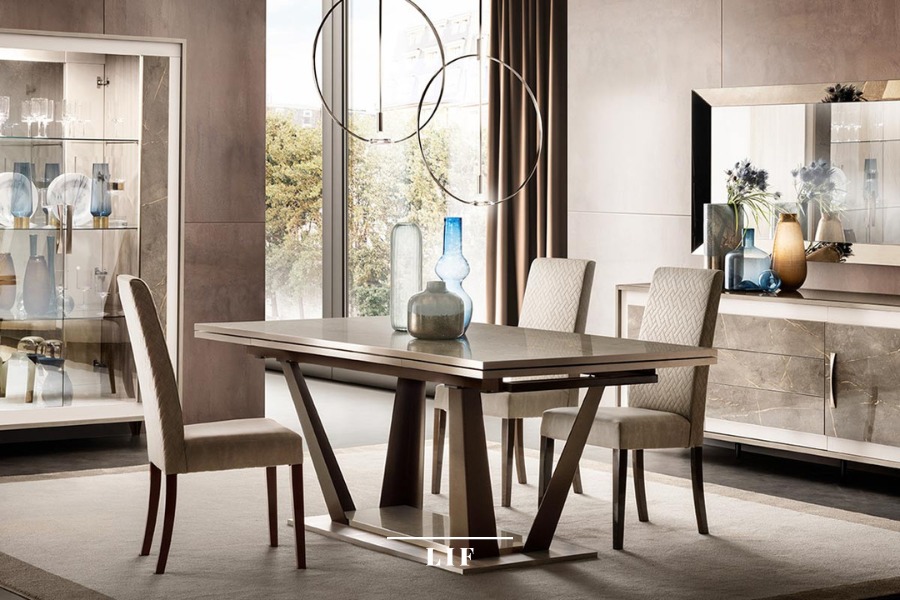 Traditional design: a reassuring and familiar furnishing style rooted in the tradition of the past
Although the two terms may seem synonymous, classic style can be clearly distinguished from traditional style.
First of all, drawing on the Greek and Roman styles, traditional design suggests a more orderly and symmetrical overview of shapes and proportions than pure classical aesthetics, which are characterised by a more opulent and 'ostentatious' style and a greater variety of lines, materials and colours.
An example of traditional design inspired by Greek and Roman architecture, at once simple and monumental, is Arredoclassic Liberty collection.
In the Libery dining room, we can observe very well the delicacy and harmony typical of the traditional style. The composition is elegant and refined without ever being over the top. Every element is measured, the lavish details are framed within pure and essential forms, the light and ethereal colours convey a sense of lightness and airiness.
Each piece of furniture - from the dining table to the sideboard to the display case - is balanced, in shape and size, to be in harmony with all the others.
The details, such as the square spiral-shaped handles, are inspired by the memory of ancient, noble friezes, while the shiny, glittering surfaces lend light and regality to the room.
This is not the only declination of traditional design.
We also find traditional style rooms based on a greater richness and refinement of details, with more space for details, bold colours and luxurious furniture in dark wood (mahogany, walnut, cherry), enriched with ceramic inserts, marble or gold and silver finishes.
However, the register of traditional design remains more moderate, more considered in its overall vision, compared to the pomp of the classical style and its various declinations (neo-classical, art deco, etc.).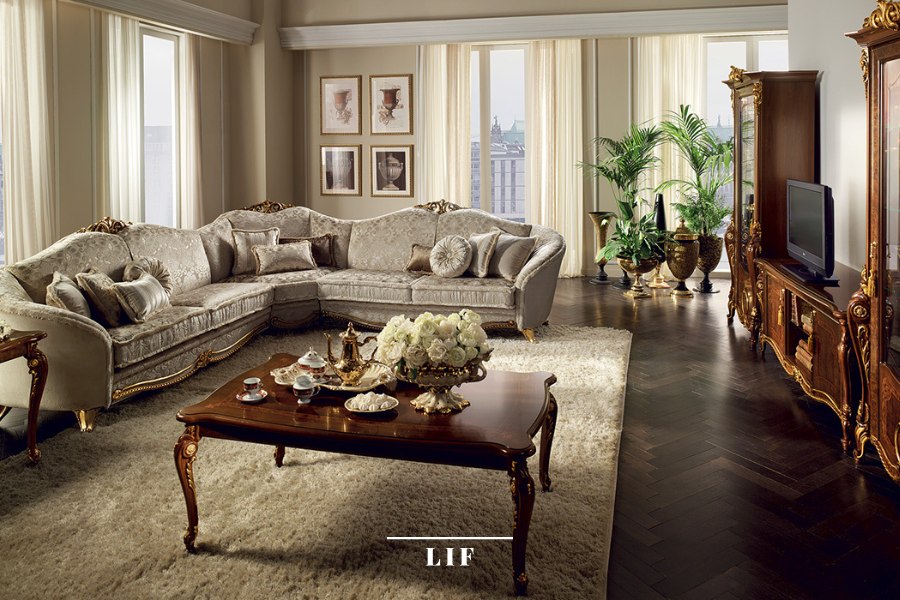 The substantial differences you need to know between traditional and contemporary design
Here you will find a brief overview of traditional and contemporary styles. We have differentiated between the two aesthetic styles by highlighting their distinctive features.
These are undoubtedly two variants of great value and aesthetic depth: both are suitable for furnishing the main spaces of a home, making it elegant, comfortable and functional.
Decorate your home according to your taste, in your own way of living your daily life in your home make every room a cosy and impeccably furnished setting.
Get inspired by our latest interior design project