If you want your home to be elegant and sophisticated, whilst retaining a welcoming and comfortable atmosphere, you should opt for contemporary style furniture.
This kind of furniture combines style and comfort, two essential factors to recreate the perfect interiors in the most important rooms of your home:
Dining room
Living room
Bedroom
Each one of these spaces requires different furnishing elements, designed and created especially to ensure the maximum level of comfort, without sacrificing style.
To convey a sense of aesthetic continuity, each piece of furniture chosen to furnish your home must share a common style concept.
In order to do this, in this article, we will show you how to decorate each room in a contemporary style so that the allure of this décor can be fully perceived everywhere.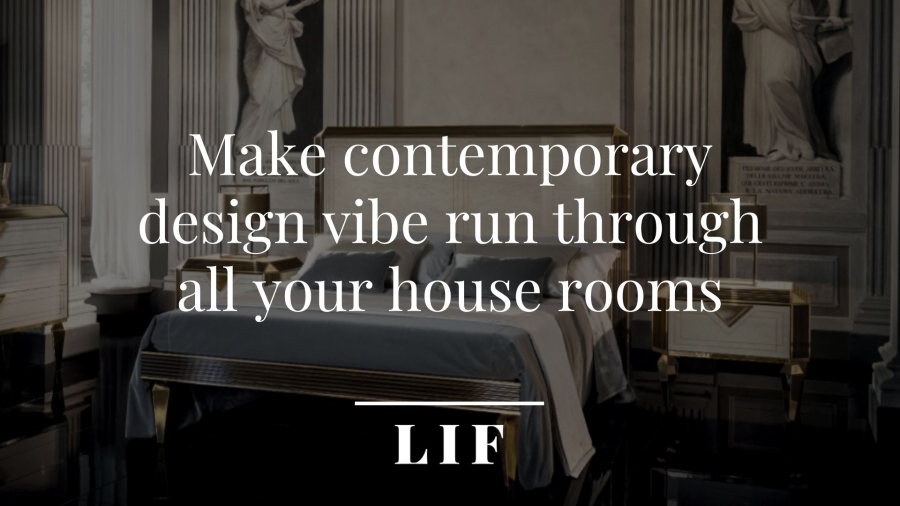 Contemporary design: 8 steps to furnish and decorate your home with refined taste
We have put together a list of 8 essential steps to follow to furnish your home in an elegant contemporary style, without forgetting comfort. Specifically:
Let's go over each step in detail.
1. Opt for a neutral colour palette, with a few vibrant accents, if you wish so
Start from the background: with the help of an interior designer, create a mood board specifically for each room, and set a neutral colour palette.
If you want to add some vibrant touches, you can easily choose them from the wide range of contemporary colours available.
You can pair basic colours with dark nuances, such as grey or dark green, or with more vibrant hues, such as purple and blue, just to mention a few.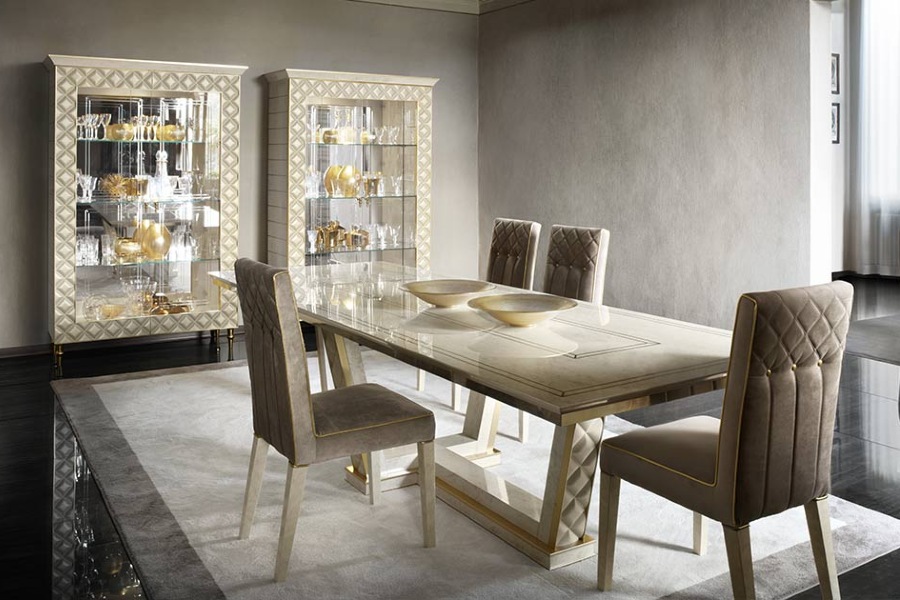 2. For an extra touch of colour and décor, go for wallpaper with a bold pattern
Once you have selected the wall paint for each room, you should also choose some matching wallpaper.
Apart from finishing off your walls in a classy way, wallpaper creates a stark chromatic contrast and captures the eye. To add an additional touch of colour and décor to your rooms, opt for wallpaper with geometric or captivating patterns and contrasting textures.
3. Create a layout that ensures balanced spaces and comfort
Contrary to what one may think, contemporary interiors are peaceful, balanced and welcoming.
A comfortable sensation is given by a balanced space between the different furnishing elements, on the walls and on the floor.
This layout, free from any decorative excess, makes the environment more comfortable, tidy and efficient, and every furnishing element and decoration the protagonist of each room.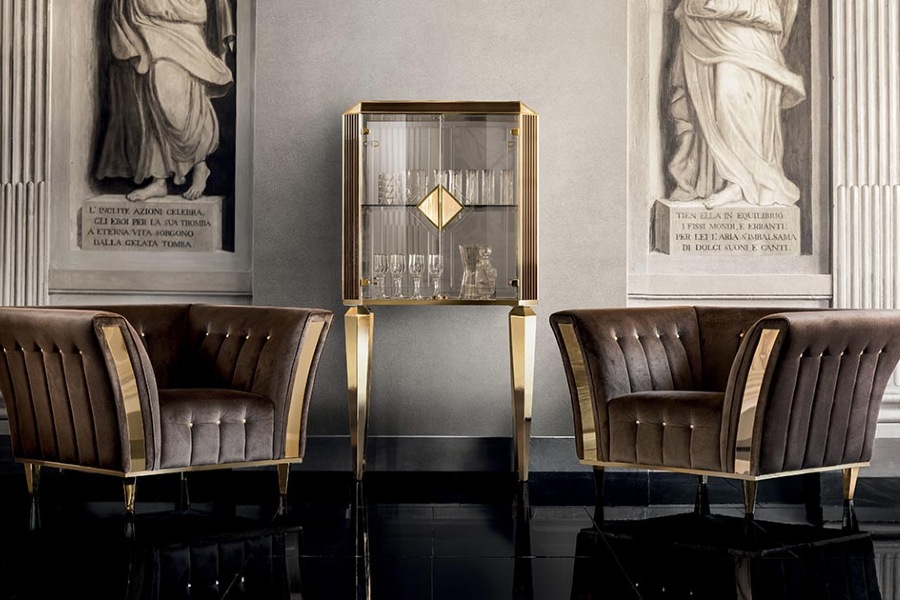 4. Dining room furniture: choose your dining set and match the remaining furniture to it
If you want to furnish your dining room in style and make it welcoming, the first thing to do is choose a dining set, the undisputed star of this layout.
Choose a contemporary dining set with aesthetic features inspired by Italian design.
What do you like most, unique furnishing elements and precious details or a collection with sinuous lines and golden finishing? Obviously, the choice is yours and it should match your style preferences
Don't forget that even display cabinets, sideboards and mirrors are an integral part of your dining room furniture. They should match the dining set, or at least the style of your existing furniture.
5. Living room furniture: opt for comfortable furniture with great aesthetic appeal
Living room furniture should balance out comfort and contemporary glamour aesthetics. Therefore, opt for fine and comfortable furniture, with a sophisticated showmanship: coffee tables, couches, armchairs and chaise longues.
In this case too, you can choose from a wide range of collections: simpler furniture lines or bolder collections.
Our tip: choose elements from the same collections to stay true to the initial style concept selected for each room.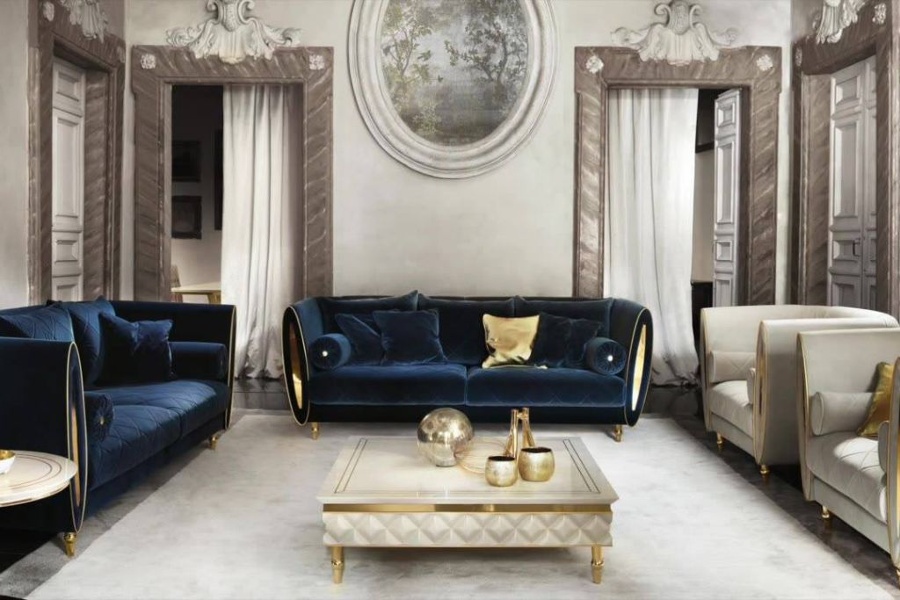 6. Bedroom furniture: opt for a contemporary design collection ensuring the maximum comfort and style
For your bedroom, choose contemporary furniture in tune with the collections selected for the living and dining areas.
A big and comfortable bed with a large marble-like even headboard and contrasting colours; nightstands that match the bed lines and the same precious details; matching mirror and dressing table.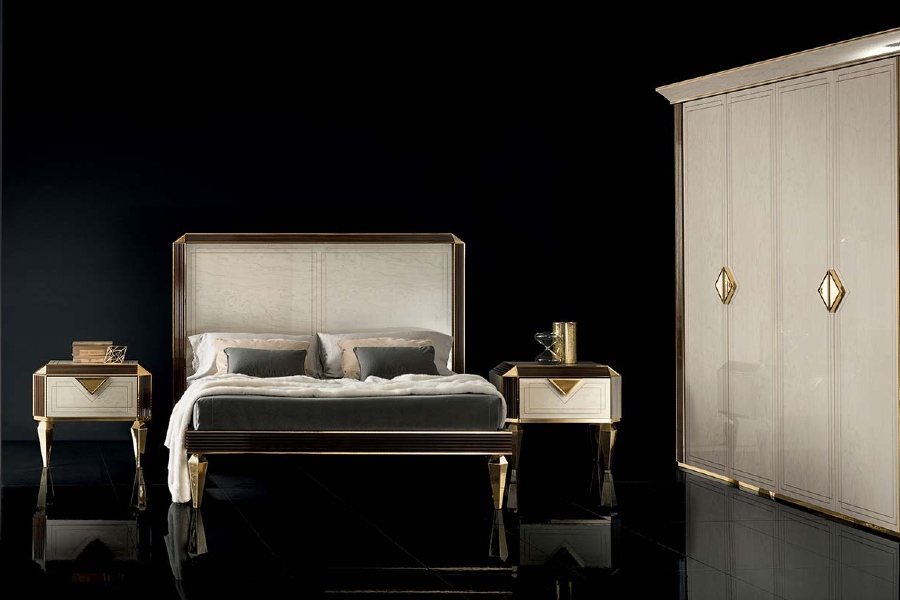 7. Choose minimal lamps, made with materials capable of creating bold profiles
To add a finishing touch to your interior design project, choose contemporary lamps, such as:
Chandeliers
Hanging lamps
Recessed lamps
Wall lamps
Floor lamps
By installing them in different parts of your home, not only you'll introduce functional light fixtures to ensure maximum visibility, but even actual decorating elements.
Contemporary design calls for solid, long-lasting and pliant materials, capable of creating bold and captivating profiles, such as:
Glass
Metal
Crystal
Copper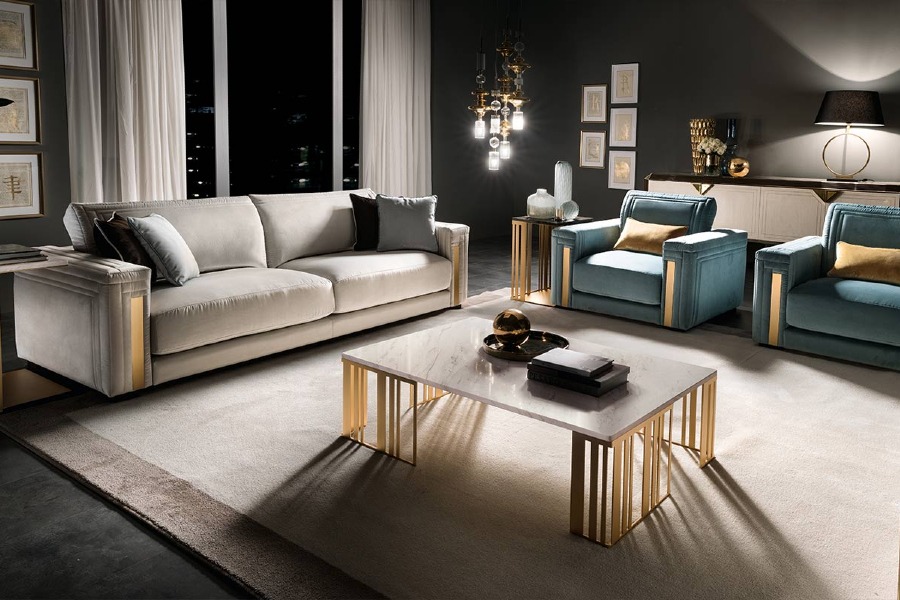 8. Top it off with contemporary artwork and accessories
Furniture is the soul of every room in your home, however it's the details that define its essence.
Therefore, to complete the layout of your dining room, living room and bedroom, you should opt for contemporary artwork and design accessories that match the concept you've chosen. A few examples:
Stylish polished wood or metal frames
Contemporary sculptures
Abstract, Cubist, Modern art paintings, etc.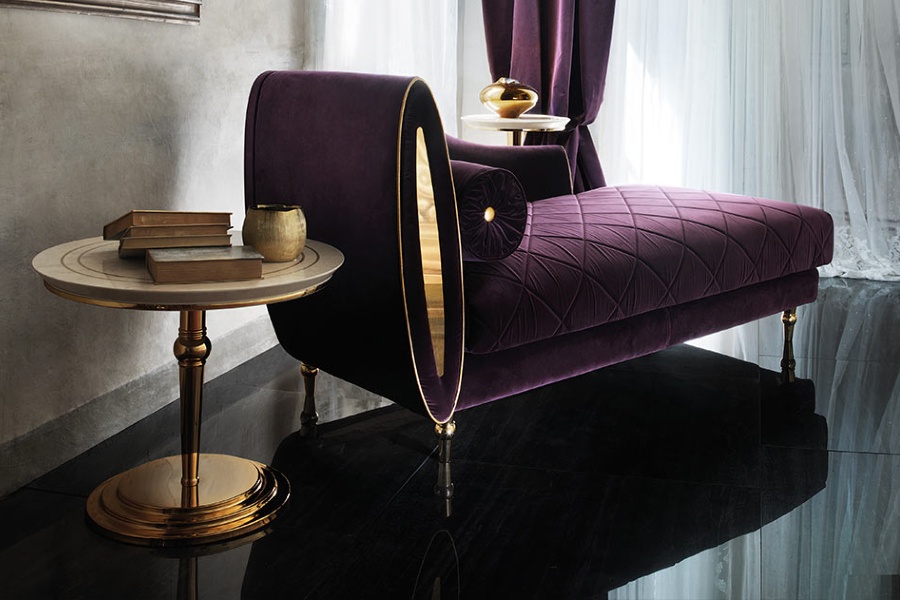 Contemporary design: a touch of unique style to renew your house
In this article, we showed you the essential steps to create a contemporary furnishing layout in the main environments of your home.
Following our tips, you'll achieve a final result worthy of notice: every room will be warm and welcoming, and every furnishing scenario will have unparalleled care and sophistication.