When it comes to spaces decorated in a classic style, it's all about channelling innate elegance and timeless spirit into every item of furniture, and in order to do so, attention to detail is key.
When it comes to classic living rooms, the details speak for themselves. We're talking about those small ornamental and decorative touches that make each piece of furniture unique.
In this article, we reveal a few decorative tips to help turn your living room into a space that simply oozes elegance.


Classic Italian living rooms: 7 ideas for a unique style
In order to ensure your space is carefully curated, you need to pay attention to every last detail.
Below are 7 ideas for creating an elegant, classic living room space:


Let's take a look at each individual step.

1. Be sure to choose wallpaper that matches your design concept
Creating a sense of harmony and stylistic continuity is vital, especially when it comes to classic living room spaces.
In order to create an elegant and understated look, we recommend choosing a wallpaper that perfectly matches the colour palette you have chosen for the rest of the space.
If you have decided to decorate your living room in shades of silver and ivory, or hues of walnut and gold, try to stick to the colour theme.
For example, you could opt for a wallpaper featuring arabesques or golden and silver swirls on a beige or cream background.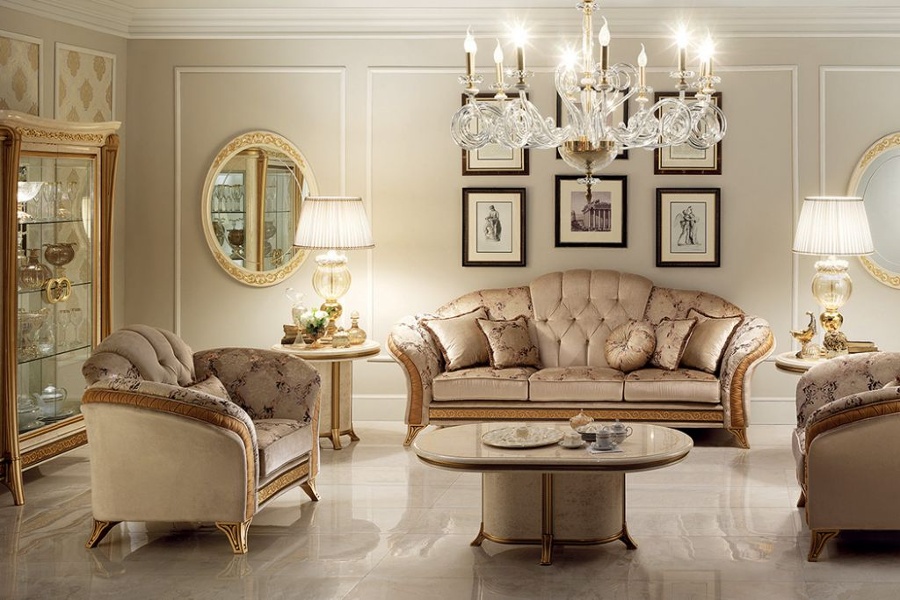 2. Choose high-quality fabrics to upholster chairs and cushions
Select the best fabrics to upholster chairs and cushions in your living room. We recommended opting for high-quality fabrics, such as:


Velvet


Lampas


Wool and linen


Cotton


Satin


Brocade


Damascus


Any one of these fabrics will help to perfectly create a luxurious, majestic living room atmosphere with classic charm.

3. Go for fine details and finishes when it comes to sofas, armchairs and cushions
Make sure that your textiles and fabrics stimulate the eyes and hands. In order to do so, we recommend opting for fine details and finishes, such as:


Gold or silver embroidery


Tassels, ribbons, fringes and cord


Gold or silver jewelled buttons


In addition to enhancing seating areas and cushions, these details will also bring added decorative value to the room as a whole.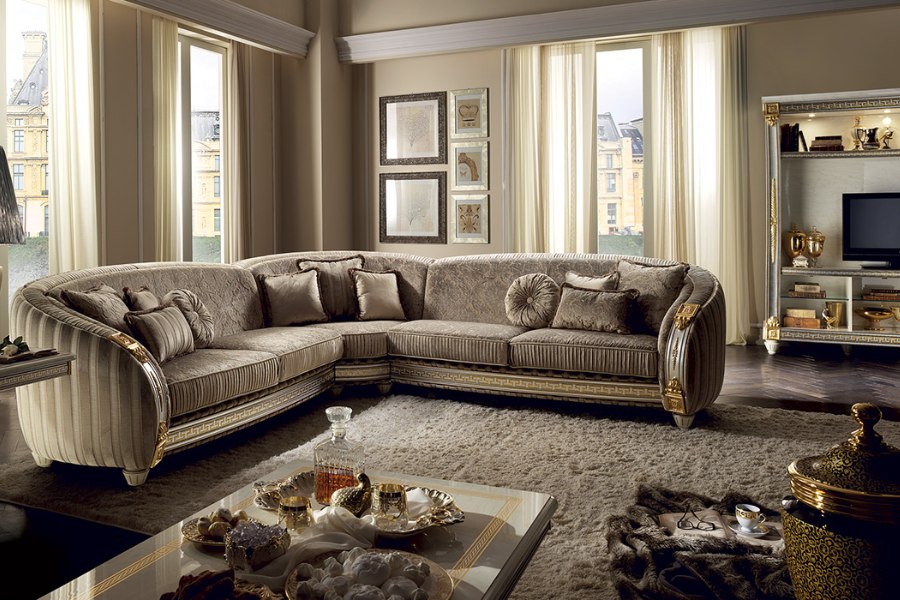 4. Add classic lamps and chandeliers with precious details
Lighting plays a key role in any room, and ensuring your lamps feature ornate decorations is vital.
Enhance your living room's aesthetic character with classic chandeliers and lamps, making sure to personalise them with precious decorative accessories, such as crystal or cased glass pendants, pearls and silk tassels.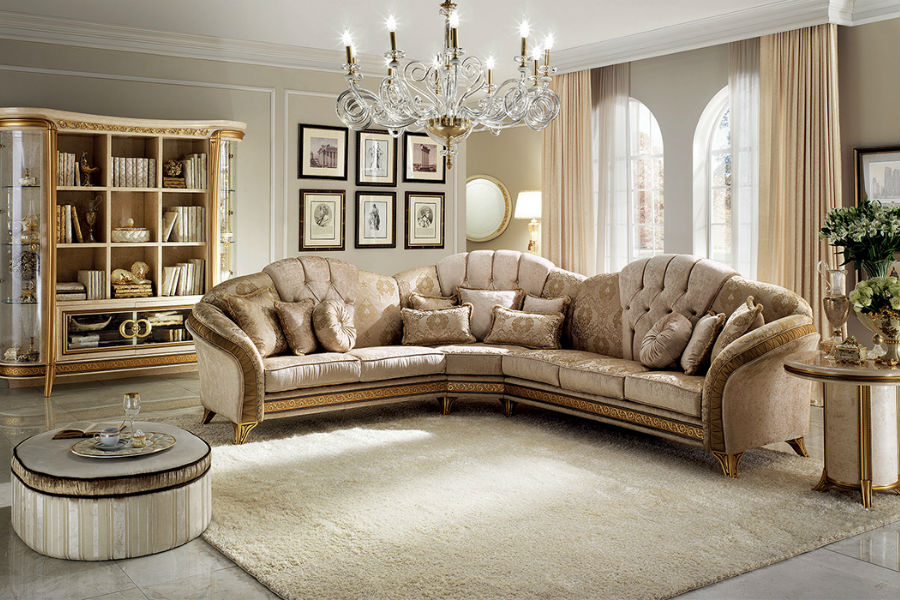 5. Lay a well-crafted soft rug or carpet with refined embroidery
Include a carpet or rug to help decorate your living room. Both solutions will combine comfort and elegance in equal measure. In order to help you make a decision, we've created a list of potential rug and carpet options:


Tufted rugs: made from a fabric base which is then knotted using natural or artificial textile fibres


Persian rugs: characterised by a unique hand-knotting process and a large number of knots


Pakistani rugs: made using an open-knot technique that creates changing colour tones. Pakistani rugs are traditionally red


Chinese rugs: characterised by two styles: traditionally crafted pieces or more modern productions. Traditional Chinese rugs are fairly thick, due to larger knots, while most modern rugs are knotted using an asymmetrical technique


As for carpets, we recommend choosing one of the following:


Bouclé: a type of carpet with a soft and comfortable texture, ideal for your living room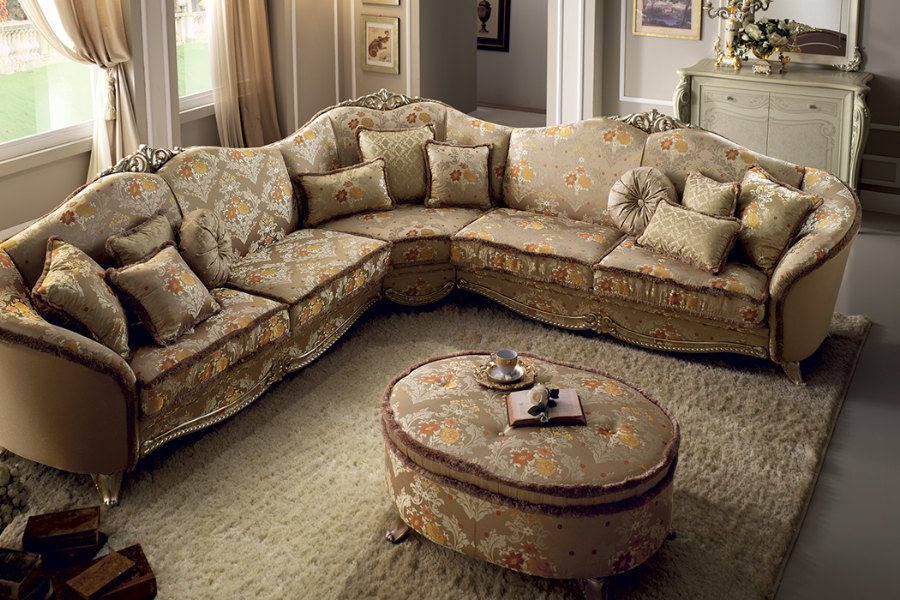 6. Finish the look with a few classic accessories (vases, ceramics, porcelain)
In order to give your living room furniture a finished look, we recommend pairing it with a few decorative crystal pieces, as well as silverware, vases, porcelain and ceramics, in-keeping with the classic style.
Arrange the accessories where you see fit: in a display case or on side tables to accentuate visual appeal.


7. Hang ornate mirrors and picture frames on the wall
Finally, hang frames and mirrors embellished with gold or silver leaf on the walls in your living room.
Mirrored reflections will help to showcase ornate carvings on your chosen frames.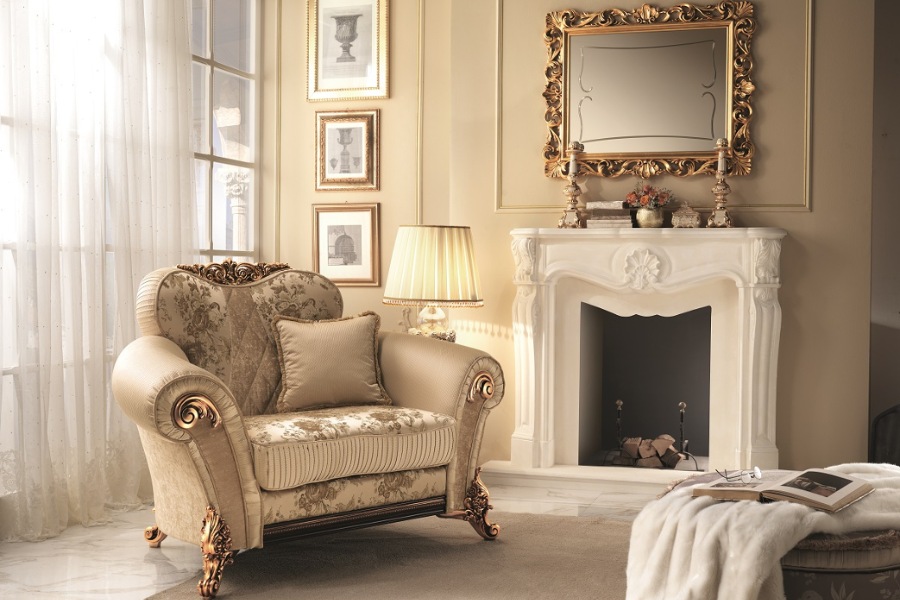 Classic Italian living room style: details make all the difference
In this article, we have compiled a list of the decorative details that deserve special attention.
Precious details will help to accentuate the prestige and elegance of your living room, allowing you to enhance the space and turn it into a room with inimitable taste, in true classical style.
Get inspired by our living room tips. We guarantee an undeniably elegant end result.